This is the most amazing caramel pumpkin monkey bread you will ever make and it is really easy too!! The best Fall breakfast or dessert I've ever made!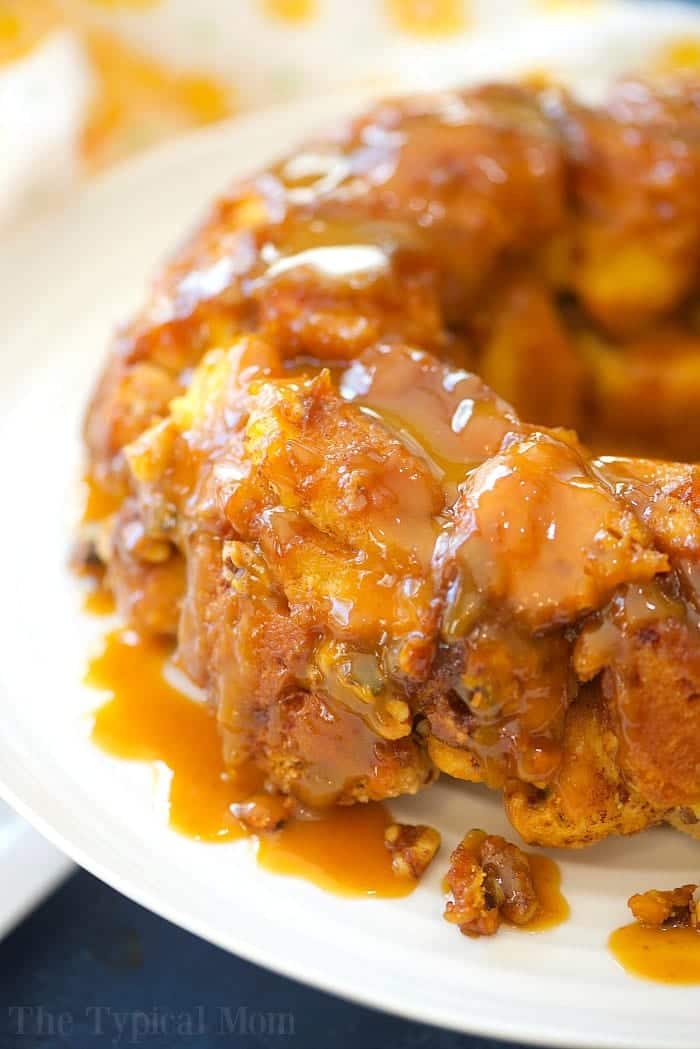 I will say with all honesty that is this caramel pumpkin monkey bread is the MOST delicious recipe I have ever created!! If you've never made monkey bread with biscuits from the refrigerated section of the store it is an easy thing to do and you can mix it up with lots of different flavors too like this one for Fall. It's so addicting and of course easy to do. Let me share with you how to make it so you can drool over it too. 😉 (originally published 8/16, updated)
Seriously….it is amazing!!
We have bought monkey bread before in the frozen section and it is okay but once you realize just how easy monkey bread is to make you will taste the difference AND you can fool around with the flavors like I did adding pumpkin to this one for the Fall.
Beware…it is addicting.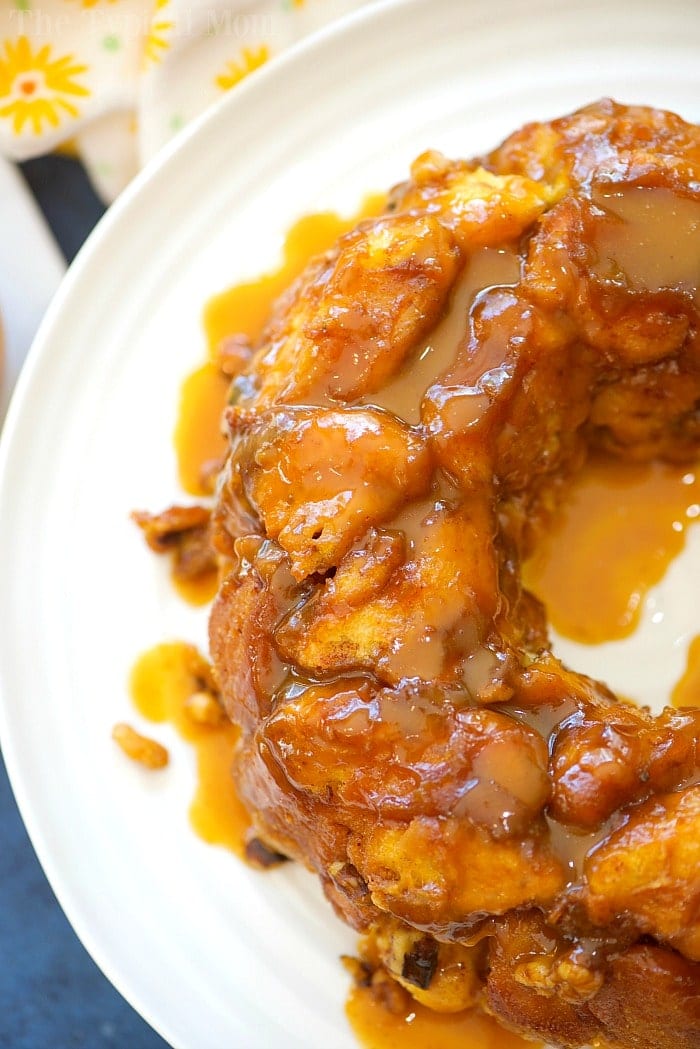 So like I said this monkey bread is easy to make because you use two cans of cinnamon rolls as the base and a few ingredients as the "sauce".
You probably have most of the ingredients in your cupboard other than the caramel bits and maybe a bundt pan but just in case here are the main items you will need:
Especially now that it is Fall I love pumpkin anything but you could omit that part during other times of the year and just make this a caramel cinnamon monkey bread recipe…it's very versatile.
If you love this caramel pumpkin monkey bread recipe you should try our:
Here's a video showing you how we make this easy Caramel pumpkin monkey bread
Here's a printable recipe as well.
Caramel Pumpkin Monkey Bread
This is the most amazing caramel pumpkin monkey bread you will ever make and it is really easy too!! The best Fall breakfast or dessert I've ever made!

Ingredients
1

c

butter

1

c

brown sugar

1

c

sugar

3/4

c

caramel bits

3/4

c

walnuts

optional

1/2

c

pumpkin

pinch of pumpkin pie spice

2

cans

refrigerated cinnamon rolls

bundt pan

large ziploc bag
Instructions
Cut up cinnamon rolls into 4ths.

Put white sugar in a large baggie (or a bowl). Add half of the cinnamon rolls that have been cut into bag, close, and gently shake to coat pieces (or put in bowl and gently stir pcs. with sugar until coated).

Place one layer of cinnamon rolls into bottom of bundt pan (spray well before starting to add anything).

Sprinkle some caramel bits, then walnuts, then another layer of sugar coated cinnamon roll pieces until everything is gone and layered inside the bundt pan.

Microwave butter, brown sugar, pumpkin, and pumpkin spice for 30 sec., stir, then 30 more sec. until it's warm and bubbly.

Pour half of mixture on top of layers inside of bundt pan.

Put in preheated oven at 350 degrees for 30 -35 min. checking after 30 min. to ensure it doesn't get overdone.

Take out and loosen sides with a knife. Let it sit for at least 10 min. before turning over.

Put large plate or cutting board on top and flip over (should slide out if you sprayed it well). Reheat butter mixture and pour on top. Serve!!
Video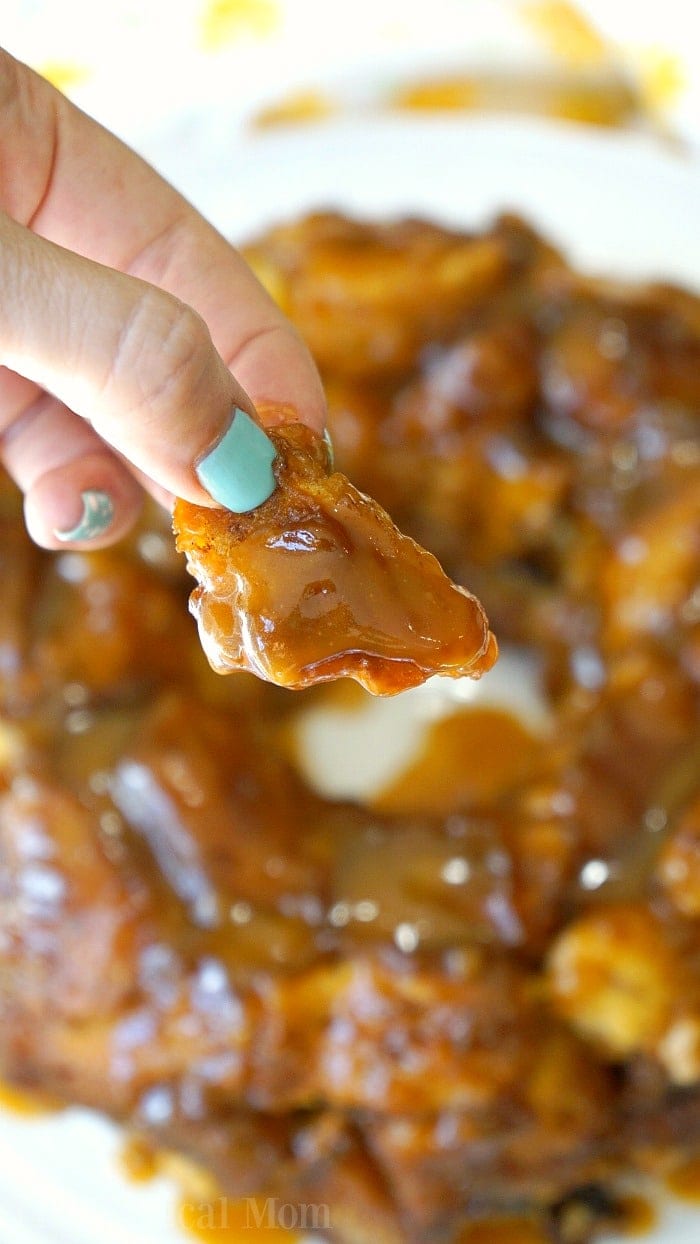 Enjoy as a dessert or breakfast, either way let me know what you think!!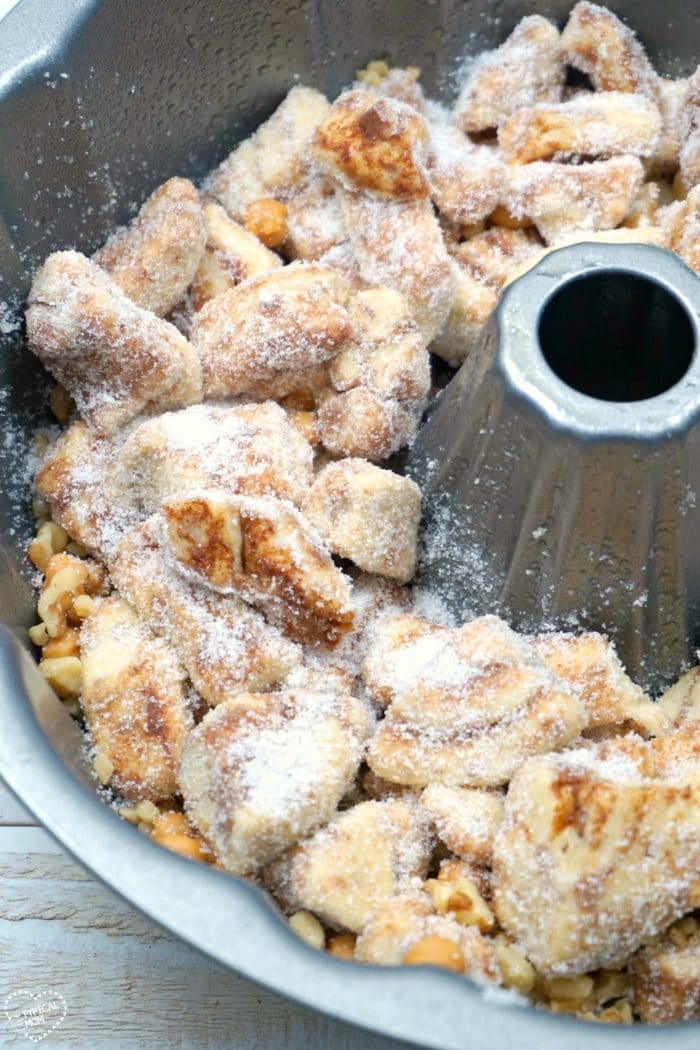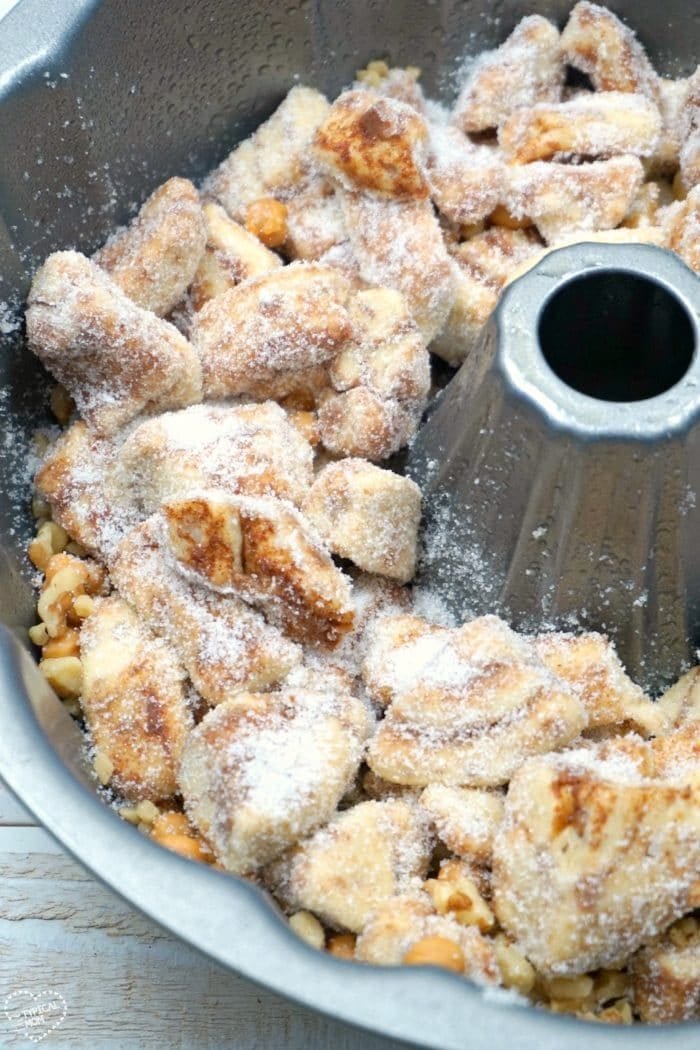 For more easy recipes, tips and crafts please LIKE The Typical Mom on Facebook and follow me on Pinterest! You can also sign up for my free weekly newsletter which is packed with goodies I know you'll love. 😉
Visit The Typical Mom's profile on Pinterest.