Here's how to air fry everything!! Wondering how air frying works with fish, chicken, beef and vegetables? We'll share the best method of crisping it all + foolproof recipes your family will love.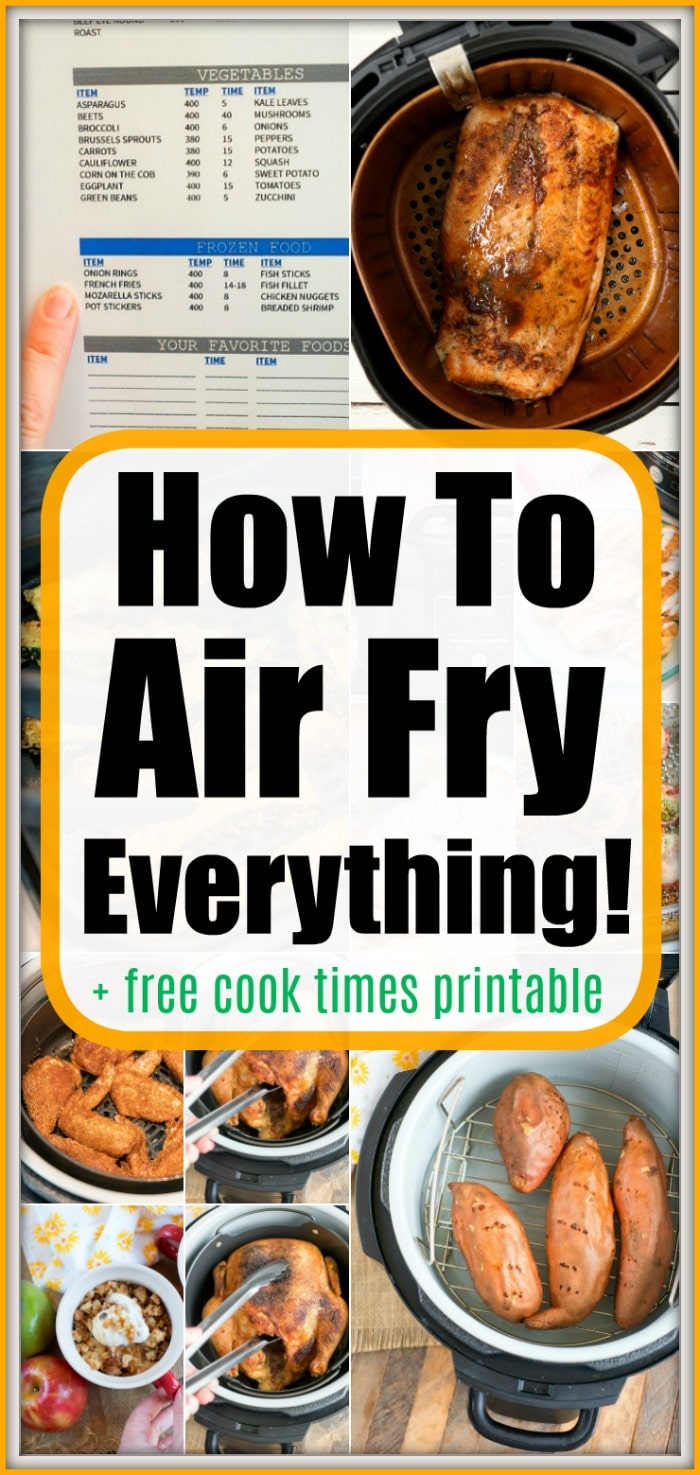 Looking for tips and tricks on how to air fry everything??! We'll help you understand how to make healthy and crunchy and easy air fryer recipes at home tonight.
Air Frying Everything
From how to cook your favorite frozen foods, to fresh meats, veggies, and even desserts, crisping makes everything better!
Are you obsessed with Cosori air fryer recipes like I am right now? I seriously use mine on a daily basis.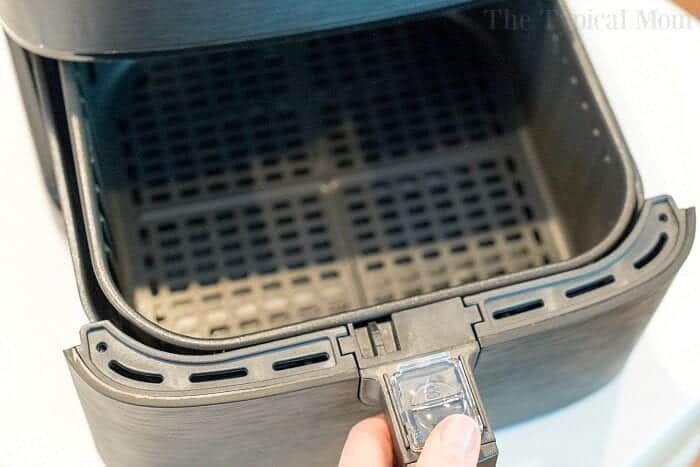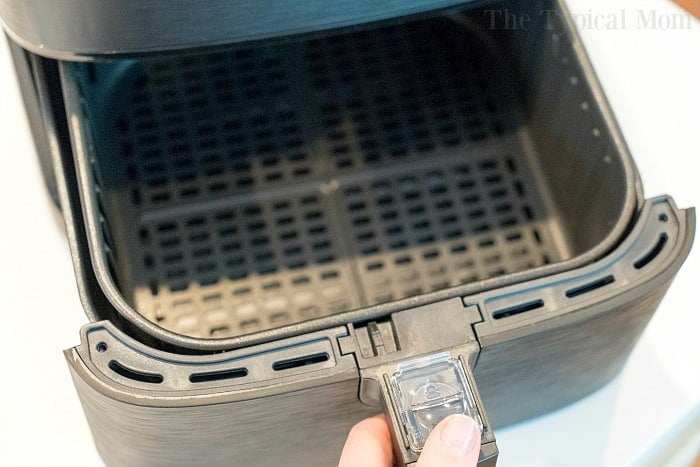 How to air fry everything
We will help you understand how to make all things wonderful in this hot air machine.
That way you'll be as obsessed as I've been. 😉 With a few tips in your back pocket you can cook meat, vegetables or even dessert in it.
If you're already kinda' a pro and just looking for tips on how you can improve your groove in the kitchen, we have ideas for you too.
First it is important to know how to preheat air fryer for 5 minutes.
Then grab this little chart, it will help you a lot!
You know when you're scratching your head wondering how long this or that takes?
We have all the answers (well, we try) with this free printable here. Click here on my air fryer cooking times chart and hit print.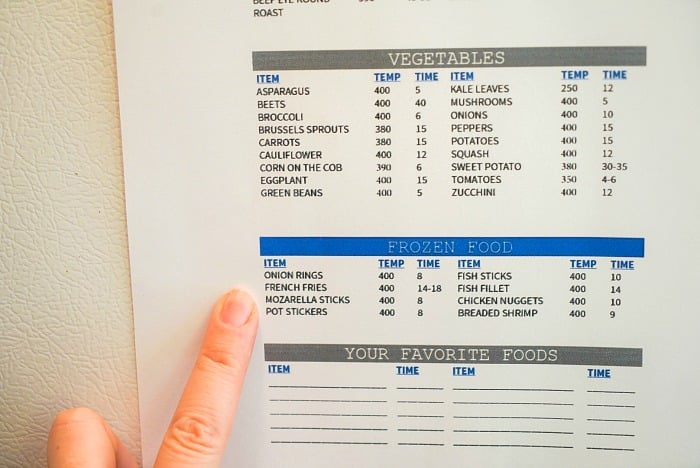 First let's start with a cheat sheet of sorts shall we?? Why not right??!! Anything that makes my life easier is a go + it's FREE to print out. Score!
Then decide whether you just want to toss in olive oil and seasoning, or if you're going to bread your food.
You'll want to dredge it into some flour, then into whisked egg, and finally press it into some bread crumbs or Panko. Wet batter will not work.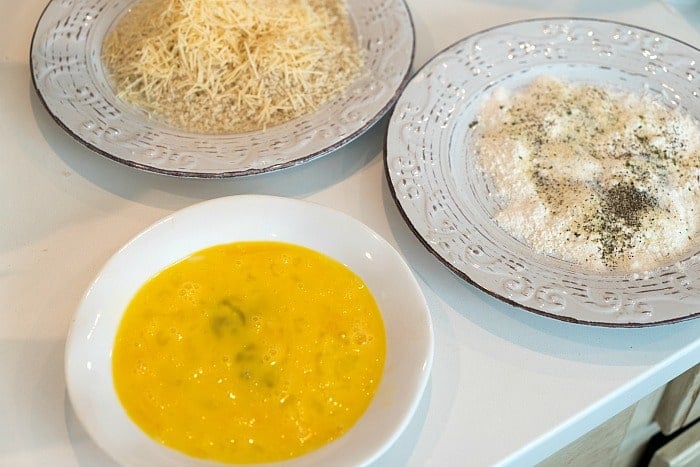 I have been asked about using tempura batter. Don't do it or you'll have a muddy mess of a cleanup. Stick to this breadcrumb coating method.
The next thing you'll need is a bottle of olive oil spray. THIS is KEY to getting your hot air fryer recipes super crispy
Like deep fried but WAY healthier.
It will help crisp so if it's not brown enough just give it a bit of spray and voila.
This is the one I usually choose, but honestly I get whatever is on sale.
You do not have to add breading to make things taste amazing though! Like our air fryer steak bites that just have a bit of oil and our steak dry rub, no breadcrumbs are used.
Our tofu air fryer recipe just uses a marinade too while frozen chicken thighs in air fryer use just bbq sauce to add flavor.
After you've breaded your foods and placed them into your air fryer basket, spray it with this in order for the outsides to get nice and brown.
I kid you not, you mind as well buy it in bulk right now. 😉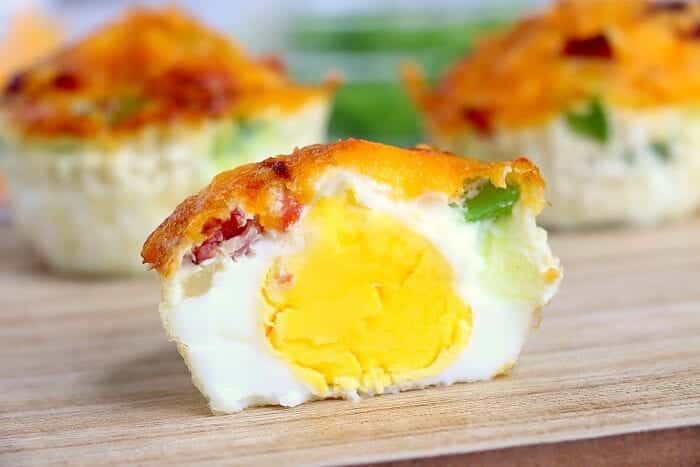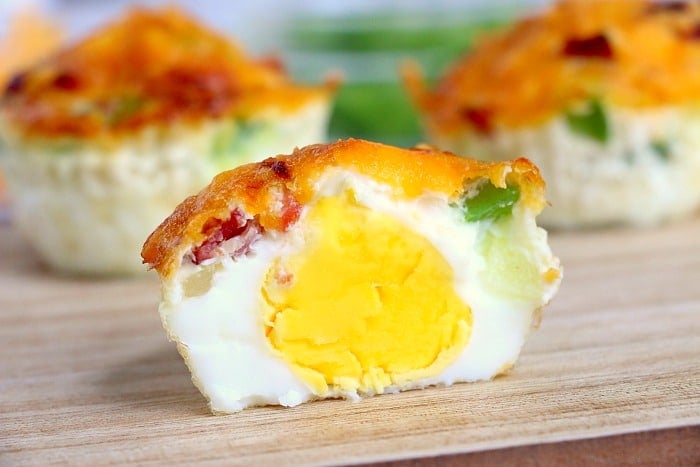 Then refer to your printed time sheet with the recommended temperature (or use preset buttons on machine) and cook accordingly.
You can even cook frozen foods in your air fryer like corn dogs by referring to the oven temp. and times on the box, they're pretty close.
Even every day lunch options like grilled cheese are better in this machine!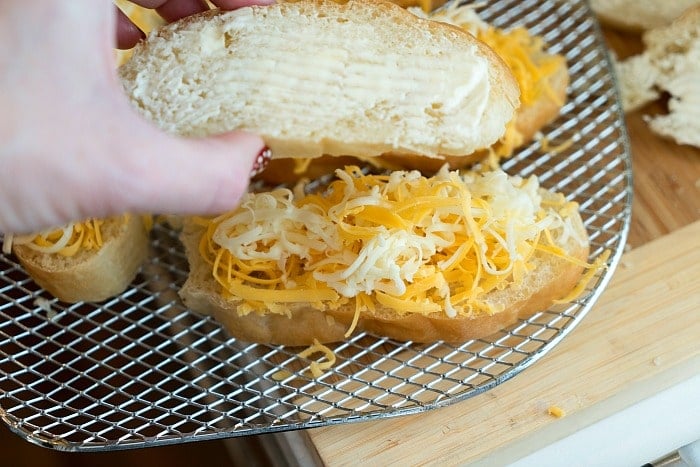 Here are a few questions you might have on your mind. I know I did and now that I have been using it regularly for a year now, I have some answers to share with you.
What can you fry in an air fryer?
You can cook all sorts of things!! Using less than a tablespoon of oil or a couple of sprays of canola cooking spray you can fry beef, chicken, fish, frozen food, and vegetables.

Air fryer benefits are more than I can list right here. First and foremost you get the crunch you like outside with tender insides like our air fryer zucchini fritters.
Can you use breading in an air fryer?
Following proven air fryer recipes will help when you crave foods that typically have wet batters but need a dry coating instead to work in your machine.

When in doubt, use a classic three-step breading procedure: Flour,
Egg, dip into crisp coating like Panko or Italian bread crumbs
Now you're going to choose whether you're going to bread or not. Our air fryer salmon has none, but I love it on things like our air fried chicken.
What are the differences between all the electric air fryer machines you see out there. We will begin with our Cosori hot air fryer, it's the style you're used to seeing.
Why we like this style:
There are preset buttons for cook time and temperature for a variety of foods.
The air fryer basket is square and quite large (even for the 6 quart version) compared to the older versions that are round.
There's a bit of space between the drawer and the basket for oils/liquid/fat to drain away from the food.
I love how contained it is without a lot of unnecessary space so foods like our air fryer zucchini fries get really nice and crispy in no time. Next favorite is our Ninja Foodi Dual Zone Air Fryer Steak!
Have a larger family? THIS is the best large air fryer on the market!
I will tell you this is a game changer if you want to get a large batch done all at once.
Want to make a bunch of beer battered onions rings for dinner? Pile them on the shelves!
This is why I love this model:
It has 3 air fryer shelves that hold a lot of food.
This Power Air Fryer Pro comes with a rotisserie so you can cook a whole chicken really easily and it will rotate on it's own.
You can learn how to dehydrate apples, other fruits, and beef jerky in this.
There are preset buttons for a variety of foods to help you try a bunch of new things and have them turn out perfectly crispy.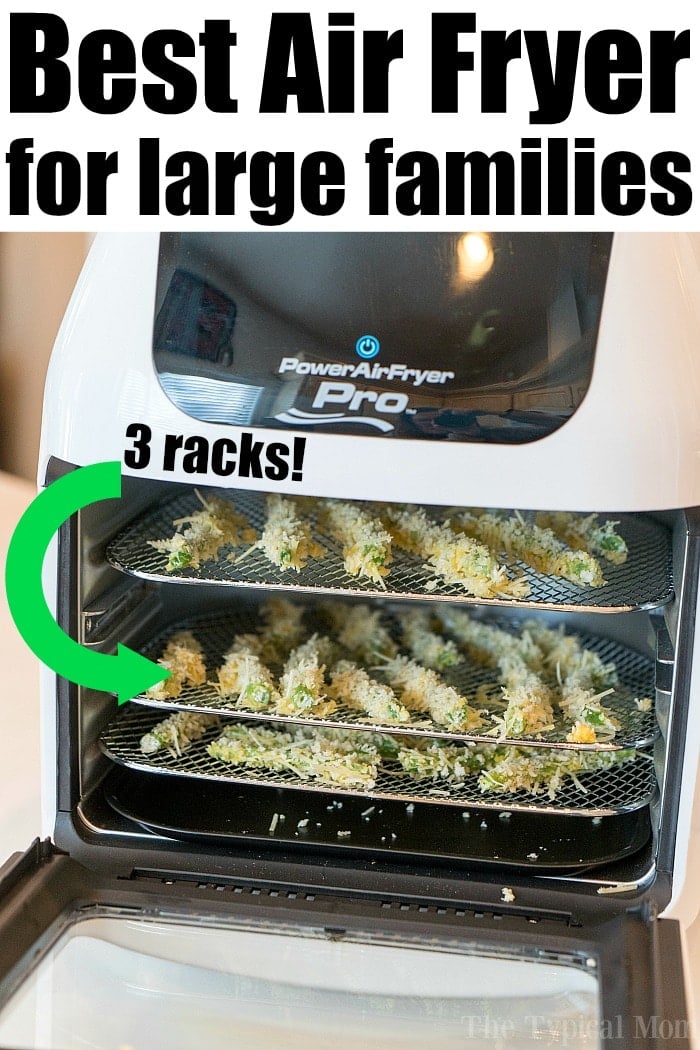 BUT what if you want a multi-functional device?
Next we will discuss how the Ninja Foodi is so different! This is why I love this model:
It's no surprise I do love my Instant Pot, but this magic pot takes it a step further!
With larger cuts of meat you're able to pressure cook something like our air fryer pork loin, and then brown the outside all inside one pot!
If you have limited counter and storage space it's awful nice to have a few different functions available all in one appliance.

It's the only way we cook white rice now too.
How does the Ninja air fryer work?
The individual device, I'm referring to the Ninja Foodi model. These are two different things.
Get this one that offers 7 different functions in one machine.
Why do I love this machine??!!
OH let me count the ways…..I do really love multi function kitchen appliances like this. The main ones I use are pressure cooker and air fryer.
That is right! You can "bake" in it like this bundt air fryer cornbread as a side dish too.
There are more functions than just one like the others. You'll be able to replace your steamer and rice cooker too. As I shared above, you can even bake in it!
The air fryer basket is a bit smaller than the Cosori above because it's round, but the added functions kinda' make up for it.
You can see the air crisp lid below, there is a different one for the other functions.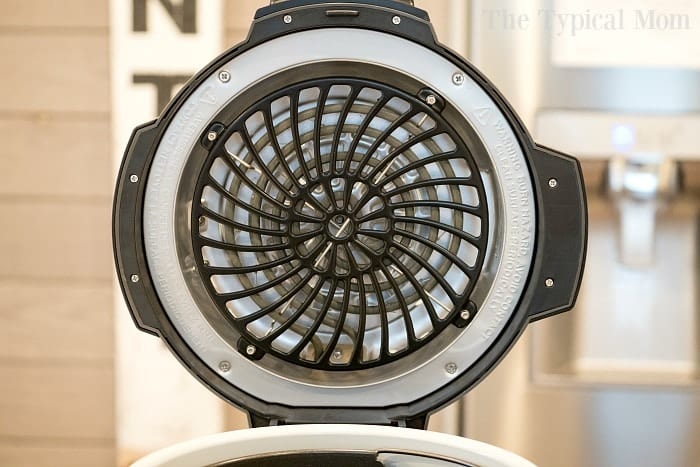 It really depends on what you're looking for. If you don't have an Instant Pot yet I would recommend a Foodi instead since you can crisp in it as well.
The difference is that the lid only browns a few spots on top of the food facing up.
With an actual air frying machine it will crisp the food all the way around, it's just better I tell you.
All of these machines will create your favorite fried chicken fingers and fish and chips, turning them into healthy meals with no added oil.
The biggest difference is the size of the basket and machine itself:
I don't know about you but I do love to get it all done in one shot vs. multiple batches.
If you live by yourself, or there's just two of you, the smallest one at the top will work fine.
For families I'd recommend the large air fryer for families. There are 5 of us and this one works well if I don't need to pressure cook anything beforehand.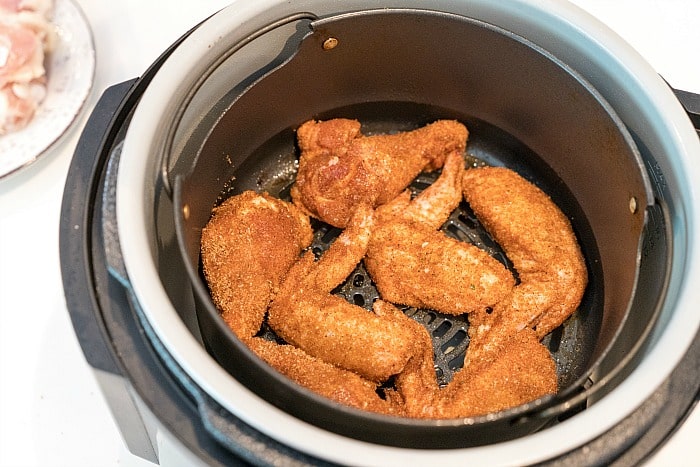 Now let's talk about a few of our favorite easy air fryer recipes:
How to Air Fry Frozen Foods
We have a great example of how to cook frozen meatballs in air fryer below.
How to Air Fry Everything
How to air fry everything like these frozen meatballs that can be served as an appetizer or dinner idea. Quick and delicious.
Instructions
Preheat air fryer to 380 degrees for 5 minutes. Pour frozen meatballs in air fryer basket and close.

Cook for 8-10 minutes until the middle is tender and outsides are as browned as you'd like. Toss with sauce and serve.
Nutrition Facts
How to Air Fry Everything
Amount Per Serving (1 oz)
Calories 308
Calories from Fat 216
% Daily Value*
Fat 24g37%
Cholesterol 82mg27%
Sodium 257mg11%
Potassium 447mg13%
Carbohydrates 2g1%
Protein 20g40%
Vitamin A 185IU4%
Vitamin C 4mg5%
Calcium 22mg2%
Iron 1mg6%
* Percent Daily Values are based on a 2000 calorie diet.
Then move on to veggies like cauliflower steak air fryer style. Low calorie healthy snack or side dish. Ready to make some flavor bursting recipes including our air fryer baked potatoes?
Make it a fun air fryer dinner recipe and create a potato bar with all the toppings you'd want to stuff inside like:
Shredded cheese
Sour cream and chives
Add salsa for a low fat meal
Stuff it with chopped leftover ham or steak
You could make a hamburger bar too with air fryer onions + all the fresh ingredients you want too.
Now this can be fun! Especially when it is cold outside and you aren't about to barbecue burgers, using your air fryer can be a great alternative.
Don't want to grill on the barbecue? NO problem, just make an air fryer chuck roast inside instead.
Our kids really love making their own personal air fryer pizzas at home.

I just use a simple dough you mix with water for the crust. This makes it easy for my girls to make it themselves for dinner or as an after school snack.
You can also make air fryer hot pockets with frozen dough, or air fryer frozen pizza is really easy.
You can even make air fryer desserts in this thing though too like our air fryer apple crisp or air fryer pumpkin pie. We share air fryer banana bread and how to make a pizookie in your machine here too.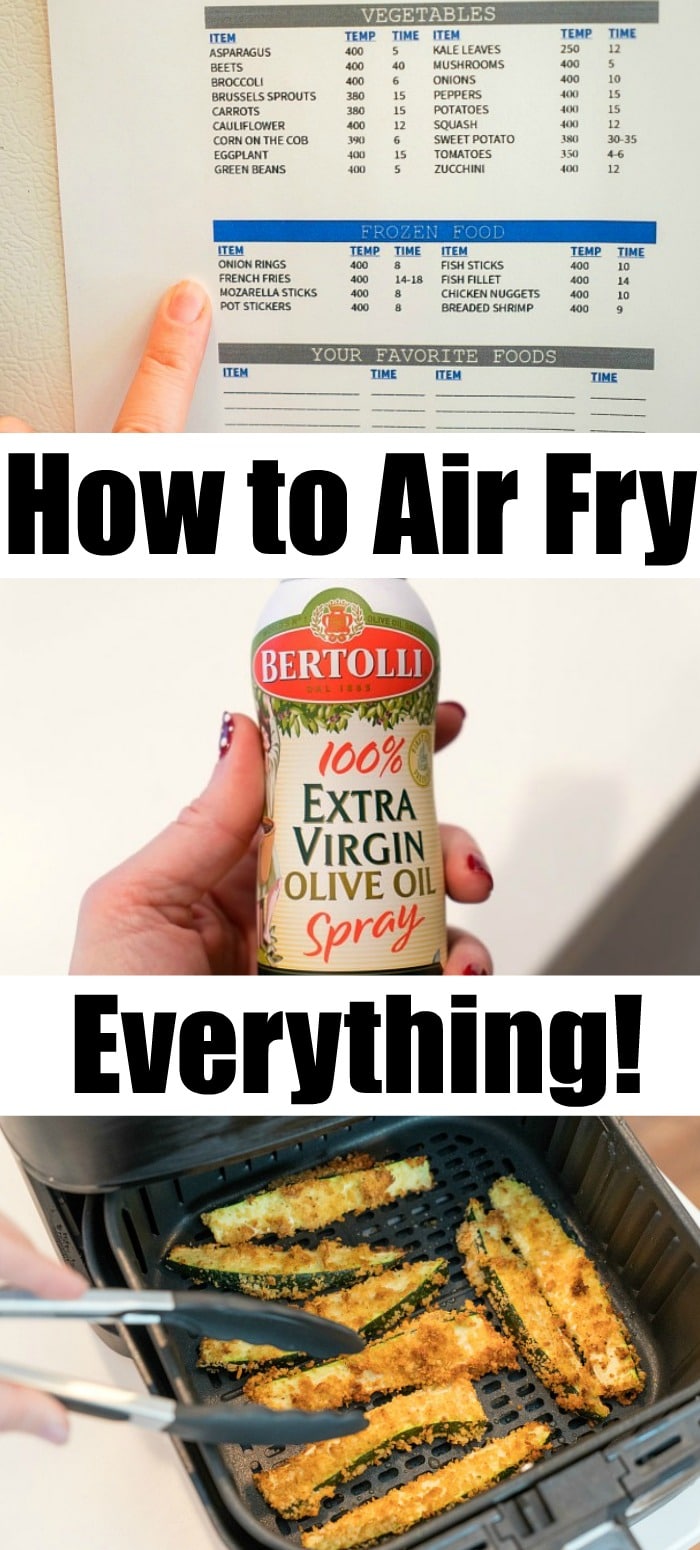 Looking for more easy air fryer recipes? Try frozen steak in air fryer with these green bean fries with some marinated chicken in air fryer tonight.
I also love using our dry rub for air fryer filet mignon. So tender and juicy made this way. Air fryer scallops are to die for too.
For an after school snack, give taquitos in an air fryer or sweet potato chips air fryer style a whirl.
Want to see a few of my favorite things that I am totally obsessed with?? Take a peek and see how many you might already have…twinsies!
Looking for more easy family recipes and tips? LIKE The Typical Mom Facebook page?
Then sign up for my free newsletter, and follow me on Pinterest! 😉
***** If you LOVED this recipe give it 5 Stars below and let everyone know what you thought about it. 😉