This is how to dehydrate apples sprinkled with cinnamon and sugar. They're the best healthy snack my whole family loves, especially my kids!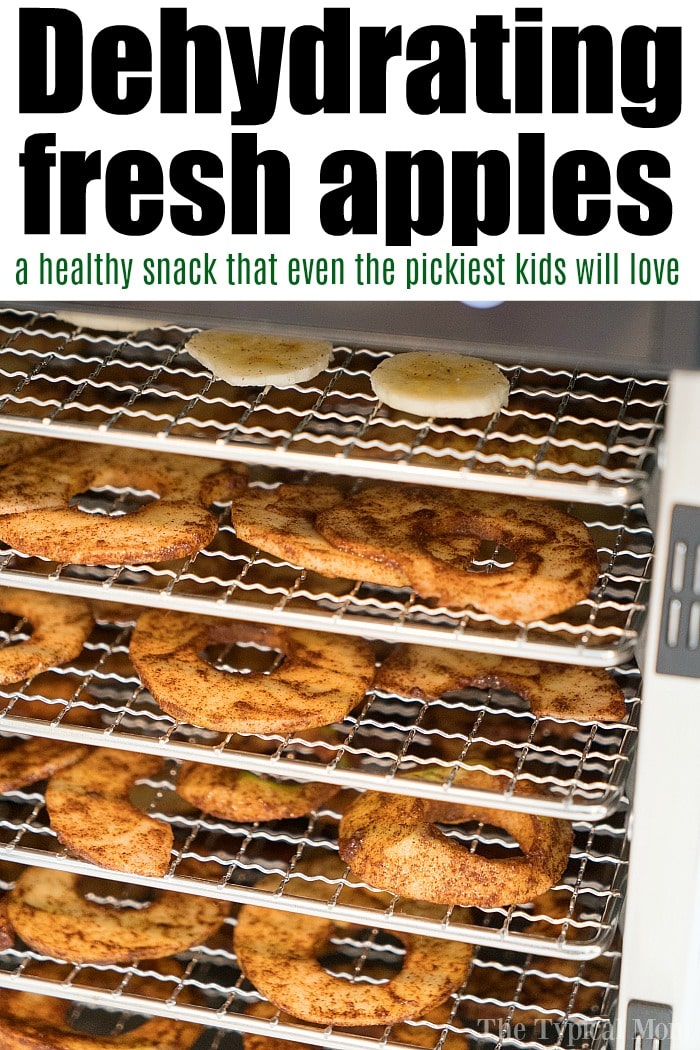 Have you wondered about food dehydrators, and whether you'd enjoy one? I did, but once we learned how to dehydrate apples we were hooked! Naturally sweet with just a pinch of cinnamon on top, these are now my family's favorite fresh apple recipe. Special thanks goes out to Cosori for sponsoring this post. (affiliate links present, originally published 9/19)
Let's start with the basics shall we?
This Cosori dehydrator is the model I have.
it's large enough for our family of 5

comes with a recipe book
fits comfortably on my countertop
looks sleek

We chose to dehydrate apples (and 1 rack of bananas) this time.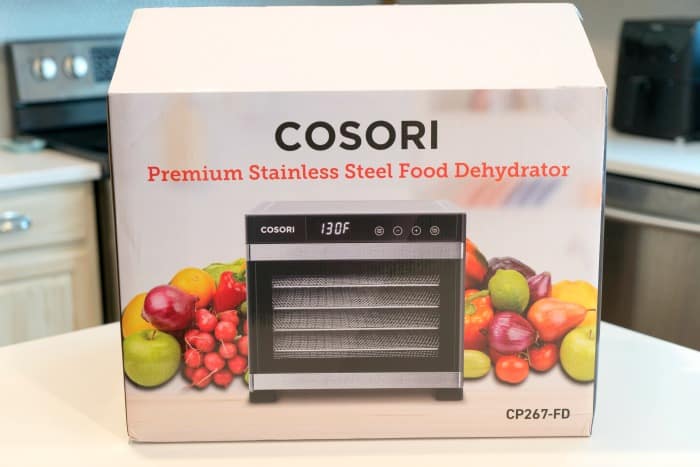 I know, you want to try this too right??
How to dehydrate apples
This is what you'll need to get started:
This Cosori dehydrator
The best apple corer
Apple peeler
Knife or mandoline
Gallon baggie
Fresh apples

we used small granny smith

Cinnamon
Sugar

easier yet you can buy it already mixed together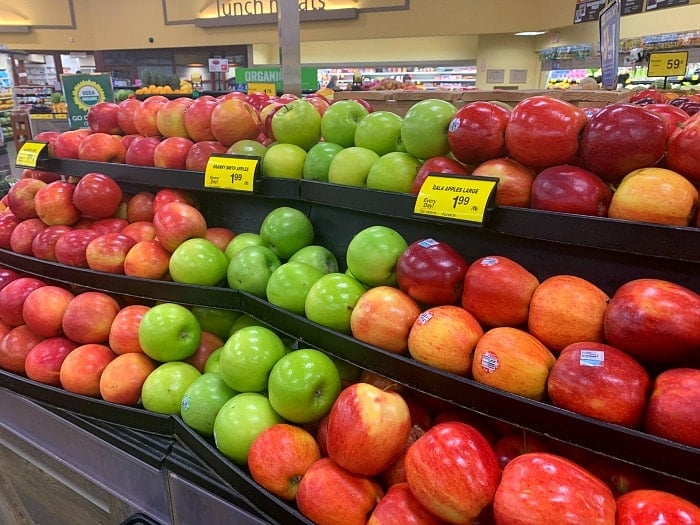 You can use any type you want, Fuji is my favorite. They are the sweetest apple and stay firm unlike yellow and/or red delicious. Green or Granny Smith are the firmest variety and good too.
Those are my favorite to make apple crisp because they're the best apples to bake with in the oven or Instant Pot for sure.
I've ended up using a knife and just slicing them thin because the mandoline I purchased was having issues. 😉
That method is my preference but when all else fails, you use what you have at the time right? lol
It worked just as well which is good to know if you don't have one yourself. Once you core and peel them they'll start to turn brown quickly so it's best to do it all in one swoop and not wait a long time in between steps.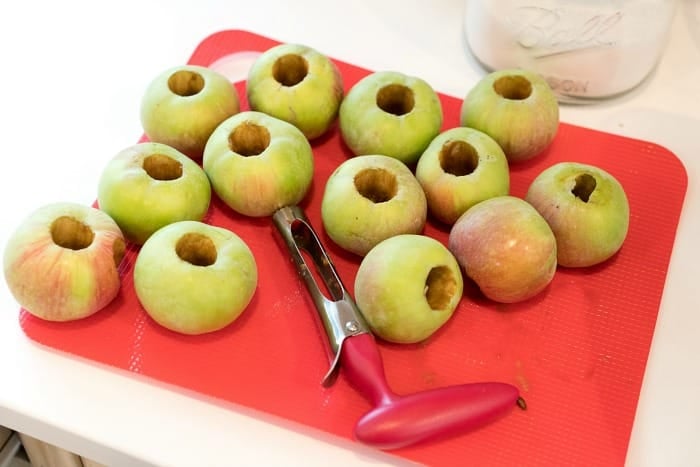 Of course you can use a bit of lemon juice to prevent browning but that isn't necessary if you just get it all done right away.
I suppose you could dredge your fruit in cinnamon and sugar in a bowl but I thought a baggie would be way easier. It was. I didn't use anything on the fruit, just the moisture itself made the flavors stick.
Of course it is totally up to you whether you want to add that or not. If you just wanted a pinch you could alternatively lay your fruit in one layer on each try, hold it over the sink, and sprinkle it on top.
I say do this over the sink because it will eliminate a lot of the mess.
This is what the sliced apples looked like shaken in a gallon freezer bag. You want to make sure that they do not overlap on your dehydrator trays.
Just like when you use an electric air fryer and making air fryer apple chips, your food needs hot air to circulate in order to dehydrate apples.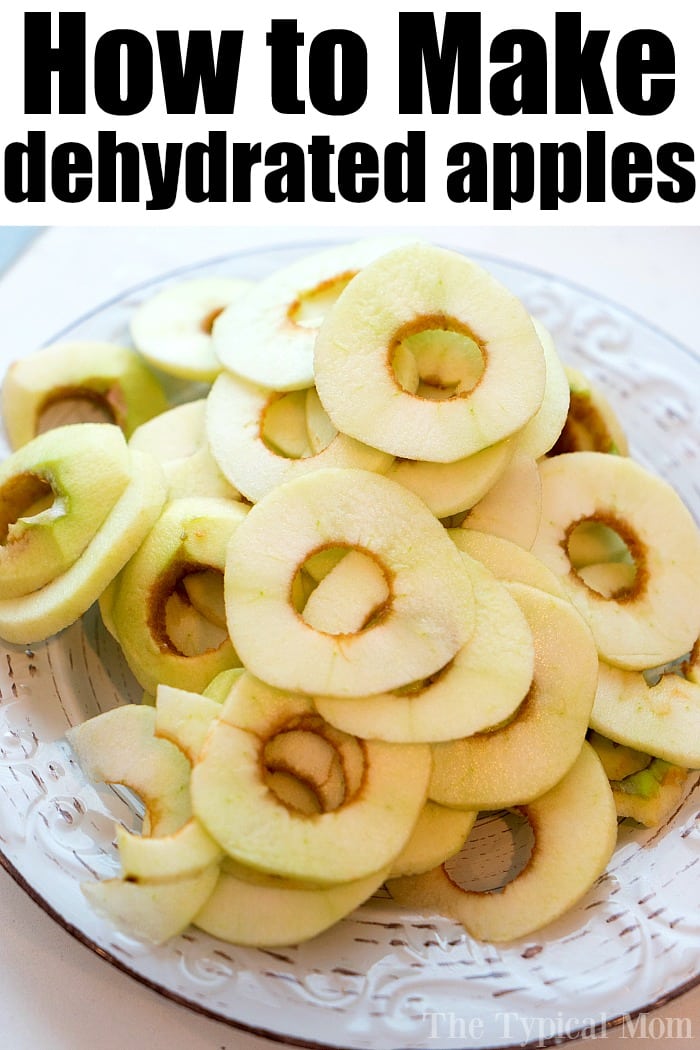 How to make dehydrated apples
Peel the apples.
Core the apples, discard peels and cores into garbage or compost bin.
Put sliced apples on a paper towel or plate.
In a gallon Ziplock bag put half your cinnamon and sugar mixture + half your sliced apples and gently shake.
Once they're coated lay on your food preservation trays like you see here, do not overlap them.
What temperature do you dehydrate apples at? You set to 145 degrees for 6 hours to make dried apple rings.
If you want really crispy apple chips it will take closer to 8 hours.
Store in air tight baggies or put them in cute mason jars with a ribbon around the mouth as gifts!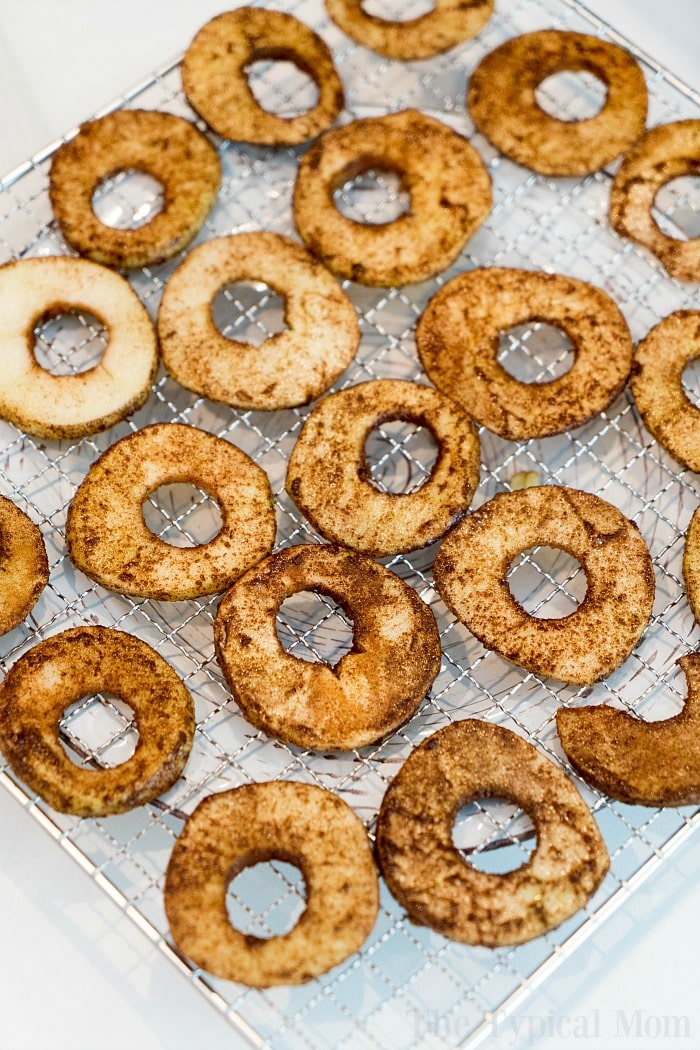 Yes you could dry apples in the oven but there is NO way I am leaving it on that long. Using a food dehydrator like this one by Cosori it keeps your kitchen cool while it dries your meat, fruits, and vegetables all day.
That's right, you can dry just about anything in this beauty. Love beef jerky, make that another night.
We did one rack of dried bananas on this round and were so obsessed with them that we made an entire batch the next day. Now those are my kids (and my) favorite healthy snack.
Are dehydrated apples good for you?
Yes!
They are nutritious with no fat but plenty of vitamins, minerals, antioxidants and fiber.
Essentially they're fruit with the water removed.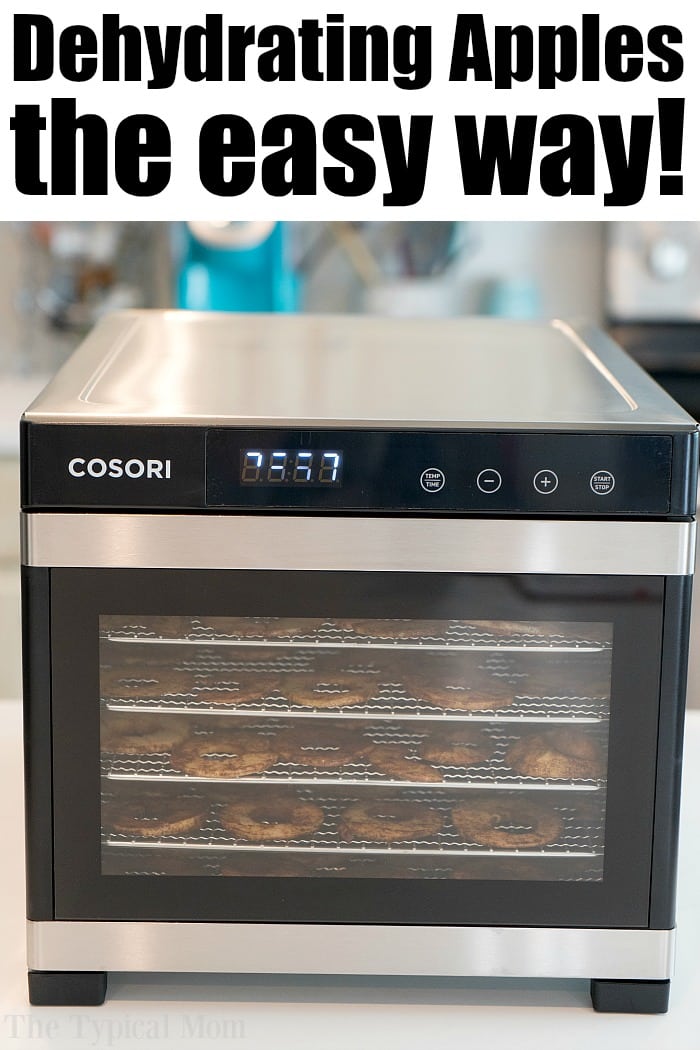 Does dehydrating apples remove nutrients?
There is a bit of vitamin loss because of the heat and air. Vitamins A and C are lost.
Which dried fruit has the least amount of sugar?
Going down the list of popular choices would be:
Peaches
Apples
Lychees
Apricots – oh so good
Prunes
Figs
Cranberries that have been sweetened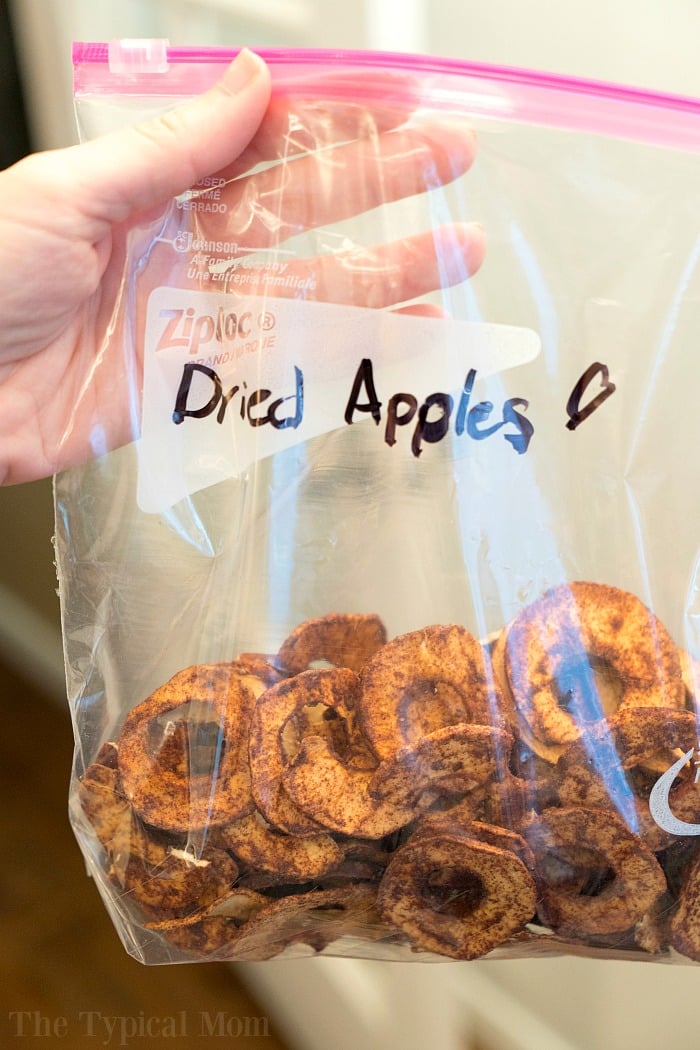 Then store and enjoy whenever you like. That is how to dehydrate apples my friends!
How do you store dehydrated apples?
They actually require very little storage space.
Store them in sealed plastic bags like this one.
Airtight jars can be used too.
Just pack fruit as tightly as possible, removing as much air as you can so they stay fresh longer.
Do dried apples need to be refrigerated?
You can actually keep them at room temperature, no need for refrigeration which is great. They will last 6-12 months like this too!
If you love these, try our easy baked apples and inside out caramel apples too.
Want to see a few of my favorite things that I am totally obsessed with?? Take a peek and see how many you might already have…twinsies!
Looking for more easy family recipes and tips? LIKE The Typical Mom Facebook page?
Then sign up for my free newsletter, and follow me on Pinterest! 😉
***** If you LOVED this recipe give it 5 Stars below and let everyone know what you thought about it. 😉
How to Dehydrate Apples
This is how to dehydrate apples sprinkled with cinnamon and sugar. They're the best healthy snack my whole family loves, especially my kids!
Instructions
Core apples, then peel the skins. Use a mandolin to slice thin (the thickness is up to you, the thinner they are the crispier they will be and less time it will take).

Mix your cinnamon and sugar in a bowl. Add half into a gallon baggie with half of your sliced apples and shake until fruit is coated well.

Separate apples and lay flat in one layer on stainless steel rack. When that is full slide it into your dehydrator.

Use another rack to lay out rest of fruit.

Then add the remaining cinnamon and sugar mix into your baggie with remaining sliced apples and shake again.

Lay remaining apple slices on trays until they're full. Close door and set dehydrator to 145 degrees for 6 hours.

Timing will vary slightly depending on how crisp or chewy you like your apples, and how thin you sliced them. Check at 5 hours and see what your thoughts are, keep in for longer to crisp up more.
Nutrition Facts
How to Dehydrate Apples
Amount Per Serving (2 oz)
Calories 126
Calories from Fat 9
% Daily Value*
Fat 1g2%
Sodium 2mg0%
Potassium 159mg5%
Carbohydrates 33g11%
Protein 1g2%
Vitamin A 80IU2%
Vitamin C 7mg8%
Calcium 9mg1%
Iron 1mg6%
* Percent Daily Values are based on a 2000 calorie diet.