Lamb chops in air fryer directions are here! Tender meat with tons of flavor and a little crisp on the edges. Best lean protein packed dinner.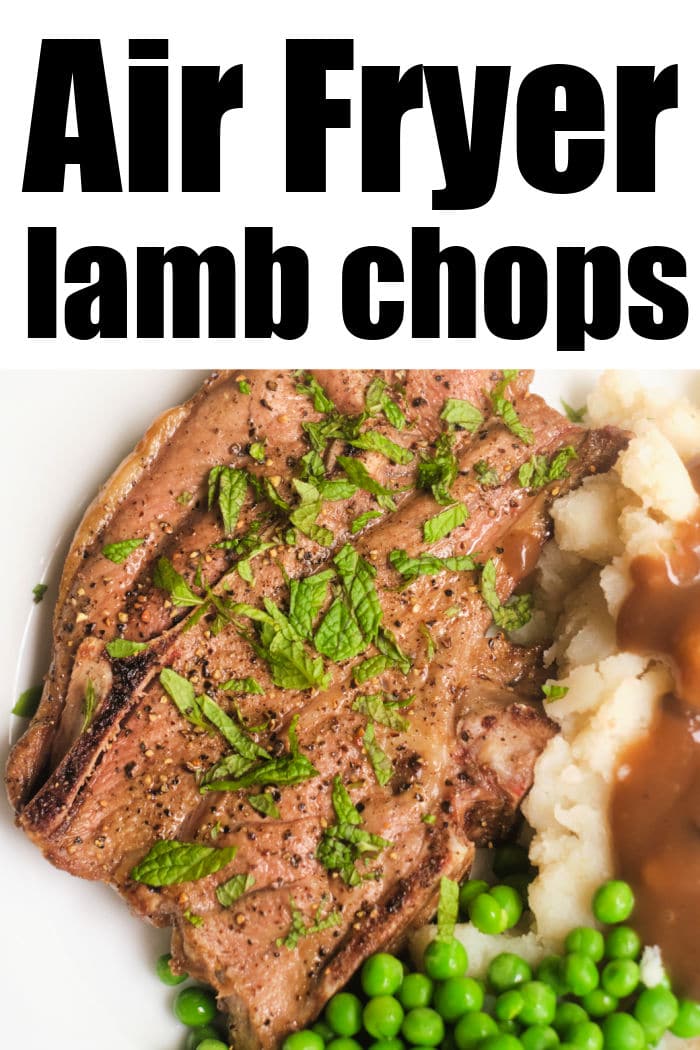 How to make lamb chops in air fryer has never been easier. If you are only cooking for yourself, or just the two of you, this is the best way to cook lamb ever. NO standing at the stove babysitting your lean meat, just season, set and set the cook time. One of many easy air fryer recipes we share on our site. (originally published 2/22, affiliate links present)
Air Fryer Lamb Chop
This one doesn't have the long skinny bone hanging out, it's called a lamb shoulder chop. It is better that you don't choose that variety because it won't fit well into your air fryer basket. This way you'll be able to cook more meat in a small area. You usually have either to choose from at your grocery store.
If you've been a bit intimidated to cook this type of lean meat, don't be. We will walk you right thru it down below. Season as you wish and enjoy with some vegetables on the side for a healthy air fryer dinner.
FIRST – You should sign up for my free newsletter so you get new posts emailed to you twice a week and never miss out on anything! If you love air fryer recipes too, here are some resources to start with: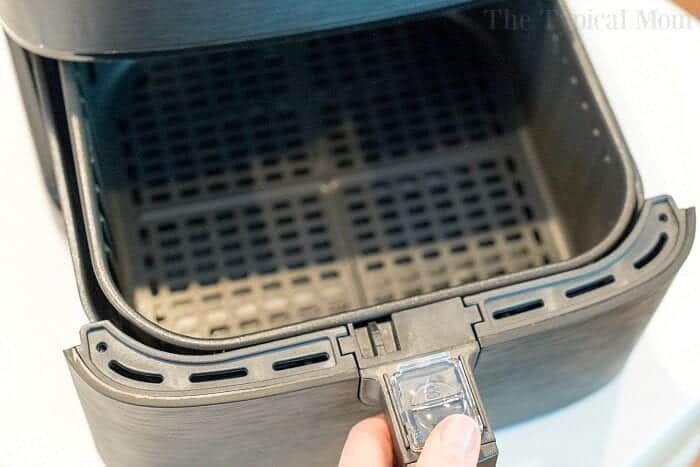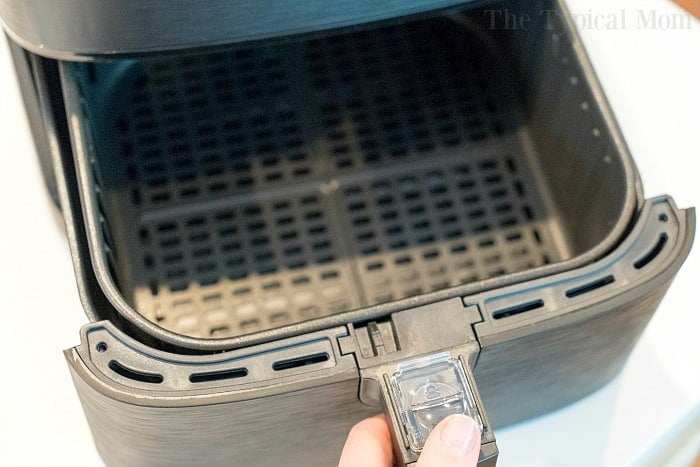 Ninja Foodi Lamb Chops
You can use this machine too but this time we are only using the button marked air crisp. The lid that IS attached is your go to for this one too.
Lamb Chops Air Fryer Medium Rare
You don't want to cook these too long. You do want pink in the center kinda' like the perfect steak or it will dry out and become quite chewy, not appetizing.
How to Cook Lamb Chops in Air Fryer
You're going to start with a defrosted and/or fresh slice as you see here. 1-2 will fit at a time. If you want more than that you'll have to cook in batches since you don't want to overlap the pieces. A quick spray of olive oil will keep rack of lamb pieces from sticking to the bottom.
What seasonings go well with lamb?
Chopped fresh seasonings go well with this bold flavored meat. We're talking oregano, basil sage, add some roasted garlic, garlic powder and cayenne or chili powder can add a bit of heat if you like. Want simple? Just go with salt and pepper if you like and let the side dishes add more flavor.
We love garlic mashed potatoes with this with half a cob of air fryer corn.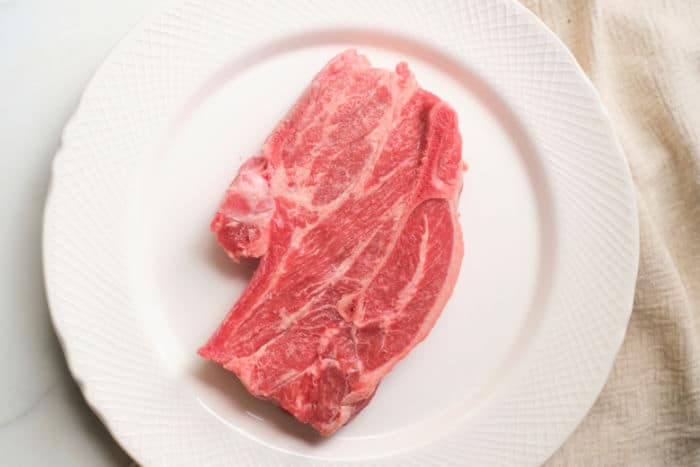 Are there different types of lamb chops?
Yes, that is why ours might look a bit different than those you have seen in your local meat department. A shoulder chop like this may be a bit thinner, cheaper, and cook faster than other areas. Traditionally the pieces come from the rib, loin, or sirloin.
Sometimes we buy bulk meat online so I take what they have for the best price. The taste is no different, with a long bone or without. If your store is smaller this may be in the frozen section and you'll need to defrost it first.
How to cook lamb shoulder chops
The only difference between all of the cuts would be the cook time. Obviously the thicker your piece is the longer it would need to heat the very center. The ideal internal meat temperature is 145 degrees F. You do NOT want to overcook this as it can quickly become dry and tough. A bit of pink is ideal.
Medium would be closer to 160 degrees but remember that it will continue to increase in temp. about 5 degrees after removing it from the heat. AND you should always let your proteins rest for a good 10 minutes before slicing.
Ninja Foodi Lamb Chops
You can use any brand of countertop machine you might have. I own a Foodi, Cosori and AirWave. Seems crazy but I have had nights where I've used all 3 to make different items for dinnertime. Instructions below in the printable recipe card would remain the same for all brands.
The biggest difference between any and all of them is just the size of the inner basket. You won't likely be able to cook more than 2 steaks at a time though.
Start by preheating your air fryer to 380 degrees for 5 minutes. Then spray the inside of your air fryer basket with non stick spray.
Sprinkle seasonings of your choice on both sides. Lay meat into basket.
Close and cook for about 7 – 15 minutes (timing will depend on how thick your piece is, 12 made ours well done)

a thin piece would be about 5-7 minutes for medium rare, check often
use a meat thermometer to test internal temperature and determine when you want to take it out

Remove from your basket and let rest on a plate covered for 10 min. before slicing so it remains juicy and tender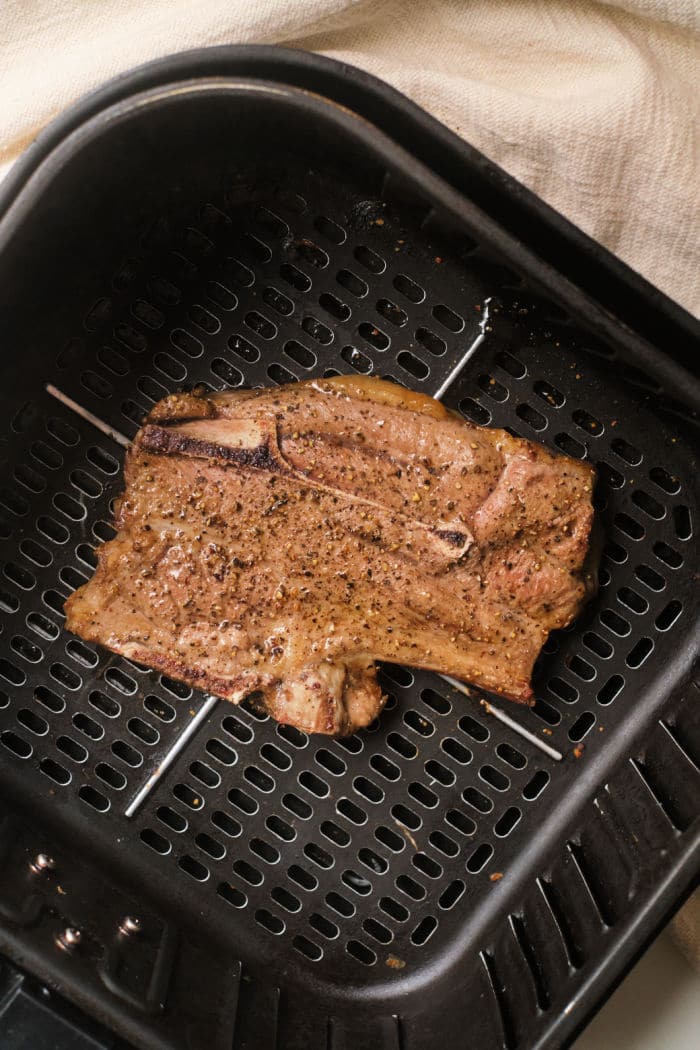 Lamb Air Fryer
There really isn't a need to cook for 6-7 minutes then flip because the holes on the bottom will allow loin chops to get crispy on both sides. What if you have leftovers? What is the best way to save leftover lamb? You always want food to cool down completely before transferring it to a container or storage bag.
Reason for this is that if it is warm and goes straight into the fridge to quickly cool down it can grow bacteria easier.
Once it is room temp. seal into an airtight container or baggie and into your refrigerator for up to 3 days.
Reheat with some sauce on top ideally to add moisture, you don't want it to dry out.
I suggest adding a bit of onion gravy on top and heat on the stovetop for a few minutes or in the microwave for 1 minute on each side.
Quick and easy enough for you? Give these air fried lamb chops a whirl and let us know what you think! Love another sauce with it that you love making? I'd love to try your family recipe too.
A printable recipe card with nutritional information is available below for you. Need ideas on what to serve with this? You could make some jasmine rice and steamed vegetables for a really low fat meal. Bagged salad is a quick choice with store bought rolls too. Whatever works but this will be a new fave for sure.
Want to see a few of my favorite things that I am totally obsessed with?? Take a peek and see how many you might already have…twinsies!
Looking for more easy family recipes and tips? LIKE The Typical Mom Facebook page?
Then sign up for my free newsletter, and follow me on Pinterest! 😉
***** If you LOVED this recipe give it 5 Stars below and let everyone know what you thought about it. 😉
Air Fryer Lamb Chops
Lamb chops in air fryer directions are here! Tender meat with tons of flavor and a little crisp on the edges. Best lean protein packed dinner.
Instructions
Preheat air fryer to 380 degrees F for 5 minutes. Spray inside air fryer basket with olive oil spray.

Sprinkle salt and pepper on both sides. Lay lamb chop into basket.

Close and cook for 7-15 minutes (timing will depend on how thick your piece is, and how well done you want it). Ideally 145 degrees internally.

Remove from basket and let rest on a plate covered to keep warm for 5 minutes before slicing.
Nutrition Facts
Air Fryer Lamb Chops
Amount Per Serving (2 oz)
Calories 284
Calories from Fat 108
% Daily Value*
Fat 12g18%
Cholesterol 129mg43%
Sodium 139mg6%
Potassium 536mg15%
Protein 42g84%
Calcium 20mg2%
Iron 4mg22%
* Percent Daily Values are based on a 2000 calorie diet.