Dual Blaze Cosori Smart WiFi air fryer review is here. If you have ever dreamed of having a smart air fryer you are going to love this countertop appliance. Now you can turn it on with your phone, adjust the temperature, time and it even pairs with Alexa or Google Assistant!
Cosori Smart Wifi air fryer review is here. Thinking about starting to air fry or want a newer model that you can control from your phone? This is a great choice that does all the things and more. You can use all of our easy air fryer recipes to make breakfast, dinner and dessert in it. (affiliate links present)
Cosori Air Fryer with Wifi
First off if you are wondering where you can find one, you can buy here for less!!
It's the perfect size for 4 – 6 people with a 6.8 quart capacity.
Super easy to clean with a lift out grate inside the basket and dishwasher safe too.

I'll even show you how to clean a Cosori air fryer down below
Now how is this different from all the other choices on the market? A few things I will tell you about but the main one is that it has dual heating elements to air fry everything crispier than ever. Unlike the Ninja foodi and AirWave that only have coils only on the top, this one has another on the bottom too!
FIRST – You should sign up for my free newsletter so you get new posts emailed to you twice a week and never miss out on anything! If you love air fryer recipes too, here are some resources to start with: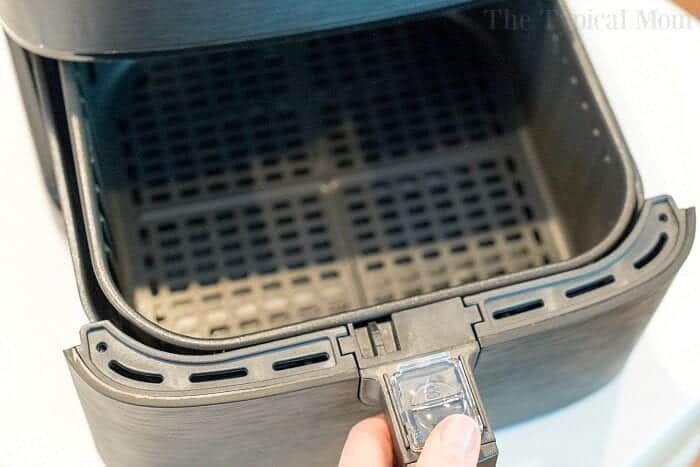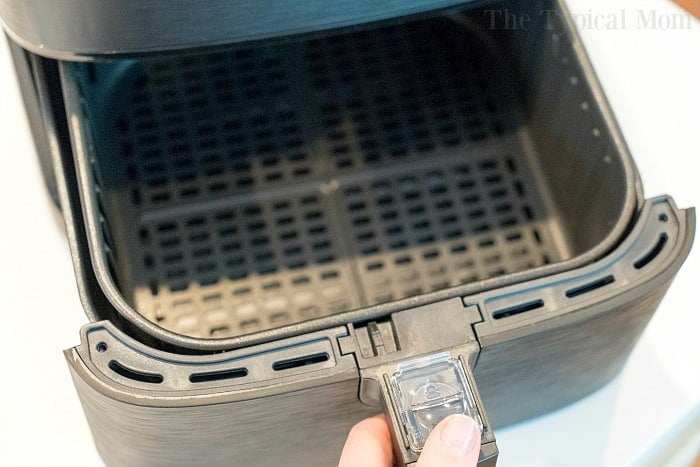 COSORI Air Fryer Dual Blaze with 360 ThermoIQ Tech
If you are familiar with the "original" Cosori air fryer machine you probably are in love with that one already. I still use it in addition to this if I want to cook multiple items at the same time. This one is a step above though. Let me quickly rundown the upgrades they've done and I'll elaborate below.
That doesn't mean you can't use all the same Cosori air fryer recipes I have shared in the past, it just means fresh and frozen food in air fryer will cook more evenly. That is because…..
You get 12 functions on the control panel on this small countertop appliance

6 presets are

chicken
steak
seafood
frozen

Functions are

Air fry
reheat is great for reheating chicken in air fryer
roast and bake for air fryer cake
broil
keep warm
Now that is a lot in a small machine right??? Shorter cook times and crispier food with their 360 thermoIQ technology.
Cosori Dual Blaze Air Fryer Review
The first thing we made in this baby was some air fryer frozen asparagus. Yes, you can cook straight from frozen out of the freezer and have everything turn out amazingly well. From air fryer frozen corn dogs to frozen chicken nuggets and more it's a game changer.
Now what is different from typical, let's say a Costco air fryer on the market today;
Cooks 20% faster because of the additional heating element
Pairs with Alexa or Google device for hands free cooking
NO preheating required
You no longer need to shake the basket because of the even heating on top and the bottom of the basket
This is how you sync it to your phone to turn it on, adjust the time or temperature of your machine. Controlling your air fryer remotely is a game changer. Just download VeSync APP on your smartphone and pair with your machine, done!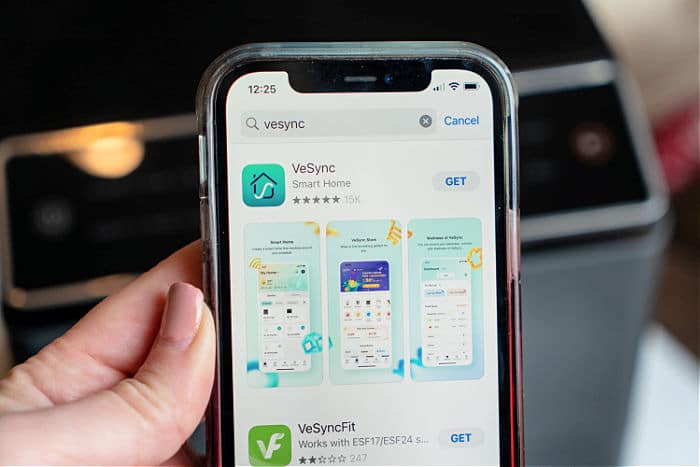 Cosori Air Fryer Cleaning
OH and it's super easy to clean!! Ok so I have 4 different brands at home now. I do a lot of reviews and they don't always make the cut (just sayin'). A big ummmmmm NO for me is if it is hard to clean. That goes without saying I'm sure but if you are like me and use it on a daily basis this is big y'all.
First off this is dishwasher safe so if you don't even want to touch it you can pull out the inner piece/grate and put the drawer and grate right in. I don't run mine every day so I usually just wash it but since that piece lifts right out you can get the underside and grease right off.
There seems to be some sort of non stick coating already on there too which helps not only with the cleaning but having food not stick either.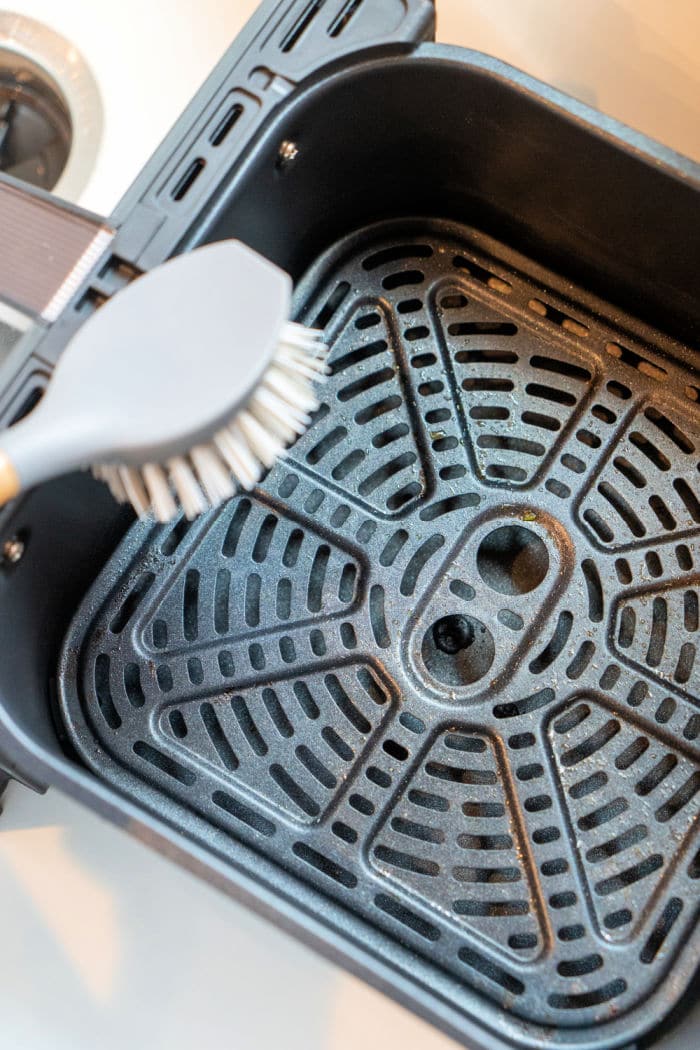 Wifi Smart Air Fryer
If you have never air fried anything before, don't be scared. First off this comes with a free recipe book inside the box which will help. I also have hundreds of easy air fryer recipes you can follow as well. Each week I publish 2 new ones so you will never run out of new things to try. You can cook a whole meal, restaurant quality in no time.
When I was new to it I started small and worked my way up to larger items. They are all so simple though, especially with preset buttons like they have on this device. I didn't have that when I began my journey so this is a game changer for sure for beginners. I promise you'll regret not starting sooner once you get started!
Instead of buying the next rotisserie chicken that has been sitting there all day and fattier than you'd like, make an air fryer whole chicken instead. It's SO much better tasting, fresh, and if cooking organic is important to you then this is important. Now you can choose the bird or frozen steak types you want and cook them to perfection.
What are you waiting for??!!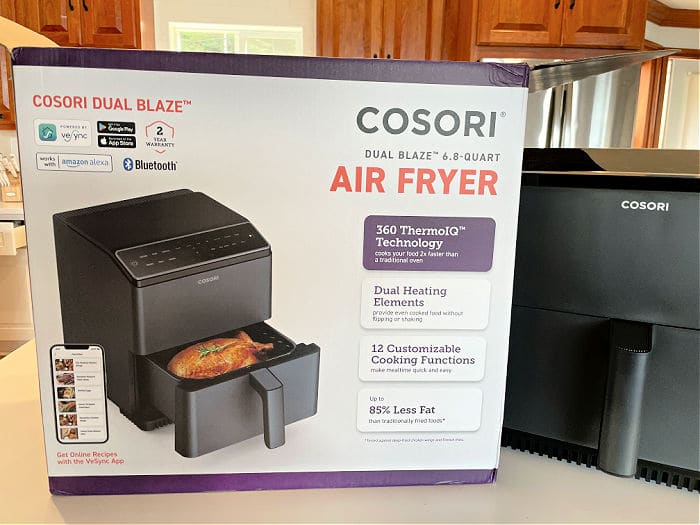 Cosori Dual Blaze Air Fryer Review
If you have any additional questions let me know below. It may be intimidating at first but believe me, I am all about easy so I wouldn't suggest anything that didn't make my life easier. With three kids, working full time, and sports on top of that we are a busy family. This has allowed us to eat together more often which is our goal as a family.
Want to see a few of my favorite things that I am totally obsessed with?? Take a peek and see how many you might already have…twinsies!
Looking for more easy family recipes and tips? LIKE The Typical Mom Facebook page?
Then sign up for my free newsletter, and follow me on Pinterest! 😉
***** If you LOVED this recipe give it 5 Stars below and let everyone know what you thought about it. 😉