Cleaning a jetted tub has never been so easy and this all you have to do to get that dirty gunk out of the inside of those jets! How to effectively and easily clean the inside of the tubes in your bathtub. You'll be amazed how dirty they really are!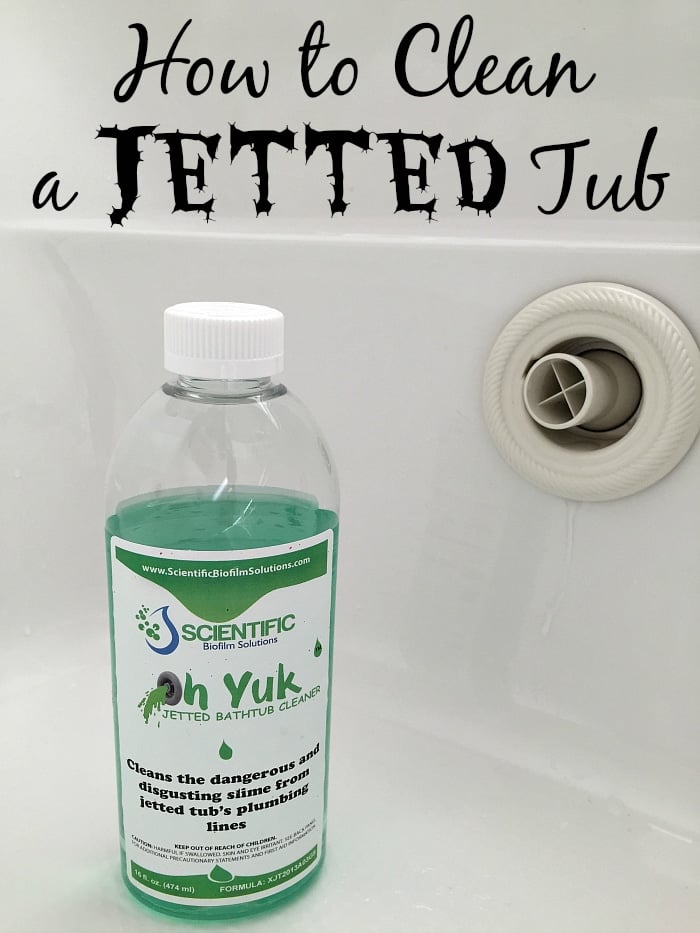 I have found the answer to cleaning a jetted tub!! I have often wondered about the bacteria and gunk that builds up inside the jets in a bathtub. Just how to clean were they inside really? Now I just found a great product for that! Special thanks goes out to BioWorx for sponsoring this post so I could share my findings with you. 😉 (originally published 4/16)
How to Clean Jet Tub
We moved into the home we're in now less than a year ago and were thrilled to see that it had a jetted tub!!
We were anxious to try it out once we moved in. One of the first thoughts that came to mind was "I wonder just how dirty the inside of these jets are?"
Since it wasn't a new home and other people had lived and taken baths in this tub before us it kinda' grossed me out.
Thinking about all their "germs" and gunk left inside the jets with no way to really clean it out kinda' made me gag. This is seriously the easiest way to deep clean a jetted tub!
Cleaning a jetted tub has never been so easy!!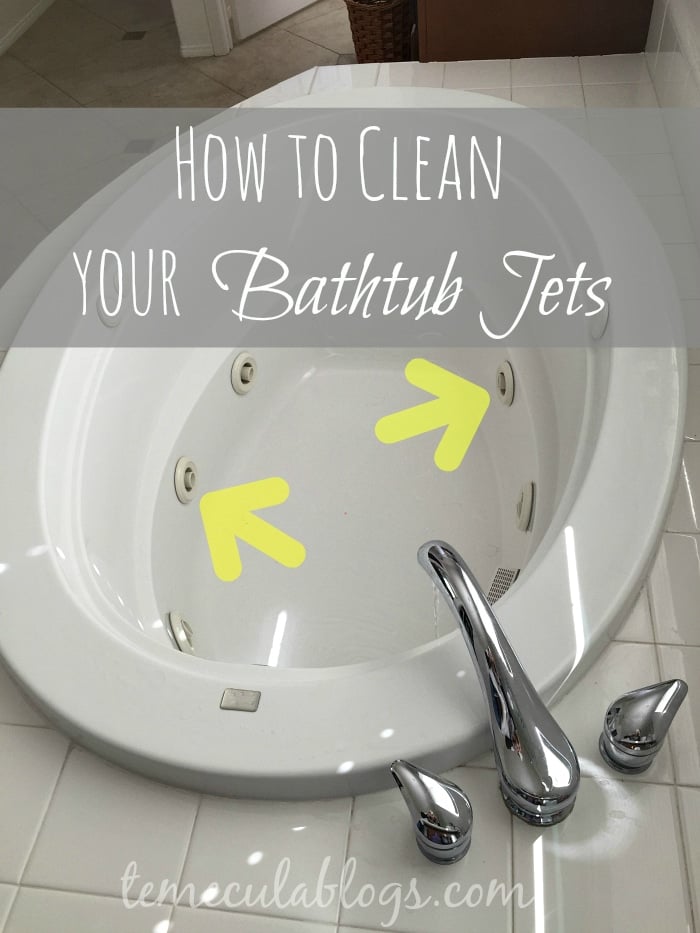 Oh Yuk Jetted Tub Cleaner
The only thing I could think of was to run the jets with a cup of bleach in it for a while. That didn't seem like that was the ultimate answer though. Tried a few cups of vinegar, some baking soda in the tub with hot water but the soap scum I saw was still there.
Dish detergent with warm water wasn't enough for the tub cleaning I was looking for. General cleaning products didn't say it would give the inside of jets a good cleaning. I just wasn't ready for a bubble bath until I found what got all that gunk out.
Oh Yuk is specifically made to clean the dangerous and disgusting slime from jetted tub's plumbing lines + it is so easy to use.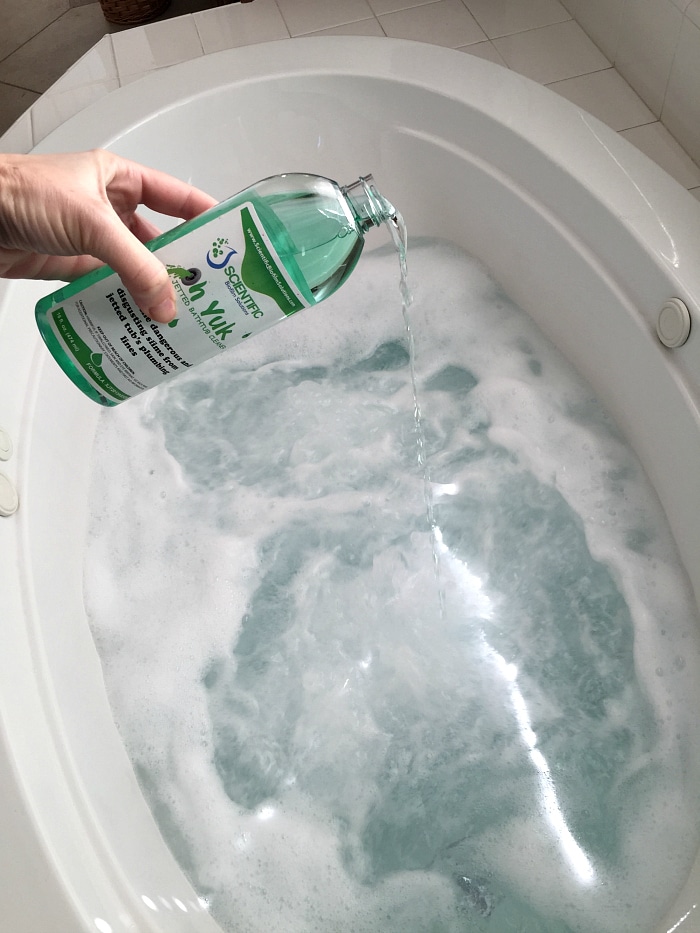 You just fill your tub with water, turn the jets on, and pour 2 oz. of Oh Yuck from BioWorx into the tub for about 10 minutes!
Once it was done I was disgusted by the amount of stuff that came out of the jets….seriously!
I figured there would be some yuck inside of the pipes since I wouldn't imagine the original owners would know about cleaning a jetted tub either but had no idea what to expect. This entire process didn't take long. The same as preparing to take a bath really.
It couldn't hurt to try it I imagined. We would just have to see if what it said on the bottle was true. It stated that Oh Yuk would really get in there and pull all the gunk out so you could easily wash it down the drain. So we gave it a whirl. Seriously….disgusting when it was done!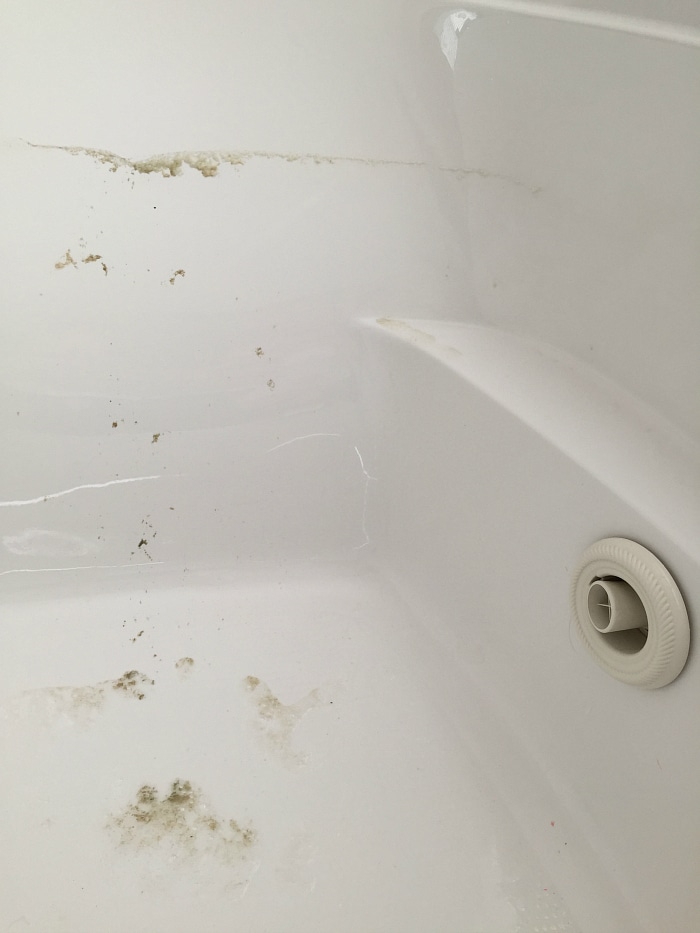 All of this slime and bacteria came out in just 15 minutes with about 1/2 cup of Oh Yuck jetted bathtub cleaner! Seriously gross.
Had I known this was in there I would've used this the first day we moved in. Honestly it made me feel like I immediately needed to take a shower. To scrub my skin after seeing what I had been bathing in all these months. Gross!
Thinking that I was cleaning my body in a clean tub all this time. I really was only doing half the job. Without cleaning the inside of the jets in my jetted tub I was just spraying gunk everywhere.
You can find Oh Yuk for cleaning a jetted tub here, as well as other products they offer.
We have more ways to clean easily too on The Typical Mom like how to get rid of gnats in your kitchen so follow along. Happy cleaning my friends. 😉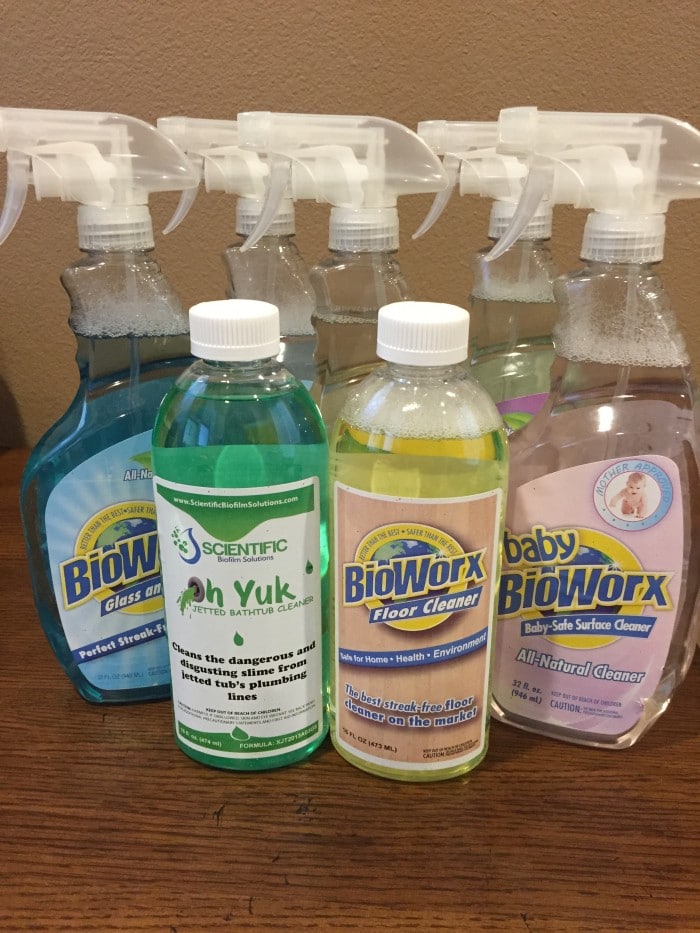 Skip making your own solutions of powdered dishwasher detergent and other various chemicals. You may damage the coating on your tub and that will be very expensive to fix. This is made specifically for the inner bathtub tubes and works great.
For more easy recipes, tips and crafts please LIKE The Typical Mom on Facebook and follow me on Pinterest! You can also sign up for my free weekly newsletter which is packed with goodies I know you'll love. 😉