This 30 day clean house checklist will keep you on track and organized so your house will be purged of what you don't need and clean in just one month! If you loved our monthly cleaning schedule ebook but want something that wraps it all up into one month this is a great one for you.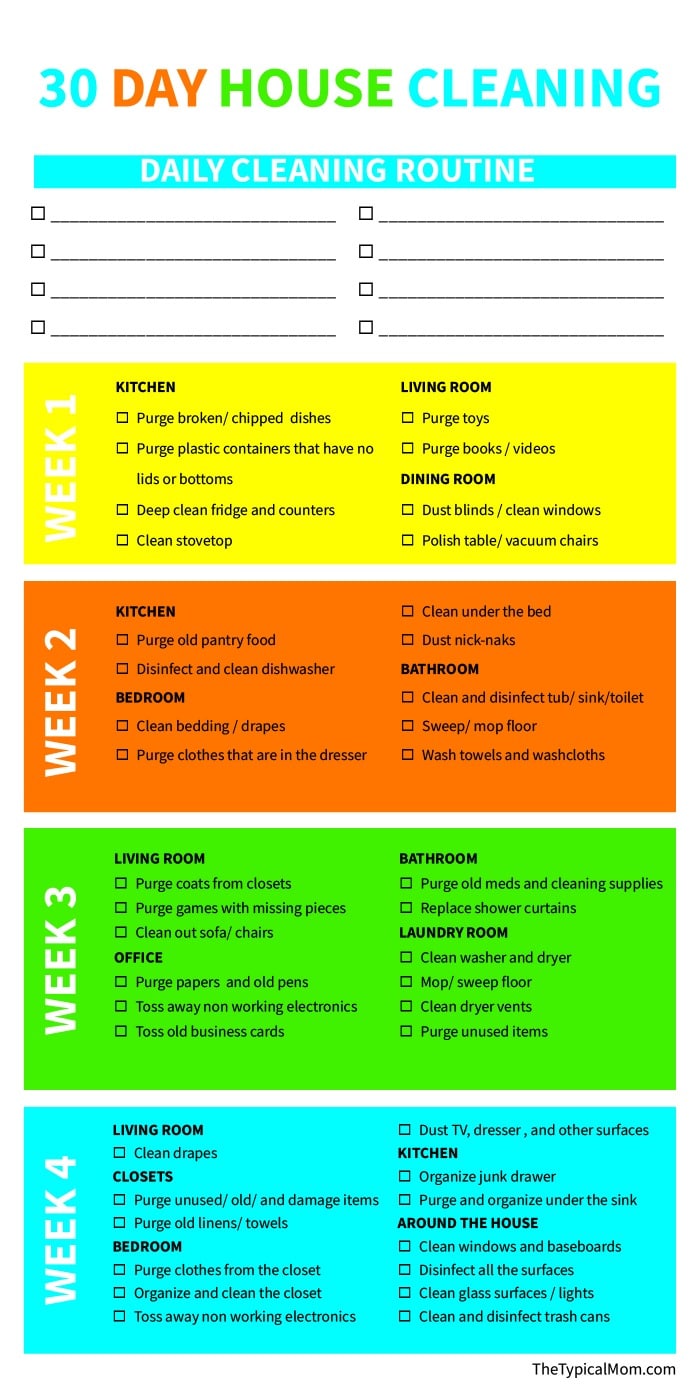 If you're looking for an easy clean house checklist you KNOW you can accomplish and feel good about it, this is it!! We break it down into rooms so you don't get overwhelmed and it only takes 30 days to finish it all. Yes, we are kinda' obsessed with organization printables here on The Typical Mom blog. Sponsored by OnlineLabels.com. (affiliate links present, originally published 2/20)
This one is perfect to do at the beginning of each year, and every few months after that. Sometimes it is nice to put pen to paper to keep track of what you have done and what is left to check up on.
30 day clean house checklist
I created this because I like the feeling of being able to check off "done" chores so it motivates me to keep going. I also need to be kept on track when I am doing a task that isn't my favorite (who really LIKES cleaning anyway?).
Cleaning checklist
This is great for staying on task for sure. You can see where I keep it here. If I am using it ongoing I will use laminating sheets so I don't have to print out more than one.
30 Day Cleaning Challenge
When you clean your home in one big swoop a few times each year, you can minimize the time you spend daily and weekly on it. Cleaning tasks are never fun, let's just admit that right now.
BUT when you have focused cleaning lists where you tackle one room at a time, deep cleaning each one as you go, you'll be A LOT less overwhelmed.
Nobody wants to do Spring cleaning during the entire time your kids have off school. Y'all should go on a road trip and do something fun together instead!
Another great thing about thing about this house cleaning schedule is you can totally reuse it year after year.
This is what you do:
Grab your free clean house checklist here from OnlineLabels.com and print it right from home.
There is a black and white cleaning printable version here too.

You can opt to have it printed on card stock too so it will last a lot longer than paper (a great option if you don't want to use the ink in your printer).
You can also have this printed as a full sheet sticker which I love.
Then you can do one of 2 things:
30 Day Spring Cleaning
You can either:
Create a home organization binder where you slide this 30 day cleaning challenge inside a sheet protector.

Take your folder out every few months, use a wet erase marker right on top of your sheet protector to check off each task that is complete.
Then use a damp paper towel to erase marks and use it again throughout the year.

OR you can use a magnet to keep your house cleaning checklist on your fridge and use a marker to check off the tasks that you've completed

Once your printable is full of checks you know you're done!
Either way works to keep you nice and organized that month. The more often you do it the quicker your list will get done for sure. Your thirty day challenge may take you just 20 days the next year.
Of course you can add additional items on the top too that may be specific to your home or garage.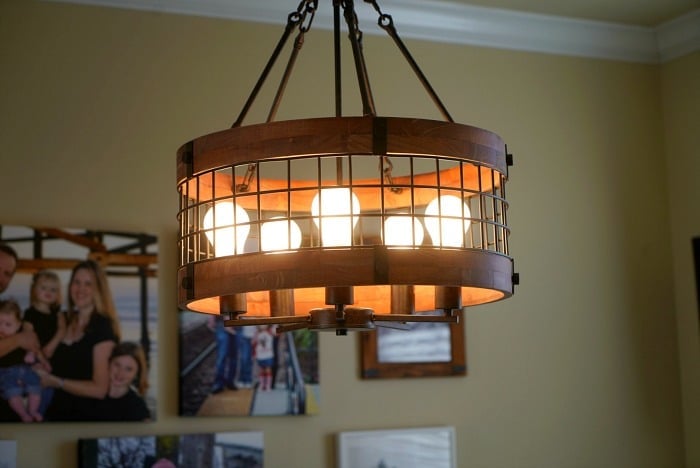 One Month Cleaning Checklist
Like…..dusting the top of all fans and hanging light fixtures in your home.
You may find this so helpful that you want to go even further. If so, create a more intensive deep cleaning house checklist room by room on your own.
Start slow though, the idea is to not get frustrated and want to quit halfway through.
Remember to break down tasks room by room. This will keep you organized and focused.
You can add other items to the list I created if you wanted, or omit others.
Every home is different but here are a few extra biannual chores you might want to add to the top of your list: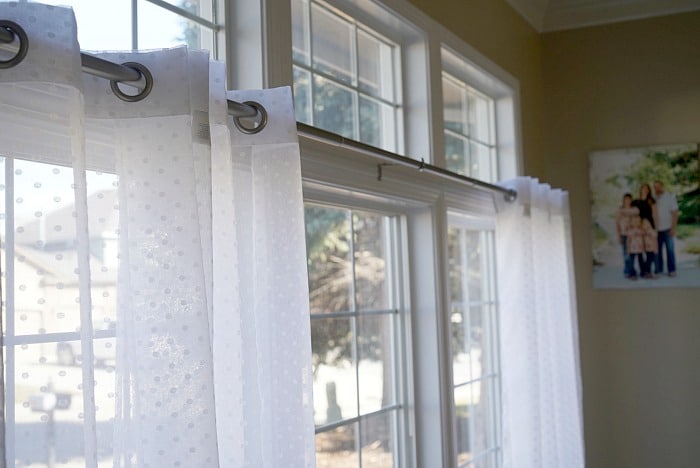 Wipe down all crown molding with a damp cloth or all purpose cleaner.
Clean front of all cabinets in kitchen and bathrooms well. Depending on the material you could use an all purpose cleaner or wood cleaner.
Deep clean grout on floor and shower tiles. I love using an O Cedar mop to begin with and then coming in with a brush after that with a cleaner.
Use glass cleaner on front of all wall pictures & wipe down frames
Dry clean curtains
So what are you waiting for?? Get it printed and let us know how it's going next month.
Want to see a few of my favorite things that I am totally obsessed with?? Take a peek and see how many you might already have…twinsies!
Looking for more easy family recipes and tips? LIKE The Typical Mom Facebook page?
Then sign up for my free newsletter, and follow me on Pinterest! 😉
***** If you LOVED this recipe give it 5 Stars below and let everyone know what you thought about it. 😉