Here's a great Spring cleaning checklist to use to deep clean a few rooms at a time so you don't get overwhelmed. Then use our other monthly organization printables to break down the tasks and clean your house one room at a time. Focusing on bedrooms and bathrooms in April we are on our way to an organized home.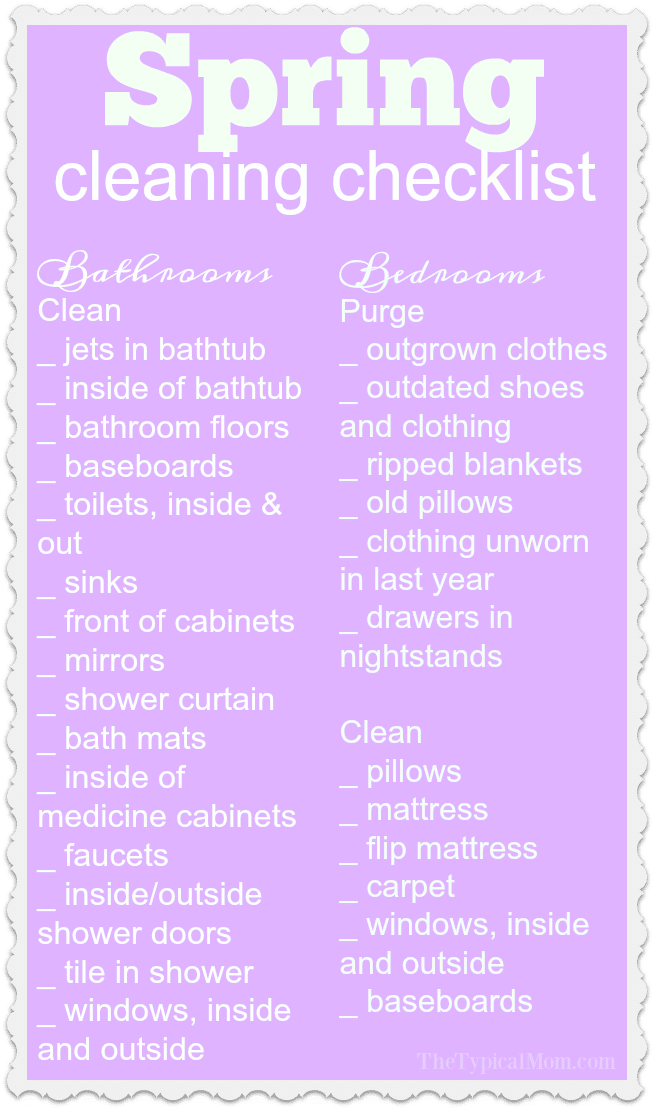 It's about that time again, for a bit of cleaning and purging! Yes it can become overwhelming if you tackle the entire house once or twice a year, so I have created cleaning and purging checklists for each month and share them all on my organization printables page. If you missed the other months feel free to grab them there, or if you are just here for the April Spring cleaning checklist then you're in luck and feel free to print as many copies as you'd like. If you've created a home organization binder as I've talked about before here is your next page to add to it to keep you on task and do a bit each and every month to stay organized. Enjoy!  (originally published 3/17)
It is always good to do a bit of deep cleaning each month so you aren't just so overwhelmed by what you need to do in the entire house that you just quit really before you even begin. My monthly organization printables like this one for April help you break it down a bit so you're focusing on one or two rooms that month. I focused on the bedrooms and bathrooms attached to them on this month's Spring cleaning checklist. It's a good way to stay on task and a reminder of some things you may not think about, like cleaning the jets in your jetted bathtub (if you haven't ever done this you'll be grossed out by what comes out, read my post about how to clean them…really easy to do)!
Spring Cleaning Checklist
The first thing you want to do is print out your Spring cleaning checklist here, I also have a black and white printer friendly version of my Spring cleaning printable here too.
Start with one bedroom or bathroom each day and once you've done the item on your list check it off. If you want to use this list year after year just create a home organization binder with each month inside and once you're done with the whole list just wipe it off and save it for the next year!
It is always good to clean your mattress at least once a year and it is really easy to do, flipping it every six months or so will lengthen its life too.
Clean the outside of your windows during this time so grime doesn't get caked on, it's really easy with products they have out on the market now.
Another thing you may never have done is to clean the inside jets in your tub. We did it when we moved into our house and it was disgusting! Using this jetted tub cleaner it was super easy and made me feel better taking a soak after that. lol
If you missed the other purging and cleaning checklists for each month you can print them for free on my organization printables page listed under the printables tab.
For more easy recipes, tips and free printables please LIKE The Typical Mom on Facebook and follow me on Pinterest! You can also sign up for my free weekly newsletter which is packed with goodies I know you'll love. 😉
Visit The Typical Mom's profile on Pinterest.