Here is a free printable monthly cleaning schedule eBook to help you clean and purge your house all year long and not get too overwhelmed! Great resource.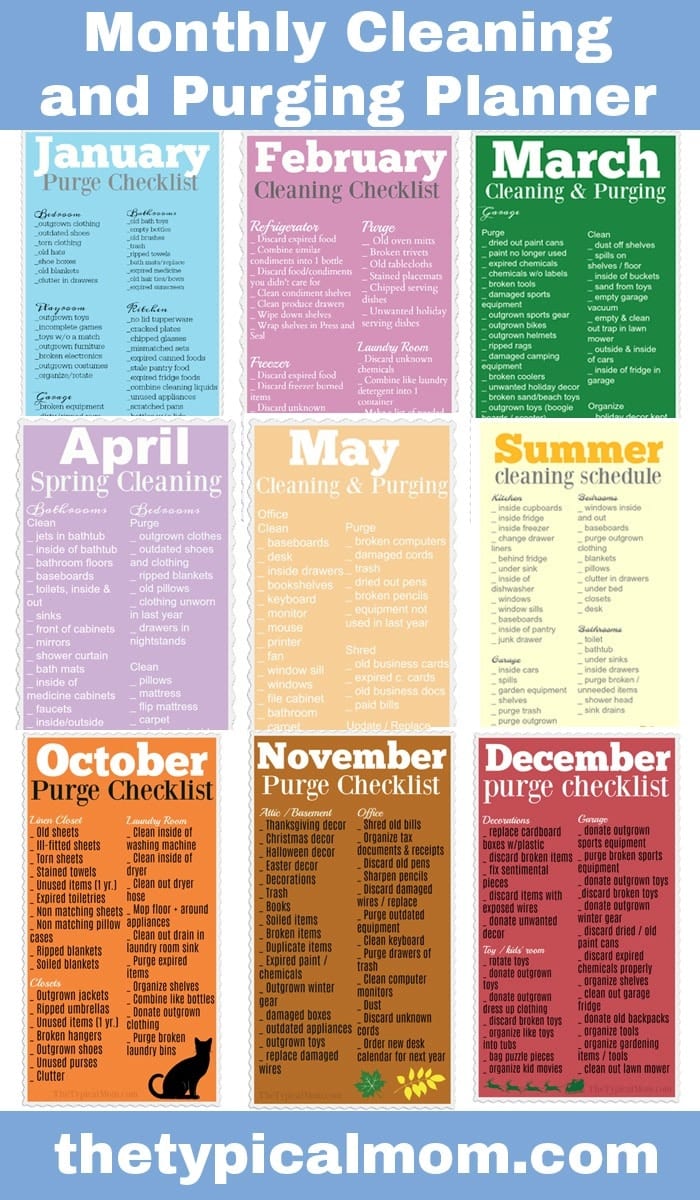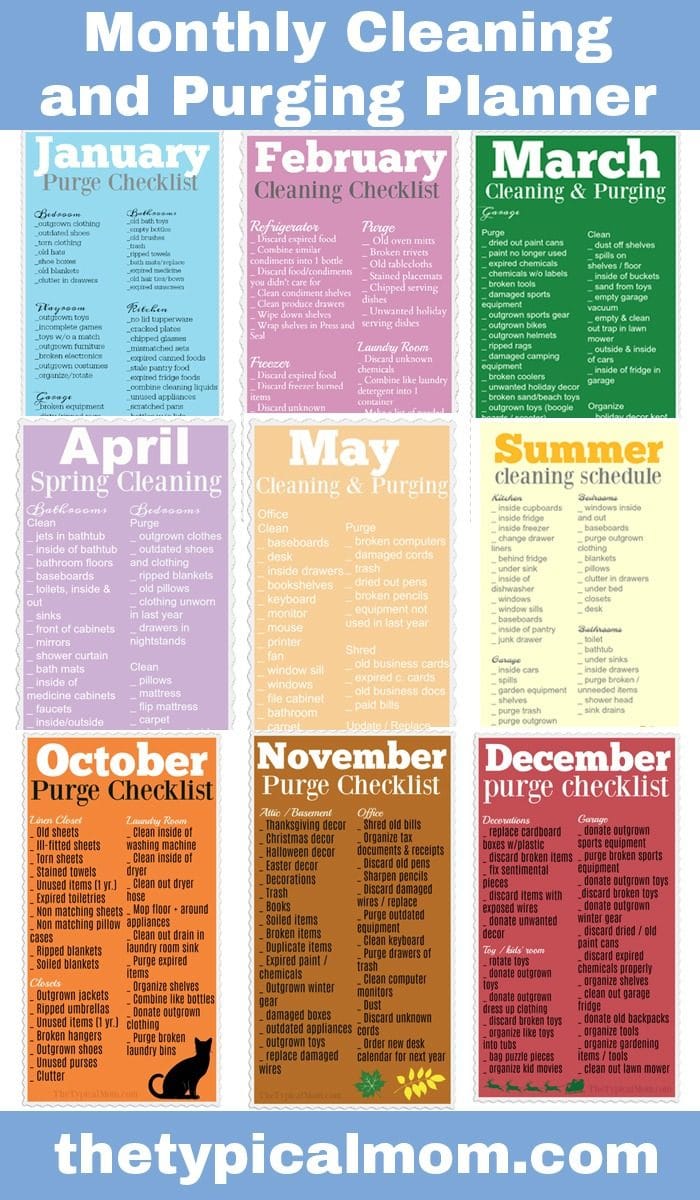 I have been creating free monthly cleaning schedule printables all year and have now put them all into an eBook for you to download and use year after year! I first created a January cleaning and purging checklist and it worked so well for me, and was so popular with others, that I was asked to make one for every month of the year. I made my Summer cleaning schedule cover a few months to give everyone a bit of a break and enjoy time with your family while the kids are out of school, but other than that every month is covered! A complete book of organization printables just for you from me. 😉 (originally published 12/17)
Why did I do this?
Well, I am a paper and pencil kinda' gal who can't stand clutter!!
Yes I have a cell phone and put my schedule of "to dos" in there but there is something satisfying having a piece of paper to keep you on track doing something that isn't always fun…cleaning the house!
I began this cleaning and purging schedule by starting to organize school paperwork from years past that had been piling up, then went on to do a refrigerator clean out….and I got addicted, I needed to organize like this throughout the entire house. I am always forgetting things too so I listed just a few rooms at a time each month, and areas/items you should go thru and purge if you haven't used it in the past year.
Here is me at one of the few big thrift store donation hauls…….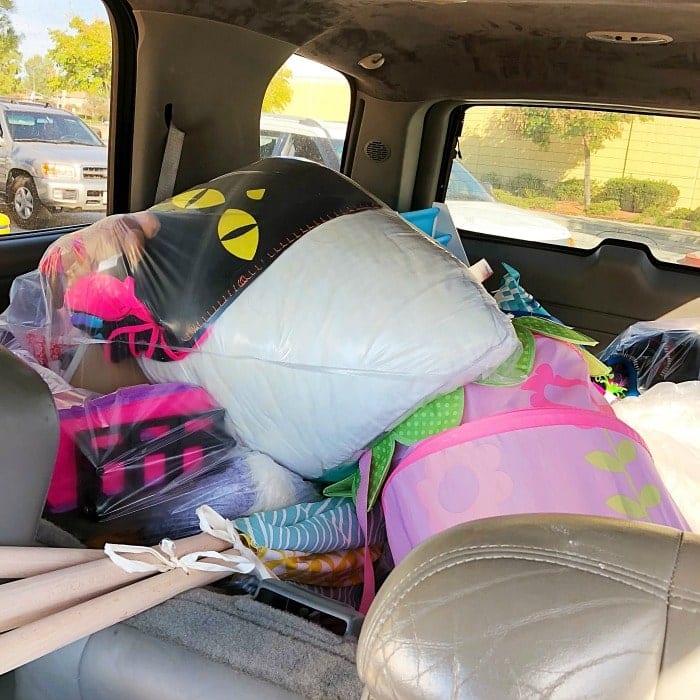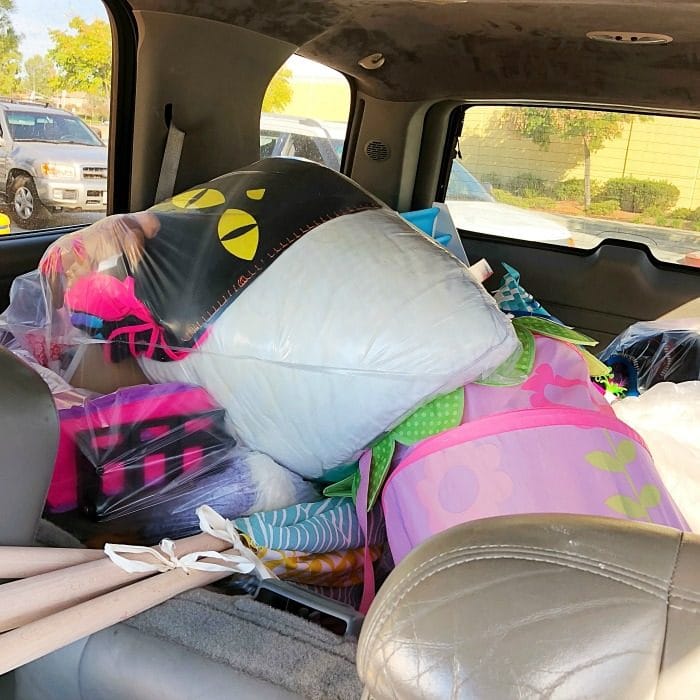 I do a BIG purge like this a few times a year, this was my "before Christmas hits" purge! This time of year it is almost entirely toys the girls haven't touched in the past year, and clothing that no longer fits.
I like to do a major cleaning in early December because I know they will be getting new clothes and toys and it's out with the old and in with the new.
Another plus is we get to give to others, and get a tax write off for that year for donating a ton of stuff.
Another big time of year for me is right before Summer starts and the kids are out of school for a few months.
Tips to have success when doing your Monthly Cleaning Schedule
Do it when your kids are NOT home (all of a sudden they'll want that shirt that does NOT fit or toy that is broken)
Be honest with yourself when purging your closet (if it hasn't fit in a year get rid of it…no "well my goal is to get back to that size", treat yourself when you get there)
If you have items of value that you'd rather sell than donate that is fine, make a buck…..but put a VERY reasonable price on it and get rid of it.
If you're back to The Typical Mom because you've completed one of my cleaning and purging checklists, welcome back!
If you're new and ready to start a month to month cleaning schedule, welcome! Either way I promise you that you will feel SO good after each month is done!
What I did when I first printed out this monthly cleaning schedule was to make a home organization binder where I slid each month into a sheet protector and used wet erase markers to mark off when I was done with each area/item. Then when I was finished I could wipe the marks away with a wipe and it was ready to be reused the next year.
Ready??
I hope this helps you as much as it helped me. Cleaning your house is not on the top of anyone's list of things they'd love to do, but it has to get done. Not getting overwhelmed is a key factor in it getting done for me and these cleaning printables have made a world of difference.
Let me know how it goes for you!
Here's your free printable monthly cleaning schedule eBook to get started!
For more easy recipes, tips and free printables please LIKE The Typical Mom on Facebook and follow me on Pinterest! You can also sign up for my free weekly newsletter which is packed with goodies I know you'll love. 😉