Free printable January purge checklist that helps you purge and clean your house room by room. Monthly organization printables that are so helpful!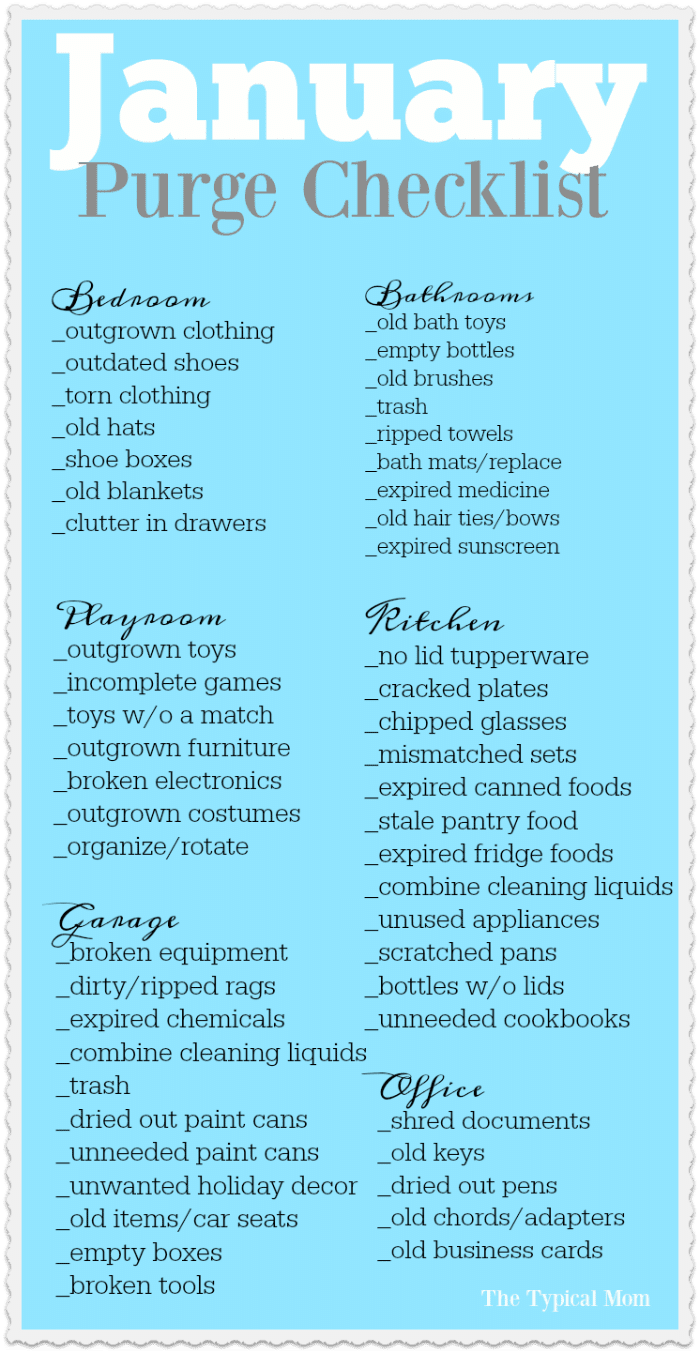 Ok, so the new year means a new start. I usually set goals as far as my business, health, and parenting are concerned….but the start of a new year also means major purging for me!! If you're like me here's a January purge checklist you can print out to be out with the old and leave room for the new this year too. (originally published 12/16)
I have a link to other months beyond this January purge checklist on my printables tab to help you too! Here are a few things I will elaborate on that are on this list.
Combine cleaning liquids – Of course only combine bottles with the SAME liquid. Mixing chemicals isn't safe, but 2 half bottles of window cleaner or liquid hand soap can be combined into 1 container and save you quite a bit of space.
Shredding documents AND credit cards – Make sure when you are getting rid of important papers that you use a good paper shredder like this one that will also shred old credit cards so that information doesn't get out either.
Tupperware / Storage containers – If you have genuine Tupperware you can buy replacement lids and it does come with a guarantee but most of us have no name plastic storage containers and many don't have lids. Treat yourself and just buy a new storage container set for yourself!!
Scratched pans – I am surely not the only one who keeps her pans longer than she should. Look at them and see if the Teflon is scratched, if so that is not good. It can flake off and end up in your food and is usually the best sign that you need to replace them. Over the years sets have gotten a lot cheaper and you really deserve a new set! 😉
With kids there's always a constant rotation of outgrown clothing, toys, electronics and more around the house. Throughout the year I'm always pushing aside the things I really need to purge like clothing I haven't worn in at least 6 months, Tupperware that has NO lid anywhere in the house, and stacks of paperwork that really need to be shredded instead of thrown away.
When you're in the playroom, and once you've purged what the kids have outgrown and won't play with anymore I suggest starting a toy rotation schedule too…it's a great way to make toys "new" again and keep clutter down to a minimum (last item on the cleaning checklist under playroom).
It's a perfect time to do this since the holidays are over and it's really nice to start the new year fresh and clutter free! Make sure you sign up for my newsletter below so you receive cleaning checklists, tips like our laundry tips post, and organization printables for each month thereafter too. 😉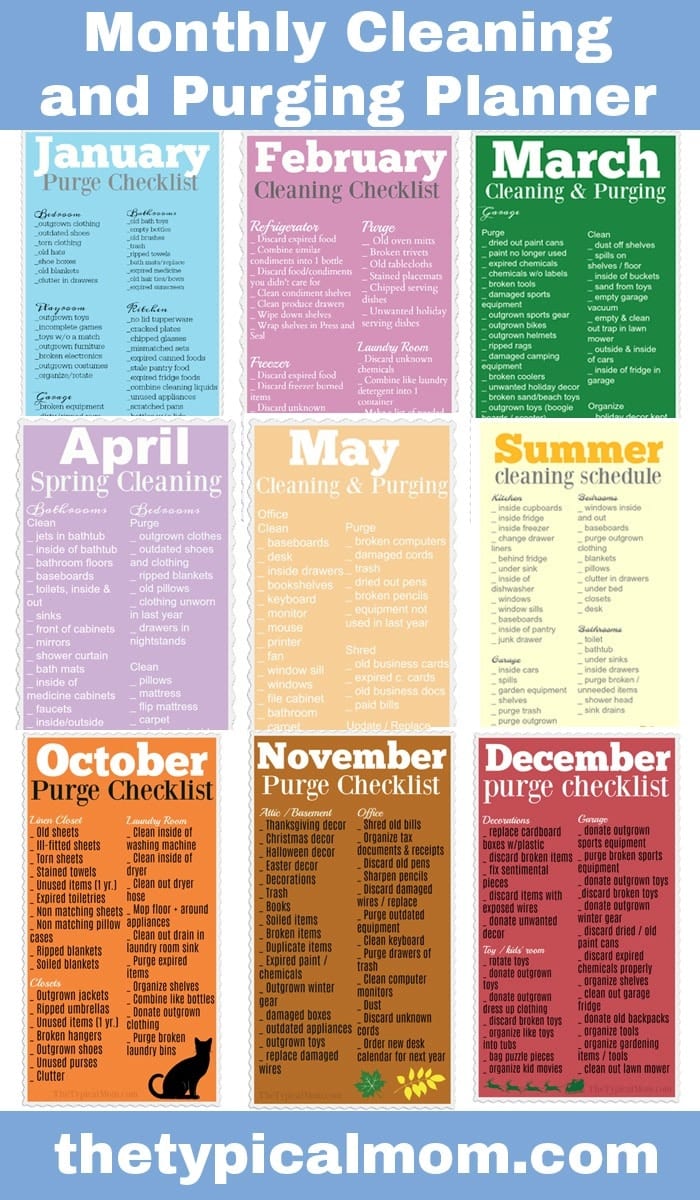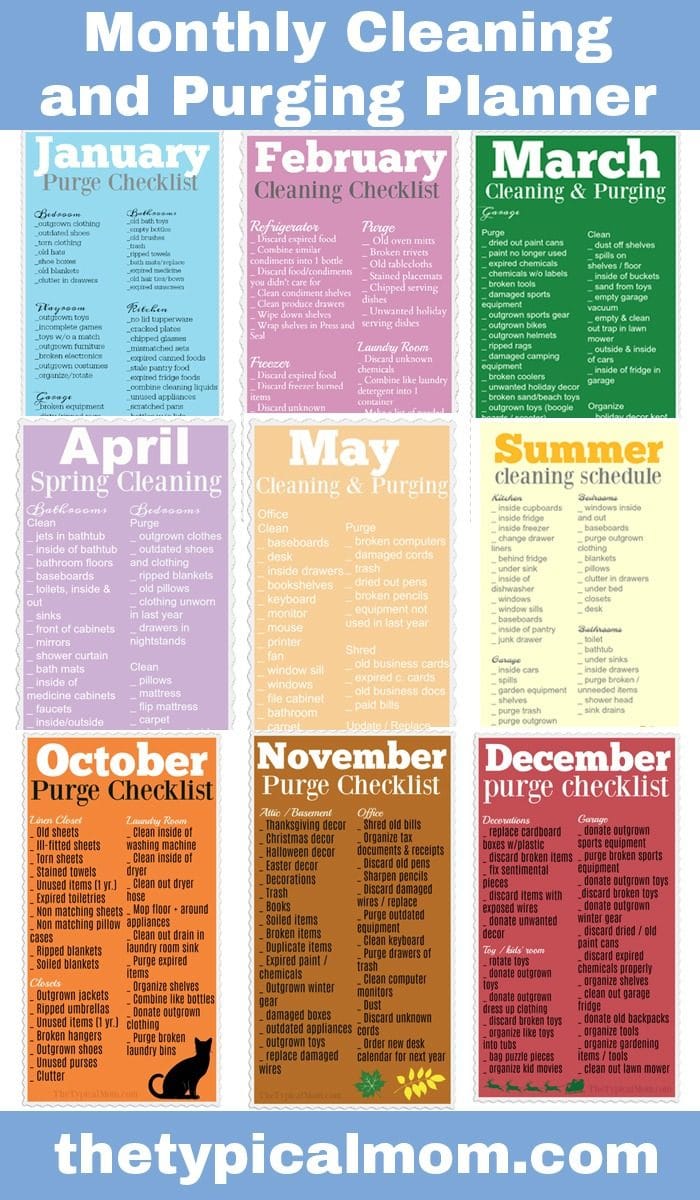 I feel SO much better after a good purge and cleaning of the house every year, let me know how yours goes and follow The Typical Mom for more goodies like this one!
Free Printable January purge checklist
I went room to room and listed major things to focus on and get rid of and simplify as well.
To remind you of things like this that can be forgotten and need attention at least once a year you can print this free January purge checklist. Once you enter your email below which will sign you up for my free newsletter with lots of other free printables and easy recipes it will immediately pop up for you to print out.
I also have a black and white January purge list you can print here if you need a printer friendly version. 😉

For more easy recipes, tips and printables please LIKE The Typical Mom on Facebook! You can also sign up for my free weekly newsletter which is packed with goodies I know you'll love. 😉