Here are some easy smoker recipes we've made that have come out amazing! From beef to chicken and pork with a side of vegetables you'll fall in love. Choose your favorite Traeger recipe to make again and again.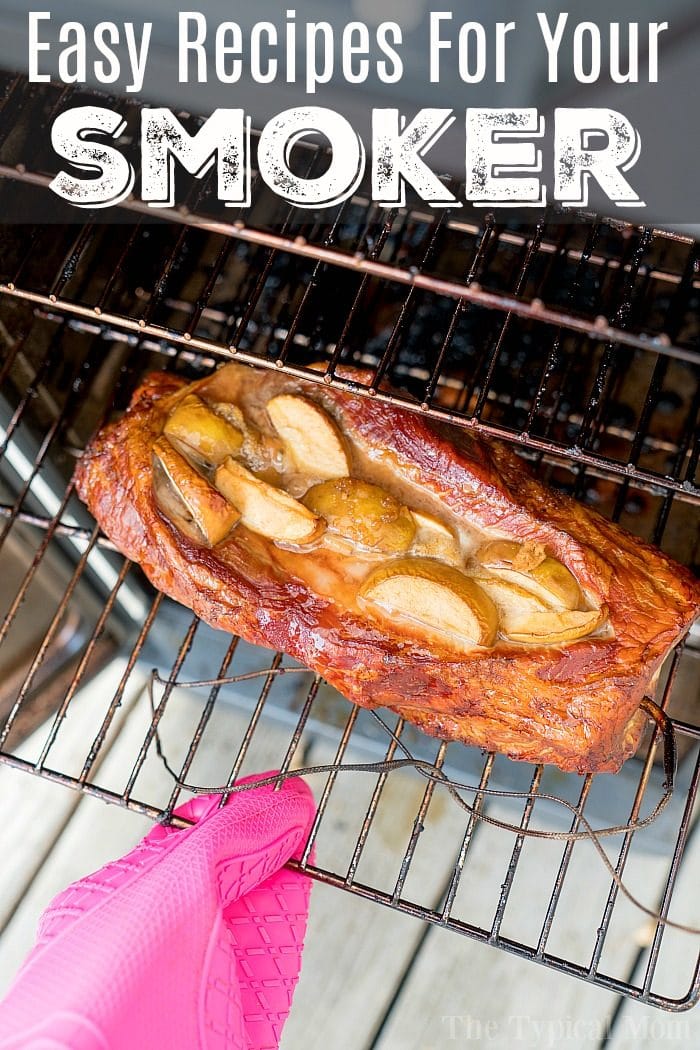 Whether you're a beginner or pro you might want to try some easy smoker recipes this week! How to cook chicken, beef, pork and vegetables are here. We have even baked dessert too! More electric smoker recipes are here for you to try too. (originally published 8/18, affiliate links present)
We have a bunch of them that not only have we fallen in love with but our kids rave about them too (they're the worst critics). If you're new to smoking meats we have step by step instructions on how to make each one and instructional videos for most of them.
Easy Smoker recipes
Let's start off with our post on the best meats to smoke and then once you decide what you're going to tackle first you can come back for a few ideas.
Wood chips or pellets

– we have bought this wood chip variety pack for years which is great because you don't want the same type for every recipe. We also love these Jack Daniel's wood chips. Apple pellets are our go to for our pellet grill and smoker.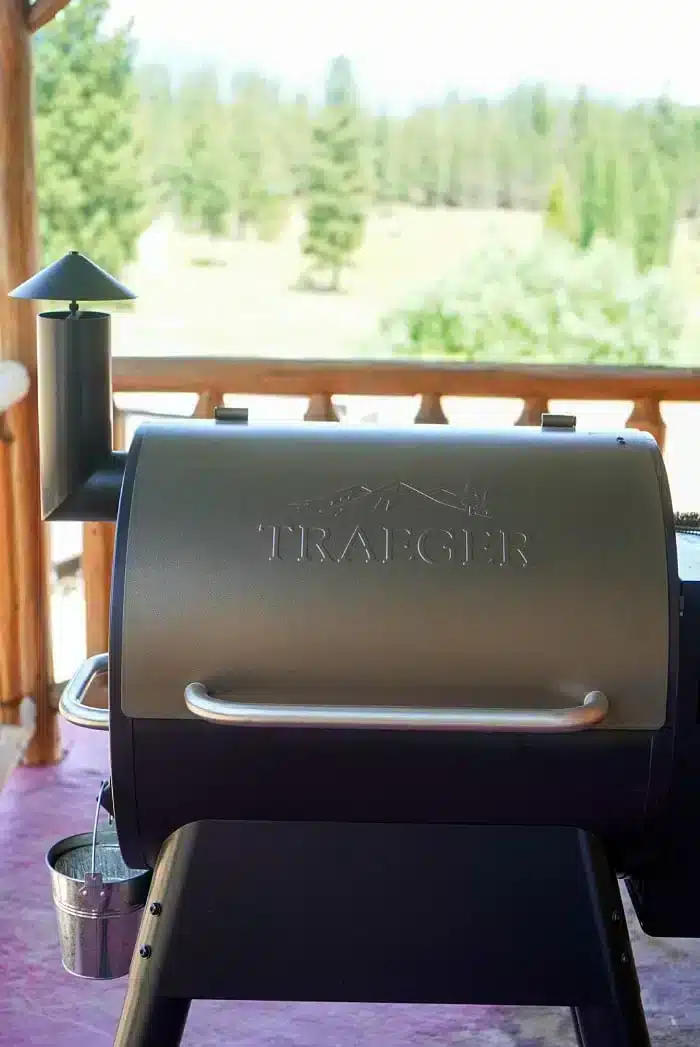 Traeger Grill Ideas
Well we have a ton of these to choose from. First you will want to decide which cut you're going to use. From chicken to beef, pork and even side dishes we have them all. I will say that pulled pork or beef are probably our favorites because they turn out so moist and full of smoky flavor.
Smoker

– we have a simple electric smoker right now but are looking into getting this larger version that uses pellets! If you are just starting a basic model will be fine. All of these smoker recipes will work for an electric or other smoker models.

Meat and vegetables

– you can smoke anything! It's not just for large cuts of meat like brisket or roasts.
Start with an appetizer like our smoked jalapeno poppers to start off your party, or make smoked queso dip. You can cook smoked potatoes and other vegetables too to pair with your main dish. Let me tell you it brings deliciousness to the next level!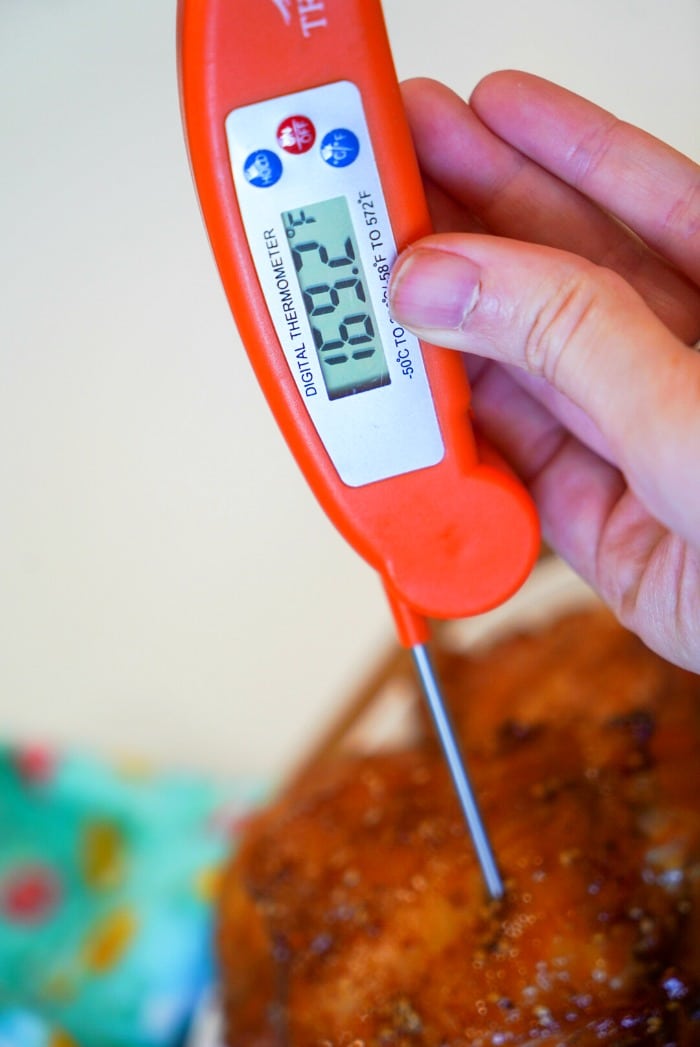 Best Smoker Recipes
Timing – you'll need this meat smoking chart to know what temp, how long to cook each meat, and this internal meat temperature chart. If your smoker doesn't have a built in digital thermometer you'll want that too so you can check if it reaches an internal temperature that's needed.
That is relevant if you are cooking a piece of meat by itself. In the case of something like smoked stew where it is cut into smaller pieces with other ingredients you'd test to see if it is fork tender or not.
Smoker Recipes for Beginners
I keep it simple with all of these y'all. I'm not about complicated at all. Like our dry rub crusted and smoked sirloin tip roast everything comes out with the perfect texture on the inside and out this way. Here are some questions I have received so I thought I would add them with the answers here for you.
What meat can you smoke in 4 hours?
Typically longer is better at a lower temperature however some things are a bit quicker like: Smoked brats or how about Lamb!
What can I smoke in a smoker?
Just about anything I tell you! Chicken – whole, breasts, thighs, and wings are some of our favorites with smoked vegetables of course. For beef – steak, roast, brisket, and ribs are killer. Pork favorites are – steaks, ribs, chops, smoked pork butt, tenderloin. You can even cook dessert with this Rhodes cinnamon roll recipe in there!
We will start with a list of Traeger appetizers. From cheesy pull apart bread to wings and bbq smokies that people go crazy over you bet you can make starters in this thang!
Really when it comes to smoking meats it comes down to great wood chips and being patient! Slow and steady is the key to really bring out the flavors of your meat and/or vegetables in your smoker. From chicken to beef and even Traeger corned beef it always comes out with outstanding flavor.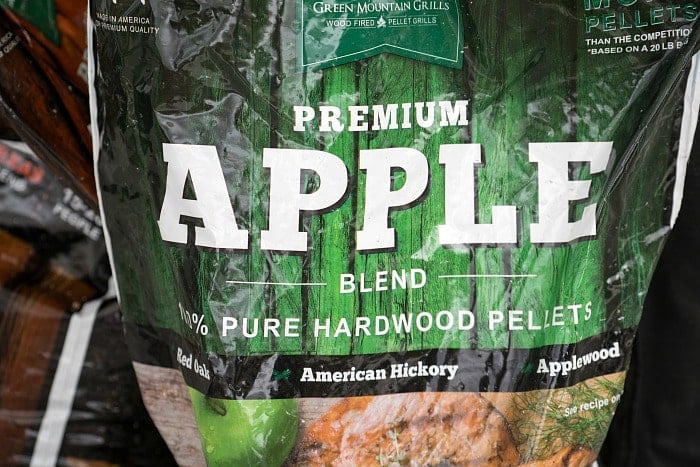 Healthy Smoker Recipes
Whether you have an electric smoker or not the steps are generally the same. You can really think outside the box when creating unique smoker recipes. Wrap just about anything in bacon and OH MY is all I have to say. We love smoking meats especially with our smoked brine.
Use this with a beer can, whole or our Smoked Spatchcock Chicken recipe here. You can even use your grill for cooking frozen meat to tender. One of our faves is frozen salmon grill style. Not really smoking it specifically because it doesn't take very long but the same machine.
Dry rubs recipes are ideal when you're creating easy smoker recipes because it won't drip all over. But rather permeate the meat and create the perfect bite. We use one to make smoked chuck roast (as well as a sauce too) for really bold in your face goodness.
Rub it over your pulled pork or when you're smoking a brisket and it will take it from good to out of this world. Then you can slather sauce on it too if you want A LOT of flavor! Keep paper towels handy to sop up the drippings.
Smoker Recipes
If you have kids the all time favorite choice will be our smoked chicken lollipop recipe. For the adults we are all about tender pulled meats like our smoked pork roast. With a killer dry rub there is no need for sauce here. We will continue to add to on a weekly basis so PIN this Page to refer back to it later. 😉
If you love poultry but are on a budget, think about pieces that are less expensive. Remember that the less prep the butcher has to do the cheaper it is. Like chicken quarters smoked would be less expensive than thighs and legs separated, they just are.
Now with all of these proteins you're going to need a side dish too! We just made this garlic cheesy smoker bread that's like a pull apart loaf. Packed with flavor and easy to throw together, it's sure to be a hit with y'all too.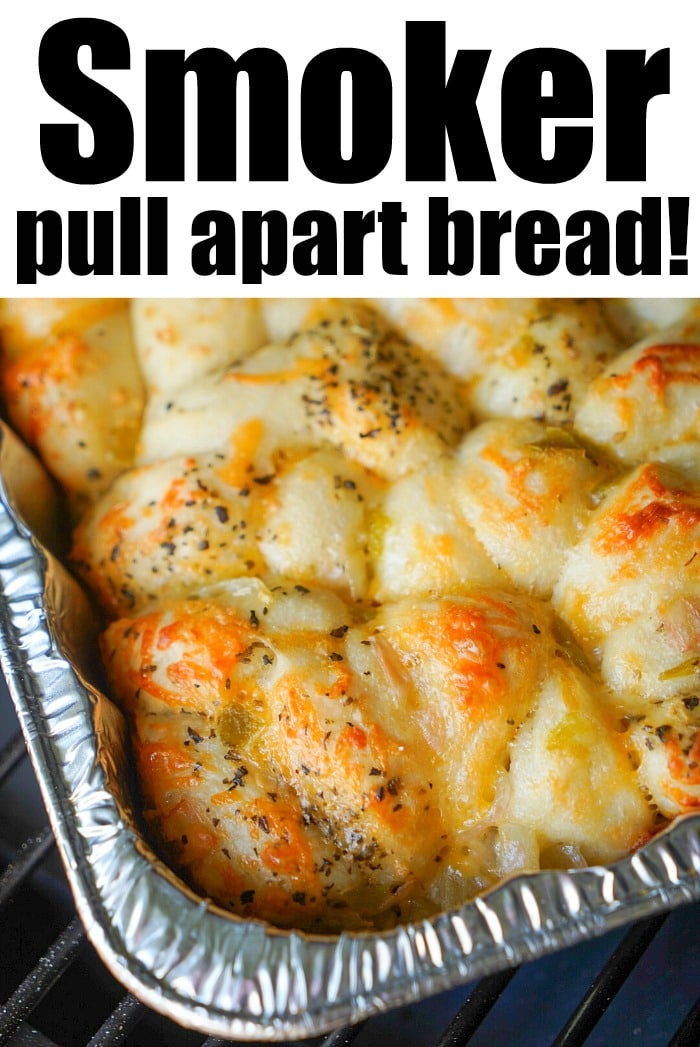 Traeger Smoker Recipes
This is the brand we have right now and make the best smoker recipes ever. It keeps the temperature steady and even has a winter coat you can buy during the snowy months. If you're unsure where you want to start, take a peek of their cuts of beef chart to see where your pieces come from and go from there.
I mean can't you smell this?? It literally falls off of the bone so have a plate handy when you try and remove them from the grates.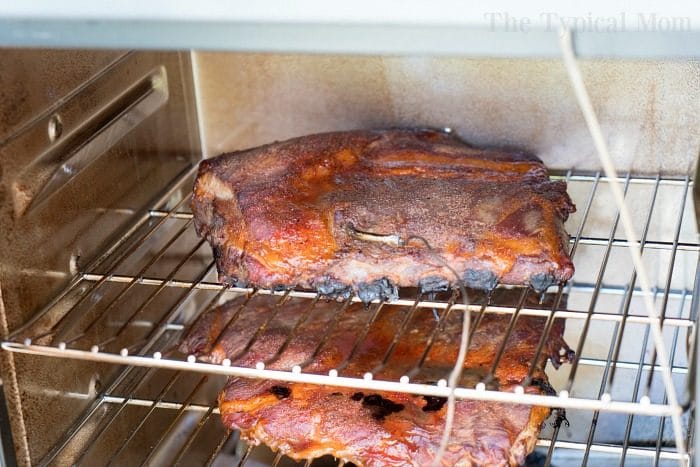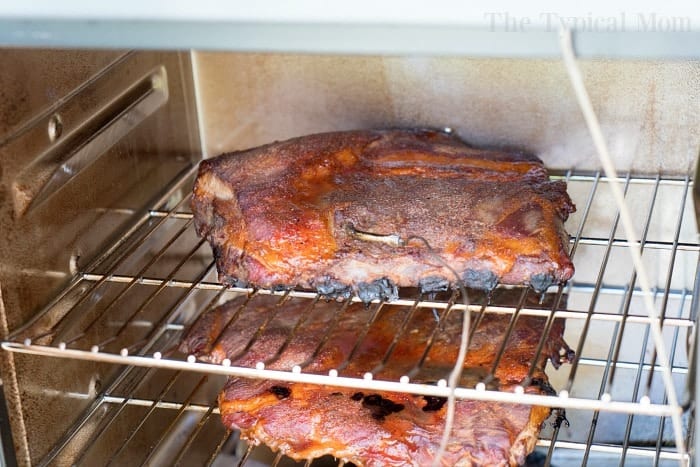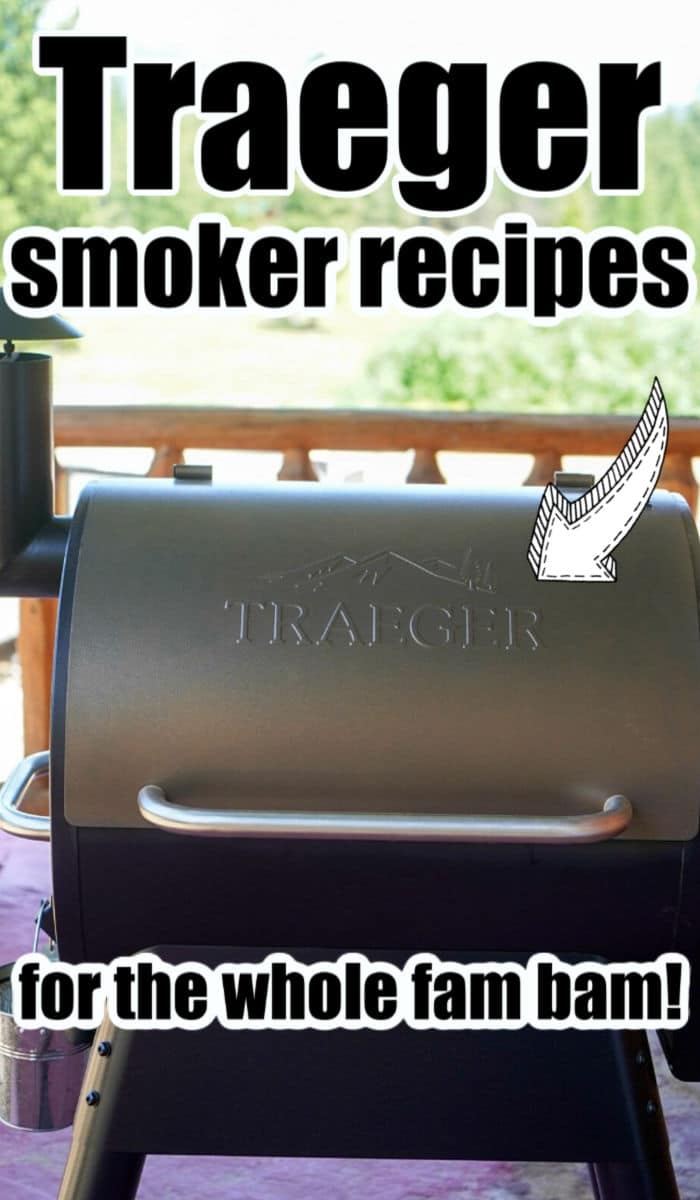 Have you tried Smoked bacon yet, and our cheese stuffed smoked meatloaf recipe
Smoked beer can chicken is just amazing.
When it comes to fish, that comes out great too. Smoked mussels out of the shell swimming in butter soaks up the smoky flavor for added yum.
What have you been smoking lately?? I mean meats, don't go letting your imagination add to this question. 😉 I love new ideas and nothing is off limits for us, let us know what we should make and add to this list of easy smoker recipes.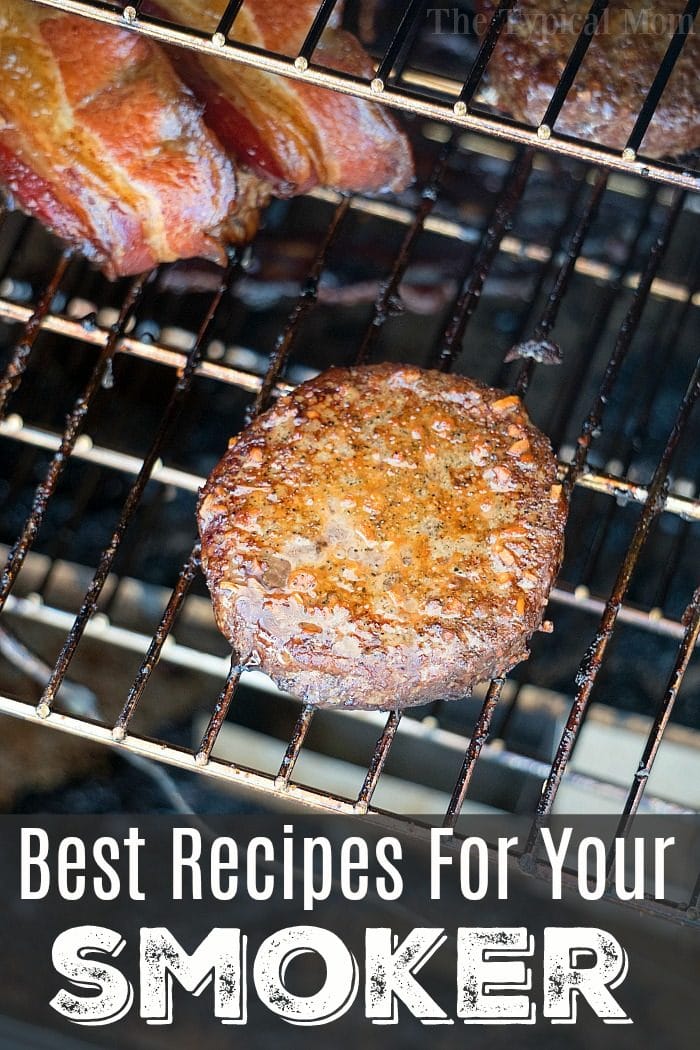 Recipes for Traeger
If you love fish, because it is healthy and delish, you should try our smoked halibut recipe.
This is how to smoke steak with a great dry rub recipe too. Yes I do like some barbecue sauce on it at the end at times. Just pair it with a salad and you're set for a great meal.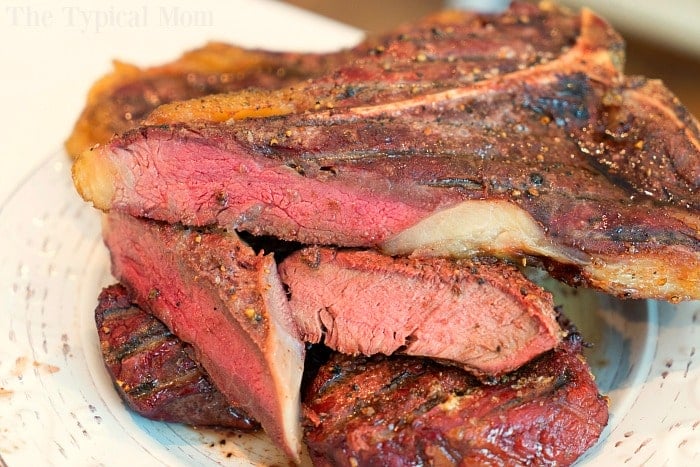 Side Dishes on Smoker
How to smoke corn on the cob is here. Perfect side dish with any protein here.
Looking to make something for the holidays? Great idea, think outside of the box because you don't always have to have turkey or ham. Instead throw on some beef like our smoked chuck roast with a dry rub and sauce for a killer meal.
Then try our smoked sausage and cabbage recipe! We love this green veggie that's so cheap but gives food a great texture.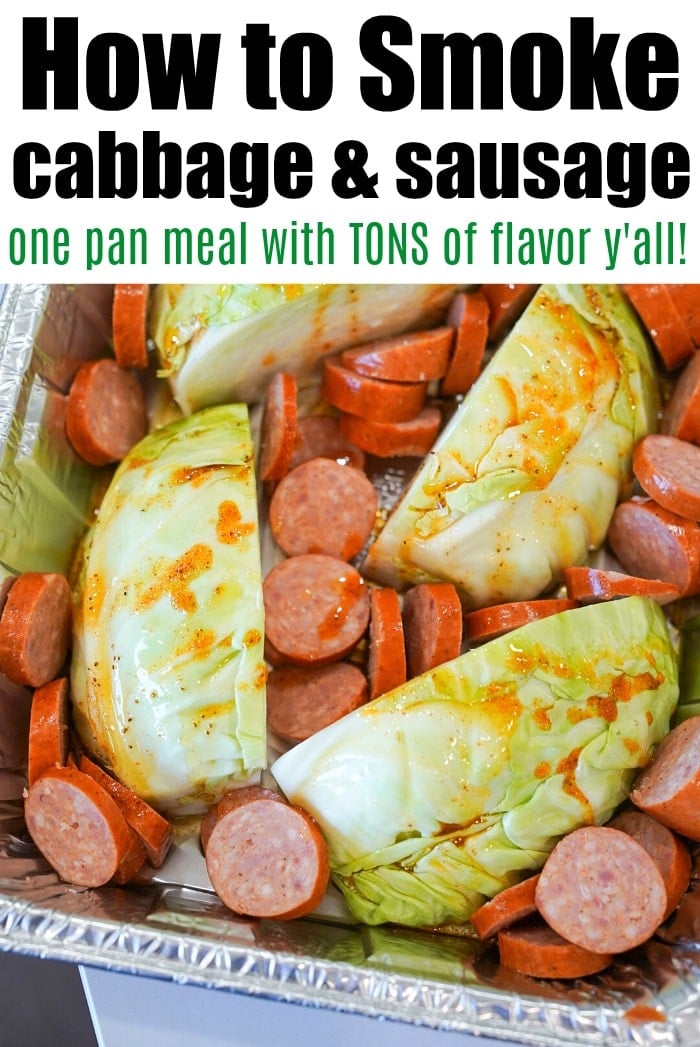 Best Traeger Recipes
Try smoked pulled pork Traeger style too. Shredded and made into mini sliders, they're a great football appetizer or complete meal topped with cole slaw.
This smoked tri tip rocks too. We have made something like this for Easter before instead of ham and everyone agreed it was their fave.
Ready to make an amazing Traeger pizza roll up tonight??
Then try our Traeger smoked chicken thighs with a teriyaki marinade.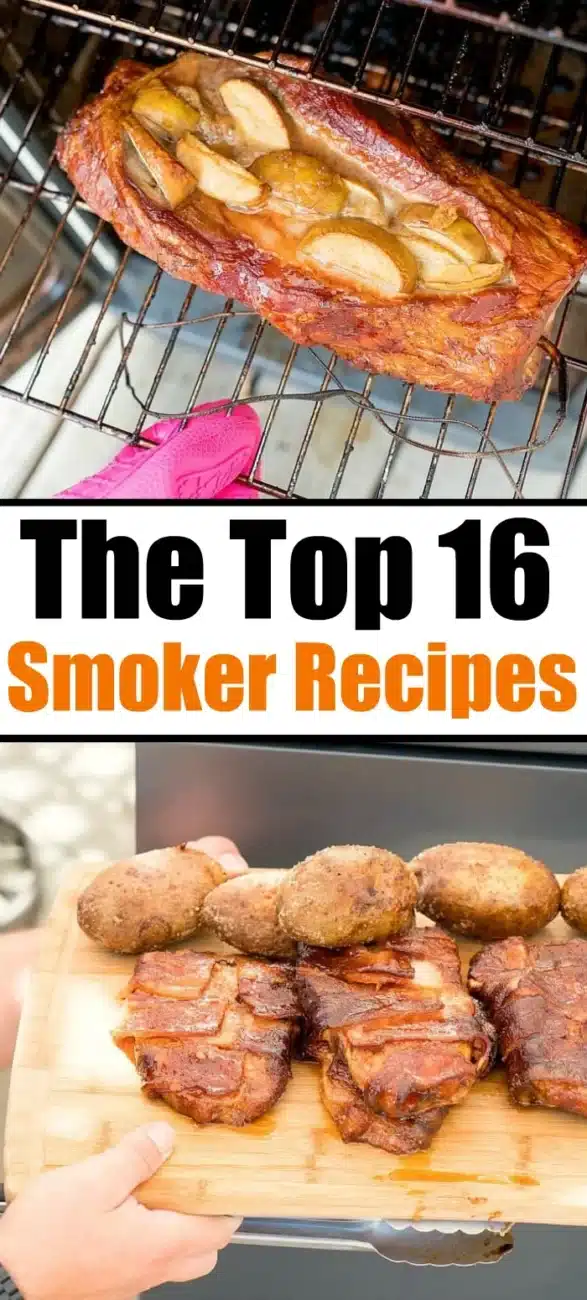 Want to see a few of my favorite things that I am totally obsessed with?? Take a peek and see how many you might already have…twinsies!
Looking for more easy family recipes and tips? LIKE The Typical Mom Facebook page?
Then sign up for my free newsletter, and follow me on Pinterest! 😉
***** If you LOVED this recipe give it 5 Stars below and let everyone know what you thought about it. 😉