Cheesy pull apart smoked bread recipe that is out of this world! How to use frozen dinner rolls on your smoker to make an amazing side dish everyone loves.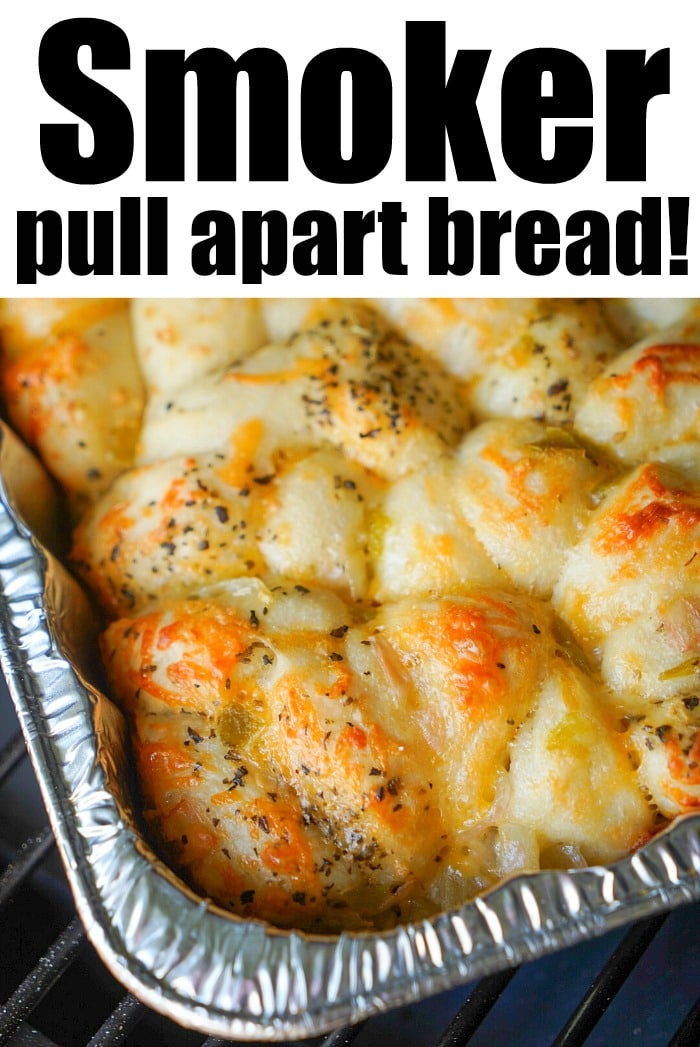 If you love cooking outside you're going to love our cheesy pull apart smoker bread! Just one of our favorite smoker recipes here on The Typical Mom. Special thanks to Rhodes for sponsoring this post.
We started this journey creating a lot of electric smoker recipes. Those will work too if you're looking for more ideas.
Get ready for a great brunch item, or side dish everyone will love.
FIRST – You should sign up for my free newsletter so you get new posts emailed to you twice a week and never miss out on anything!
To get your meats absolutely perfect we have this printable meat smoking chart to refer to so each and every time it will be fork tender.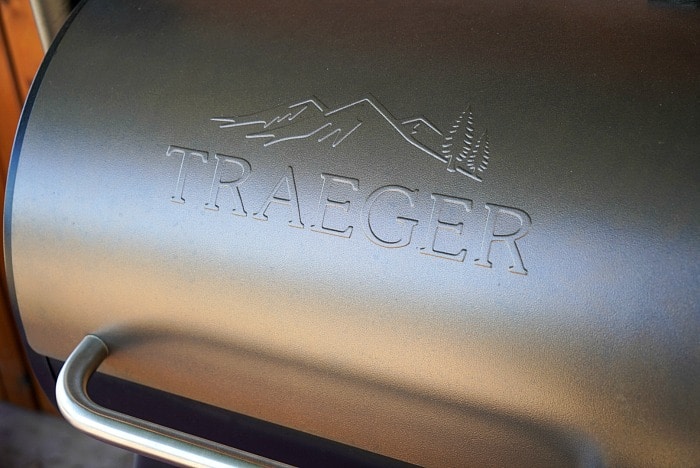 Yes we've all made burgers, steak and ribs on the grill but what about an easy side dish cooked alongside? This. Is. It!
When planning a get together, or a killer dinner for your family you've gotta' have some yummy bread.
Right??!! Ask your kids, they'll agree with me hands down. 😉
That's when frozen dinner rolls come in handy.
Why? Because you can ALWAYS have them in your freezer ready for any occasion = NO more forgetful "uh oh" moments.
Here's a peek at what you'll need to make this comfort food.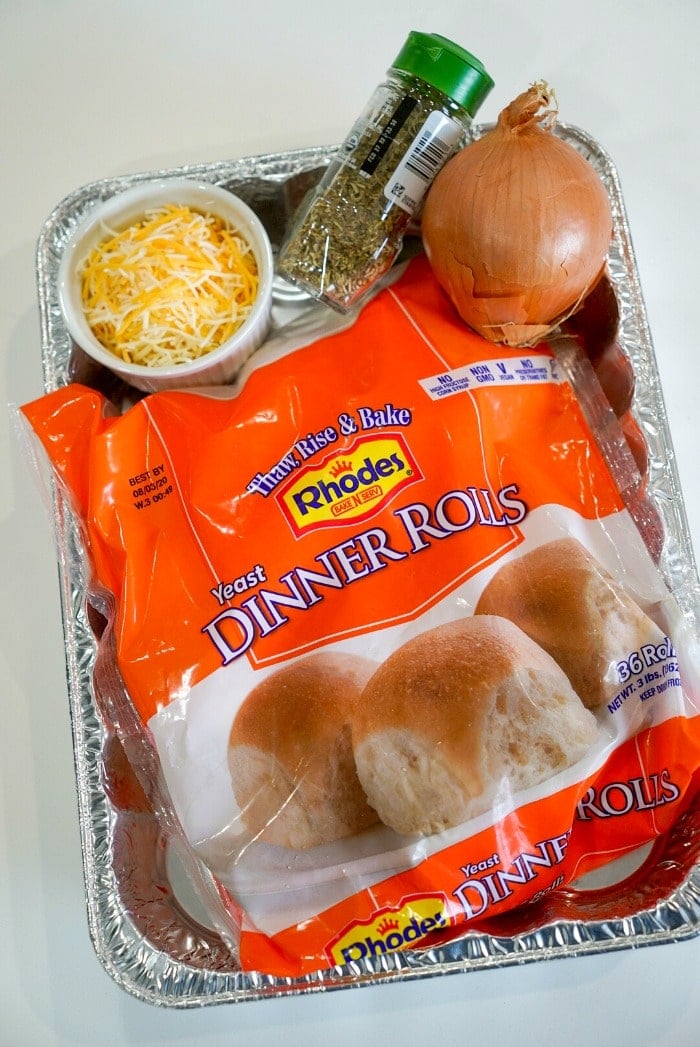 Here are a few questions you might have before you put this together. Hope this helps answer what's on your mind.
If you have others please comment below and I will try to help.
What are the best frozen rolls?
Hands down on every rundown I've seen, Rhodes Bake-N-Serv® Yeast Dinner Rolls come out on top!
How do I make frozen Rhodes dinner rolls?
If you've never used these before, they're really quite simple. You just remove the # you want about an hour before so they can defrost. Then you can create recipes like this pull apart bread.

If you just want regular rolls, you just put them in a pan, cover with plastic wrap until they double in size and then bake for about 15 min.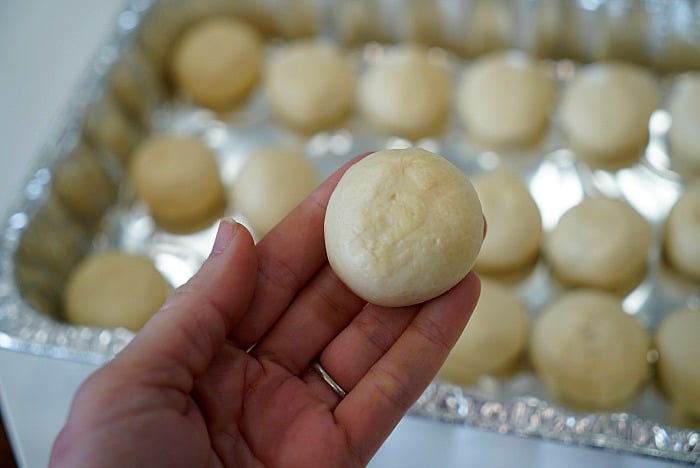 You can make SO many other things other than yeast rolls though! Frozen dough is incredibly versatile I tell you.
We have made things like Rhodes monkey bread with their cinnamon rolls, but this variety could be used as well.
Let them thaw, roll them out and make pizza dough too. Then dress and bake as usual. Smoked pizza is great.
Bread in the smoker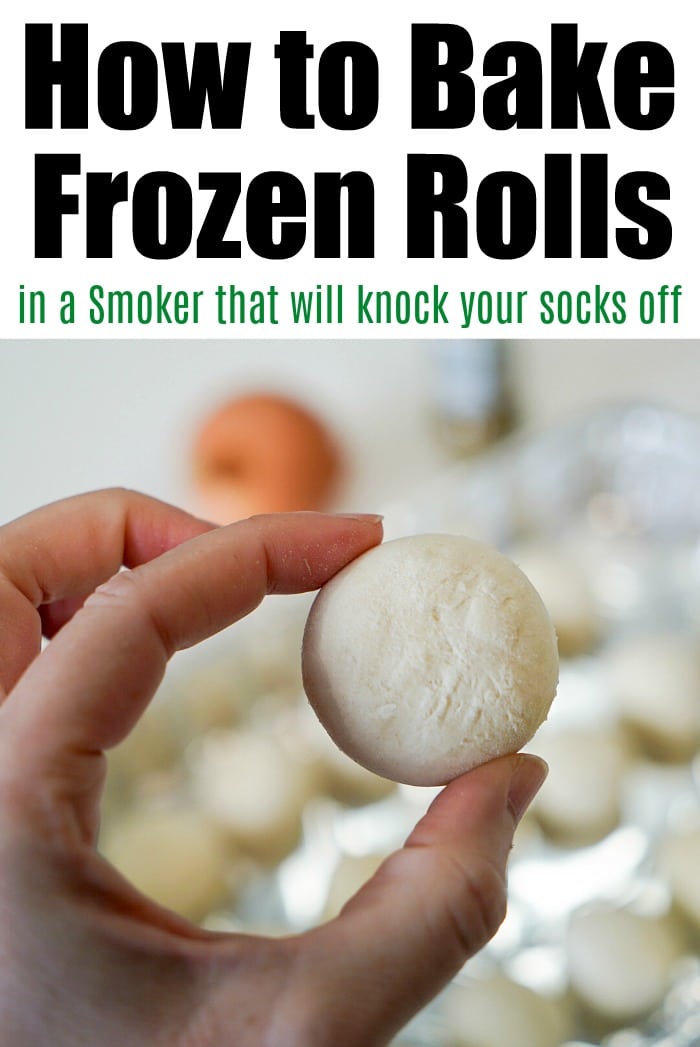 I used what I had on hand, with flavors we enjoyed for this cheesy garlic bread.
If you wanted to omit the cheddar cheese you could, but in our family cheese is in ALL THE THINGS!
Smoked rolls ingredients
Shredded cheddar cheese, or a combination of Monterey Jack and/or Mozzarella is great.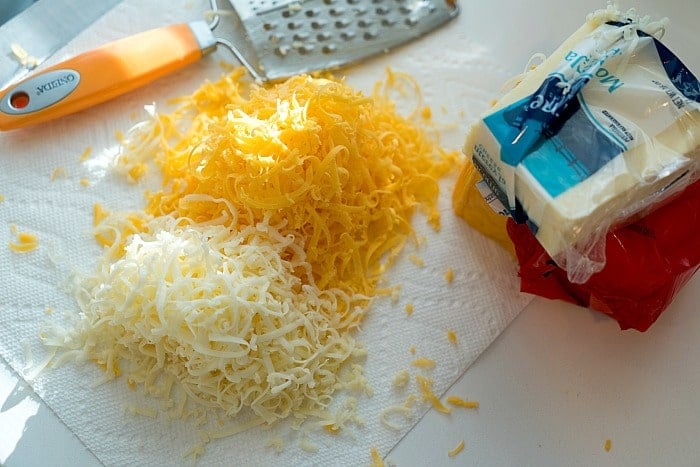 Diced chiles are optional but we usually add them.
Olive oil
Seasonings of your choice, this is what we chose

Basil
Garlic salt
Italian seasoning

Small bowl for mixing
9×13″ cake pan – I use a disposable aluminum one
Yes you can use a "normal" pan too but seriously the throw away ones are the best! No cleaning required after a long day of cooking, done.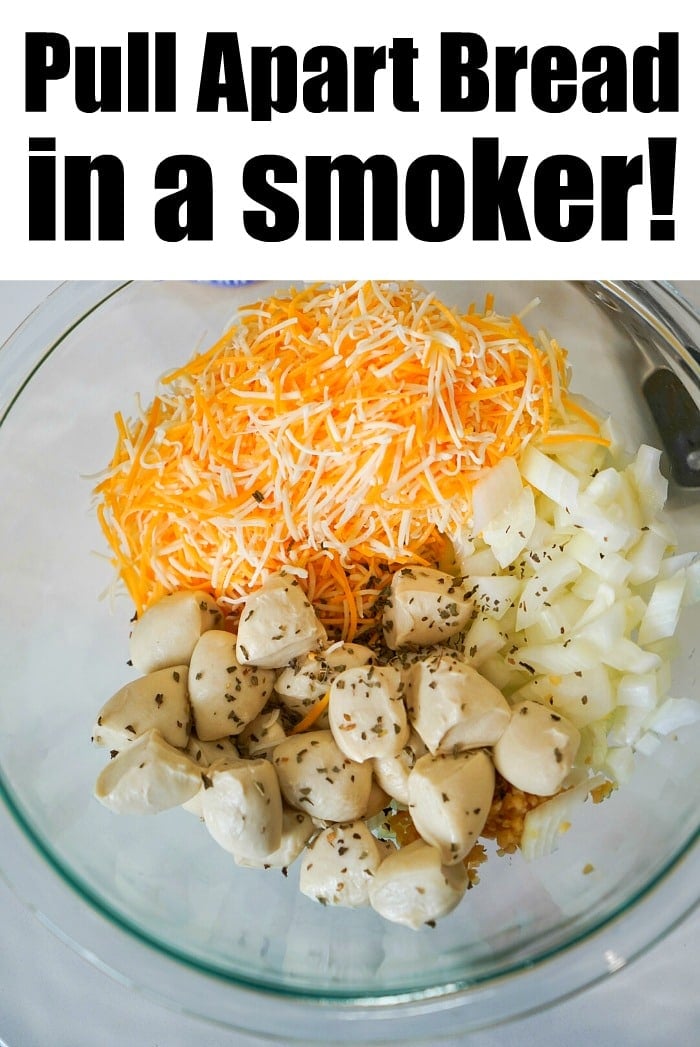 You really can load up on the diced onions if you wish, we tested a whole and half and thought 1/2 was just right for us.
If you choose to make smoked chiles yourself, bravo! You can also find them canned and they add a ton of flavor (but not heat if you use mild).
I had a bag of already shredded Mexican cheese blend, but use what you wish there too. Sharp cheddar and Jack would be a good mixture too.
This is what you do:
First take out 18 rolls from your bag and put them into a 9×13″ pan. Using disposable aluminum pans are great for easy smoker recipes.
Let them sit for 45 minutes so they're a bit colder than room temperature, but still quite cold.

Any longer than that will make them a bit stickier than you want so just set a timer for yourself. 😉
Then cut each one into fourths and throw them in a bowl.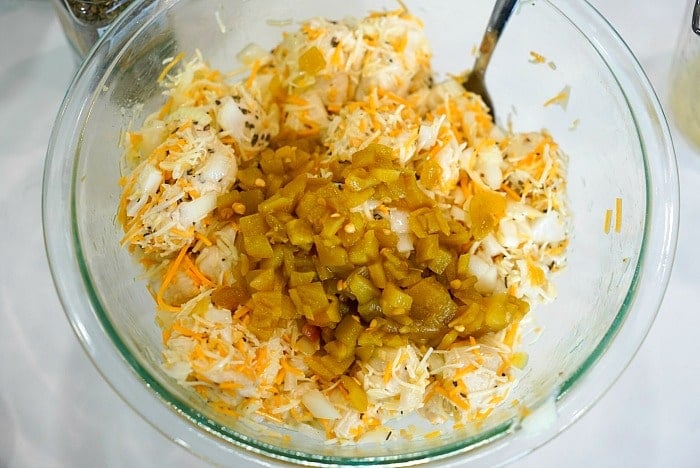 Pour your olive oil on them along with the cheese, chiles, onions and seasonings. Gently fold everything together so each piece of dough is coated.
To make things easier when serving, spray the inside of your pan with non stick spray and pour your pull apart bread inside.
Spread it out so it's the same thickness all the way across the pan.
Cover the top with aluminum foil for 1 – 1 hour 30 minutes until dough has doubled in size.
This is an important step when using frozen dough. If you skip it they won't become fluffy and airy as you'd want.
Now add pellets / wood chips and preheat your pellet grill or electric smoker to 350 degrees. Do not put it on your grates until it reaches this temperature.
When it's ready place it on the grates, still covered with foil, for 40 minutes.
After that time, your smoker bread will look wonderful like this!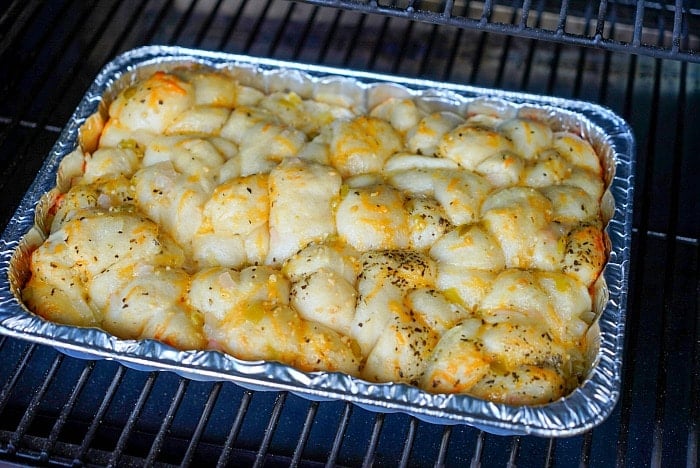 It's not ready yet though….it gets better!! You want a nice golden brown on the top right??
To do that you'll want to remove the foil and let it continue to cook on your smoker for 10-15 minutes. This pic. below is after 10 min.
Dinner rolls on your smoker
If you wanted them over the top cheesy you could add another 3/4 cup of cheese on the top after you uncover it. Then it would melt and brown the top at the same time. Totally up to you on that one.
It doesn't have an over the top smoked flavor because it's been covered, but just enough. Also it's great to be able to cook this and your protein all at the same time!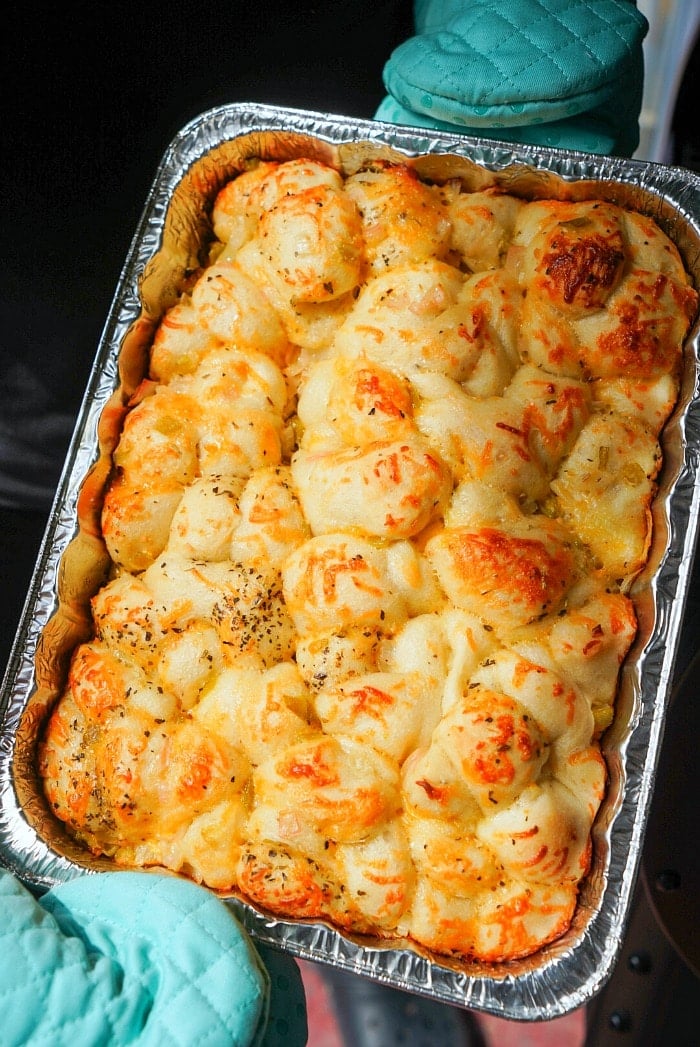 What else can I smoke in my smoker?
Really the list goes on and on but I will share a few of our favorites below that go really well with this bread:
What sides can you smoke?
Whether you're planning a potluck, or just want a killer side dish for your family I guarantee this will get thumbs up from everyone.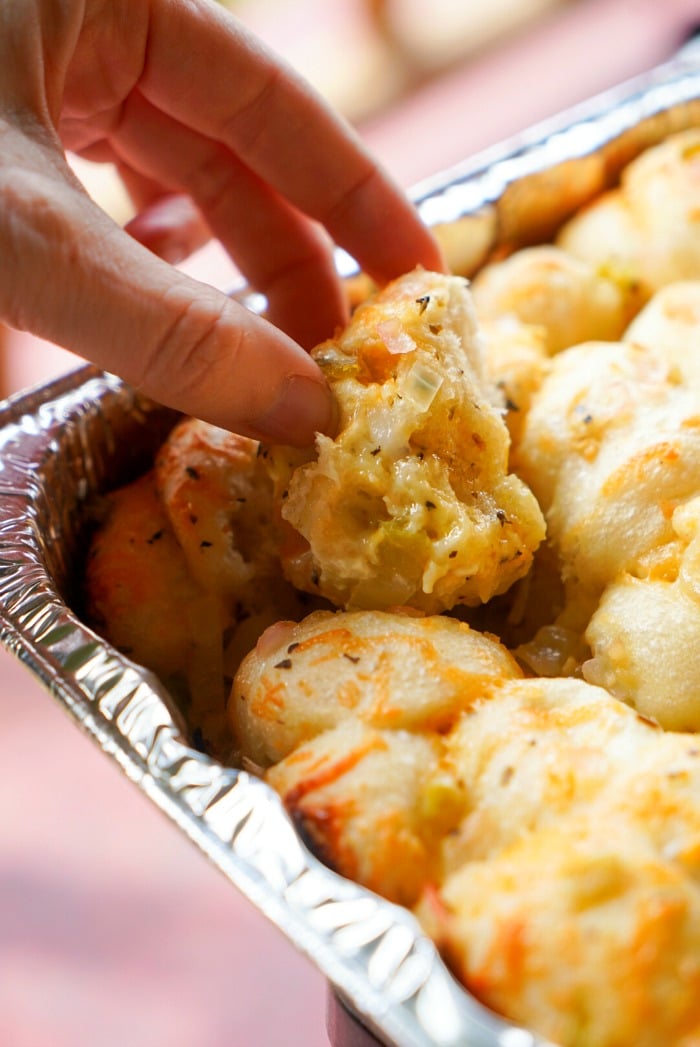 Find more frozen dough recipes here too!
Now it's ready to share with you this printable step by step instructions for our easy……
Want to see a few of my favorite things that I am totally obsessed with?? Take a peek and see how many you might already have…twinsies!
Looking for more easy family recipes and tips? LIKE The Typical Mom Facebook page?
Then sign up for my free newsletter, and follow me on Pinterest! 😉
***** If you LOVED this recipe give it 5 Stars below and let everyone know what you thought about it. 😉
Frozen dinner rolls recipe
Smoked Bread
Cheesy pull apart smoked bread recipe that is out of this world! How to use frozen dinner rolls on your smoker to serve with any meal.
Instructions
Place frozen Rhodes dinner rolls in aluminum 9×13" pan (you'll be using this to cook them in too) with space between then for 45 minutes to soften.

Once this time is up, mix together in a bowl your olive oil, diced chiles that have been drained, cheese, diced onions and seasonings.

Cut dinner rolls into 4 equal pieces each and put them into the bowl. Gently toss together so each piece is nicely coated.

Spray aluminum pan with non stick spray and dump pull apart mixture inside.

Cover tray with aluminum foil and place in a slightly warmer area in your kitchen to rest and rise until they've about doubled in size (this will take 1-1.5 hours).

Preheat your smoker to 350 degrees F and then place your covered tray on top of the grates for 40 minutes.

Then remove the aluminum foil over the top and continue cooking for 10 minutes to brown the top. Keep on an additional 5 minutes if you want them browner.
Nutrition Facts
Smoked Bread
Amount Per Serving (2 oz)
Calories 103
Calories from Fat 81
% Daily Value*
Fat 9g14%
Cholesterol 15mg5%
Sodium 283mg12%
Potassium 51mg1%
Carbohydrates 2g1%
Protein 4g8%
Vitamin A 240IU5%
Vitamin C 14mg17%
Calcium 107mg11%
Iron 1mg6%
* Percent Daily Values are based on a 2000 calorie diet.