Barbecue ribs recipe that's the best I've ever made! Recipe for a great rub for ribs and how to make them fall off the bone tender on the bbq.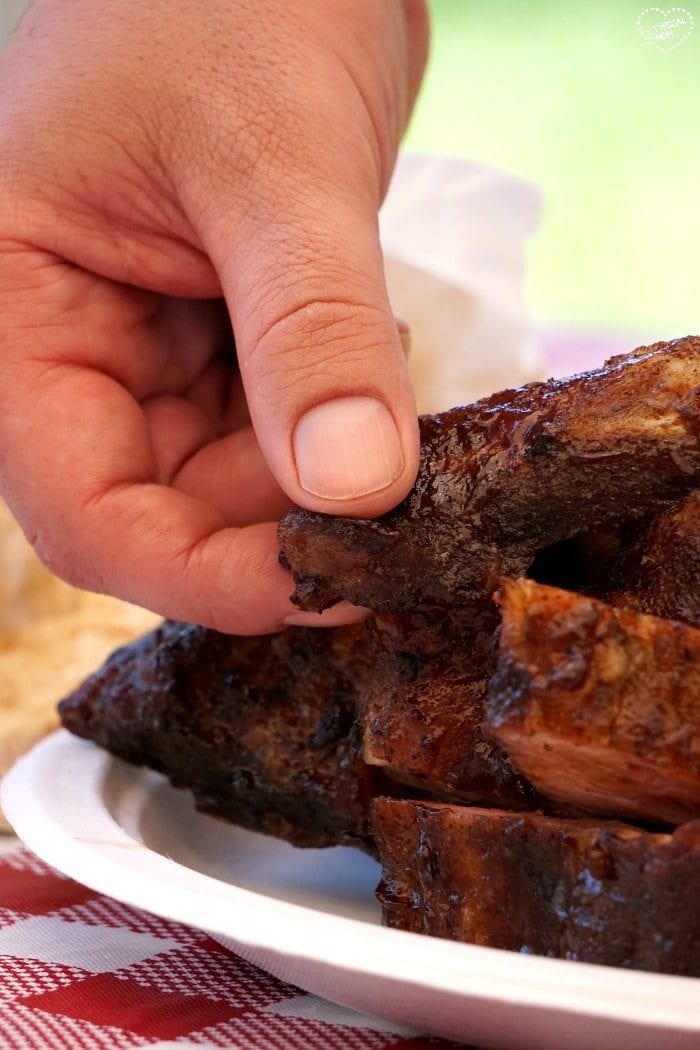 I know…..don't they look finger lickin' good??!! Well they are (I wish you could smell them thru the screen). Like I said, this barbecue ribs recipe is probably our favorite meal….especially during the summertime. The real key to the best fall off the bone ribs is cooking them slooooooooowly, and an amazing rub. Here is how you make the best barbecue ribs recipe ever.  This post brought to you by The Chinet® brand. The content and opinions expressed below are that of The Typical Mom.
You can't go thru the summer and not cook an amazing rack of ribs on your bbq!! When school is out and the warm weather arrives we are ALL about using our grill. Let us share the best barbecue ribs recipe ever with you, we make as often as humanly possible! They are sweet and savory and perfect for any get together outside around the grill or any time of year really.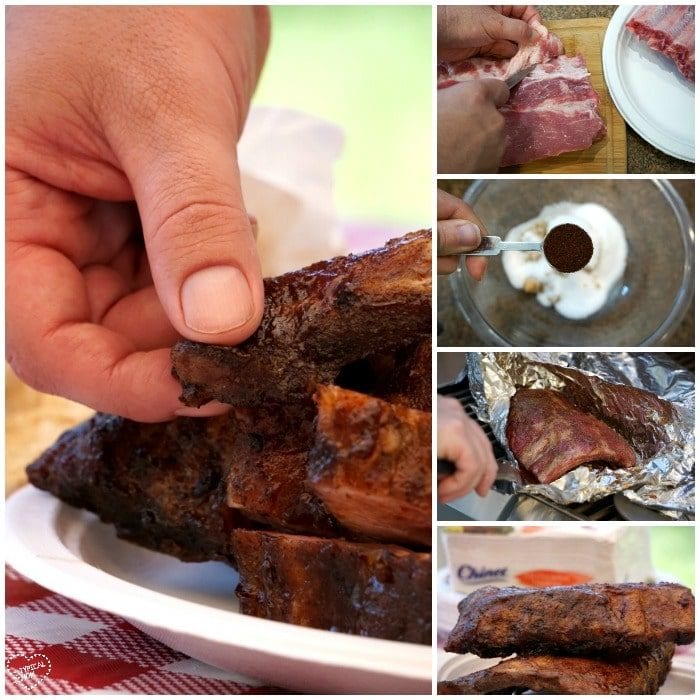 If you know me at all you know I don't do difficult, so believe me this is a pretty easy recipe to follow. First you need to get your rack of ribs out and remove the membrane on the ribs. This will make them easier to eat and more tender. Then flip it over and trim the fat away like you see here. Put your rack of ribs on a sturdy Chinet® Classic White™ plates and set aside for now….you'll need a strong disposable plate for prep and serving because ribs can be quite hefty, so these work great!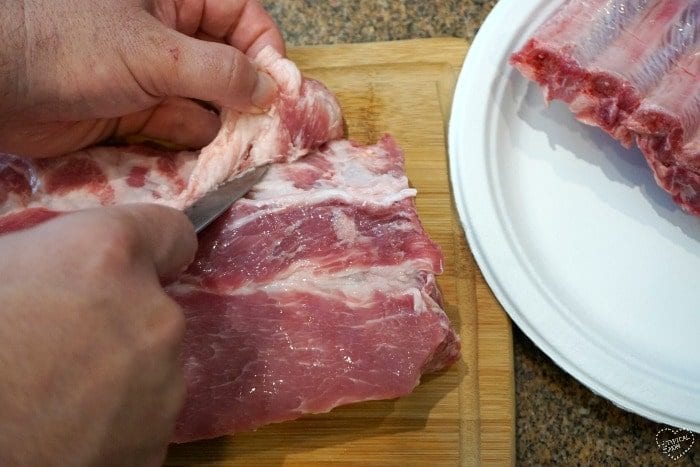 Now you are going to get your rub ready. This part is versatile depending on how much heat you want but the base of this rub for ribs remains the same. It is sweet yet a bit spicy and makes them taste amazing. Here's the recipe.
Barbecue ribs recipe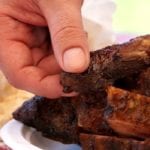 Barbecue ribs recipe
Barbecue ribs recipe that's the best I've ever made! Recipe for a great rub for ribs and how to make them fall off the bone tender on the bbq.
Course:
Entree, Main Course
Ingredients
Rub

1

c

brown sugar

1/2

c

sugar

1

tbs

salt

1

tsp

chili powder

2

tsp

pepper

1

tbsp

garlic powder

1

rack

ribs
Instructions
Mix ingredients for rub together. Rub /massage into top (meat side) of ribs, if you have some left over put on under side of ribs. Wrap ribs in tinfoil and place on bbq on low, 200 degrees or so, for about 4 hours. Take out of foil and place on bbq for another 30 minutes or until golden. Brush bbq sauce on ribs and cook for additional 15 minutes. Serve.
Nutrition Facts
Barbecue ribs recipe
Amount Per Serving
Calories 159
% Daily Value*
Total Fat 0g 0%
Cholesterol 0mg 0%
Sodium 886mg 37%
Potassium 64mg 2%
Total Carbohydrates 40g 13%
Protein 0g 0%
* Percent Daily Values are based on a 2000 calorie diet.
I do not like spicy foods but I love this rub so if you want heat add another tsp. chili powder to really bring it up a notch. Once you have rubbed or massaged this on to the meat side of your rack of ribs wrap them in tinfoil and put them on your barbecue on low, or at about 200 degrees. Remember….you want them to cook slooooooowly.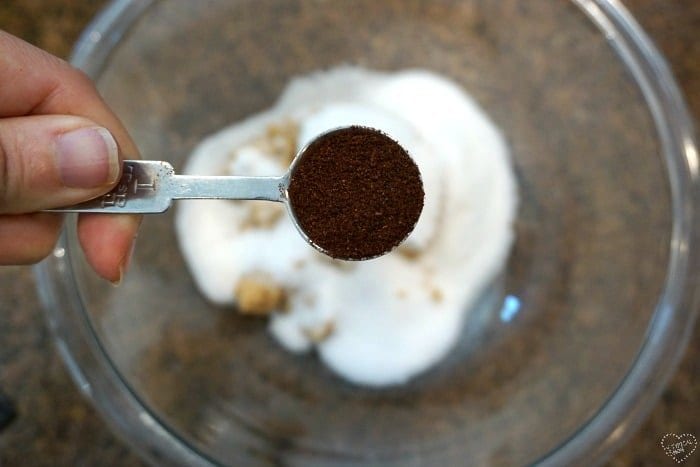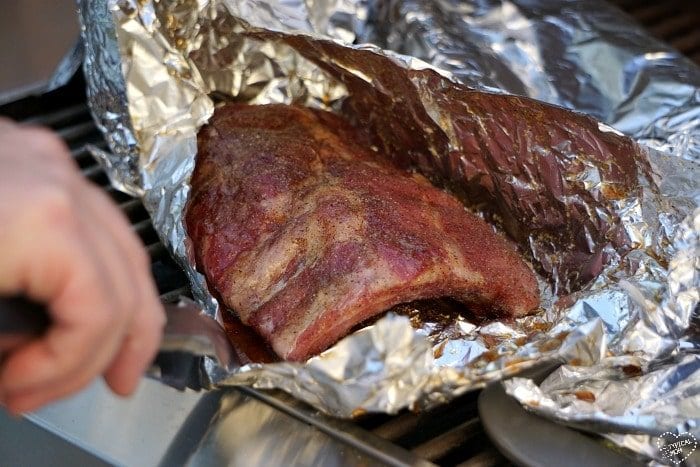 Leave them wrapped in foil in your bbq for about 4 hours on this low heat them unwrap them and put them directly on your grill for about 30 minutes so they can brown and the rub can caramelize. Then brush some barbecue sauce on top and cook for another 15 minutes or so and then they are ready!! Now get out LOTS of your Chinet® napkins…..believe me you'll need them. It is seriously the most Ahhhhmazing meal ever, don't mind the mess! Here's another bonus….there's a month long sale on Chinet® Classic White™ plates (165 ct.) from June 22-July 17, 2016 at Sam's Club. You can also find a $3.50 off coupon for them in the June Instant Savings Booklet too, you can Find a Club near you here. Enjoy friends. 😉