This is the best grilled barbecue ribs recipe that we've ever made, and continue to make year after year! If you're looking for a great ribs rub we've got that too, plus a trick to making fall off the bone tender ribs every time you cook them on the barbeque.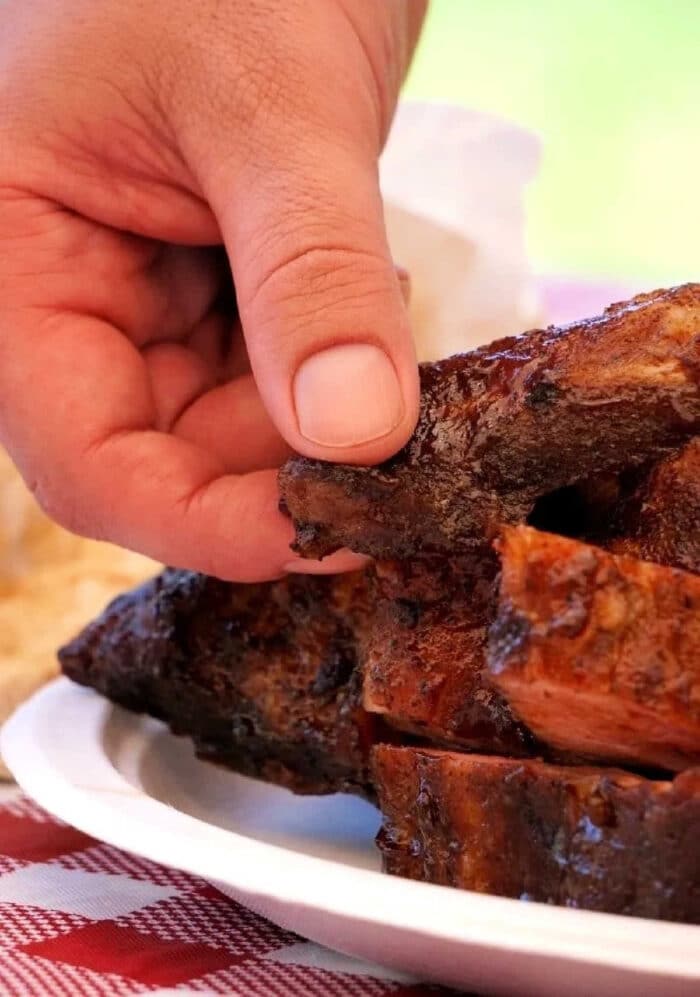 I know…..don't they look finger lickin' good??!! Well they are (I wish you could smell them thru the screen). Like I said, this barbecue ribs recipe is probably our favorite meal….especially during the summertime. The real key to the best fall off the bone ribs is cooking them slooooooooowly, and an amazing rub. Here is how you make the best barbecue ribs recipe ever. This post brought to you by The Chinet brand. (originally published 6/16, affiliate links present)
Grilled Barbecue Ribs
You can't go thru the summer and not cook an amazing rack of ribs on your bbq!! When school is out and the warm weather arrives we are ALL about using our grill. Let us share the best barbecue ribs recipe ever with you, we make as often as humanly possible!
They are sweet and savory and perfect for any get together outside around the grill or any time of year really. For us we always use a dry rub for meat to coat the outsides of the baby back ribs, but you can keep plain if you'd like. Ideally you should coat all sides of the ribs with the sweet savory seasonings where no sauce is needed. Will explain that more below.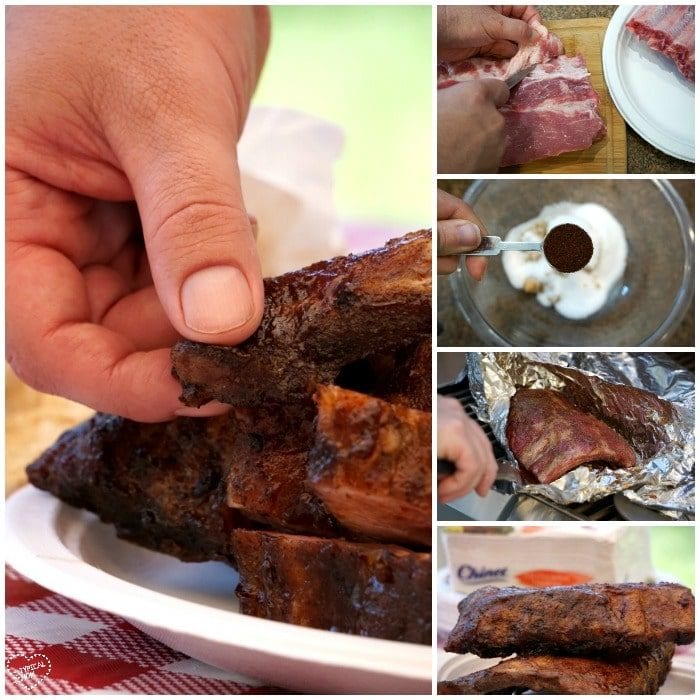 Grilled Ribs Recipe
If you know me at all you know I don't do difficult, so believe me this is a pretty easy recipe to follow. First you need to get your rack of ribs out and remove the membrane on the ribs. This will make them easier to eat and more tender. Then flip it over and trim the fat away like you see here.
Do NOT skip this portion of the prepping process. If you have ever had the best pork ribs at your local restaurant this is how it is done. The whole reason why the meat can pull away from the bone is because this thin layer is removed. It holds everything together and that is not the ideal texture. You want your slow cooked ribs on the grill to break down so they melt in your mouth.
I explain it in detail above but all you need to do is lift it up from the rib bone with a knife and slide it all the way down. Pull with your hands and it will peel right off. Discard and you are on your way!!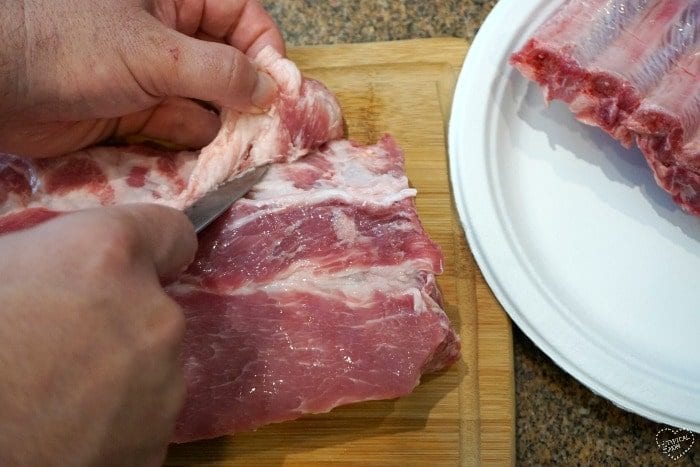 How to BBQ Ribs on Gas Grill
Put your rack of ribs on a sturdy plate and set aside for now. You'll need a strong disposable plate for prep and serving because ribs can be quite hefty. These work great! Now you are going to get your rub ready. This part is versatile depending on how much heat you want but the base of this rub for ribs remains the same.
It is sweet yet a bit spicy and makes them taste amazing. When you are doing all of this prepping allow the grill to preheat. 200 degrees is perfect for slow grilling pork ribs perfectly. It will take a little bit of time for it to reach temp and you want it to get to that steady before starting your cook time.
Barbecue Ribs Recipe
1 rack of ribs – we prefer pork because they come out more tender
Brown sugar
Salt
Chili powder
Pepper
Garlic powder
Aluminum foil to wrap the ribs all up so they can essentially steam over indirect heat if using a charcoal grill
A small bowl to mix seasonings
I do not like spicy foods but I love this rub so if you want heat add another tsp. chili powder or red pepper flakes to really bring it up a notch. Once you have rubbed or massaged this on to the meat side of your rack of ribs wrap them in tinfoil and put them on your barbecue on low, or at about 200 degrees.
Remember….you want them to cook slooooooowly.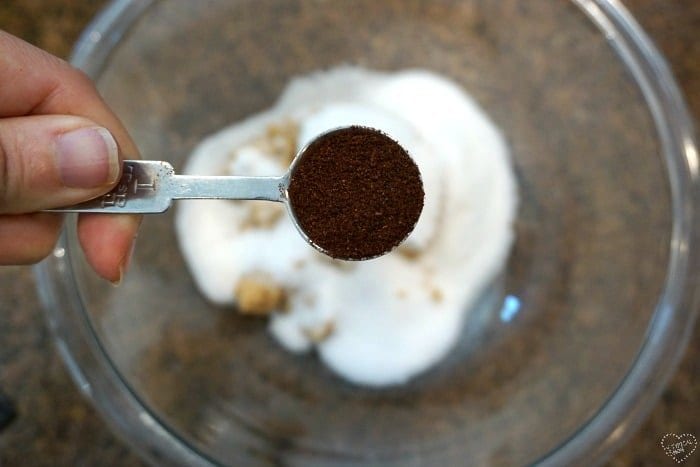 How Long to Grill Ribs in Foil
Mix ingredients for rub together.
Rub /massage into top (meat side) of ribs, if you have some left over put on under side of ribs.
Wrap in foil and set on the grates once your grill temperature reaches a steady 200 degrees. Leave in your bbq for about 4 hours on this low heat them unwrap them and put them directly on your grill for about 20 minutes to 30 minutes so they can brown and the rub can caramelize.
Then remove the ribs and brush some barbecue sauce on top. Cook for another 15 minutes or so and then they are ready!!
How to Tell When Ribs are Done
I am super duper picky about this type of meat. If it isn't tender enough for you to gently pull on the bone and for it to slide right out it needs to cook longer. When it comes to pork, longer means more tender. So if you do pull and the whole thing wants to come with you then it needs more time. Recover and let it grill for another 30 minutes, then check again.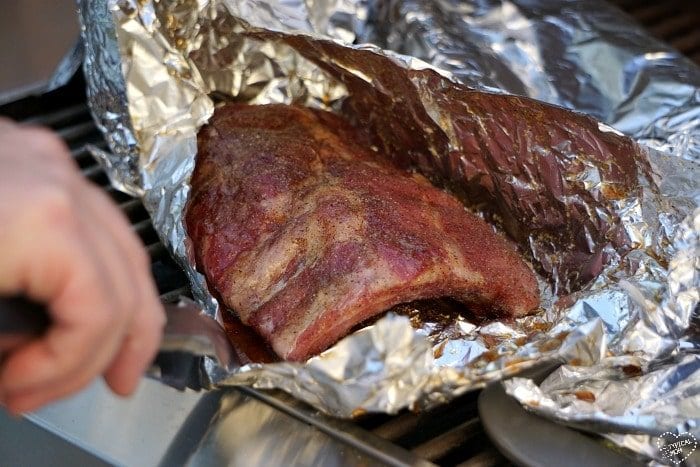 How to Store Leftover Pork Ribs
It doesn't really make a difference whether they were from a pig or cow, you need to keep the air away from them and add some moisture. Once they have cooled completely, slide them into a freezer or vacuum sealed bag. Brush sauce on to the top so they don't dry out. Then suck all of the air out, that is the enemy.
Zip closed and sit flat into your fridge to keep for about up to 3 days until you need to enjoy them again. For reheating leftover ribs your best bet is to add more sauce, wrap in foil and bake in the oven at 200 for 30 minutes or so. If you don't have time for this you can use your microwave for a few minutes but that machine will suck moisture out so lather on the sauce first.
If you're looking for other summertime dishes & tips, you can cook these inside using our Crockpot ribs Coca Cola instructions. That is right, using soda is a fabulous way to break down the meat. Then broiled in the oven will give you the crisp you see here, just not the smoky flavor though.
If you have a lot of kids and want to cut down on costs, I would make some grilled chicken drumsticks as well for them. Much cheaper, they tend to prefer this cut anyway and everyone will be happy.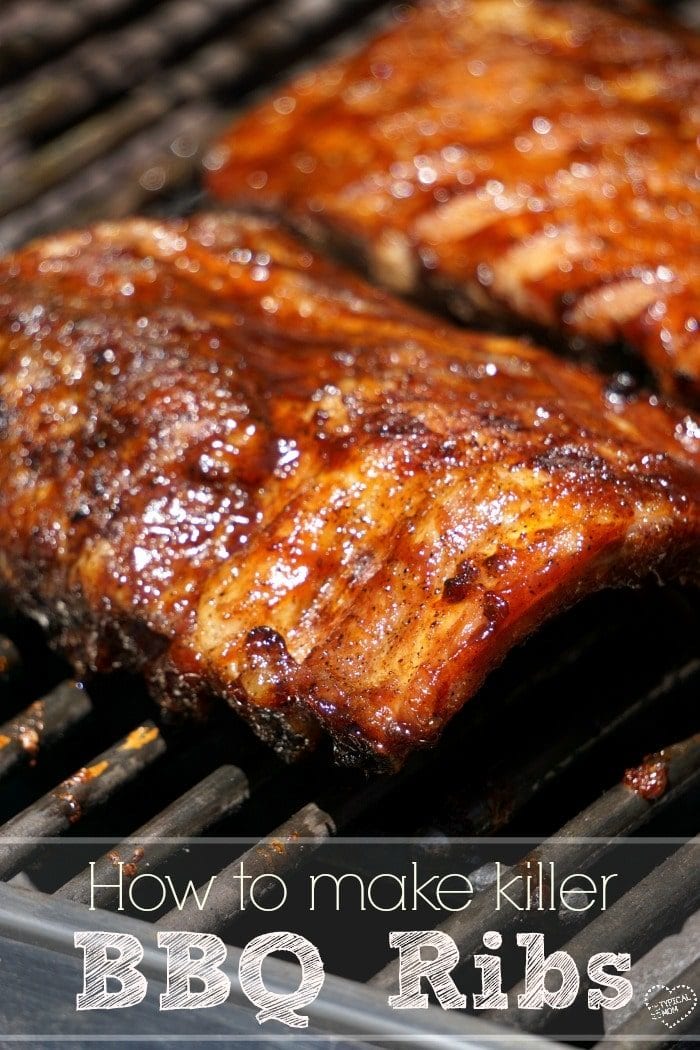 Want to see a few of my favorite things that I am totally obsessed with?? Take a peek and see how many you might already have…twinsies!
Looking for more easy family recipes and tips? LIKE The Typical Mom Facebook page?
Then sign up for my free newsletter, and follow me on Pinterest! 😉
***** If you LOVED this recipe give it 5 Stars below and let everyone know what you thought about it. 😉
Barbecue Ribs Recipe
Best grilled barbecue ribs recipe that we've ever made, and continue to make year after year! If you're looking for a great ribs rub we've got that too, plus a trick to making fall off the bone tender ribs every time you cook them on the barbeque.
Instructions
Mix ingredients for rub together. Preheat grill to 200 degrees F.

Rub /massage into top (meat side) of ribs, if you have some left over put on under side of ribs.

Wrap ribs in tinfoil and place on bbq on low, 200 degrees or so, for about 4 hours.

Take out of foil and place directly on bbq for another 30 minutes or until golden brown on top.

Brush bbq sauce on ribs and cook for additional 15 minutes. Serve.
Nutrition Facts
Barbecue Ribs Recipe
Amount Per Serving (4 oz)
Calories 159
% Daily Value*
Sodium 886mg39%
Potassium 64mg2%
Carbohydrates 40g13%
Vitamin A 100IU2%
Calcium 25mg3%
Iron 0.4mg2%
* Percent Daily Values are based on a 2000 calorie diet.