Best Southern fried cabbage recipe ever! This cheap vegetable dish is packed with flavor. Serve as a simple side dish or add kielbasa sausage for a complete dinner.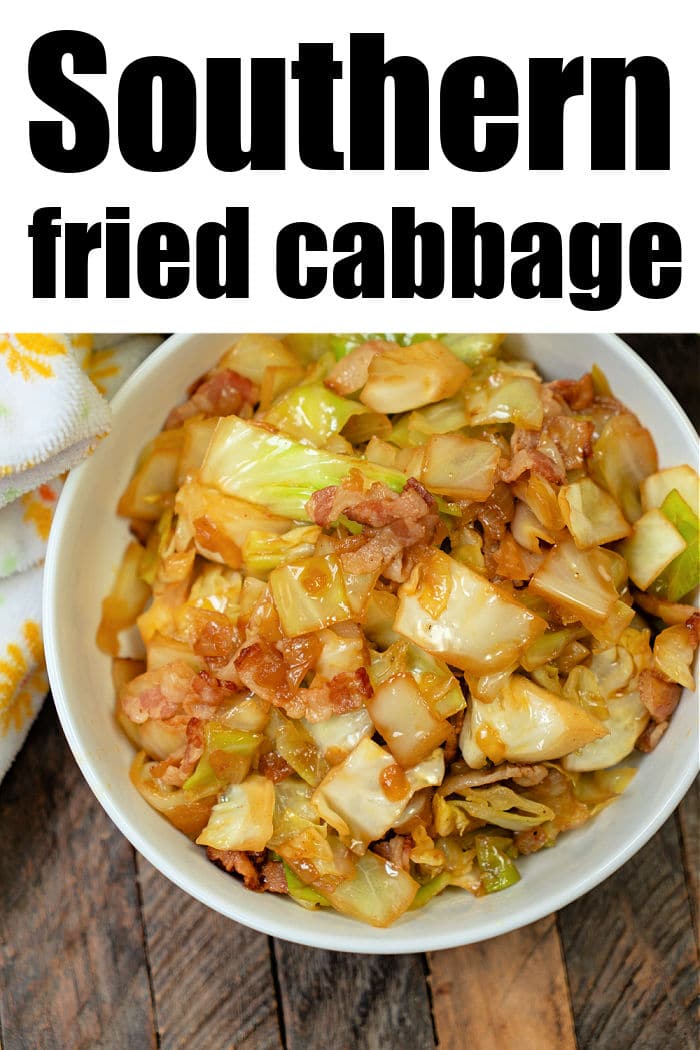 If you remember having Southern fried cabbage as a kid, or at a restaurant and want to recreate it at home it is easy. This low carb keto friendly dish is packed with bacon and TONS of flavor y'all. Ready to make this simple cabbage recipe tonight? Let's get going. (affiliate links present)
Southern Fried Cabbage with Bacon
Ok so the name is a bit deceiving. When I think of frying I picture something that is submerged in oil and horrible for you, this is not. Fried in the sense that you'll "fry" them in your frying pan or I like my Dutch Oven on the stovetop. If you have a large cast iron skillet that's seasoned that is even better.
All those flavors deepen the longer it simmers and you can choose just how tender or crunchy the leaves are this way. Beyond the green vegetable itself, bacon is the big must. I mean if removed the bacon you could make vegetarian fried cabbage instead. You can certainly leave it out, but we don't, it's our favorite part.
Fried Cabbage Recipe
I started this journey by making an Instant Pot fried cabbage version, that was a family favorite. It's a tweak of my Grandmother's recipe from WAY back in the day. She would be proud I gained a love for it finally as an adult. 😉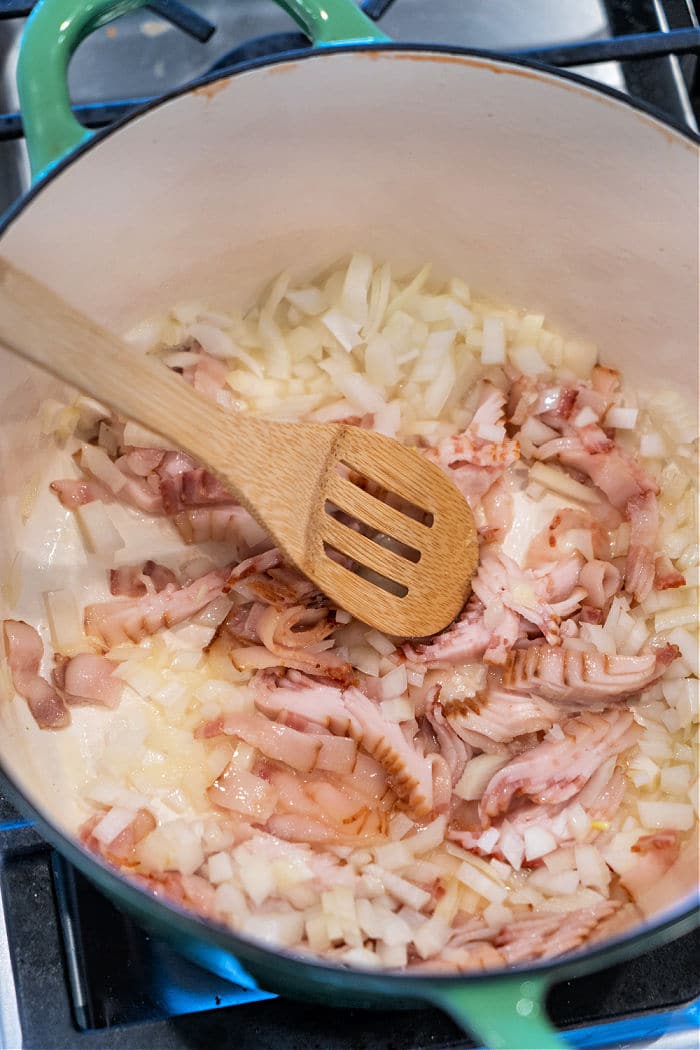 Dutch Oven Fried Cabbage
Not everyone has a pressure cooker so I thought I would show you how our dutch oven recipe is made Southern style too. There isn't a huge difference other than a few seasonings, and the cook time of course. The latter does take longer but decide for yourself which you like best.
How do you cut cabbage for frying?
I'm glad you asked. I wrote a whole post on how to cut a cabbage here for you. This time it will be cubed as I like to call it. I prefer bite size 1×1″ pieces (or so). You really want each one to soak up all the sauces and seasonings as it sautes in the pot. For that reason, cooking a whole cabbage or quartering it wouldn't work well at all.
When it comes to leafy veggies, the smaller the pieces the quicker they will get soft. If you like them really wilted then by all means cut smaller than this. Love it on the crunchier side, then larger would be better.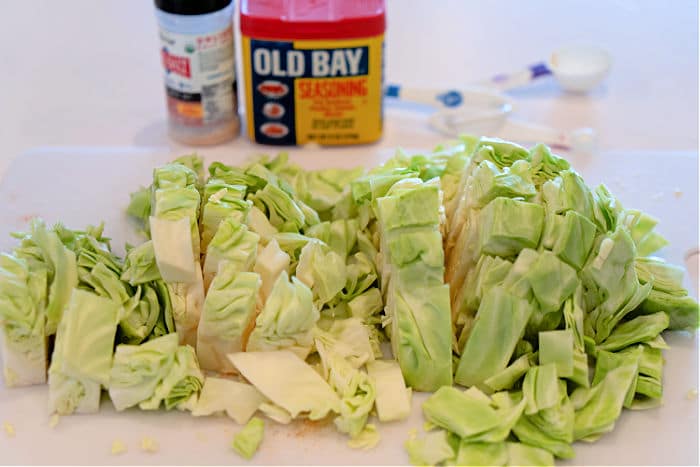 Either way you will want to kinda' break up each chunk a bit when you add them into the pot. If not they will cook unevenly. The center sections tend to stick together more with a whiter color and firmer texture. If you just use your fingers to break it apart so it's basically all the same you'll get a better result overall.
How do you make Patti Labelle Cabbage?
Her cabbage stewed recipe is similar to this except she uses grapeseed oil instead of olive, adds diced bell peppers and instead of Old Bay she adds a bit of heat with cayenne.
What do you eat with fried cabbage?
I mean what doesn't go well with this, I have no idea. Instead of just adding the larger leaves to the top of our meat at St. Patricks Day we actually make this with our dutch oven corned beef dish every year. SO much more flavor than just wilted leaves on your plate. Now my kids will eat it all because every bite is out of this world delicious.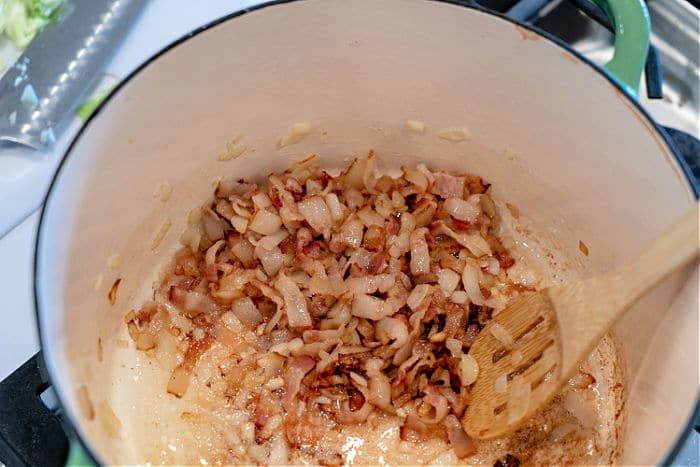 Easy Fried Cabbage Recipe
There are a lot of substitutions you could do with this. If you wanted it to be spicy I'd add 1/2-1 tsp of red pepper flakes. Another option for that is Sriracha powder which has a great flavor to it. Like I said if you wanted it vegetarian then just eliminate the meat all together.
If you want to load it with protein however, I like adding leftover ham to the mix when I have it. Sliced moons of kielbasa sausage is another winner. Saute this with the onions to seep more of that smoky flavor out of those babies. For this version you will need:
Cubed head of cabbage
Half a pack of bacon is what I use, plus the bacon grease generated
1/2 a chopped onion
Olive oil to saute those first
Broth of your choice
Soy sauce lends a ton of flavor to this
Garlic salt
Old Bay and paprika
If you like a spicier richer tomato based version, try our Swamp cabbage recipe too. That is on the spicier side, but still closer to medium because I hate my mouth on fire when I eat anything.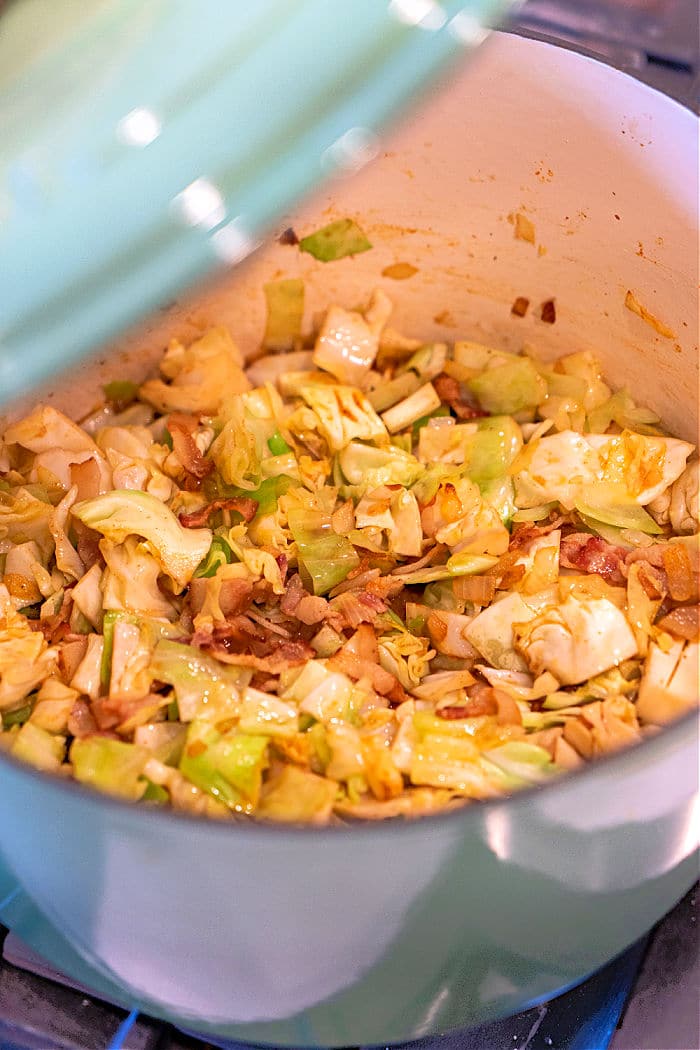 After you "fry" it, you'll want to add the lid and let it simmer on low for a little while to get the leaves to wilt and get tender. Timing for this is subjective. I like it right in the middle with just a bit of "bite" to it and not mushy so 5-7 minutes seems perfect to us.
Louisiana Fried Cabbage Recipe
If you are watching your sodium levels I would use low sodium soy sauce and leave out the salt entirely. Taste at the end and adjust to your liking.
In a dutch oven or pot over medium heat, pour in the olive oil, add the bacon and add the onions.

Cook until bacon is a bit crispy and onions are softened.

Cut end off end of the head where it attached to the plant and discard. Slice in half and then into 1×1″ cubes. Add the cabbage with onion into pot. Mix together.

Saute together for 2 minutes.

Pour in vegetable broth and all seasonings, stir together. Saute for another 2 minutes.
Cover and turn heat to low, cook for 5 minutes.
Open and test the consistency to this great recipe. If it isn't as soft as you'd like, continue to cook with the lid on for another 2 minutes and check again. Serve immediately for best results, and remove from the heat once it is right for you.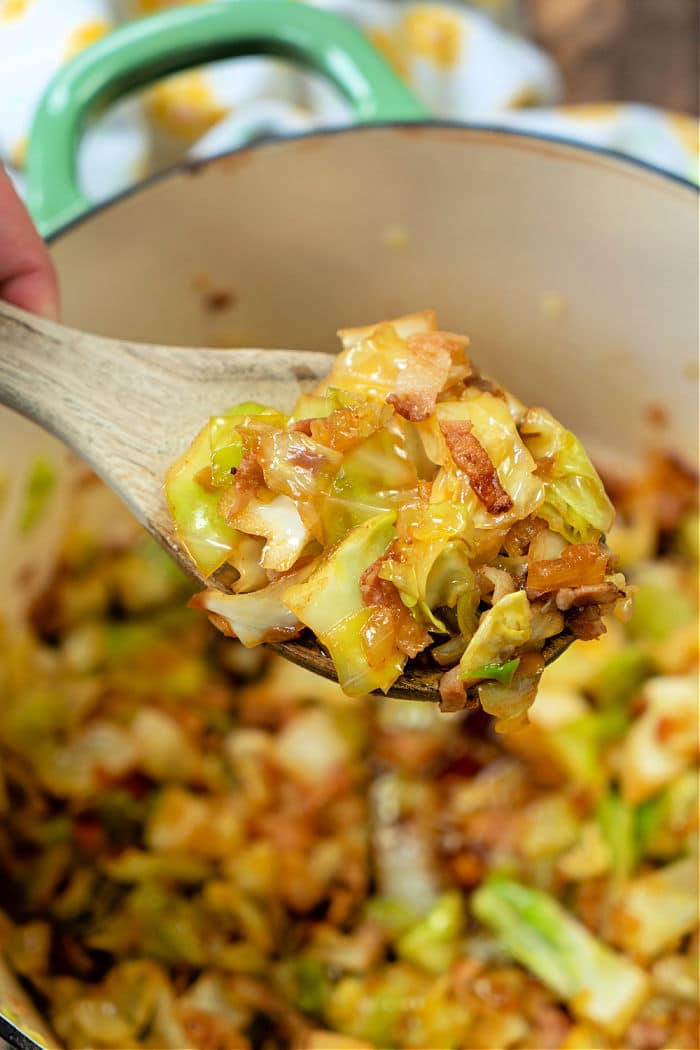 How to save leftover cabbage
Just don't. LOL. Just kidding, well not really. Ok so I am a total consistency girl. Like I love fish but raw sushi I won't eat just because of the way it feels in my mouth. Cooked cabbage for me, unless it's freshly cooked, is a total no go for me. My husband isn't as no no as me on this though so I do save it for him and this is the best method.
As with any other type of food always wait until it is at room temperature. So as soon as you're serving it up remove from the burner entirely and leave the lid off. Eat whatever you want and then when you're sure you're done, let it cool. Use the smallest container you can so it fits and the least amount of air can get trapped inside.
Spoon it inside (with as much liquid from the pot) and tightly seal the lid completely. Store in the fridge until the next day, beyond that you won't like it. SO remember it's there so you can have another dish. Transfer to a dish and microwave for 30 seconds, then stir and heat again for 30 seconds.
If you love cabbage you're going to nuts over this and our air fryer cabbage and Old Fashioned cabbage soup too. With butter and a bit of salt with garlic powder and that gets so crispy, my kids' favorite way for sure.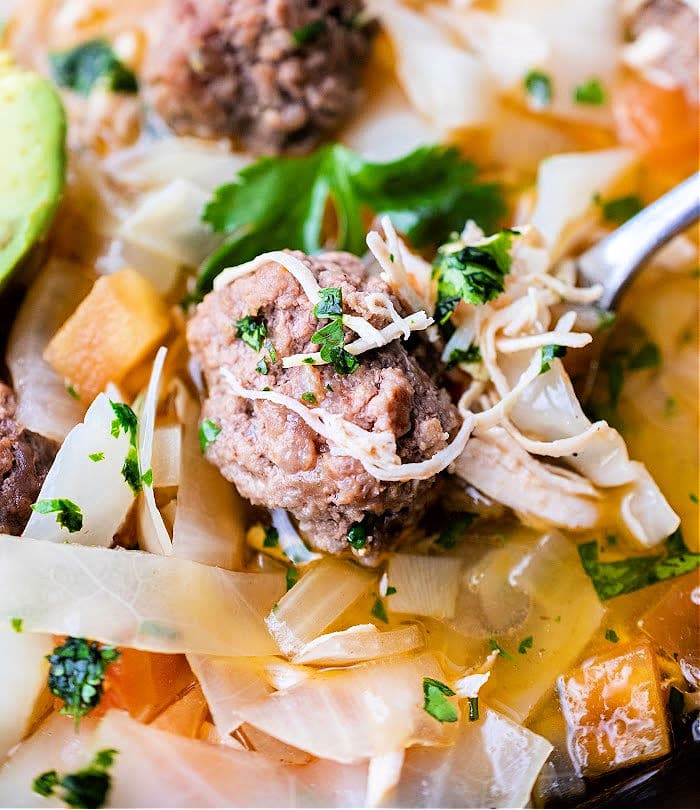 I don't know about you but this vegetable brings back so many memories. Don't think kids of this generation could say the same thing. Maybe it's because this was a really cheap thing you could buy in our Grandparents generation and use what you had at home to flavor it up all sort of different ways.
Southern Fried Cabbage with Chicken Broth
I know that is what mine did and I swear she created magic with it. Never ever tasted the same each time because she was the queen of using leftovers, that generation had to. Funny how food sometimes is attached to a memory or person and this one certainly is for me.
Now I will say that there is a huge variation when it comes to Southern fried cabbage. If you remember your special loved one always adding homemade chicken broth then by all means swap out for that. It is easy to tweak to make it exactly as you're picturing it looking and tasting like. Feel free to print recipe below and keep it handy if you like.
Nutritional information is calculated by the recipe card itself so I cannot guarantee it's accuracy but it's usually pretty close. Bacon will vary though so that will change it in that regard.
Want to see a few of my favorite things that I am totally obsessed with?? Take a peek and see how many you might already have…twinsies!
Looking for more easy family recipes and tips? LIKE The Typical Mom Facebook page?
Then sign up for my free newsletter, and follow me on Pinterest! 😉
***** If you LOVED this recipe give it 5 Stars below and let everyone know what you thought about it. 😉
Southern Fried Cabbage
Best Southern fried cabbage recipe ever. This cheap vegetable dish is packed with flavor. Serve as a side dish or add meat for dinner.
Instructions
In a dutch oven or pot over medium heat, add olive oil, diced bacon and onions. Cook until bacon is a bit crispy and onions are softened.

Cut end off cabbage and discard, slice in half and then into 1×1" cubes. Add into pot and mix together. Saute together for 2 minutes.

Pour in vegetable broth and all seasonings, stir together. Saute for another 2 minutes.

Cover and turn heat to low, cook for 5 minutes. Open, stir and if you want it softer cover again for another minute or two.
Nutrition Facts
Southern Fried Cabbage
Amount Per Serving (2 oz)
Calories 183
Calories from Fat 135
% Daily Value*
Fat 15g23%
Cholesterol 18mg6%
Sodium 930mg40%
Potassium 276mg8%
Carbohydrates 8g3%
Protein 6g12%
Vitamin A 218IU4%
Vitamin C 42mg51%
Calcium 51mg5%
Iron 1mg6%
* Percent Daily Values are based on a 2000 calorie diet.