This buttered cabbage stewed recipe is pure comfort food. Cooked in a dutch oven on your stovetop or in an Instant Pot it's cheap and delish.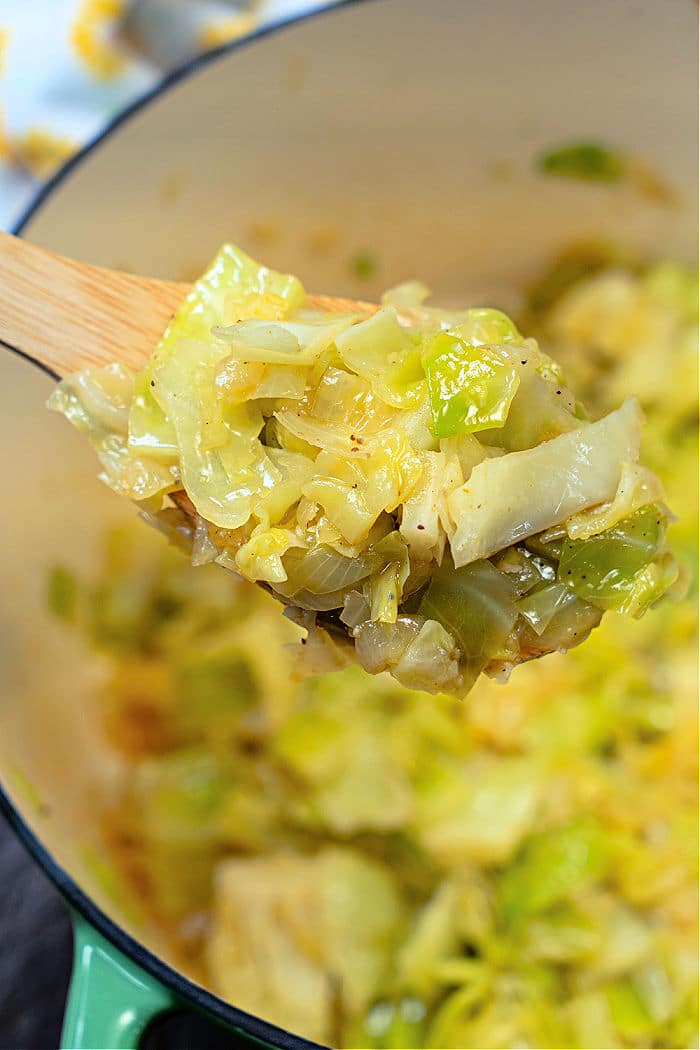 Cabbage stewed in butter and seasonings is the cheapest and yummiest side dish you'll ever make. If you too are a fan of all of our simple cabbage recipes we have yet another one to add to that list!! Give it a whirl and let us know what you served it with. (affiliate links present)
Southern Stewed Cabbage
This is likely one of our easiest and simplest ideas. I first made it and shared how to make Instant Pot cabbage recipes under high pressure here. Realizing not everyone has a pressure cooker, this is how to make it on the stovetop. You can use a deep pot but I love my dutch oven for all the things with stew in their name.
It's super versatile but the timing and information regarding cubing your main ingredient stand firm. Beyond that you certainly should use seasons of your choice. I will share with you below my go tos but as always, make it to your family's liking.
If you're new to using this enclosed cast iron pot, let me share a little information: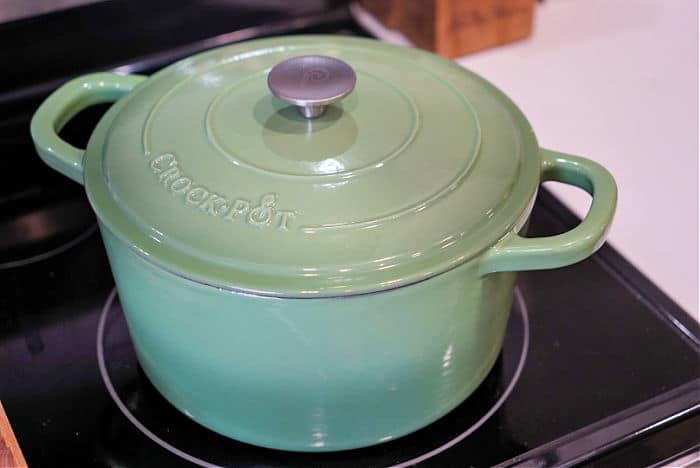 Buttered Cabbage
This is another name for this "old fashioned" dish I suppose. No wonder since that is the main ingredient and just makes every bite tender and flavorful. I opt for salted but if you're watching your sodium intake I suppose you could add the other. Another must for me is that this is one of my favorite Old Bay recipes, my favorite shaker.
We will start with the basics. This is how to chop cabbage into cubes. It is not rocket science but you really want each piece to be the same size so the texture is right. Bite size is perfect so it doesn't take long to get nice and tender as you steam or stew it in the pot with the lid on.
We use the same method when making our Southern fried cabbage too. Makes it easier to eat and cooks fast.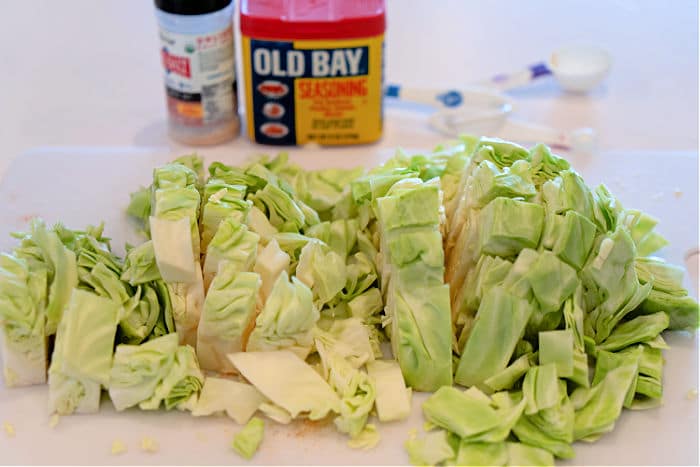 Recipe for Stewed Cabbage
I add diced onions and roasted garlic to almost everything I make so those are a given for a bunch of flavor with little effort on my part. When it comes to this vegetable you really need to add a lot of flavor to it, otherwise it's quite bland. Yes you will use a whole stick of butter to coat every leaf well and get them softer.
This is what you'll want to get out in order to get started:
Head of cabbage with outer leaves removed, core discarded and cubed
Onion
Butter

could cut down with a bit of olive oil but for ideal flavor use "the stick"

Garlic diced if you like

finely diced bell peppers would even be a good add in

Vegetable broth
Garlic salt
Old Bay
Black pepper
You shouldn't need anything beyond this once it's done, unless you want to add some heat. You can make spicy buttered cabbage with a sprinkle of red pepper flakes or dry Sriracha.
Do you boil or simmer cabbage?
You really don't want to submerge it into hot water unless you're making stuffed cabbage. That will just suck all of the minerals and flavor right out of it. Instead you need to simmer it in something with flavor to add to it, the broth will be great for this too.
Steamed Cabbage
I don't just close the lid right away, instead after I saute a few things I toss everything together with it off for about 5 minutes. If you wanted to make fried cabbage you'd follow similar directions but a bit of heat is added with that. There is a printable recipe card at the bottom but here is a quick look:
Over medium high heat melt butter in a dutch oven or large pot. Add the onions and cook until softened.
Add minced garlic and cook for 2 more minutes. Add all seasonings. Cut the cabbage into bite size pieces. Add the cabbage pieces separated and stir together.
Saute everything together for 5 more minutes. Then pour in broth and stir.
Cover and lower heat to low. Cook cabbage for 7 minutes to soften.
Lift lid, test for tenderness and if you want it softer, close and continue for another 2 minutes and then test again. Taste, add salt and pepper if need be.
Cook time will take about 15 minutes, so 30 minutes total with prep and all. Timing will vary depending on how soft you want it to be of course. This is fantastic served alongside your dutch oven corned beef and cabbage. Instead of adding the leaves whole at the end, make this instead in a separate pot.
You can do the same thing much faster with our buttered pressure cooker cabbage recipe if you have that machine at home.
There is nutritional information listed below for this stewed cabbage recipe too but that is calculated by the card itself and only accounts for exactly what is listed.
Recipe Buttered Cabbage
If you want other ideas using similar ingredients but cooked in the oven, try our baked cabbage steaks recipe too. Don't want to heat up your whole house, make the same thing but follow our air fryer cabbage recipe instead.
Dutch Oven Cabbage
Want to see a few of my favorite things that I am totally obsessed with?? Take a peek and see how many you might already have…twinsies!
Looking for more easy family recipes and tips? LIKE The Typical Mom Facebook page?
Then sign up for my free newsletter, and follow me on Pinterest! 😉
***** If you LOVED this recipe give it 5 Stars below and let everyone know what you thought about it. 😉
Cabbage Stewed
This buttered cabbage stewed recipe is pure comfort food. Cooked in a dutch oven on your stovetop or in an Instant Pot it's cheap and delish.
Instructions
Over medium heat melt butter in a dutch oven or pot. Add diced onions and cook until softened.

Add minced garlic and cook for 2 more minutes. Add all seasonings. Cube cabbage and add, stir together.

Saute everything together for 5 more minutes. Then pour in broth and stir.

Cover and lower heat to low. Cook for 7 minutes to soften. Lift lid, turn off heat, stir and enjoy.
Nutrition Facts
Cabbage Stewed
Amount Per Serving (1 oz)
Calories 144
Calories from Fat 108
% Daily Value*
Fat 12g18%
Cholesterol 30mg10%
Sodium 584mg25%
Potassium 277mg8%
Carbohydrates 10g3%
Protein 2g4%
Vitamin A 549IU11%
Vitamin C 56mg68%
Calcium 70mg7%
Iron 1mg6%
* Percent Daily Values are based on a 2000 calorie diet.