This is how to cook cabbage on the stove, in a Dutch oven. slow cooker, in the air fryer, Instant Pot or baked in the oven. All of our cabbage recipes make a cheap and halthy side dish to serve with any main dish for dinner.
Wondering how to cook cabbage green or red for dinnertime? I have LOTS of suggestions for you, it is now my favorite vegetable ever. It took me a long time to love it but now my kids are even fans. From fried to sauteed and everything in between we have all the ideas. (affiliate links present)
How to Cook Cabbage Healthy
We will talk about both colors but will start with green cabbage because that is the most commonly used. I will start off by saying it is very versatile. You can keep it super simple with just light seasonings like salt and pepper with just some broth to make it tender in a pot. That would be just the beginning.
If you are going for super basic I would start with our slow cooker cabbage. The pot basically does all the work for you on this one. I think butter is a must for this dish but if you are saving calories like I said, you can just use water or vegetable broth to soften.
You can do the same thing even faster in an Instant Pot or Ninja Foodi in a fraction of the time too. Just a bit of liquid + salt and pepper is all you need to make our pressure cooker buttered cabbage dish. I'd start from here and then move on if you are new to cooking this veggie. Now let's move on to where to start;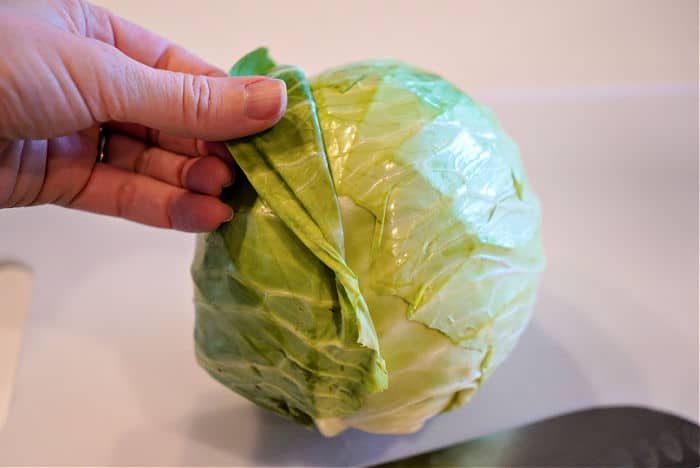 How to Cook Cabbage on the Stove
With any of these you have to prepare your head first. To start with the outer leaves should be pulled off and discarded. Then you will want to slice the end off where it was attached to the plant. That is hard and not edible so get rid of that too. Then decide how to cut cabbage depending on what you're making.
How Long to Cook Cabbage
That depends on your method and size you slice it. I will say that 90% of the time I cube it, my term. Of course if you were cooking a whole cabbage you would just remove the outside leaves and that would be it. For almost all of the others I would slice in some shape or fashion.
Slice your head of cabbage in half lengthwise
Then set the cut side of your half down on a cutting board
Cut into thick strips, about 1.5″ wide
Then turn your board to the side and slice those strips into "cubes" or squares if you will
You want them to be large bite size pieces knowing they will shrink as it cooks down
I use this technique to make Dutch Oven fried cabbage and most others where you want the pieces to be smaller so they can soak up all melted butter and other flavors.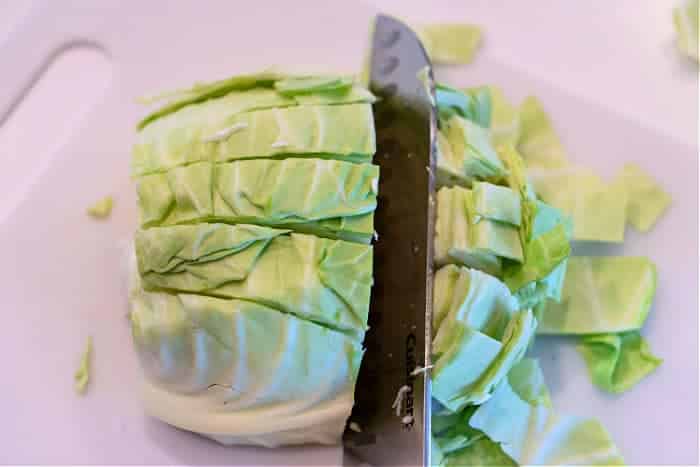 What is a Good Seasoning for Cooked Cabbage
Depends on what you are serving it with. If you were making corned beef and cabbage then you might want to leave it plain, lay on top of your meat and just allow it to wilt a bit before serving. That is what we did for years just because that is just what my Mom did in the past.
Once I got to experimenting and made our Instant Pot fried cabbage it became out go to. Never again did I leave it plain. It may not be "typical" but for the last 5 years I have made it this way, separate from the brisket entirely and it is out of this world delicious. With that said these are the sauces and flavors we think works best;
Soy sauce adds a rich saltiness, way better than just salt itself. You could use aminos for a gluten free or keto option.
Diced cooked bacon, and leave the grease in there when you cook it down….believe me, do it.
Paprika
Garlic salt
Lawry's seasoned salt
Pepper
Chili powder or red pepper flakes can add heat if you want it on a spicy side
Now if you add meat in with your leaves that in itself will add lots of flavor so keep that in mind. Let's start with our cabbage and ham dish that we make often after the holidays. Many times the main dish isn't finished completely, this is a great way to use it up. That protein already has a lot of sodium in it so you won't need much beyond that.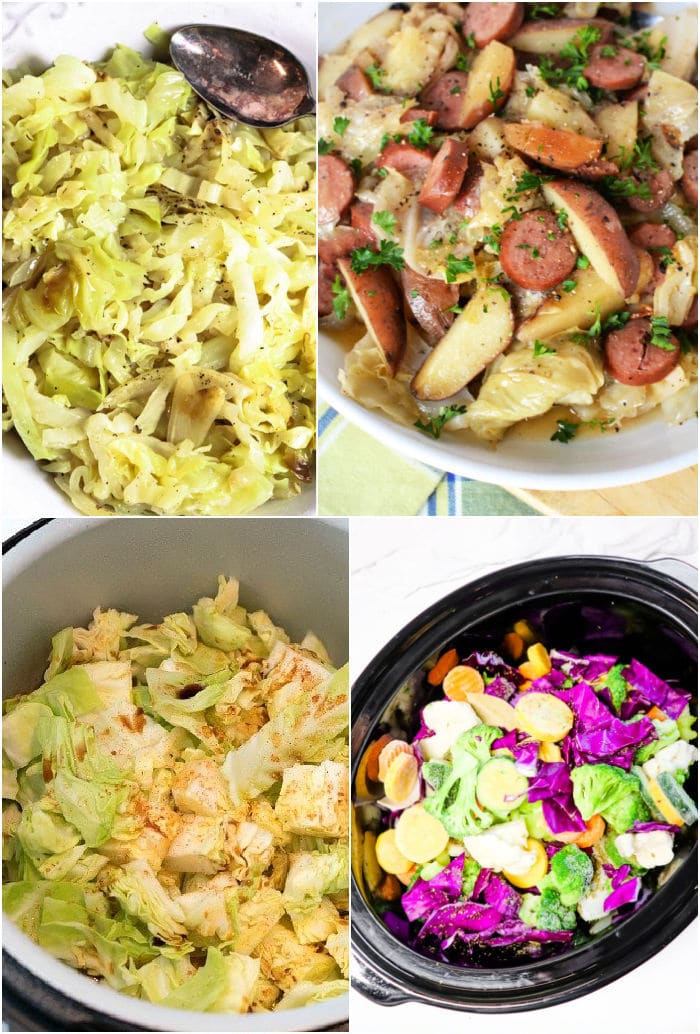 How to Cook Fried Cabbage
With that said you really don't want to add much at the beginning or it may become overwhelming, and not good. Too much salt will ruin a dish so go gentle on something like this. It is better to add just a pinch of this and that and then adjust at the time you serve it up.
Taste, see if it really needs some garlic salt and pepper and add then. You can mix it up too with green and makes fun Purple Cabbage Recipes too.
Now our Southern fried cabbage is made on the stove too and has a load of flavor. I mean would y'all down South do it any other way?? A tweak from my Grandmother's classic dish she made back in the day this is an easy one to throw together in a pot, cover and goes with literally everything.
If you like a little more crisp on the edges instead of just tender and wilted you may want to use your Cosori or Foodi. If you didn't know you could make air fryer cabbage you are in for a treat! You can cook in slices like you see below or diced with bacon and make a "fried" version too.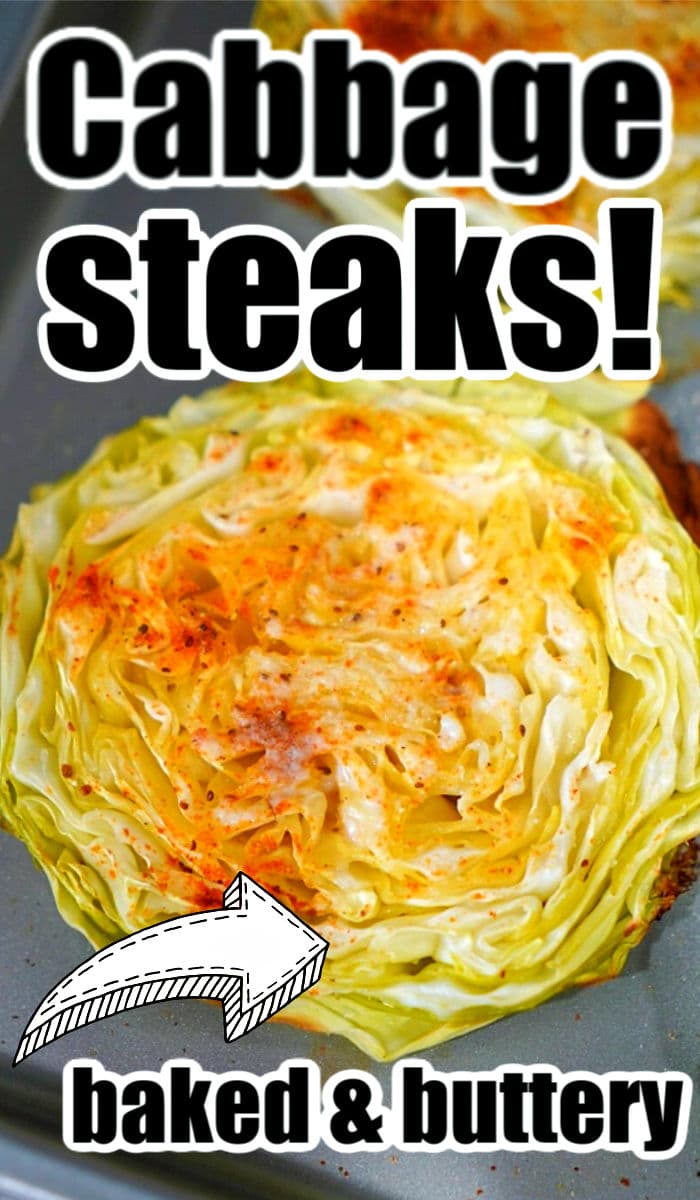 Easy Way to Cook Cabbage
You can do the same thing baked too though. Baked cabbage steaks are the bomb!! You just slice, lay a pat of butter on top of each one, sprinkle on your seasonings and that's it!! If you are making your main dish in the oven too then you can make it all at once on different racks.
Red Cabbage Recipes
This is how to cook red cabbage. You may call it purple but whatever…… Go ahead and use this variety for any of the recipes you see here. There really isn't a difference in timing, just taste. I will say that I didn't experiment with it much until recently. First I just used the one above but with this variety and made red cabbage steaks. OMG was it incredible so I kept going……..
Red sautéed cabbage was my next creation, so good. I mean my teenager even tried it at lunchtime and was blown away. Honestly it was way better than if I had used green for this one served with grilled chicken.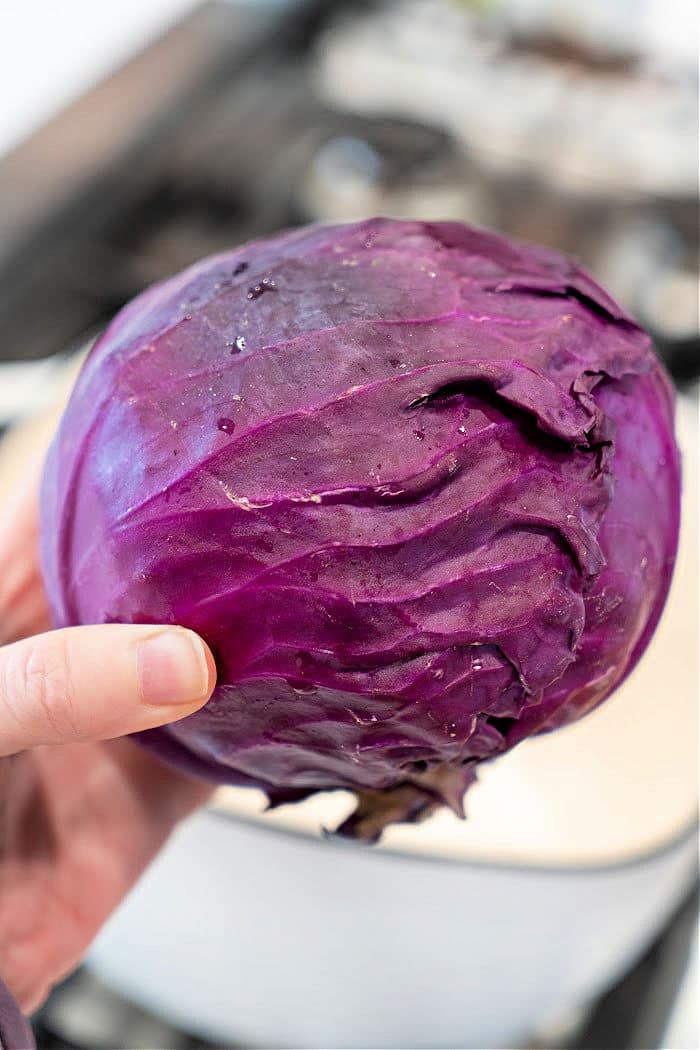 Cooking Cabbage
All the ways, we have all the ways and keep adding to this list week after week. We are now working on boiled cabbage and will share that one soon when we are done. Typically submerging veggies in boiling water isn't my favorite because the nutrients are sucked out that way into the salted water.
I prefer using a large skillet with a lid over medium high heat with just enough liquid, a bit of olive oil and broth works, to steam it until your cabbage is tender to your liking. The timing for all of these is subjective, keep that in mind. I personally like a bit of a "bite" to it meaning I don't like it mushy or even close to that point. You may like it much softer than myself.
The thinner you slice it the quicker it will cook and softer it will become too. So shredded cabbage would take less time than my thick slices, obviously but important to keep in mind when you're prepping all of these. I will share a simple way below in the recipe card but try the others with the blue links above and lemme know which is your fave!!
Cold Cabbage Recipes
For a cooler variety you could give our red cabbage coleslaw a whirl too. That is mayonnaise based with a thicker sauce of sorts. If you wanted a lighter side to serve with grilled chicken maybe you might like our Asian cabbage salad with a homemade dressing. Switch it up and see which is your fave.
Want to see a few of my favorite things that I am totally obsessed with?? Take a peek and see how many you might already have…twinsies!
Looking for more easy family recipes and tips? LIKE The Typical Mom Facebook page?
Then sign up for my free newsletter, and follow me on Pinterest! 😉
***** If you LOVED this recipe give it 5 Stars below and let everyone know what you thought about it. 😉
How to Cook Cabbage
How to cook cabbage on the stove, in the oven, air fryer, slow cooker, sauteed and other ways. Cooked to tender and seasoned perfectly.
Instructions
Melt your butter in a pot over medium heat on the stove. Add diced onions and cook until softened. Add minced garlic and cook for 2 more minutes.

Add all your desired seasonings. Cube cabbage and add into the pot, stir together.

Saute everything together for 5 more minutes. Then pour in your broth and stir. Cover with a lid and lower heat to low. Cook for 7 minutes + until softened to your liking. Remove and serve.
Nutrition Facts
How to Cook Cabbage
Amount Per Serving (1 oz)
Calories 146
Calories from Fat 108
% Daily Value*
Fat 12g18%
Cholesterol 30mg10%
Sodium 584mg25%
Potassium 283mg8%
Carbohydrates 11g4%
Protein 2g4%
Vitamin A 549IU11%
Vitamin C 56mg68%
Calcium 71mg7%
Iron 1mg6%
* Percent Daily Values are based on a 2000 calorie diet.