How to grill frozen burgers from rock hard to tender and juicy. How long to grill frozen burgers answered so you can barbecue your hamburgers perfect this summer.
It's time to share how to grill frozen burgers this week! We have already covered how to cook frozen burgers in the oven but it's almost summertime. We love barbecuing all the things when it's warm outside and this is the best cooking hack ever! (affiliate links present, originally published 2/22)
How Long to Grill Frozen Burgers
Believe it or not it doesn't take substantially longer if grilling from frozen or fresh. You just want your grill to be a bit hotter than normal and want to monitor them well. Then you can save the day when you know how to cook frozen ground beef on a Traeger, in the oven, or in a pressure cooker.
Let's talk gas grills for a second here. We started out simple and cheap at the beginning. Yes, one of those round black Weber Grill ones on our patio. Then got a Char Broil that was larger and finally settled on a smoker that we have now. You can use that as a barbecue as well.
How to Cook Frozen Burgers on the Grill
Now we are talking about frozen hamburger patties that are right out of the bag like you see here above. If you're forgetful this will come in handy.
Another great reason why you may need this is if you have a large get together at a park and you're unsure how to keep your defrosted meat cool for hours you can take them as is and cook.
If they are in a cooler this way they will likely defrost just a tad. But if you put them in already thawed they might get mucky and icky sitting in a sorta cold cooler. I am sure you have had an incident where this information would have come in handy, now you'll have it in your back pocket for the future. 😉
Grilling Frozen Burgers
If you have a built in thermometer on your machine you're in luck, it is a lot easier to get it just right if you do. No worries if that isn't the case though. It is handy to have a thermometer of some kind handy because you'll want that to test the internal meat temperature when done anyway.
How Long to Cook Frozen Burgers on Grill
There is no exact science to this as grills will always vary slightly, especially if you're using charcoal. Gas is a bit more predictable but also timing will vary depending the thickness and overall size of the burger patties. Those will make the cook time a bit different.
In general though you can expect for frozen grilled burgers (at medium size and thickness) to take 10 minutes total. You'll want to separate them first from one another with a butter knife first though.
Frozen Burgers on Charcoal Grill
This is a bit tricker because you can't set the temperature and just wait until it's ready but it still can be done. Best tip is to lite the coals and then let it sit until they cool down quite a bit and turn white. There shouldn't be flames at that point, just look for the white color and set your patties on the grill then.
Follow the instructions thereafter as far as each side should start dripping grease on the side in contact with the grill grate. Once that happens it is time to turn over to cook the other side.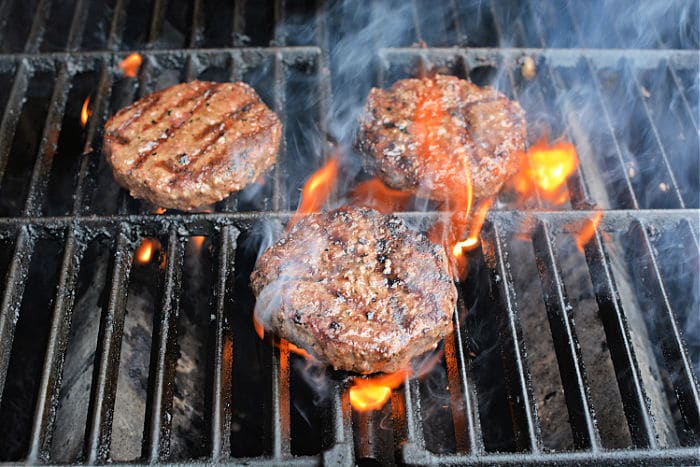 What Temperature is a Medium Well Burger?
Here is a rundown of what temp. you want the middle of your meat to be so you get it just right. I like mine with just a strip of pink where my husband wants it still mooing so everyone is different.
In general you want it to be 165 degrees F according to the USDA. You may want it more or less "done" so there are ranges to follow with your thermometer to make sure it is perfect for your party. Others are as follows;
Rare = 120-125 degrees Fahrenheit
Medium Rare = 130-135 F
A Medium Well hamburger = 150-155 F
Well done = 160 degrees -165 F
Use a meat thermometer with protein taken off the grill for an accurate measurement. This information isn't just good for grilling though. You would use it when you make smoked hamburgers as well.
You will need to wait until the fat starts to render before adding any salt and pepper. You can do this before flipping or after moving the burgers to a serving dish (or bun). Dress as you like with tomato, lettuce a bit of mayo and ketchup and enjoy friends!
Understand how to cook frozen ground beef now?? Want to do this with poultry?? You can!! Here is how to cook frozen grilled chicken breast perfectly too.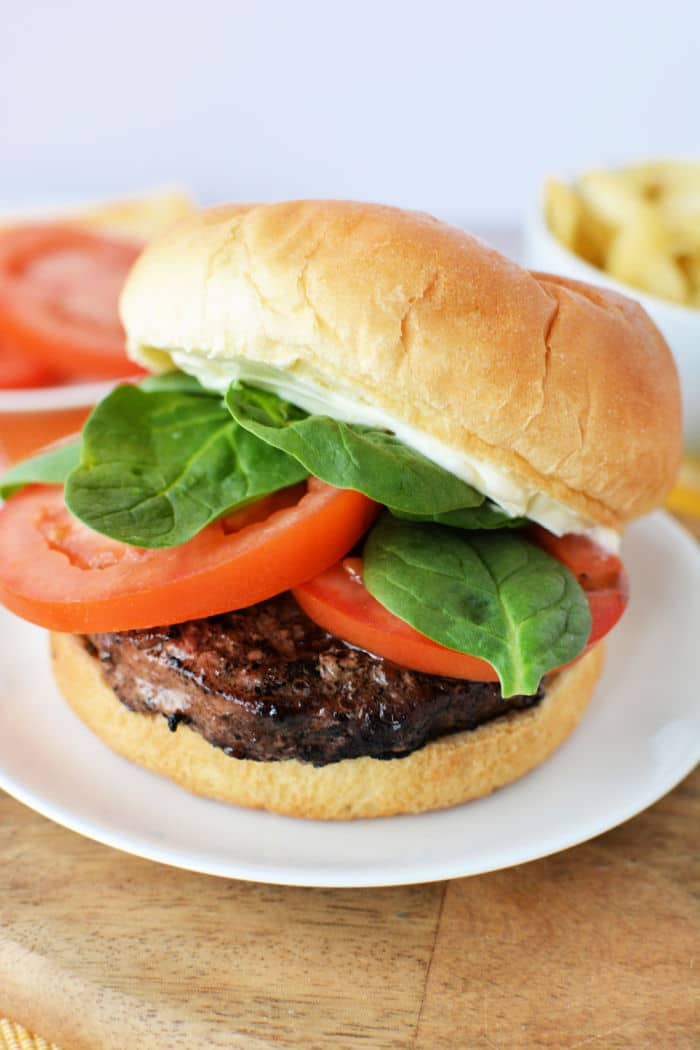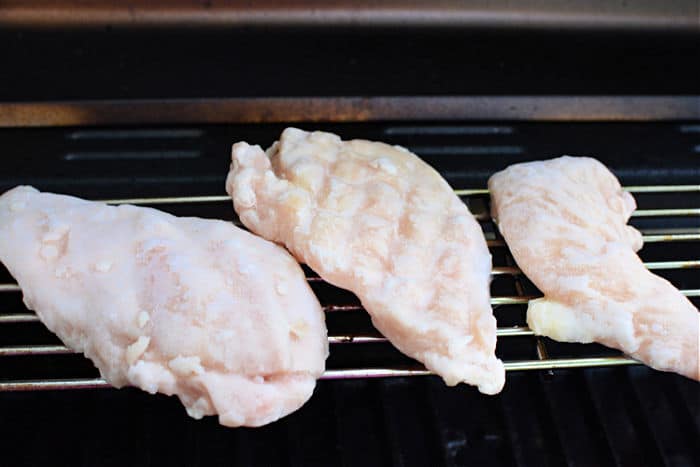 Want to see a few of my favorite things that I am totally obsessed with?? Take a peek and see how many you might already have…twinsies!
Looking for more easy family recipes and tips? LIKE The Typical Mom Facebook page?
Then sign up for my free newsletter, and follow me on Pinterest! 😉
***** If you LOVED this recipe give it 5 Stars below and let everyone know what you thought about it. 😉
How to Grill Frozen Burgers
How to grill frozen burgers from rock hard to tender and juicy. How long to grill frozen burgers answered so you can barbecue perfectly.
Ingredients
4-6

hamburgers

frozen patties
Instructions
If you have a gas grill with a thermometer you want to heat it until it reaches 400 degrees F. Using charcoal, light and then leave until they become white coals, then it is the right time to start grilling.

Lay desired number of frozen patties on to your grate. Grill until juices begin to come thru on the heated side (about 5 minutes), and then flip over to the other side until the same thing happens.

Test internal temperature, it should reach 165 f. Season both sides with salt and pepper and dress with a bun and fixings.
Nutrition Facts
How to Grill Frozen Burgers
Amount Per Serving (2 oz)
Calories 154
Calories from Fat 108
% Daily Value*
Fat 12g18%
Cholesterol 40mg13%
Sodium 56mg2%
Potassium 203mg6%
Protein 11g22%
Calcium 5mg1%
Iron 1mg6%
* Percent Daily Values are based on a 2000 calorie diet.