How to cook frozen ground beef on stove, slow cooker, in microwave or Instant Pot is here. If you forgot to defrost hamburger this will help.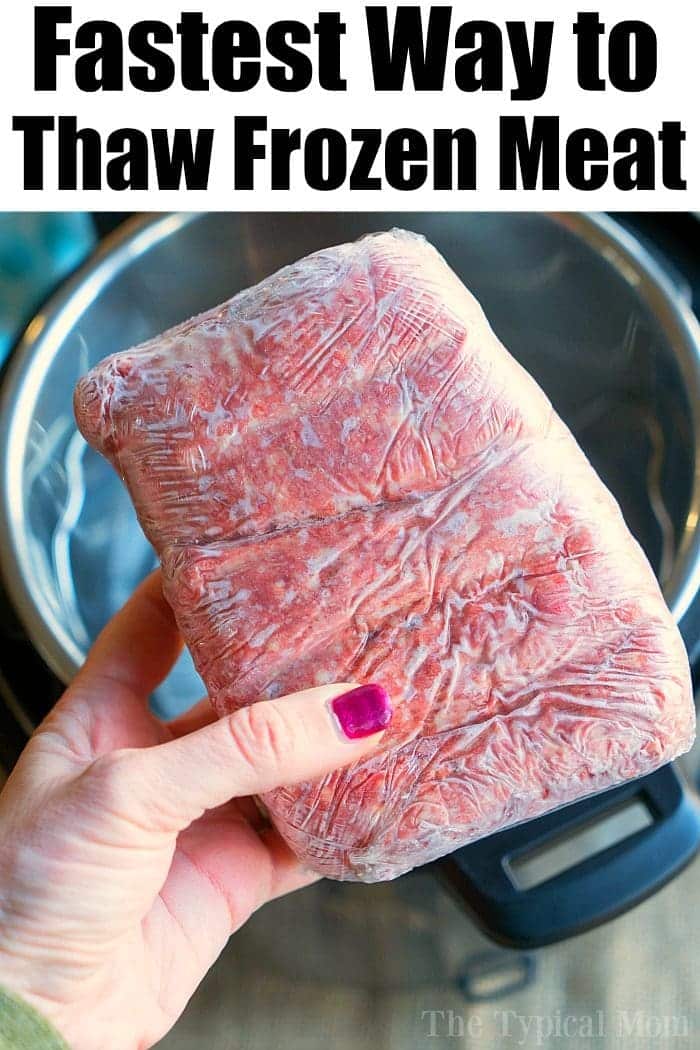 There are so many ways you can cook frozen ground beef. If you haven't tried any of them and are sounding skeptical you're in luck, we've done all the experimenting for you. 😉 Now you can cook frozen meat to tender quickly, and have it taste great. You're welcome. (affiliate links present)
How to Cook Frozen Hamburger
Ok so there is a way you can thaw ground beef in microwave beforehand that just takes 3 minutes. You can also cook ground beef in microwave If you are in a super hurry. If don't have this countertop appliance, there are several ways you can cook from frozen.
You're going to need your protein and any seasonings you might want to use. Salt and pepper are a given but once I get it into smaller bits it is nice to add diced onions, homemade Lawry's, or taco seasoning. I'll share a variety of ways this can be done so you can try them all, or choose your method of choice.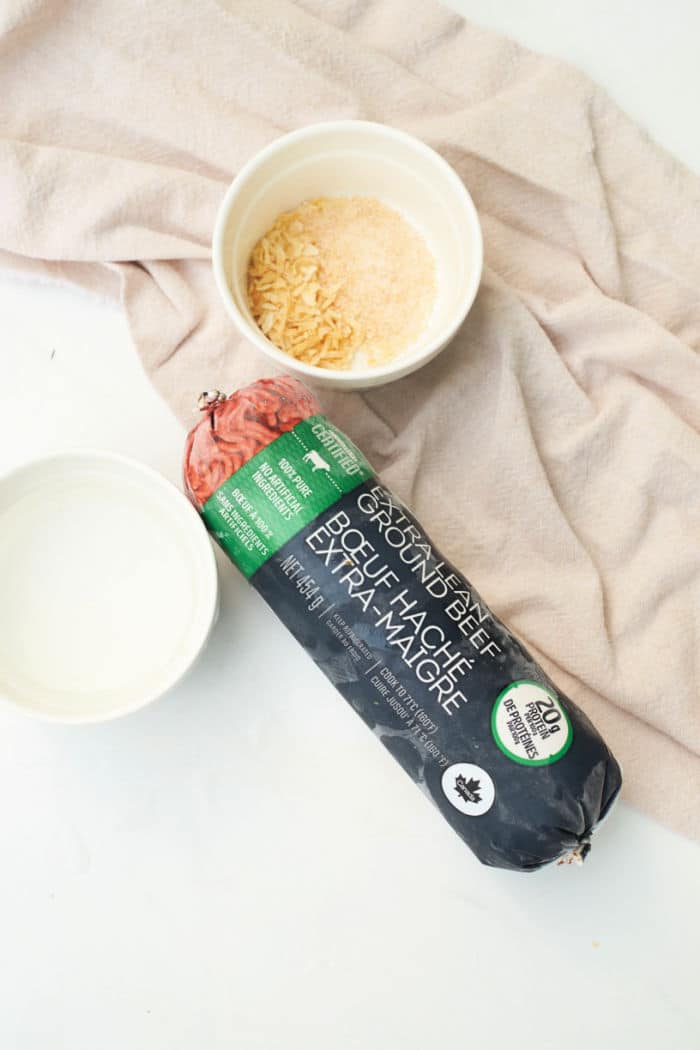 Prefer ground turkey and/or ground chicken because they tend to be lower in fat? No problem, you can use all of these techniques for those too. The only difference is going to be the texture. Without fat in the mix it will be a big chewier and drier no matter which way you "slice it".
Keep that in mind even with beef itself. A bit higher fat will make this protein more moist whether you cook it from frozen or raw like our air fryer ground beef. I would not suggest using that machine if it is rock hard as it will get too dry on the outside and kinda' be a mess.
Frozen Ground Beef in Instant Pot
If you have a high pressure cooker you can try Instant Pot frozen ground beef, and frozen ground turkey Instant Pot is about the same. Steamed essentially to the middle, it will still leave some pink. Then you can drain the liquid out, set to saute, and brown that way with seasonings you want.
A great way to make taco meat in about 15 minutes since you can go from rock hard to ready to throw into some taco shells in very little time. AND only one pot to clean from start to finish….and you know how much I love my Ninja foodi and Crockpot Express. All brands work for this.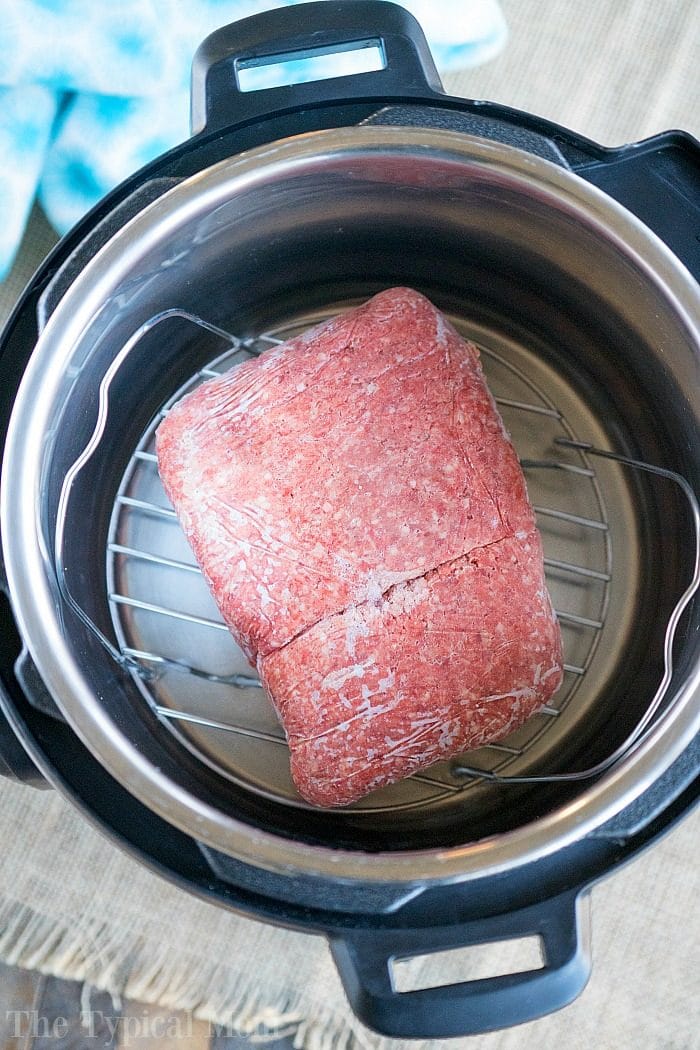 Cooking Frozen Ground Beef on Stove
If you are not a small appliance junkie like I am, no worries, it's easy to cook this way. All you need is a pan with a lid to do the same thing. This is probably the best way to add salt, pepper, garlic powder etc…. into the pan and have it soak in. You can use water but broth would add even more flavor.
You just pour the cup of water or broth into a pan over medium heat with the block of ground beef.

Cover with a lid to heat and steam it to tender.

Lift the lid and use a wooden spoon or spatula every 2 minutes cooking time or so to scrape defrosted meat off the outside of the roll.

Cover again and continue scraping every minute or so until all of it has thawed to the middle.

Remove lid and then brown the meat in the pan to cook until there is no more pink.
Then remove cooked meat from heat source, taste, add seasonings and use inside pasta sauce or add into a ground beef casserole.
Probably the easiest cooking method for cooking ground beef and keeping it moist. This will take closer to 20 minutes with time to heat up the pan, thawing and cooking from beginning to end. Probably the best if I had to compare all the methods listed here. Instructions below in printable recipe card.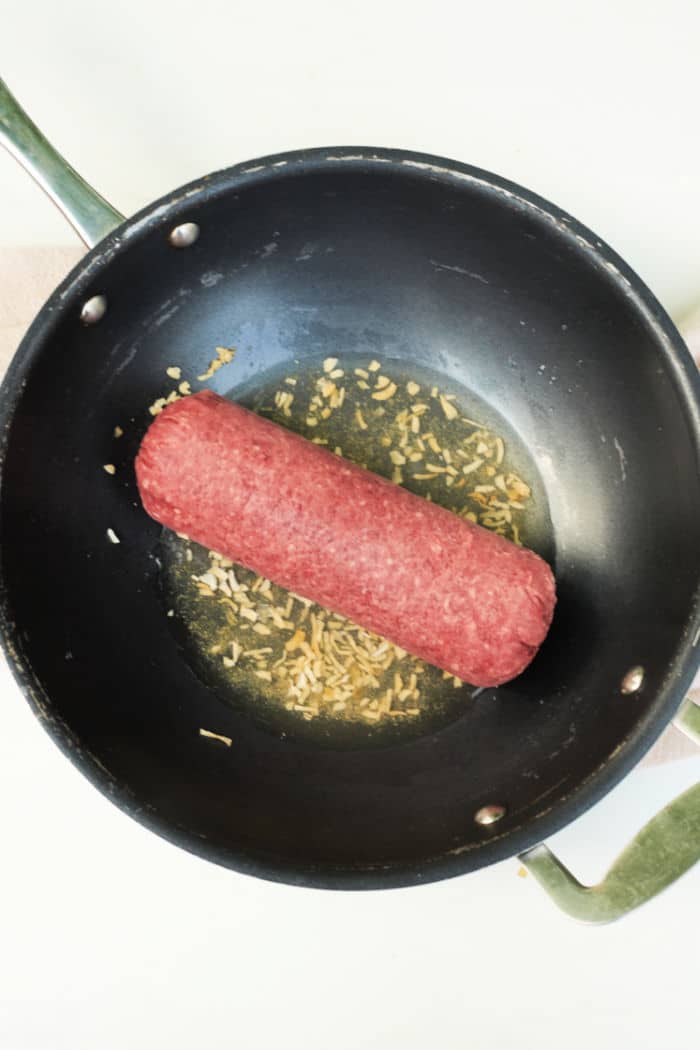 Boiling Frozen Ground Beef
I mean this is the least desirable because not only will it not brown but you are going to leach out all the flavor. Just as if you were boiling vegetables, hot water sucks all the vitamins (and flavor) out of whatever is in the pot. If you just can't help yourself and you have to try this too you can, this is how;
Fill a pot with enough water to submerge your frozen block, wait until it reaches a boil
Set meat inside and don't leave
Use a wood spatula to break off the outer pieces that soften and start cooking
Eventually the whole block will be thawed to the center and the smaller bits will be boiling in the water.
I suggest at this time you strain the meat, season, and add it into something like our Instant Pot spaghetti with meat sauce.
Our 5 ingredient chili is another one that this would be okay in. Something with a lot of flavor would be necessary since this will make the protein quite bland. Make sure you drain as much of the water out around the meat too when you're done. Like I said, not my preference but possible.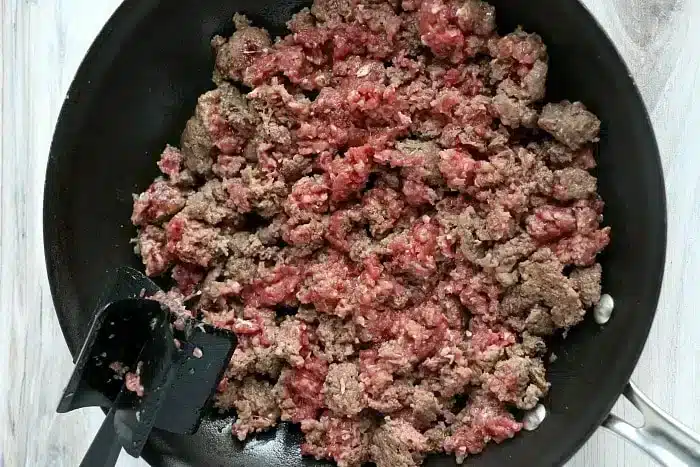 How to Save Cooked Ground Beef
If you make too much and want to save it for later you can. Key is you want to keep it as tender as possible. Freezer bags or vacuum seal pouches are your best bet for this. First wait until it has completely cooled and then spoon into bags and close with as much air pushed out as possible.
Store in the fridge for up to 3 days, but within the first 24 hours is the best time to use it inside another dish. If you are warming up as is instead of just pouring it into a sauce or something you'll want to add some fat back into the mix. Using a tbsp of olive oil works really great, avocado oil is great too.
The best way to use what is left though is to add it into a completely new dish that will liven it up. We have a bunch of leftover taco meat recipes you can choose from. Thinking way out of the box on that one like casseroles and more YUM.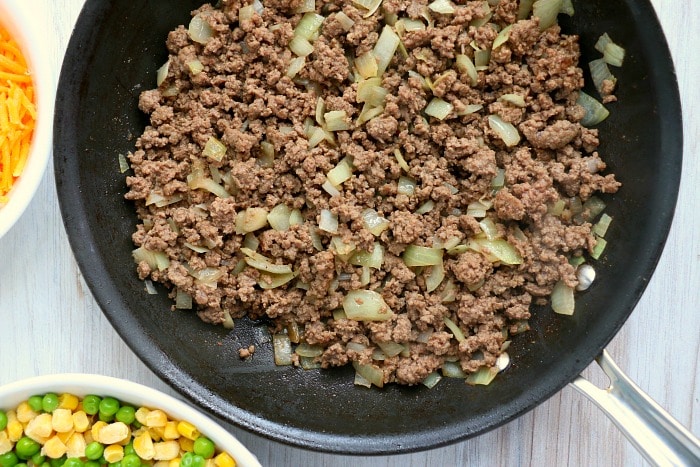 Can You Freeze and Reheat Cooked Ground Beef
You can. Love batch cooking? This may be something you do on the regular. If not, you might fall in love with this method once you try it.
Picture this, you find beef ground on sale for super cheap and buy a ton. If it is frozen you follow one of these methods to defrost and cook until browned.
Always allow it to cool completely. Then you can then portion it out into however much you typically use for dinner. Let's say you cook spaghetti a lot. To save time you can freeze 3/4 of a pound of already cooked meat in freezer bags, take out and throw it right into your homemade spaghetti sauce to reheat.
WAY faster dinner prep since then you get to skip the browning step entirely and since it was frozen right after cooking initially it will taste fresh. Guarantee nobody will be able to tell the difference. If you make tacos on the regular, add your seasonings before cooling so it is already set and just needs to be heated.
Want to see a few of my favorite things that I am totally obsessed with?? Take a peek and see how many you might already have…twinsies!
Looking for more easy family recipes and tips? LIKE The Typical Mom Facebook page?
Then sign up for my free newsletter, and follow me on Pinterest! 😉
***** If you LOVED this recipe give it 5 Stars below and let everyone know what you thought about it. 😉
How to Cook Frozen Ground Beef
How to cook frozen ground beef on stove, slow cooker, in microwave or Instant Pot is here. If you forgot to defrost hamburger this will help.
Instructions
Pour water or broth into pan over medium heat with meat. Cover with a lid to heat and steam.

Lift lid and use a spatula every 2 minutes or so to scrape defrosted meat off the outside of the roll. Cover again and continue until all of it has thawed to the middle.

Remove lid and move meat around in the pan to cook until there is no more pink. Then remove from heat source, add seasonings and use as taco meat or add into a casserole.
Nutrition Facts
How to Cook Frozen Ground Beef
Amount Per Serving (1 oz)
Calories 192
Calories from Fat 135
% Daily Value*
Fat 15g23%
Cholesterol 54mg18%
Sodium 53mg2%
Potassium 204mg6%
Protein 13g26%
Calcium 15mg2%
Iron 1mg6%
* Percent Daily Values are based on a 2000 calorie diet.