This is what to cook with ground beef. LOTS of easy ground beef recipes to make in the oven, air fryer, Crockpot or Instant Pot easily. Our favorite ground beef dinner ideas are here.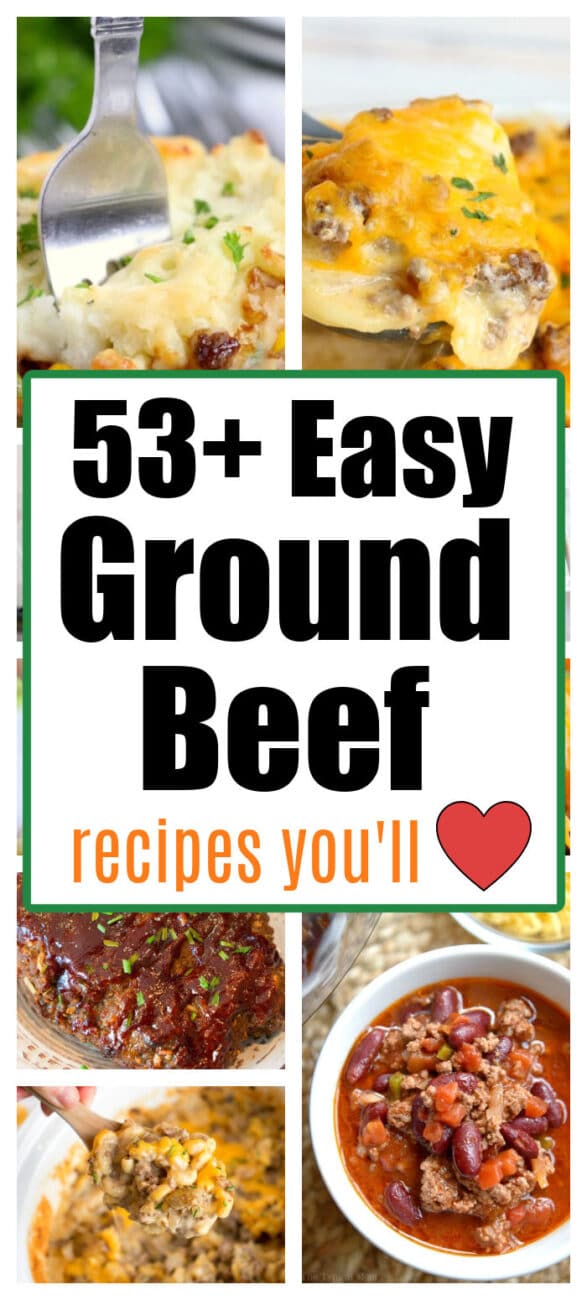 Looking for new ideas on what to cook with ground beef this week?? I have lots of them to choose from that are family friendly and simple to throw together. (originally published 12/20, affiliate links present)
What can I make with ground beef
Ok so for all of these you will need fresh or a defrosted pound or so of beef that has been ground. If yours is still frozen solid, not to worry. We have tips on how to thaw ground beef in microwave for you so you can still save dinner. Can you cook ground beef in the microwave too? YES!!
We will start with a little comfort food shall we? If you love cheese you could add that in here too for a cheeseburger style meal. Leave it out and follow our ground beef egg rolls recipe for a bunch of YUM. From simply making it into taco meat and then into our air fryer flautas to more complex casseroles we have it all.
Ground Beef Recipes
There are many different methods you can use to go from raw to browned right? You may prefer one over the other or haven't tried a few of them but want to. I'm here to help. Here I will focus on 4 different categories of easy and delicious recipes in this post:
Oven baked / On the stovetop
Easy Instant Pot recipes, now we're obsessed with easy Ninja Foodi recipes too (but they fall into the same basic category)
A bunch of Crockpot recipes
Air fryer recipes are the bomb too
You can make them all with this easy to find, inexpensive ground meat! OR go even easier with already made meatballs. If you like a bit of crisp go with baked meatballs in oven. Want super quick and tender, try Instant Pot meatballs no sauce instead.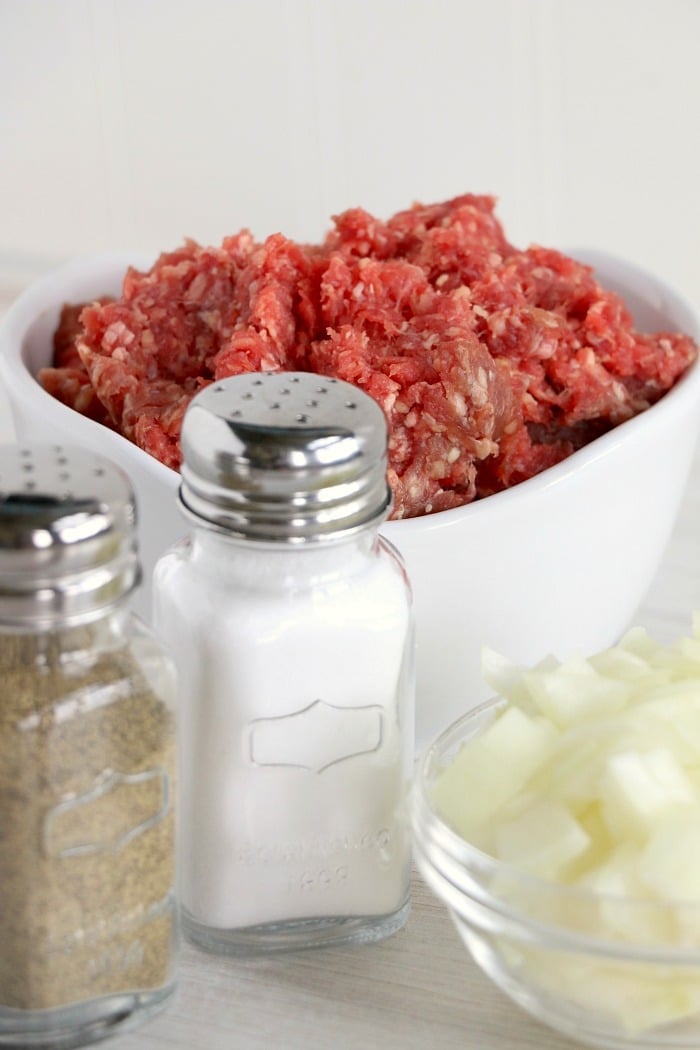 How to Thaw Ground Beef
If you are forgetful (like me) you may not remember to take out the package the night before. Don't fret, you can thaw ground beef in the microwave or follow these other defrosting tips:
What is the best way to thaw meat quickly?
Make sure meat is in an airtight bag. Put into a large bowl filled with room temperature or cool water. Allow to sit for at least 30 minutes. Leave in longer if it is thick, until it is thawed. I mean in some cases you can cook straight from frozen like our Crockpot appetizer meatballs recipe.
Can you thaw ground beef on the counter?
You shouldn't. Inside cool water is better so the inside and outside don't get too warm and start to grow bacteria. Never put into hot water.
How do you thaw frozen meat quickly?
You can do this in the microwave but I don't recommend it. Remove from packaging and put at 50% power for about 3 minutes. Flip every 45 seconds.

I don't really like doing this though because it will change the consistency of the meat for sure.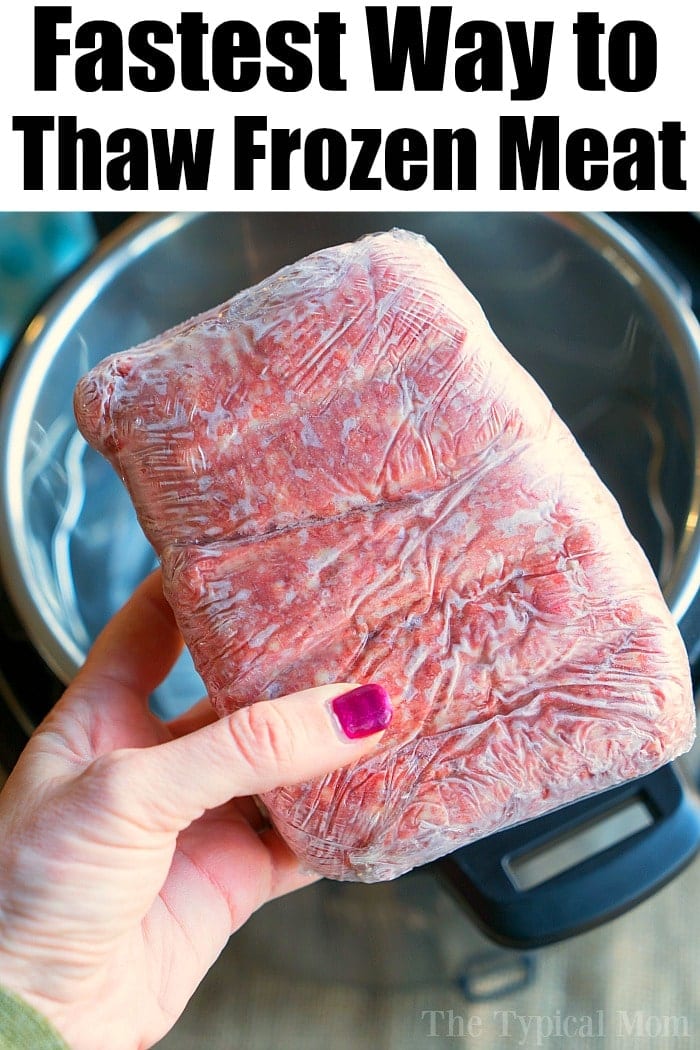 There are several meals like our Crockpot stuffed bell peppers where you don't need to precook the meat beforehand which is nice.
Cooking Ground Beef
You can do this lots of different ways. You can use the saute function on your pressure cooker with a bit of olive oil, that's easy. A skillet is a given to make Texas Toast sloppy joes.
I've used my slow cooker before, I'll share instructions for that below. Using your Cosori air fryer is great. Plus to this is the grease drains away as it cooks. Of course the stovetop is pretty explanatory and I am sure you've done this already maybe when making our dutch oven chili.
Over medium heat with a bit of oil, it browns quite nicely. I add diced onions and minced garlic to all of these for a bit of texture and flavor too. If I'm making this with some sauce I like this method so it can sit for a while and get it soaked up, like with our sloppy joe sliders.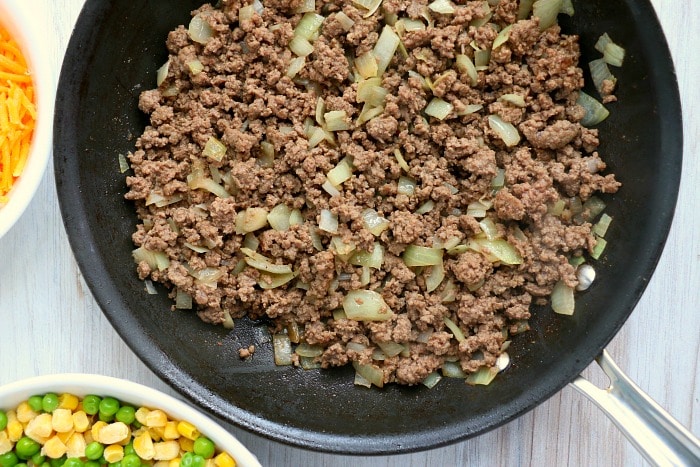 Ground Beef Nutrition Facts
Not only is this type of protein inexpensive, but for the most part is a good addition to just about any meal. It is one of the most nutritious meats you can eat actually. Loaded with vitamins, minerals and antioxidants it adds a tremendous amount of protein in a small serving.
It comes in a variety of fat contents. If you use less than 80/20 it won't hold together very well. That could be an issue if making our Crockpot meatballs and gravy because they'll fall apart which you won't want.
Now that won't account for the other ingredients you might use to let's say make our Crockpot Salisbury Steak, like gravy, but the meat itself is nutritious. Everything in moderation I say right. 😉
What is the healthiest ground beef to eat
Ground sirloin or round top the list as far as quality goes. The lower the fat content the more you'll pay, but even the leanest is pretty cheap. Typically if you're going to make it into a loaf you'll need a binder. For lower carb try our meatloaf without breadcrumbs recipe.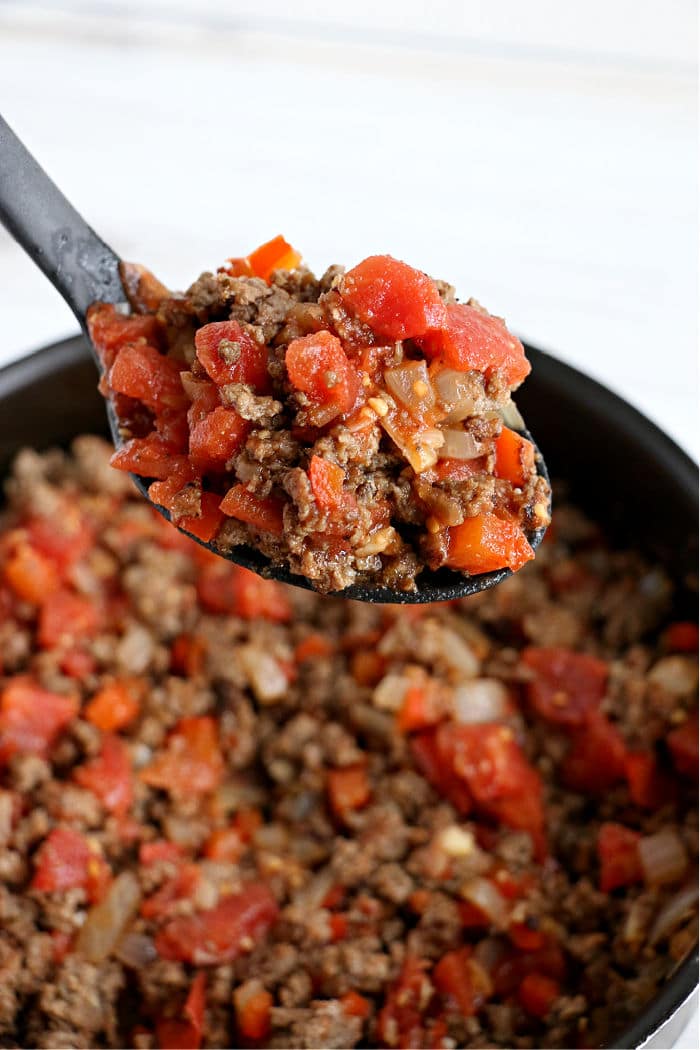 Ground Beef Dinner Ideas
Mixed with tomatoes and onions you can make low fat meals. Want comfort food instead? Mix with pasta, rice, or taters like our Instant Pot ground beef and potatoes casserole. I will say that a bit more fat = more flavor. That is just the name of the game. I like 80/20 organic, any less than that and it is a bit dry.
Organic Ground Beef
Curious how this differs from "regular" packages? This means that the cow is not given hormones, antibiotics, or pesticides inside it's food.
Beyond that when it says grass-fed beef that means the animal was allowed to pasture raised and allowed to roam vs. kept in a small pen.
We do buy meat in bulk, and normally from local farmers in the area. That means we are getting organic and grass fed beef. We like the taste better and feel it is better for us, but that is a personal choice. It does cost more.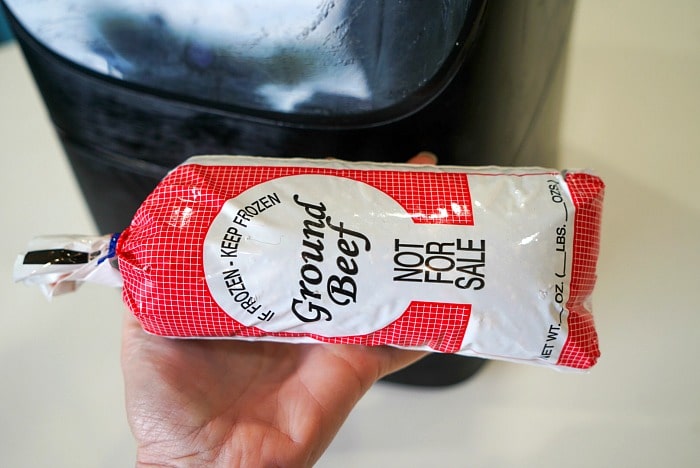 Ground Beef Turned Brown
If you've noticed the "pretty pink" has faded, it isn't necessarily bad. It does change when not exposed to oxygen, like the middle of your pound is. If it's bad you'll see signs like an odor, stickiness and/or a slimy appearance.
Remember too that you can use any of these recipes with ground beef with ground turkey, sausage or chicken instead. My favorite combo is 1/2 lb. of spicy ground sausage + 1/2 lb. ground beef. It adds a bunch of flavor!
Like when we make our Old Fashioned Salisbury Steak Recipe I would likely stick with just the beef, but with a breakfast dish some sausage is a great option. Let's start with a few favorite easy recipes:
Ground Beef Oven Recipes
Ground Beef Casserole with Potatoes
Cheesy ground beef casserole with potatoes is perfect for breakfast or a potluck! Like cheeseburger scalloped potatoes, this will become a family fave.
Check Out This Recipe
Dinner Recipes with Ground Beef
Because quick and easy casseroles are our thang!! We do a lot of throw it all in and bake dishes like this one. This is a bit like a hearty scalloped potatoes dish, and a favorite with everyone who tries it for sure.
Ground beef asparagus pasta uses your stovetop, and a lighter dish overall. Our tater tot casserole always gets thumbs with pico de gallo on top too!
For something simple, just make these simple meatballs on a sheet pan and enjoy them tossed with sauce! If it is summertime and you aren't about to heat up your house with turning the oven on, this is how to cook meatballs on the stovetop in sauce instead.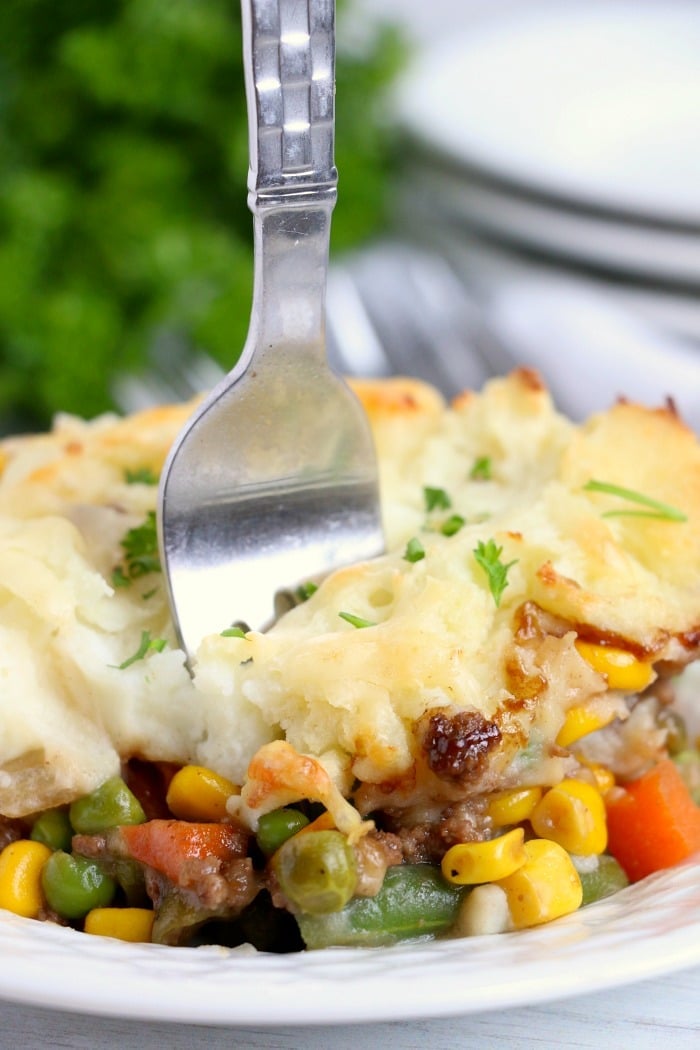 Easy Shepherd's Pie with Ground Beef
Easy Shepherd's pie with ground beef & frozen vegetables is here! Ready for comfort food in a bowl? You've gotta' try this with fluffy mashed potatoes.
Check Out This Recipe
Want a classic dish that will bring you back to your childhood? Try our super easy Shepherd's pie recipe above. This is one that's great with some spicy sausage added in there. Another Grandmother classic is messy and that is the point. We have a ton of different homemade sloppy joes recipes you can try too.
Now let's move on to easy dinner recipes that take a fraction of the time to cook! First refer to this post for a HUGE list of:
Then try a few of our favorites like our spaghetti with ground beef or Instant Pot porcupine meatballs.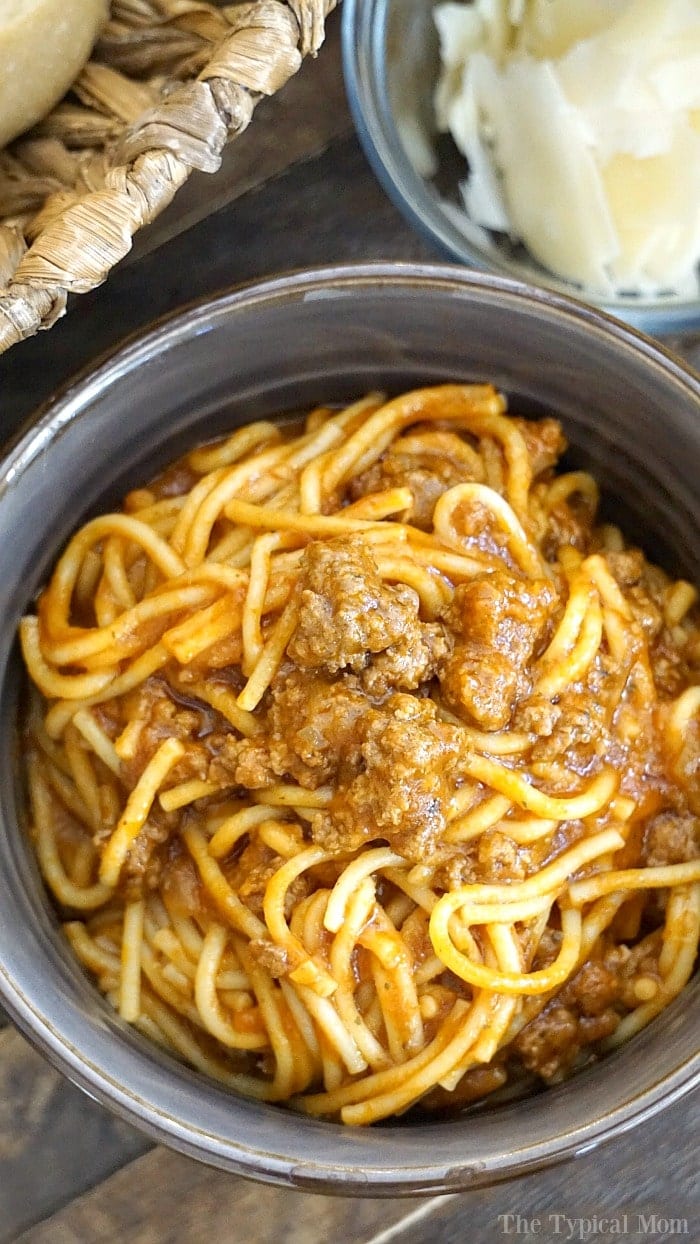 Instant Pot Spaghetti
Here's an easy 10 minute Instant Pot spaghetti recipe that's one of our favorite one pot meals ever! A family favorite dinner that you just dump and go and only requires a few ingredients to make. A complete pasta dish that feeds all five of us for under ten dollars, that's a big win in my book!

Check Out This Recipe
You can actually batch cook and make a bunch of this Instant Pot spaghetti sauce. Then let it cool, store inside gallon freezer bags, lay flat inside your freezer and you'll be set to make ground beef and pasta for a while.
You can even make Instant Pot hamburgers if you don't have a grill handy.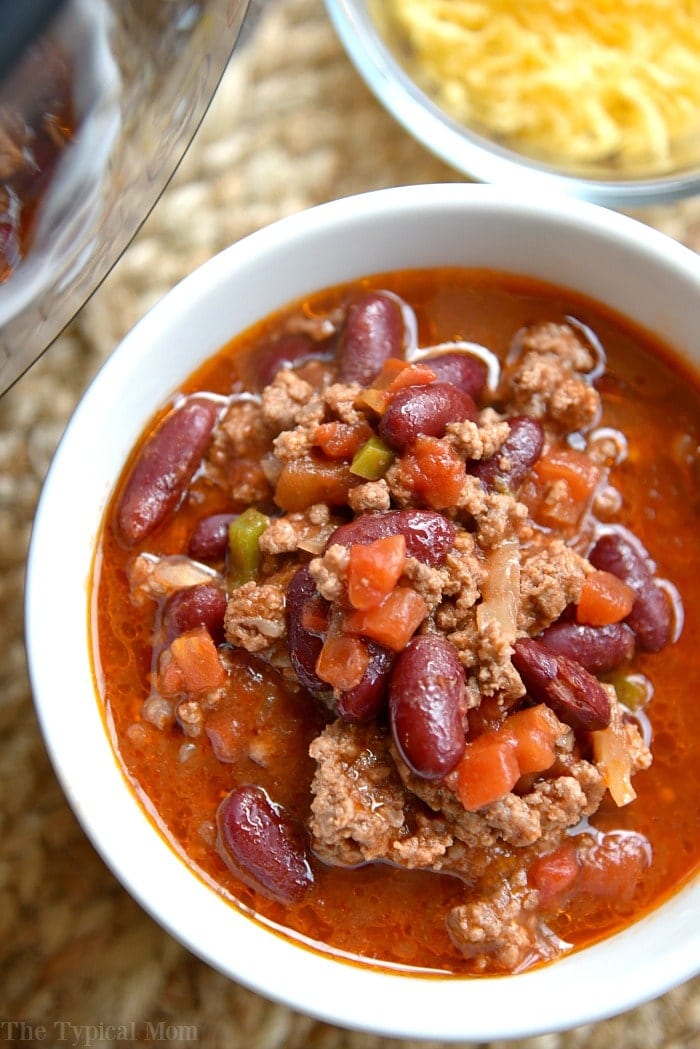 Instant Pot Chili
Easy Instant Pot chili recipe that can be made quickly in your pressure cooker or cook it a bit longer for softer beans. Either way it's a hearty dinner that can be spiced up or left plain.
Check Out This Recipe
Our 5 ingredient chili is probably our most popular though. We make this once a week ourselves and serve it inside baked potatoes or pressure cooker white rice.
What if you're forgetful though and have forgotten to defrost your meat? NO problem! We have tips on making Instant Pot frozen ground beef beforehand, and then proceeding with your dish.
Our newest creation is Instant Pot ground beef and rice. Simple and delicious indeed. If you don't want to use any small appliance though the oven is where it's at. During the Winter months I don't grill anymore, that is when our Baked Hamburger Patties come in handy.
Ninja Foodi Meatloaf
Ninja Foodi meatloaf is the bomb! Juicy in the center with a crispy barbecue sauce on the outside. All cooked in this pressure cooker and air fryer machine.
Check Out This Recipe
And everyone loves a quick meatloaf recipe. Yes you can bake it in the oven but pressure cooked and then air fried is a game changer!
Crumble the leftovers and throw them into our Ninja Foodi spaghetti squash pizza dish!
Now let's move on to another small kitchen appliance I love using for "all the things!"
Air Fryer Ground Beef Recipes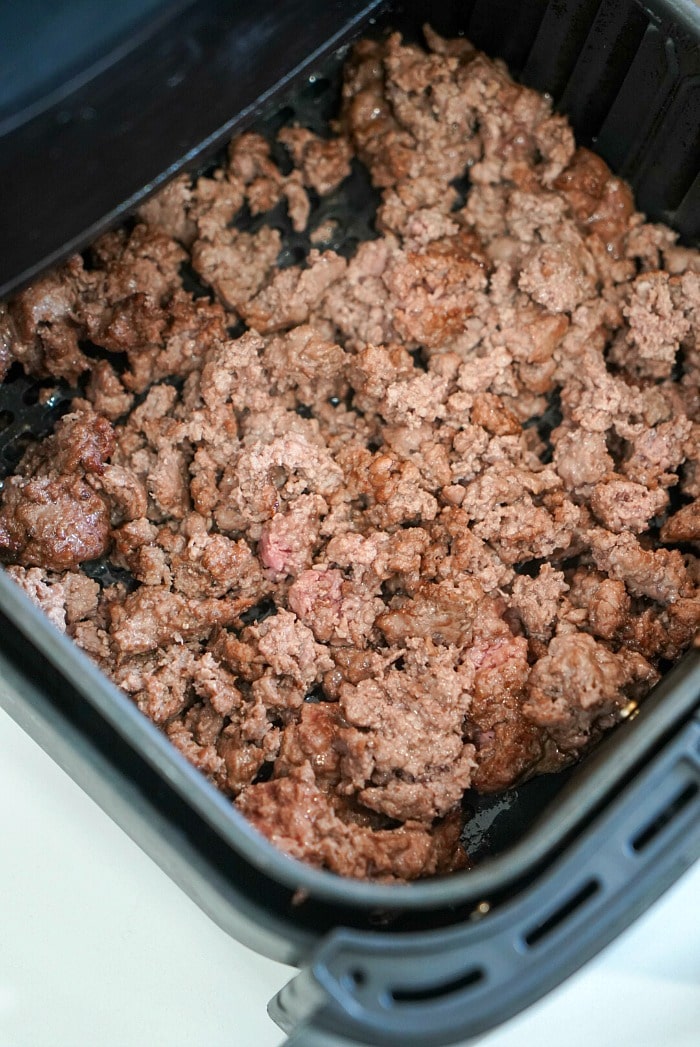 Air Fryer Ground Beef
How to cook air fryer ground beef perfectly in just a few minutes. The best part is that the grease drains away for extra lean protein.
Check Out This Recipe
What Can you Make With Ground Beef
We've already shared a lot, but we have a lot more below as well. Hamburgers are simple enough of course but it's better to make meals fun! Like make sliders and serve inside sliced air fryer garlic bread / rolls!!
Here is how to make a simple taco meat recipe 3 different ways. Then serve it with some tortillas and loads of toppings like:
Salsa or diced tomatoes
Lettuce
Sour cream and/or guacamole
Avocado slices
What to Cook with Ground Beef
How to make taco meat in your pressure cooker, air fryer or on the stovetop.
Instructions
Air Fryer: Preheat air fryer to 380 for 5 minutes. Break up meat inside basket. Cook 5 minutes, shake basket, cook for additional 3 minutes. Empty meat into bowl, add water and seasoning. Stir and serve.

Instant Pot: Set to saute. Add 2 tbsp olive oil with meat. Break up meat until most of pink is gone. Pour in water and seasoning and stir until coated and meat is done. Turn pot off.

Stove top: In a pan add 2 tbsp olive oil over medium heat. Break up ground beef. When most of pink is gone add water and seasonings. Stir to coat. When pink is gone serve.
Nutrition Facts
What to Cook with Ground Beef
Amount Per Serving (2 oz)
Calories 194
Calories from Fat 135
% Daily Value*
Fat 15g23%
Cholesterol 54mg18%
Sodium 122mg5%
Potassium 204mg6%
Carbohydrates 1g0%
Protein 13g26%
Vitamin A 83IU2%
Vitamin C 1mg1%
Calcium 14mg1%
Iron 2mg11%
* Percent Daily Values are based on a 2000 calorie diet.
This has come in handy for all sorts of things! We've made taco meat with it, just tossing it with a bit of broth and taco seasonings. Or sloppy joes are great.
Add it into a pot of slow cooker spaghetti sauce and you'll have a heartier meal. The great thing is that the grease drains away from it while it's cooking so it's healthier overall.
Or add it inside some bell peppers with tomato sauce and make these:
Air Fryer Stuffed Peppers
How to make air fryer stuffed peppers for dinner tonight with ground beef or sausage, rice and cheese. Comfort food at it's best done in no time.
Check Out This Recipe
Yes, you can make stuffed green peppers by blanching peppers first on the stovetop and baking in the oven. This is a bit less prep though.
Now let's talk comfort food, like our favorite weeknight meal: air fryer meatballs with mashed potatoes! Add a bit of soy sauce or worcestershire sauce into your mix with egg and man are they great.
If you haven't messed with your hot air machine yet, you should! You can air fry everything I tell you. Even the simplest things are so much better. From hot dogs to cake, everything turns out better.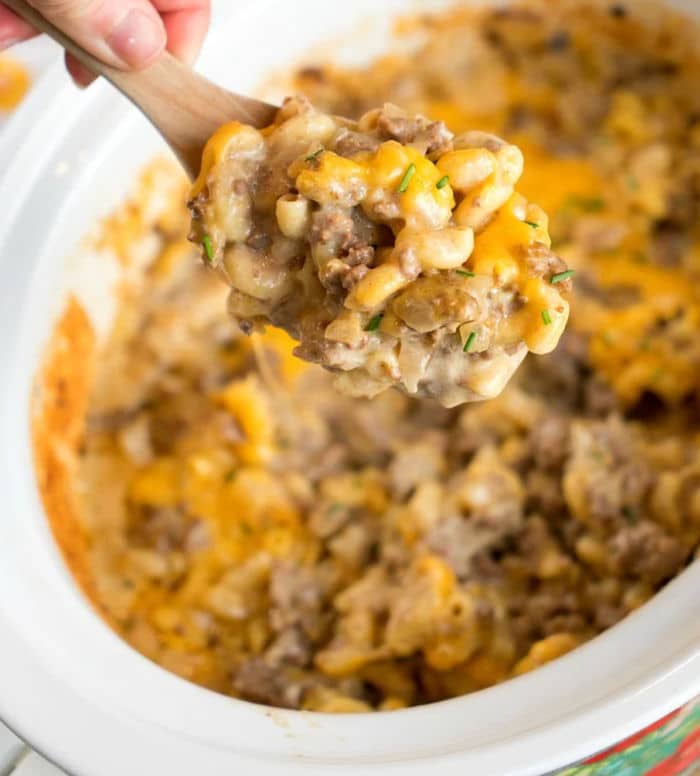 Crockpot Hamburger Casserole
Crockpot hamburger casserole is amazing! A dump and go dinner packed with ground beef and cheeseburger macaroni noodles. Comfort food at it's finest!
Check Out This Recipe
Ground Beef Pasta
Talk about comfort food at it's finest. If you wanted to omit the cheese you can make this slow cooker hamburger helper instead. We like to really load it on up though using elbow macaroni noodles.
If you want to give Crockpot ground beef a whirl, it is possible to cook it that way! Then use it as you wish, or freeze in batches for later use.
One of our first and most popular dishes is this 5 ingredient Crockpot chili. Similar to our pressure cooker version, it is cheap and feeds a crowd.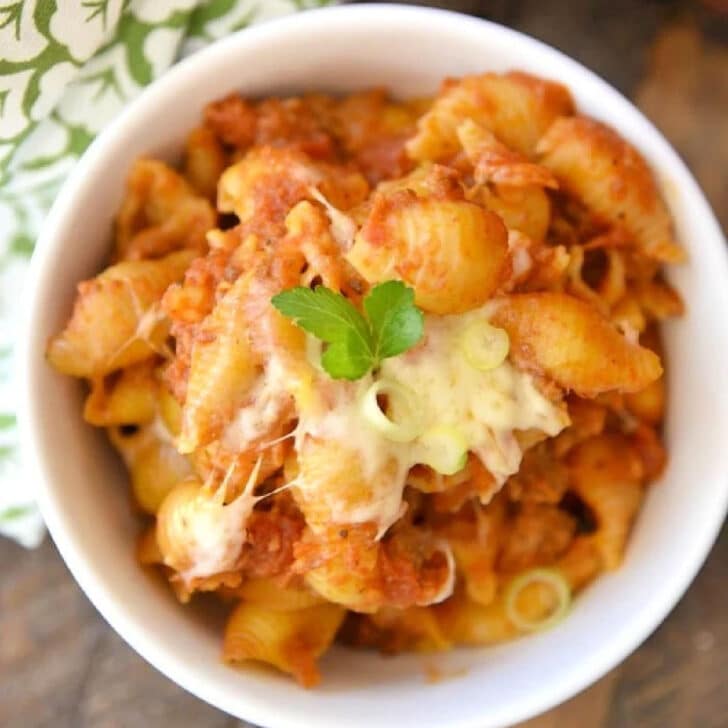 Crockpot Lasagna Casserole
This crockpot lasagna casserole is cheesy and packed with all the flavors of traditional lasagna but easier to make! Great slow cooker dinner casserole.
Check Out This Recipe
Yes we have made Crockpot lasagna before too. It's really easy because it requires NO boiling beforehand. This one is a bit easier for kids to eat though since you use shell noodles that are more bite sized.
They are both quite yummy though so take your pick! Chili mac and vegetable soup are quite good as well for something new to try this week.
Now let's talk about a few simple cabbage recipes shall we??!!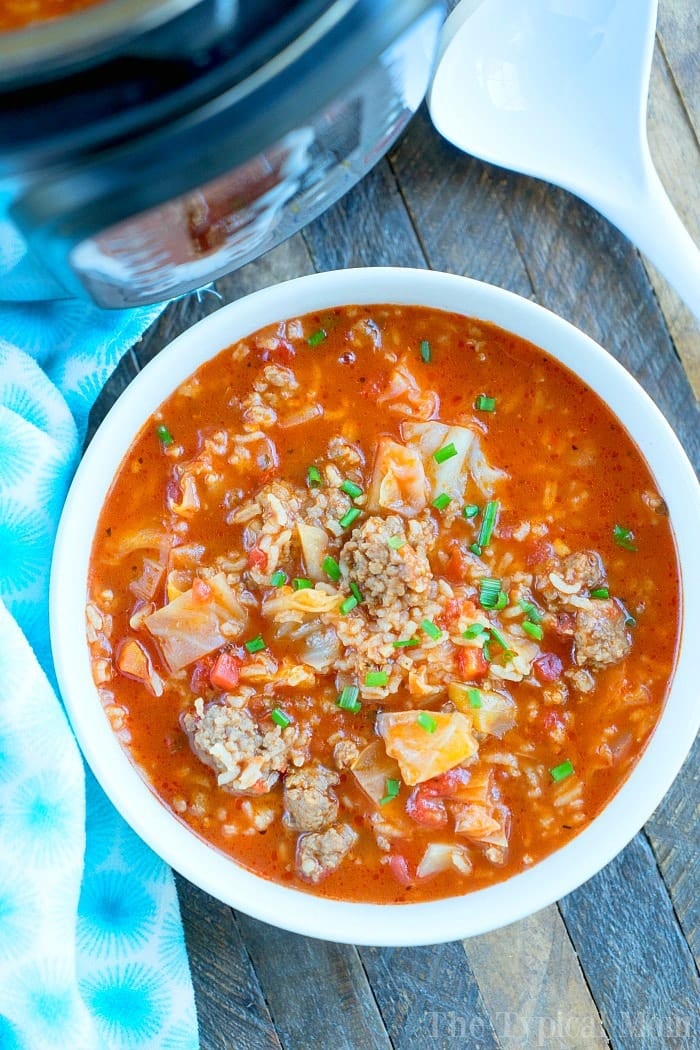 Pressure Cooker Cabbage Soup
Ready for this easy pressure cooker cabbage soup recipe? If you love your Instant Pot and cabbage then this may become your favorite dinner ever!
Check Out This Recipe
Meals to Make with Ground Beef
When it is snowing outside I am all about soups recipes! Add some of this sometimes overlooked green vegetable and it adds great flavor and texture to your dish.
My Crockpot stuffed cabbage is OH SO good, even my kiddos love them.
Now let me share one of our favorite smoker recipes using this inexpensive meat as well. It's pretty phenomenal!
Smoked Ground Beef Recipes
Smoked Meatloaf Recipe
This smoked meatloaf recipe stuffed with bacon and cheese is so amazing! If you're looking for the ultimate comfort food that oozes with flavor, try this!
Check Out This Recipe
I know. WOW!! I mean you can make typical smoked hamburgers and load those up, but this is out of this world. Stuffed with bacon and cheese oozing out with every slice, don't count the calories but you'll want seconds for sure.
You can throw them inside air fryer burritos too some night.
How Long Does Ground Beef Last in the Freezer
If stored properly: in airtight freezer bags, containers, or wrapped in foil, it is best thawed and consumed within 4 months but can be frozen indefinitely.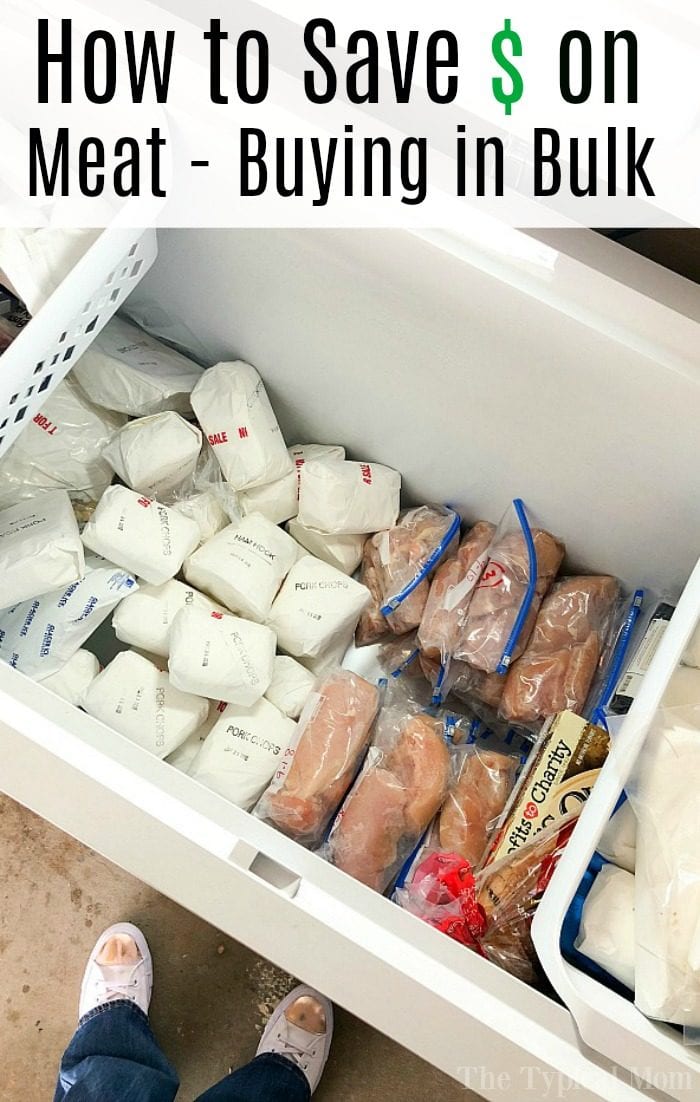 How Long is Cooked Ground Beef Good for
It should be moved to airtight containers within 2 hours of it being cooked. Then store in the fridge for up to 4 days, and use within this timeframe.
This is what to cook with ground beef this week. We will continue adding more ideas as we add them to The Typical Mom blog.
Want to see a few of my favorite things that I am totally obsessed with?? Take a peek and see how many you might already have…twinsies!
Looking for more easy family recipes and tips? LIKE The Typical Mom Facebook page?
Then sign up for my free newsletter, and follow me on Pinterest! 😉
***** If you LOVED this recipe give it 5 Stars below and let everyone know what you thought about it. 😉