Instant Pot ground beef and potatoes cooked together in one pot is a hearty breakfast or dinner idea everyone will love. If you loved our ground beef casserole with potatoes recipe in the oven, this will be a hit too.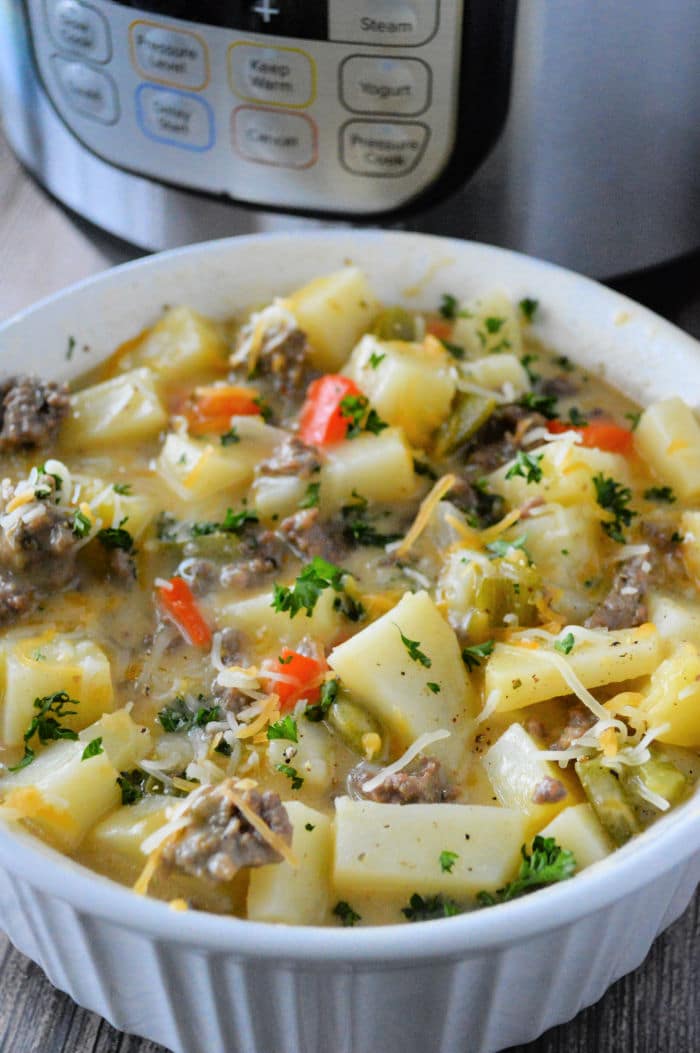 Are you ready for the perfect meat and potatoes recipe? This Instant Pot Ground Beef and Potatoes is literally comfort food in a bowl. Just one of many quick Instant Pot recipes we love here on The Typical Mom blog. (affiliate links present)
Pressure cooking food is the best way to reduce the cooking time and make certain that the meat and ingredients are cooked to perfection.
I love this IP or Ninja Foodi recipe because it pairs perfectly with any side dish or is hearty enough to eat it on its own. Pile it into a small bowl and top with shredded cheese. It's one comfort food that your belly is going to love!
Instant Pot Cowboy Casserole
I have been known to go off the recipe and add in chicken broth instant of milk for this recipe and it still turns out quite flavorful and delicious.
FIRST – You should sign up for my free newsletter so you get new posts emailed to you twice a week and never miss out on anything! Now let's start with a few basic tips:
Make sure to Bookmark our InstaPot recipes page. We add new ones each week!
Then PRINT this —–> Instant Pot cooking times cheat sheet that will help you understand how long meat, vegetables and beans take to cook in your pressure cooker.
For reference, this is the pressure cooker I have (a 6 quart) and use for all recipe creations.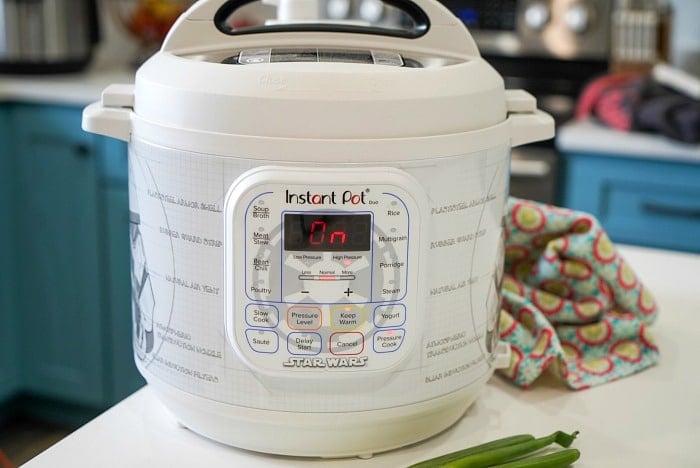 Ninja Foodi Ground Beef and Potatoes
What a fitting alternative name, right? When I think of meals that the cowboys would have eaten and enjoyed, meat and potatoes are for certain at the top of the list.
The good news is that this simple Instant Pot ground beef recipe is as easy as a few easy steps and then stepping back and letting the Instant Pot take over and do all the work.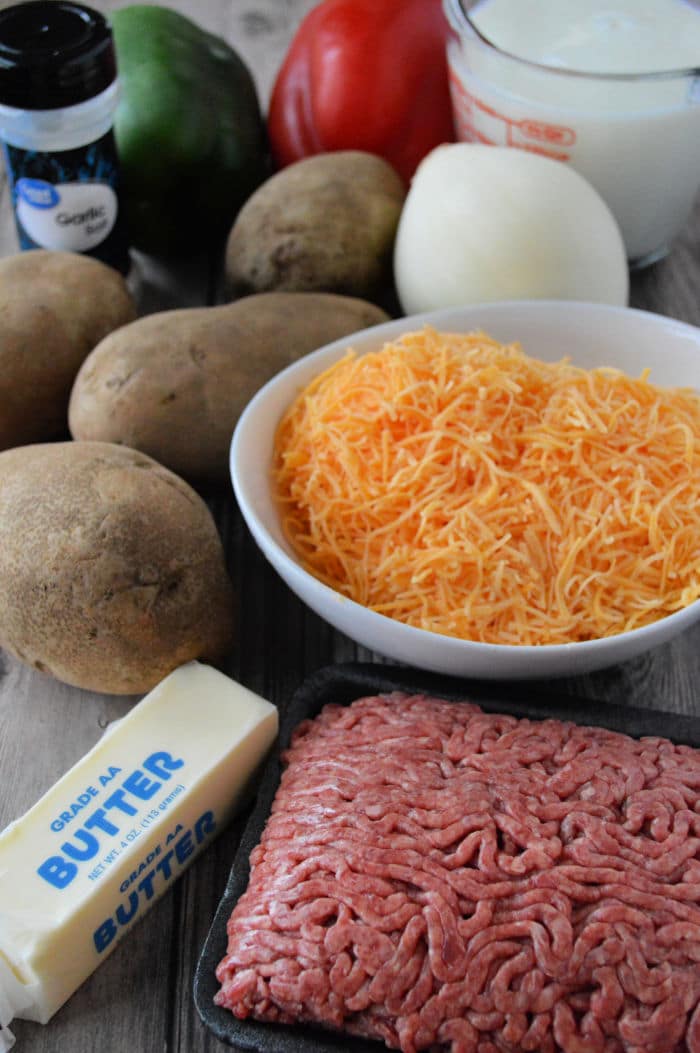 Ground Beef and Potatoes Recipe
With just 8 simple ingredients, there's no reason to delay in making this simple and hearty dish. I like to recruit the kids to help me prep so it goes even faster.
I have one slice the potatoes and the other work on cooking up the browned ground beef. Then they like to leave me the clean-up on the bottom of the pot and pan but I don't mind that part at all.
As long as they're willing to help cook and eat, I'm all for pitching in and getting the recipe done and created any way that works.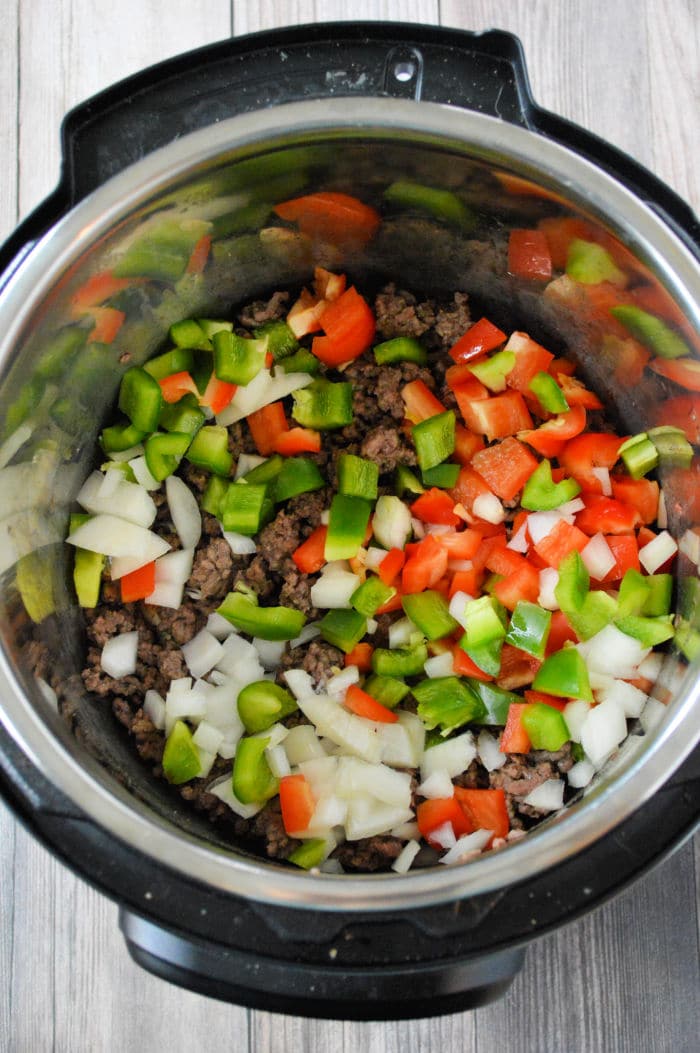 Instant Pot Ground Beef Recipe
One thing that I have realized all these years after cooking in the Instant Pot is that it's a very forgiving appliance. This makes it super simple to make recipes and then go off script of those recipes as well.
While this Instant Pot recipe is simple to make, you can easily change it up a bit and try some new flavors as well. Some other delicious additions to this recipe could be:
Firmer veggies like carrots and okra will cook at about the same rate whereas more delicate broccoli won't fare as well.
Drained can of black beans would be a good add in. The whole thing may not fit but 1/2 cup or so would bring a Mexican flare to this dish.
You could also add 1/3 cup of Rotel to add a bit of heat and texture to it. We use this often as all the goodness is together in one can and makes every dish more wow!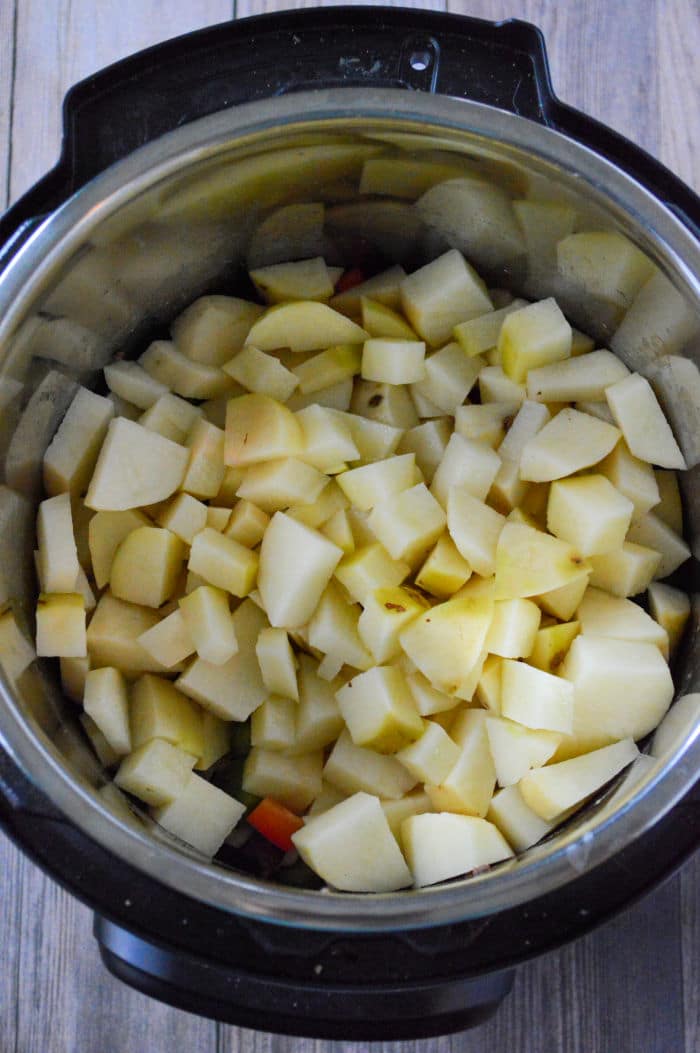 Some people like to add in more ingredients in place of the potatoes or you can also keep the potatoes in and just add in other food ingredients as well.
You'll find that simply changing around and adding in rice or pasta makes this simple recipe taste completely new and different. Simple changes are the perfect way to make recipes exciting again.
Ground Beef Instant Pot Recipe
Since we're talking about ways to change up this recipe, one other idea is to try different liquids in place of the milk. Beef broth and chicken broth can be simple choices to try. They'll add a lot of flavors as well to the recipe.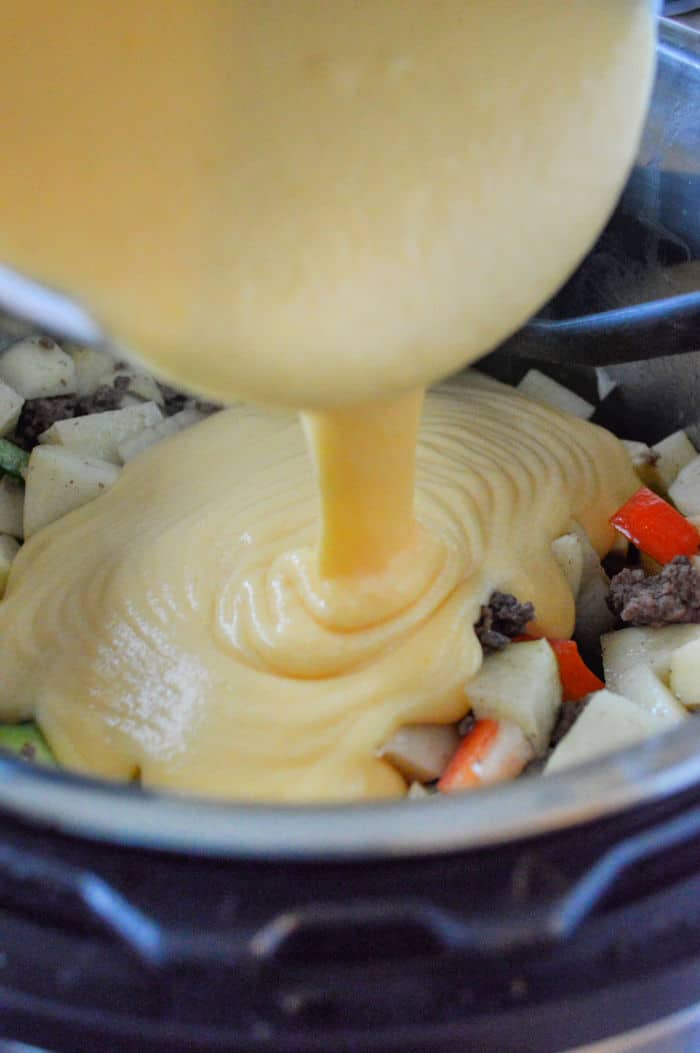 Just be aware of the sodium levels and take that into consideration when making this dish. You can easily buy low sodium at the store and it still has great flavor and taste.
I've made this recipe with all three different liquids and they're all delicious. It just depends on what you like as to which one will become the one that you use the most.
Ground Beef with Veggies
Adding in the onion and bell peppers makes for a sweet and tasty addition. I like to use sweet onions because of their flavor and taste. Some people prefer to use less sweet and that's totally up to preference.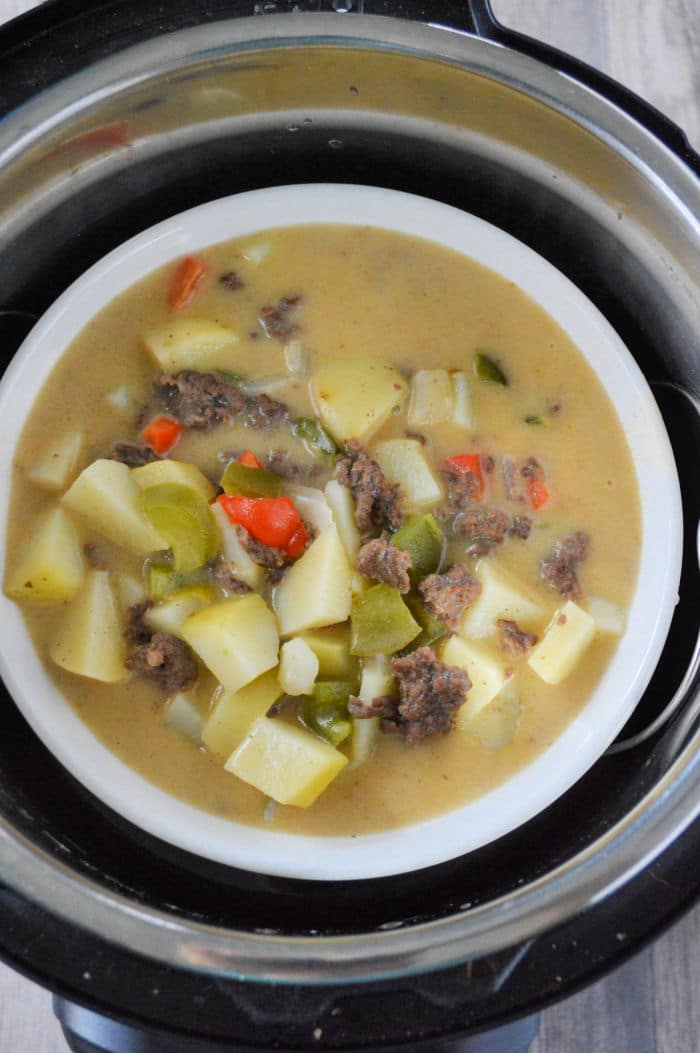 When it comes to bell peppers, have fun and use some that have bright colors. Mix it up with 1/2 cup of all of them. A bit of sweeter red, orange, and yellow can really add a fun look to this dish.
Each one has a very different flavor so adding savory with a bit of sweet is always a great and unexpected duo.
Instant Pot Ground Beef and Potatoes
As I mentioned earlier, this recipe is really simple and easy to make. This tends to be my go-to recipe when I need something fast and delicious. It's saved me so many times during the school year when I failed to meal plan ahead of time and have something ready and sitting out to enjoy.
Just be certain to print out the recipe and have it handy so you can easily get started without issue. Since it has so much flavor and taste, there's no reason at all that it's not going to be a hit.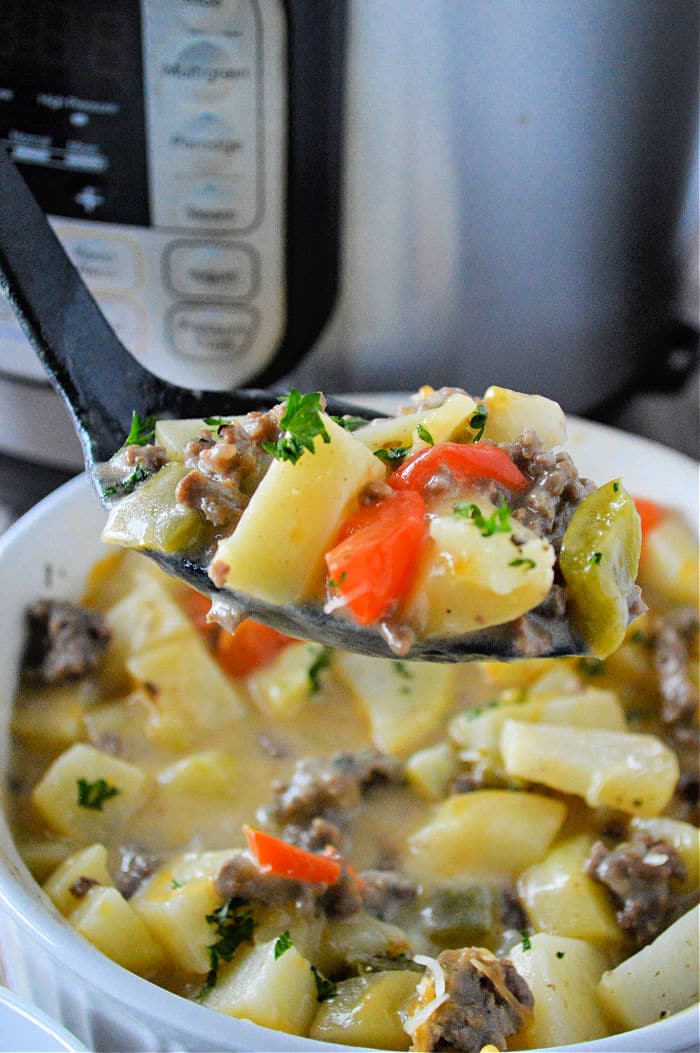 The kids will love that you're creating this simple one pot meal that makes terrific leftovers too.
Don't forget to load up on toppings too. Our go to of course is more cheese, some diced fresh cilantro, and even diced fresh onions too. I've also added homemade salsa on top and that is such a nice flavor enhancer as well!
Want to make a version of this in the oven and see which one you love more? We have done that too! If you are feeding a crowd I would follow this cheesy potato casserole recipe. You can make either one vegetarian or with meat inside.
Want to see a few of my favorite things that I am totally obsessed with?? Take a peek and see how many you might already have…twinsies!
Looking for more easy family recipes and tips? LIKE The Typical Mom Facebook page?
Then sign up for my free newsletter, and follow me on Pinterest! 😉
***** If you LOVED this recipe give it 5 Stars below and let everyone know what you thought about it. 😉
Instant Pot Ground Beef and Potatoes
Instant Pot ground beef and potatoes cooked together is a hearty breakfast or dinner idea everyone will love.
Instructions
Set pot to saute, add ground beef, onion, bell peppers and garlic salt. Brown until no longer pink. Turn pot off. Drain grease out of pot. Add potatoes into the beef mixture and toss.

On the stovetop in a pan (or remove meat, drain, and make roux on saute in IP). Melt the butter, add flour and whisk until incorporated. Add milk and stir until it bubbles and thickens. Add cheese and stir until melted.

Combine meat mixture and sauce, toss together so it is all well incorporated.

Empty pressure cooker pot and rinse out. Pour 2 cups of water into the bottom with a trivet inside.

Spoon potato ground beef mixture into a ceramic baking dish that will fit inside your IP.

Set dish on top of trivet and close lid. Cook on high for 15 minutes with a quick release when done.

Lift out and serve. Sauce will continue to thicken as it sits and cools.
Nutrition Facts
Instant Pot Ground Beef and Potatoes
Amount Per Serving (2 oz)
Calories 467
Calories from Fat 324
% Daily Value*
Fat 36g55%
Cholesterol 116mg39%
Sodium 758mg33%
Potassium 409mg12%
Carbohydrates 9g3%
Protein 26g52%
Vitamin A 1305IU26%
Vitamin C 26mg32%
Calcium 383mg38%
Iron 2mg11%
* Percent Daily Values are based on a 2000 calorie diet.