This cheesy potato casserole recipe is easy to throw together with bacon and chives too. Serve for breakfast, brunch or dinner and it will surely be a hit. A little like our Ground Beef Casserole with Potatoes but you can swap out with any type of meat with this one!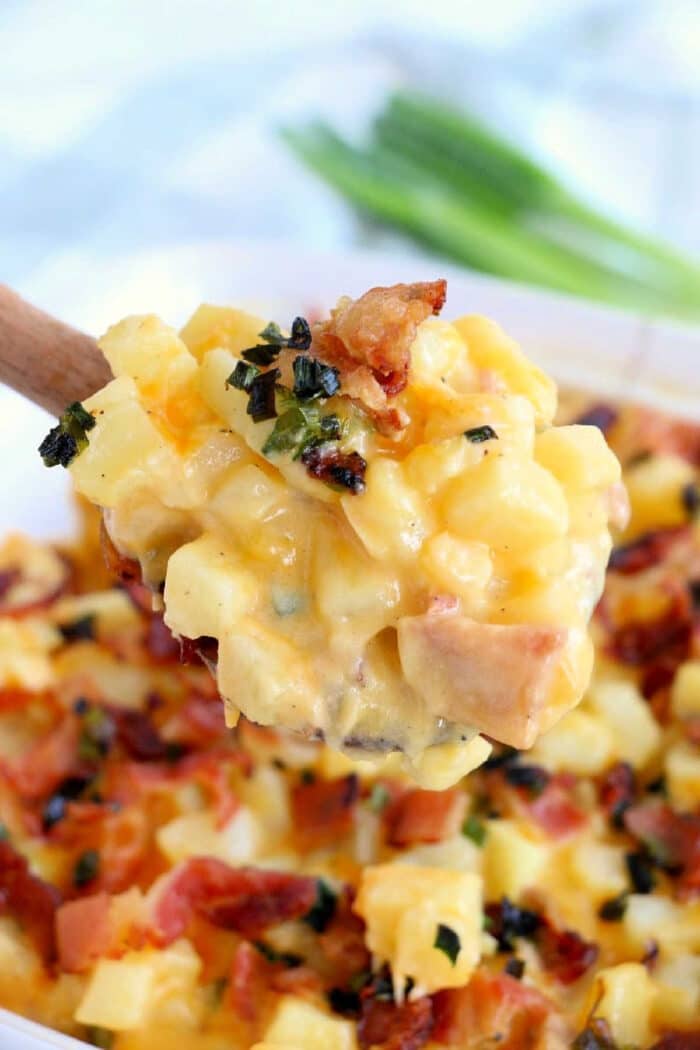 Ready for some ultimate comfort food??!! This cheesy potato casserole recipe will satisfy all of your cravings and is great for a large crowd for brunch. Loaded with bacon or ham and lots of Washington potatoes (we thank them for sponsoring this post), you're sure to smile when you try this potato bake. (affiliate links present, originally published 3/20)
Twice Baked Potato Casserole
Don't have bacon but the holidays are over and you have leftover ham? Well throw that in instead y'all! Rather use cream of mushroom soup vs. cream of chicken, do it!
We will give you the base and from there you can create a WIDE variety of possibilities I tell you. Here's what we're going to start with….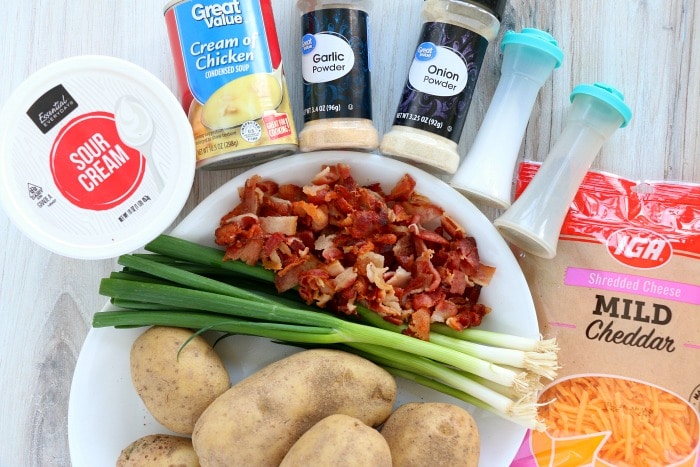 Breakfast Potato Casserole Recipe
We made a version of these slow cooker cheesy potatoes but they were SO popular people wanted to make them in the oven too. Especially if you're taking this to a potluck, it's great to bring it mixed together, put foil on top, and bake it once you get there so it's fresh.
Potato Casserole Recipe
You're going to want a pot to boil your potatoes as well as a pan to saute the others, a large bowl to mix ALL THE THINGS, and your baking dish. I used a 9×9 size but 9×13 inch size could be used too.
Which potatoes are best?
There are 7 potato categories in all but generally they fall into these two main groups:
Starchy potatoes; i.e. russets and many sweet potatoes are great for baking and frying because they absorb the other flavors in the dish.
Waxy potatoes; i.e. red and fingerling potatoes are great for soups and salads because they hold their shape so well when they're cooked.
You see, there are SO many great and flavorful ingredients in this dish. You really want those diced Washington potatoes to soak up all the goodness so you can taste it in every bite.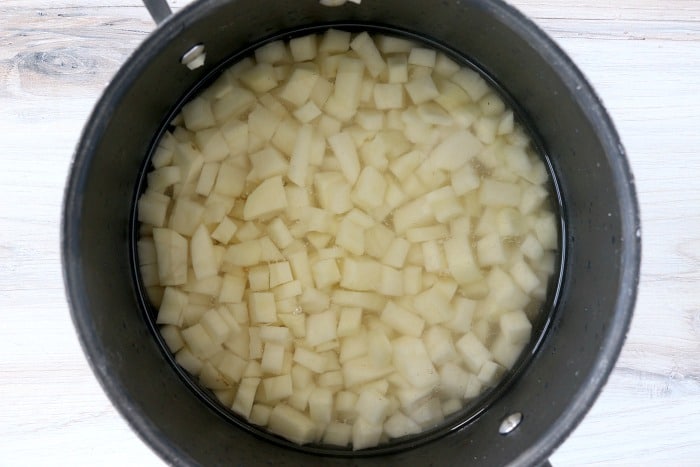 When your potatoes are boiling, check often and remove/drain once they are softened but not quite done (al dente). Remember that there is a second baking step in the oven so you don't want them turning into mashed potatoes.
Then in a pan on your stovetop you'll want to cook your bacon. You don't want to throw that in raw for sure.
Use a bit of olive oil or melted butter to crisp it all up.
In with that you can throw in your green onion and even a diced onion or chives would be great. You'll want your meat to be done but not super crispy crunchy.
You can see how ours looked right here so you have a good idea.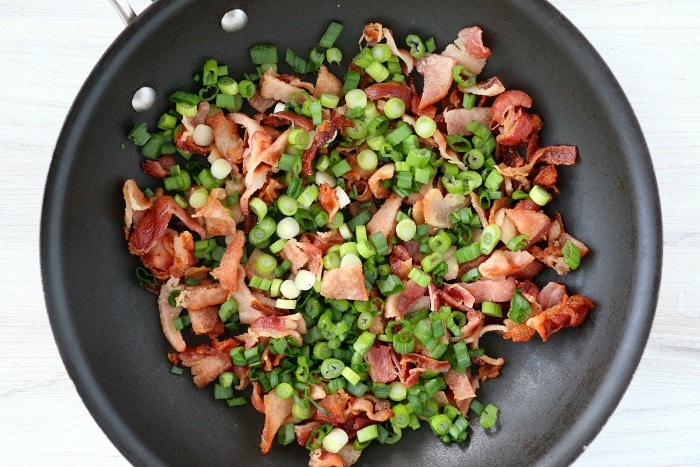 Potato Casserole
Once all of that is done you'll need to mix your ingredients, and gently incorporate your potatoes together. Remember, they are soft so in order to avoid them falling apart you'll need to be careful (that is where the al dente in the first step comes in handy).
Potatoes

I wouldn't suggest grating them into shredded hash browns, diced is better
thawed hash brown potatoes work well for other potato recipes but larger is best for this
if this is all you have I suggest following our Crockpot potato soup with frozen hash browns instead

Cream of chicken soup

mushroom variety would be a fine substitute

Green onions
Bacon
1/2 cup Sour cream
Cheddar cheese
Salt and pepper
Garlic and onion powder
Now let's break it down into a few easy steps: Preheat oven to 350 degrees. Wash, dry, and dice each one into 1″ pieces. Boil diced potatoes until they're al dente, drain, set aside. Saute bacon, drain grease, add green onions and cook until softened.
In a bowl combine condensed soup, sour cream, shredded cheese and all your seasonings.
Mix well.
Mix in 3/4 of bacon mixture and potatoes gently until they're all coated well.
Spray casserole dish with non stick spray and put mixture inside.
Make sure it is same thickness across dish and sprinkle with remaining bacon mix.
If you want to add more cheese too on the top I would cover with foil, then remove the foil 10 minutes before it's done so it can brown.
Bake for 30 – 40 minutes and serve as a main dinner or side dish!

You could easily put a piece of foil on top and let it sit for 20 minutes or more if you're serving this during the holidays.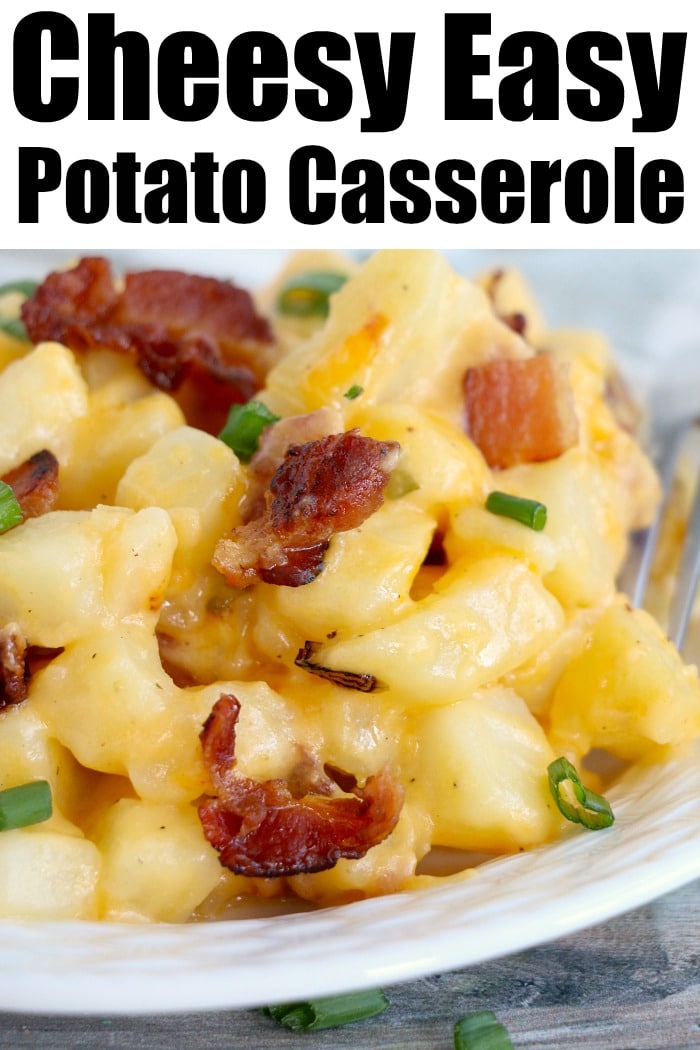 It's a great one to make during those times because it almost gets better as it sits! Soaking up all the cheesiness and seasonings, it will be a hit for sure.
What can you do with a potato?
Well, let me count the ways! You can use these babies in a ton of other recipes but we really love air fryer potatoes and twice baked are great.
What potatoes are best for a casserole?
Yukon or yellow potatoes are pretty popular because of their smooth and soft texture. I have used russets too out of convenience and they're just fine but a bit grainier if I had to nit pick the difference.
How do you make potato casserole from scratch?
We will show you right here! We love this cheesy tater dish here. It is easy and very inexpensive when feeding a crowd. With bacon it is always a huge hit.
What can I do with lots of potatoes?
Make an easy casserole dish we have here. Mashed potatoes are always a winner with just about any protein, we never get tired of those.
If you want to make this in a slow cooker instead, make our Cheesy Hashbrown Potatoes Crockpot recipe instead.
All this and more can be made with Washington potatoes! What have you made with potatoes likely that was a hit with your whole family??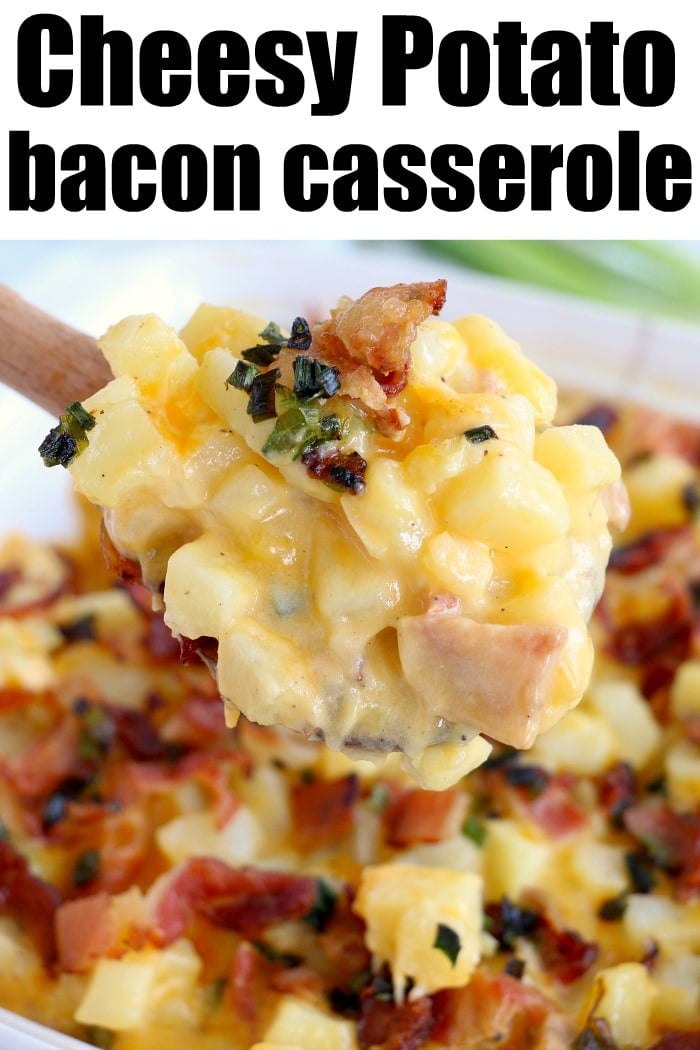 Want to see a few of my favorite things that I am totally obsessed with?? Take a peek and see how many you might already have…twinsies!
Looking for more easy family recipes and tips? LIKE The Typical Mom Facebook page?
Then sign up for my free newsletter, and follow me on Pinterest! 😉
***** If you LOVED this recipe give it 5 Stars below and let everyone know what you thought about it. 😉
Cheesy Potato Casserole Recipe
This cheesy potato casserole recipe is easy to throw together with bacon and chives too. Serve for breakfast, brunch or dinner and it will surely be a hit.
Instructions
Preheat oven to 350. Peel and cube potatoes. In a large pot, boil them until just tender (not completely cooked).

Drain and set aside. While potatoes are cooking, fry bacon. When the bacon is almost done, drain grease and add onions.

Continue cooking until onions are soft. In a mixing bowl, combine sour cream, cream of chicken, cheese, and all seasonings.

Add 3/4 of the bacon/onion mixture and stir well. Add potatoes to mixture and gently stir until all potatoes are coated.

Place mixture in a greased 9×9 baking dish. Sprinkle remaining bacon and onions on top. Bake for 30-40 minutes or until potatoes are fully cooked.
Nutrition Facts
Cheesy Potato Casserole Recipe
Amount Per Serving (2 oz)
Calories 398
Calories from Fat 234
% Daily Value*
Fat 26g40%
Cholesterol 59mg20%
Sodium 952mg41%
Potassium 851mg24%
Carbohydrates 26g9%
Protein 16g32%
Vitamin A 528IU11%
Vitamin C 21mg25%
Calcium 283mg28%
Iron 6mg33%
* Percent Daily Values are based on a 2000 calorie diet.