Air fryer sausage and potatoes cooked together to perfection! Tender with a little crisp on the outsides makes this a hearty meal everyone will love. You can slice Kielbasa or pork sausages into dials with bite size taters and a one pot meal is ready.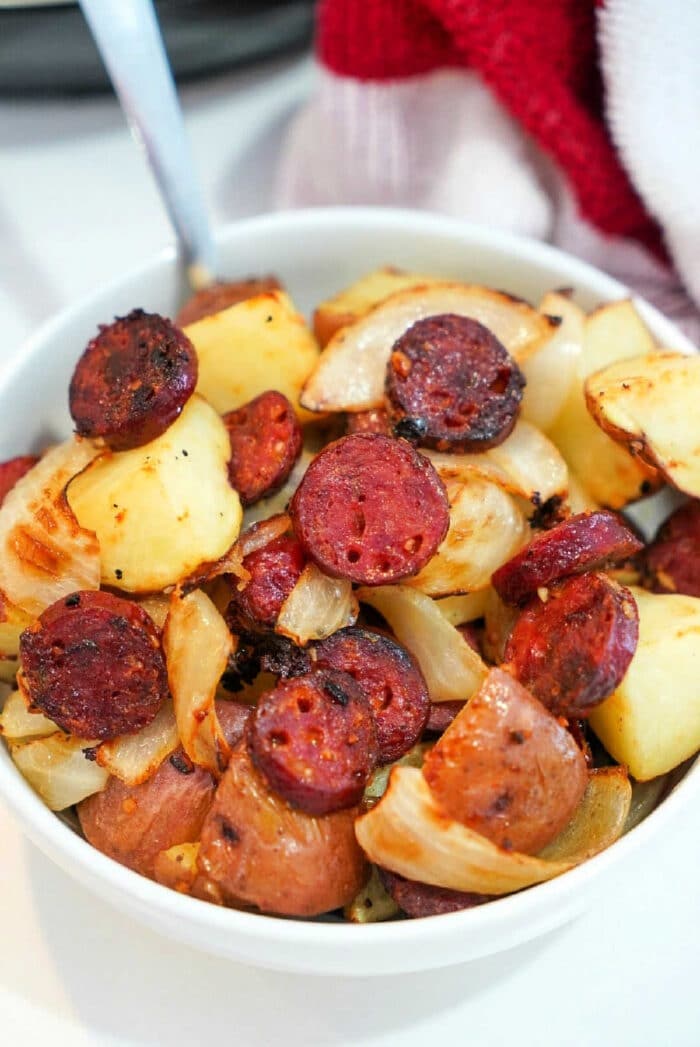 Air fryer sausage and potatoes with some onions in there is one of the best dinners we've made in our new appliance! Served for breakfast, high in protein or a hearty snack or meal we love it either way. For even more ideas look on our air fryer recipes page. (affiliate links present)
Sausage in Air Fryer
You can use any brand but with this is the machine I used to make sausage and potatoes. It was so good, the next morning we made sausage links in air fryer, and paired eggs with sausage patties in air fryer. From there we were hooked!
You can use any sort of meat you might have on hand. Our neighbor gave us these Venison Sausage deer links and honestly I wasn't sure what to do with them. Thought a bit of crisp on the edges might be wonderful so I used those and WOW!
FIRST – You should sign up for my free newsletter so you get new posts emailed to you twice a week and never miss out on anything! If you love air fryer recipes too, here are some resources to start with: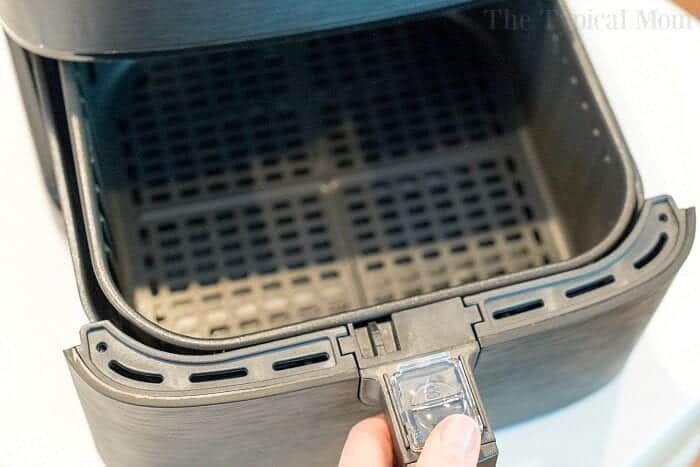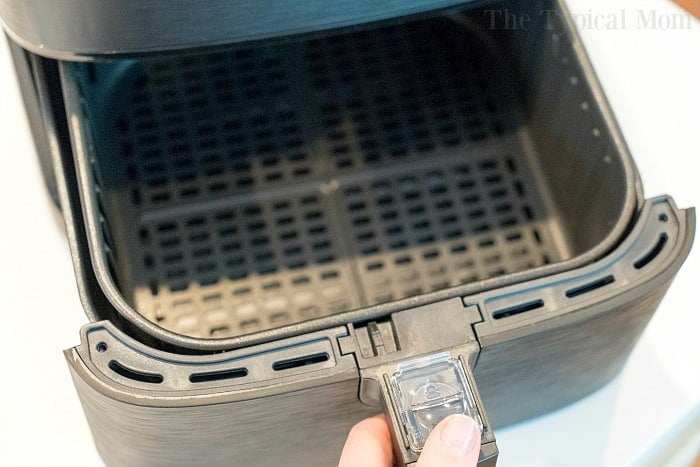 Air Fryer Sausage and Potatoes
To be quite honest this was something I just threw together. I had a bag of red potatoes that needed to be used, and our friend gave us this homemade jalapeno and cheddar deer sausage.
I know, sounds amazing right??
With an added onion and some olive oil of course they all came out perfectly tender and flavorful. Yes you can make just links by themselves. I will share instructions for that too but this duo is AMAZING and a great one pot dinner everyone will certainly love.
Air Fryer Potatoes and Sausage Meal
This is essentially what I used here. Precooked link sausage of any kind could be used. I buy an apple version at the store pretty often so if I hadn't been given these, that is what I would've added.
Can I cook sausages in an air fryer?
I thought in the beginning. Well I had already done that already but added other ingredients is a bit trickier because of the cook time and correct temp.
You don't want one item to overcook while the other one is still raw, or not tender enough. That was what took a batch to figure out.
I generally first refer to my air fryer cook times chart (linked above) which is a good gauge. Then it might take one or two trials but when I get it right it's time to share with you too! We will start by dicing everything small enough so it comes out tender at the same time. I cut each red potato into 12 equal pieces.
Air fryer sausage and potatoes
Sausage links need to be precooked, then slice them into dials. The wider the pieces the less crispy they will get. That is up to you as far as how you think you'd prefer them when done. Same goes with the onion.
That is unless you have frozen sausage in air fryer then they'd be left whole. That is still okay, you can slice at the end once they're tender.
Air fryer basket
Pre cooked smoked sausages
Onion
Potatoes

red or russet

Olive oil
Minced garlic
Garlic salt
Salt and pepper
Could add chili powder or Sriracha powder for heat
Of course you can add any additional seasonings you want. The amount I use depends on the type of links I buy. Since these already had spice to them I didn't feel like I had to add much.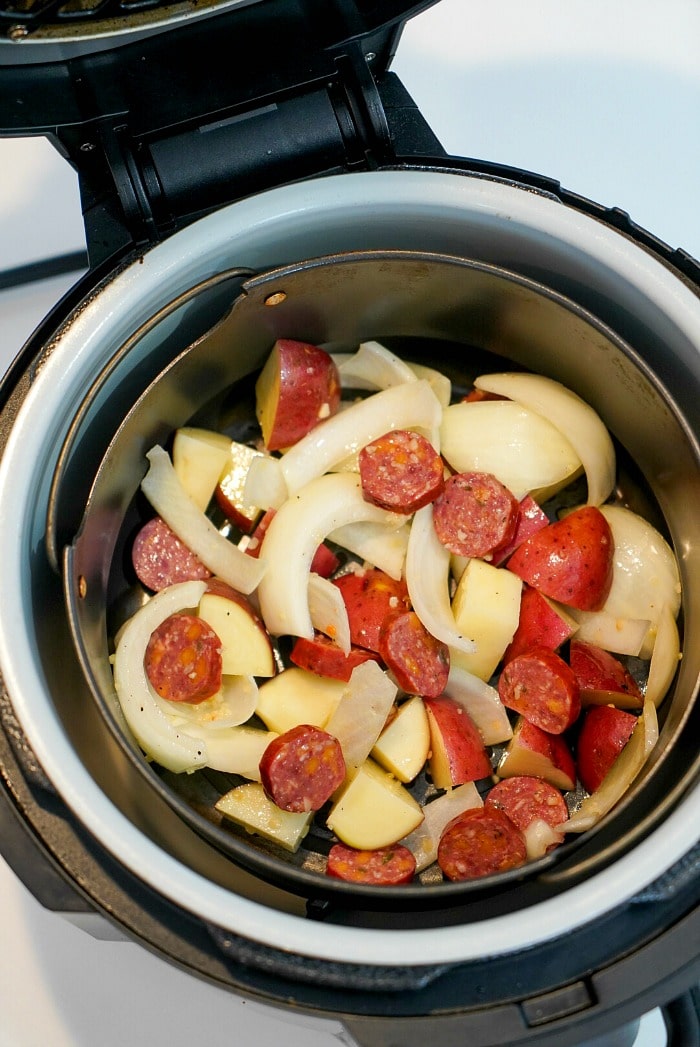 Ninja Foodi Sausage and Potatoes
Here is a quick rundown of how we made this. There is a printable version in the recipe card below if you prefer that as well.
Slice all ingredients. Preheat your air fryer at 400 degrees for 5 minutes. Put cubed potatoes, sliced onions and sausage dials into a large bowl. Drizzle with olive oil and add garlic.
Sprinkle with seasonings and stir together so everything is coated nicely.
Add half your contents into your basket so they don't overlap much.
Close lid and air fry for 12 minutes total, tossing ingredients halfway through.
Test potatoes with a fork to see if they're tender enough, if not add 2 minutes at a time up to an additional 5 minutes until everything is just as you like it.
Remove, serve, add other half of your batch and cook Italian sausage and potatoes the same as the first batch.
We love this and our roasted potatoes in air fryer, they're both favorite air fryer potato recipes for sure.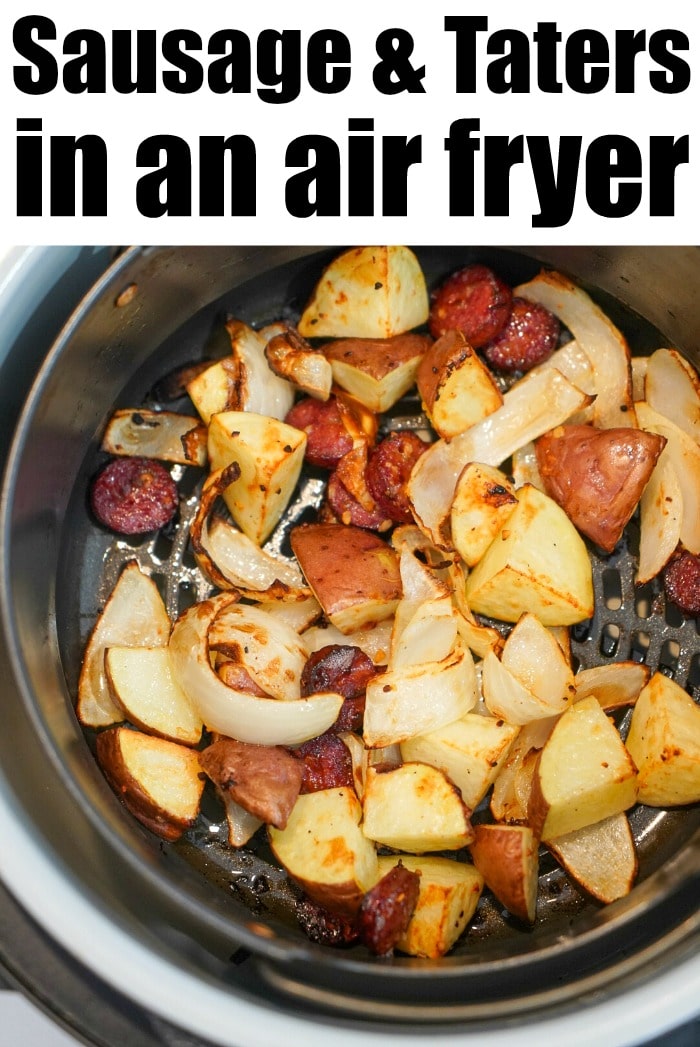 Sausage Peppers and Potatoes in Air Fryer
A meat thermometer really isn't needed for this since you're using precooked meats. Total time will be 15 minutes to 20 minutes total including time to preheat your machine. This allows it to cook more evenly.
Want to change it up from a sausage link to including air fryer SPAM with your potatoes? We have made that too and it is amazing!
If you ONLY want to air fry sausages like this by themselves you can just throw those right into your Ninja Foodi or Cosori and cook to a safe internal temperature. You can see the results below, they come out great too.
You could follow this to cook sausage patties as well. For that you'd need to check internal temp. before eating since those are raw.
Air Fryer Sausage Potatoes and Onions
Ready to enjoy this tonight??!! I kid you not my kids were fighting my husband over the first batch it was so good!! Please read printable directions below for specific instructions.
There is nutritional information included as well with calories, saturated fat and protein listed. This will vary depending on the type of taters you use and brand of sausages. Looking for more easy easy air fryer recipes? Our air fryer Hasselback potatoes are amazing.
Here is a roundup of the best air fryer breakfast recipes around including our Ninja Foodi breakfast that has sausage in it as well. If we're having people over I love making this air fryer baked brie with apples and brown sugar. OH MY!
Air fryer grilled cheese is my girls' favorite way to make this classic after school snack.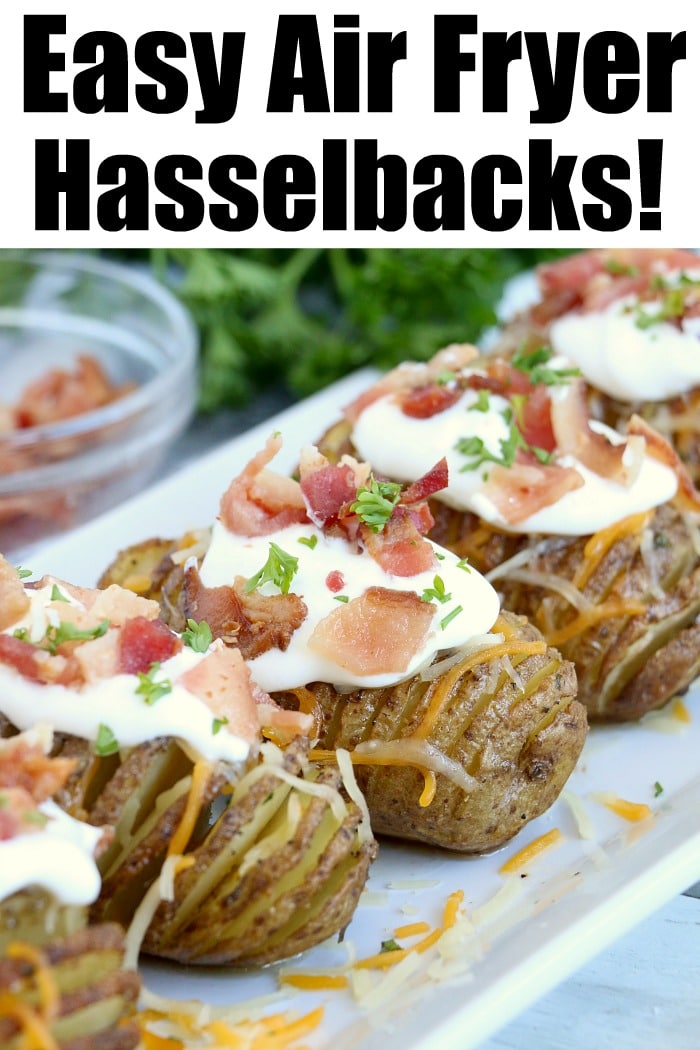 Want to see a few of my favorite things that I am totally obsessed with?? Take a peek and see how many you might already have…twinsies!
Looking for more easy family recipes and tips? LIKE The Typical Mom Facebook page?
Then sign up for my free newsletter, and follow me on Pinterest! 😉
***** If you LOVED this recipe give it 5 Stars below and let everyone know what you thought about it. 😉
Air Fryer Sausage
Air fryer sausage and potatoes cooked together to perfection! Tender with a little crisp on the outsides makes this a hearty meal everyone will love.
Instructions
In a bowl add your thick slices of onion, potatoes cut into 12 pieces each, sausage links cut into dials, garlic, olive oil and seasonings.

Preheat air fryer to 400 degrees for 5 minutes.

Toss all ingredients together in bowl. When hot spray basket with non stick spray and pour half your mixture into your air fryer basket.

Close lid and cook for 12 minutes tossing items inside once halfway through.

Remove and add 2nd batch. You want to cook in 2-3 batches so food doesn't overlap and they get nice and tender.
Nutrition Facts
Air Fryer Sausage
Amount Per Serving (3 oz)
Calories 227
Calories from Fat 90
% Daily Value*
Fat 10g15%
Cholesterol 7mg2%
Sodium 377mg16%
Potassium 945mg27%
Carbohydrates 29g10%
Protein 7g14%
Vitamin C 26mg32%
Calcium 70mg7%
Iron 7mg39%
* Percent Daily Values are based on a 2000 calorie diet.