Ninja Foodi breakfast omelette is here! Filled with eggs, cheese and even ground sausage or bacon this will be your favorite air fryer breakfast ever!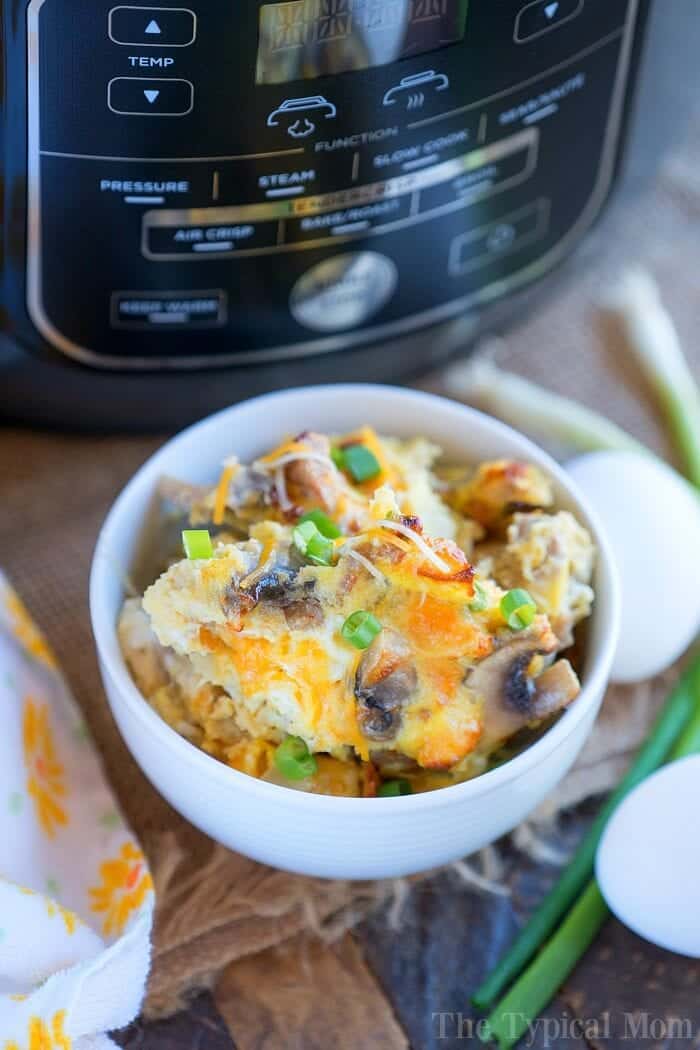 Ok so I am obsessed with my new pressure cooker and air fryer machine, and I'm now here to share this Ninja Foodi breakfast omelette idea that came out fantastic! If you love eggs it's a great way to feed a family or make for a group for brunch. Added to our list of easy Ninja Foodi recipes we hope you love it as much as we did. (affiliate links present)
Let's start with the basics before we get into our Ninja Foodi breakfast recipe:
Now on to how to make an air fryer omelette!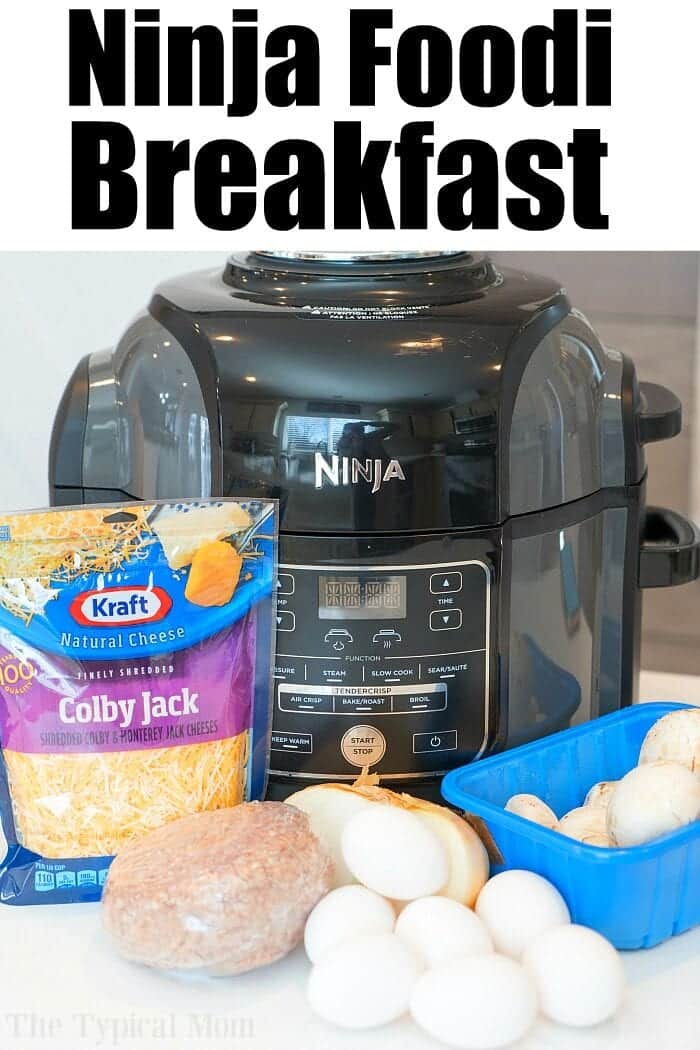 This is what we used to make our loaded Ninja Foodi breakfast egg dish:
Eggs
Cheese
Onion
Ground sausage – spicy sausage is amazing
Mushrooms
Olive oil
Cream of mushroom soup – could substitute for some alfredo sauce
Garlic salt – salt to taste really but we add a bit to the mix, if you use spicy sausage you need very little added seasonings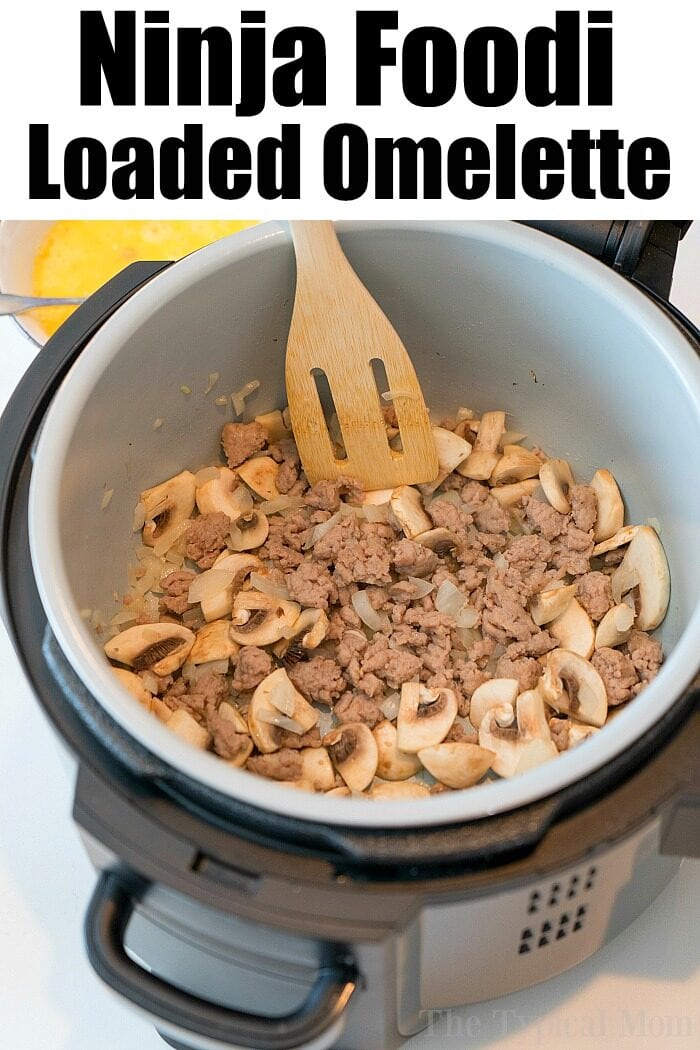 You're going to use two different functions on your Ninja Foodi pressure cooker and air fryer. We're going to use the saute function first to cook our sausage, onions and soften your mushrooms a bit.
Using the Ninja Foodi air fryer lid you can get the top layer of your egg casserole just a little bit crispy…and if you add a thin layer of cheese on the top at the very end that will melt and turn wonderful too.
A gal in my Ninja Foodi recipe share group shared the idea for this egg casserole but she didn't use any meat. It only took her 5 minutes to get the egg from raw to done however mine took closer to 10 minutes with a stir in between.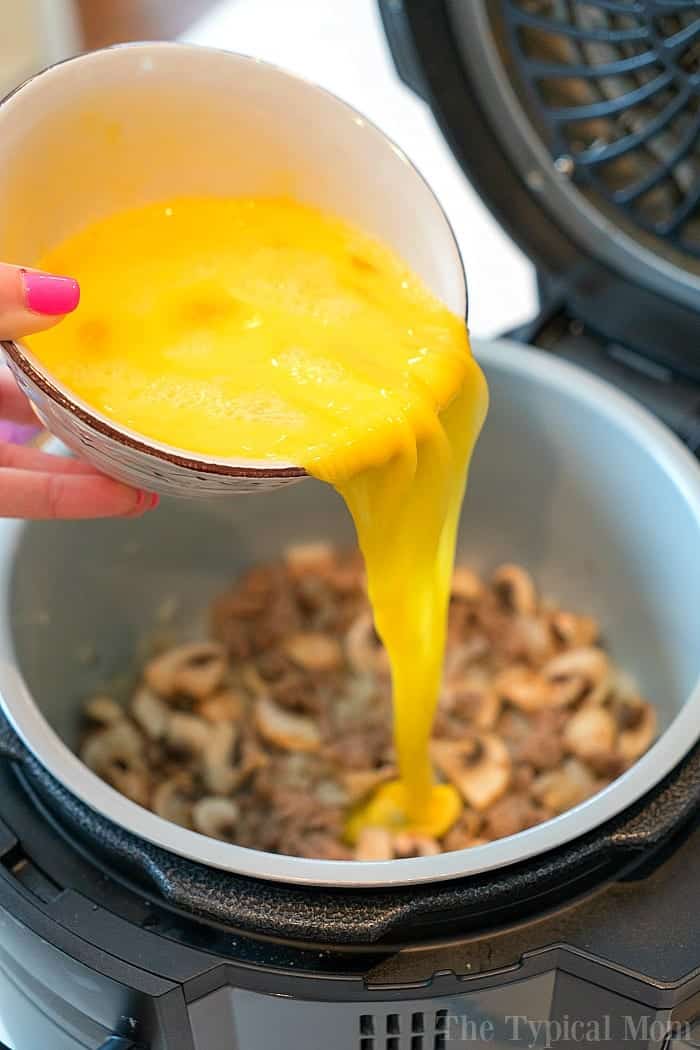 As with any of my other easy recipes it is a base for you to use and add or omit items in it. I found that the more ingredients you add to the egg base the longer it will take, obviously.
Also, stirring halfway through the cooking process is important. That way you can get everything evenly cooked as you rotate the raw uncooked egg on the bottom to the top.
This is what our Ninja Foodi breakfast casserole looked like when it was done!
Just a little crispy on top and soft underneath but definitely cooked all the way through.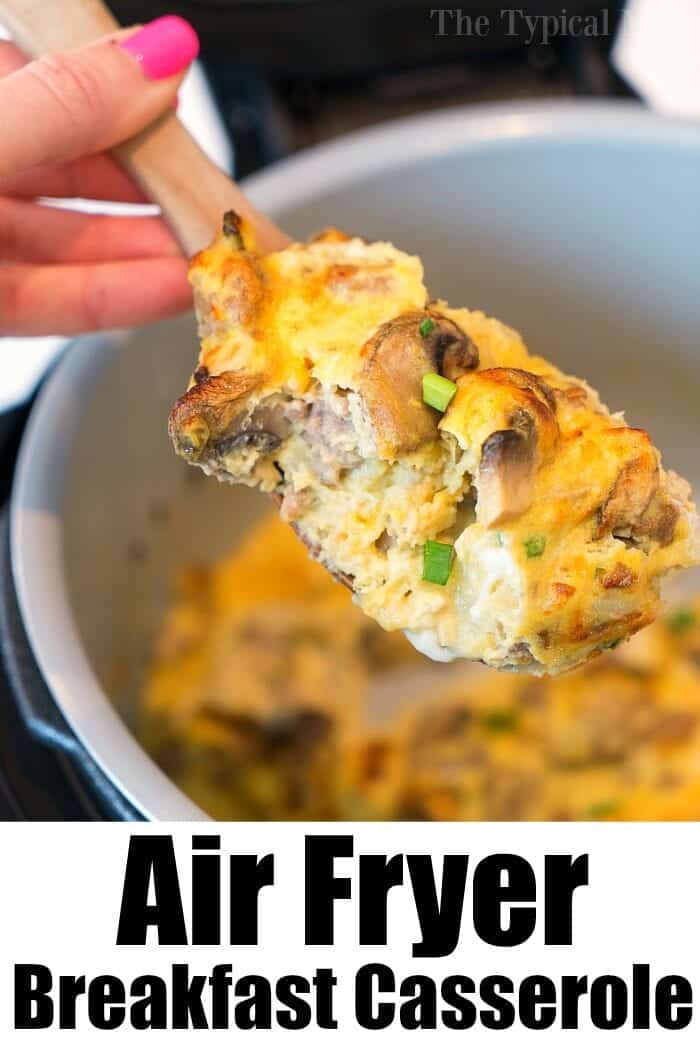 Adjusting your air Ninja Foodi breakfast to your liking
Use a base of 8 eggs, do not add any milk to this but scramble so they are smooth
If you want to add meat(s) cook it using the saute button along with any diced onions and/or bell peppers you want. That way they can soften (even if you don't add meat, you need to saute these in order to get the moisture out of them a bit).
Drain any and all fat/liquid after using the saute function so that it doesn't thin out your egg mixture. That will cause it to be loose and not cook properly
Close crisping lid and set time.
Add more cheese to the top during the last 2 minutes of the air crisp cooking time if you'd like it to melt/crisp on the top
Check intermittently during the last few minutes to get the ideal texture/"doneness" for you. My husband likes a looser consistency than I do, once you make this once just note down exactly how many minutes is ideal for you.
Enjoy immediately once it's done.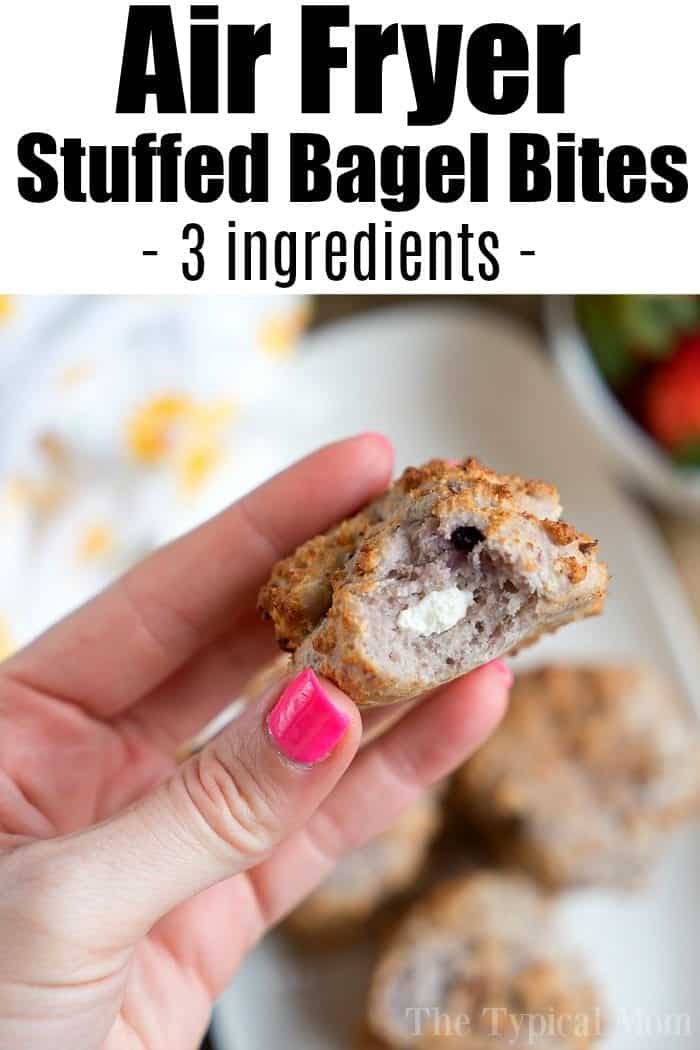 Want to find other Ninja Foodi recipes??
We have even more Ninja air fryer recipes here to make throughout the week. If you're ready for fork tender meat try our Ninja Foodi corned beef and cabbage recipe too.
Ninja Foodi Breakfast
Ninja Foodi Breakfast omelette is here! Filled with eggs, cheese and even ground sausage or bacon this will be your favorite air fryer breakfast ever!
Instructions
Turn your Ninja Foodi on and press saute. Add your olive oil, diced onions, and ground sausage (spicy is best) /or bacon.

Cook until halfway done, then add sliced mushrooms. Cook until sausage is no longer pink. Press stop on machine. (if there is a lot of grease, drain)

In a bowl scramble your eggs and pour into your Ninja Foodi with your meat.

Sprinkle in your garlic salt, 1/2 c of shredded cheese, and add 1/4 c cream of mushroom soup or alfredo sauce can be used.

Stir together so all of this is combined well.

Close your air fryer lid and press air crisp button, 390 degrees for 6 minutes.

Lift lid and stir so uncooked egg on bottom is circulated and able to cook thoroughly.

Close lid again and set to air crisp, 390 degrees for another 4-5 minutes. Timing now will depend on how well done you like your egg/omelette. Look after 4 minutes and cook until it is the desired consistency.

Serve with added cheese on top and a sprinkle of chives.
Nutrition Facts
Ninja Foodi Breakfast
Amount Per Serving (2 oz)
Calories 294
Calories from Fat 198
% Daily Value*
Fat 22g34%
Cholesterol 260mg87%
Sodium 681mg30%
Potassium 283mg8%
Carbohydrates 3g1%
Protein 17g34%
Vitamin A 485IU10%
Vitamin C 2.1mg3%
Calcium 143mg14%
Iron 1.7mg9%
* Percent Daily Values are based on a 2000 calorie diet.
For more easy recipes, tips and free printables please LIKE The Typical Mom on Facebook and follow me on Pinterest! You can also sign up for my free weekly newsletter which is packed with goodies I know you'll love. 😉