Pressure cooker donuts only have 3 ingredients and are so easy to make for breakfast or dessert. Add melted chocolate and sprinkles on the top and they're done perfectly in your Instant Pot or Ninja Foodi!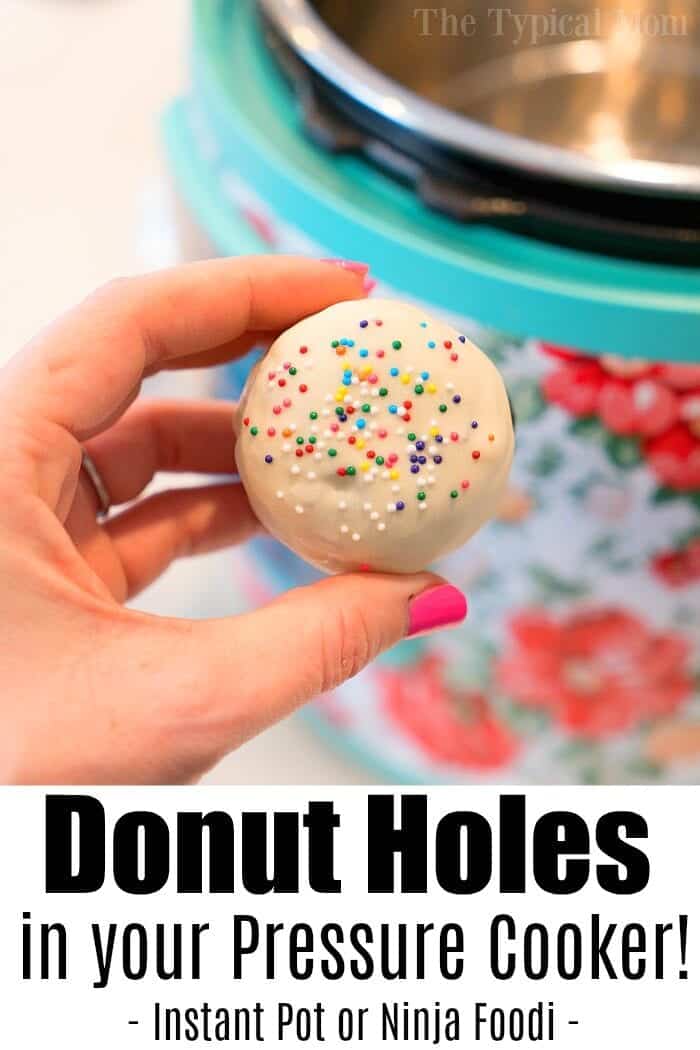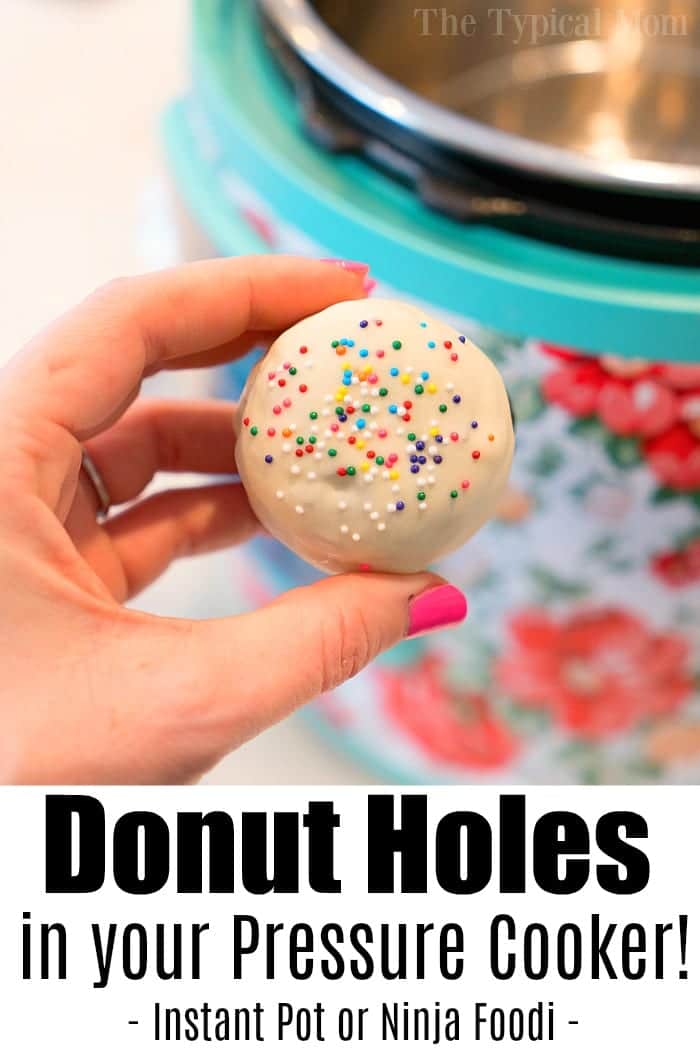 OH MY goodness these pressure cooker donuts came out so good! The girls and I decided to "bake" in our Instant Pot this weekend and I thought donut holes would be fun. You can make Ninja Foodi donuts the same way. Added to our list of easy Instant Pot recipes, (originally published 2/19, affiliate links present)
Ok so we're a little pressure cooker happy but seriously, I can't tell you the last time I actually turned on my oven.
Ever since I got these two multi function kitchen appliances I have just gone to town with them.
FIRST – You should sign up for my free newsletter so you get new posts emailed to you twice a week and never miss out on anything! Now let's start with a few basic tips:
Make sure to Bookmark our InstaPot recipes page. We add new ones each week!
Then PRINT this —–> Instant Pot cooking times cheat sheet that will help you understand how long meat, vegetables and beans take to cook in your pressure cooker.
For reference, this is the pressure cooker I have (a 6 quart) and use for all recipe creations.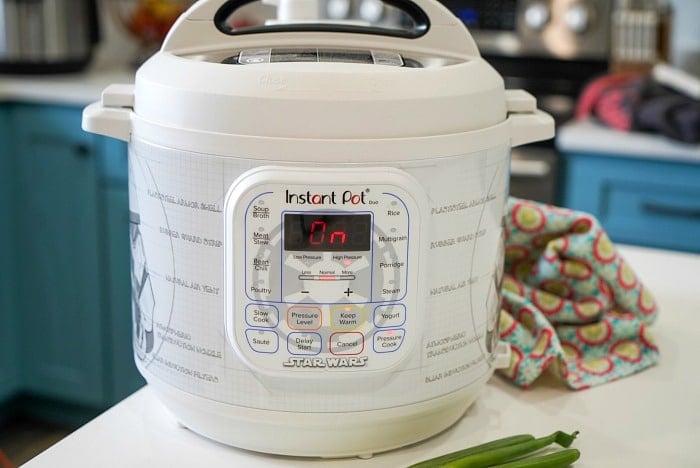 What is the best pressure cooker you might ask:
I've had my Instant Pot since it emerged 2.5 years ago, and now have 3 different sizes. 😉
The Ninja Foodi is an air fryer meets a pressure cooker and it is making its mark in the cooking world with a vengeance and we love it's dual function.
Here's a free Ninja Foodi cookbook to help you find easy pressure cooker and air fryer recipes and I offer a free Instant Pot cookbook with a few of my recipes in it here too!
Pressure cooker donuts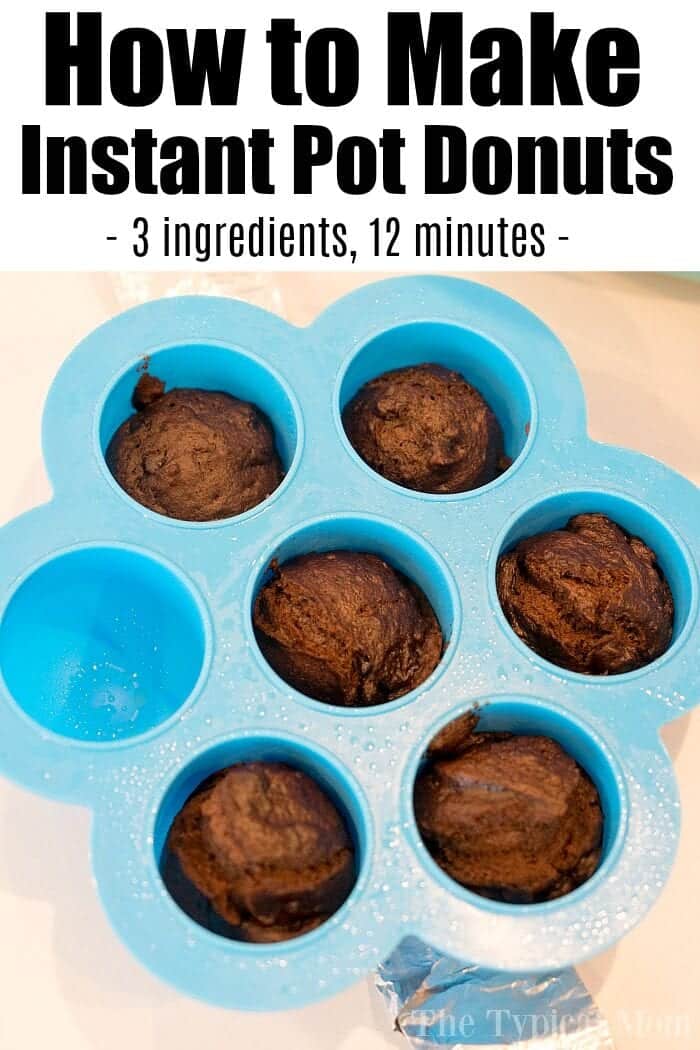 They may not look perfect when they're done but just pop them out and turn them over and they will! Smother them with melted chocolate and let the kids decorate them and nobody will care that they aren't perfect anyway.
Perfection is way overrated. 😉
This is what you need to make this delicious Instant Pot or Ninja Foodi breakfast your whole family will love!
Box of cake mix – we used this one (you could swap for any flavor but chocolate cake donuts were always my favorite and that is what these taste like)
Non stick spray
Buttermilk

this is a buttermilk substitute if you need one

Eggs
White chocolate chips – if you want to frost them

Coconut oil – makes chocolate melt amazingly well
Sprinkles
Can you double this recipe?
YES!
The recipe for pressure cooker donut holes below makes approx. 10 donut holes, 7 holes are in an egg mold so you'd make 2 batches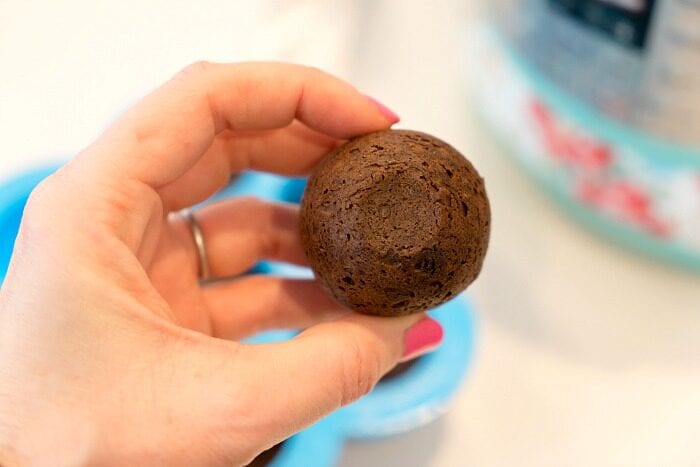 How to make donuts with cake mix in the oven?
We've done that too!
Just follow our cake mix donuts post directions

in a bowl mix ingredients and get ready to prepare them

You will need this donut pan
We put the batter into a pint size freezer bag and cut off the tip to squeeze it into the pan easier (or a pastry bag works but is more expensive)
Bake semi homemade donuts in the oven
Allow to cool on paper towels
Frost like we did with these pressure cooker donuts
Enjoy!
We have a fried donut recipe here too.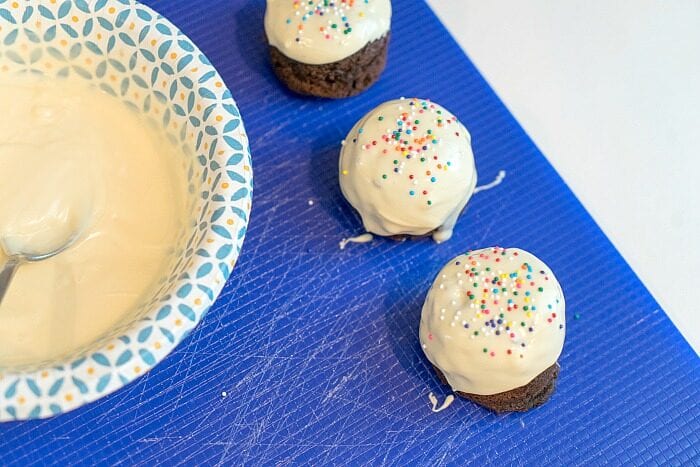 How to melt white chocolate chips
It's easier than you think but there is a trick to it!
Put 1 c. white chocolate chips into a small bowl – I use paper bowls so I can just throw them away after, if not it is really stuck on there
Add 1/2 tsp. coconut oil into your bowl – this makes chocolate melt amazingly well
Put your bowl into the microwave for 30 seconds
Take out and stir well
Put back into your microwave for another 30 seconds cooking time
Stir quickly and this should be enough time so that with your stirring it becomes completely smooth and is ready to coat your doughnuts
Hold donut hole to the side and spoon liquid white chocolate over the top 1/2
Set on non stick surface – like this cutting board or parchment paper works too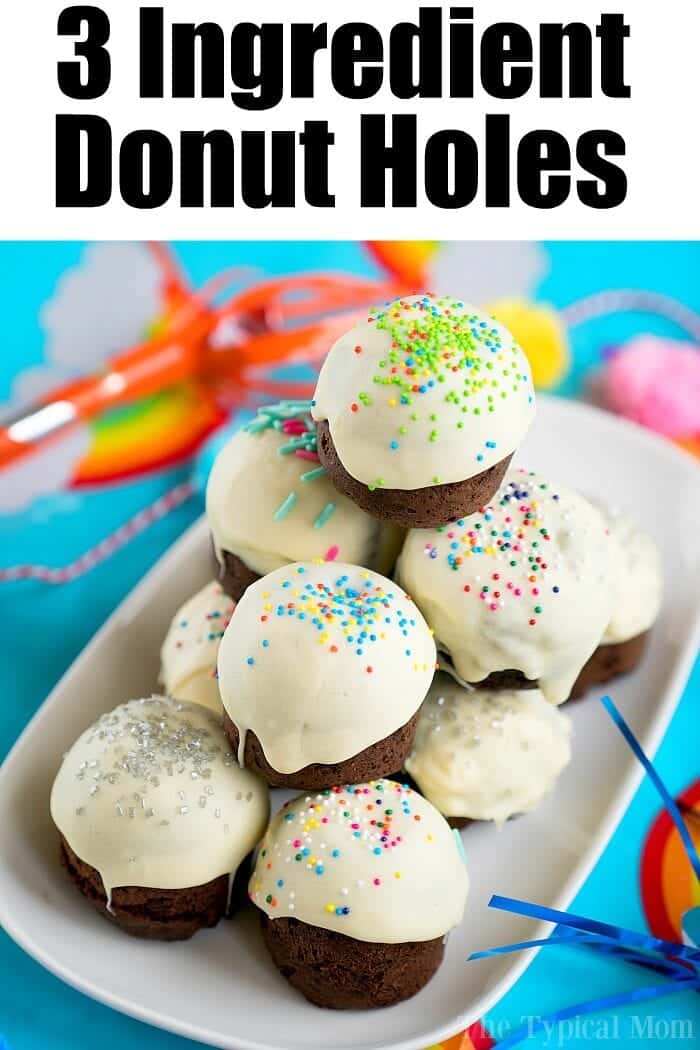 Instant Pot donuts
Make sure you spray the inside holes of your egg mold – or else they will kinda' stick when popping them out
Take the foil off immediately once you take them out so the condensation doesn't drip down and get them wet
Wait a few minutes once you take them out to pop each one out so they can settle and cool a bit – don't want to burn any fingers
Allow your doughnuts to cool before coating with your melted white chocolate coating or the chocolate don't be able to cool and harden as quickly
Sprinkle immediately once your chocolate is on there or else it will harden and toppings won't stick
Other than that enjoy making these Ninja Foodi donuts or these work in any other pressure cooker like an Instant Pot or Crockpot Express pot too!
For the Ninja Foodi machine you will use the pressure button and your pressure lid (the one that isn't attached), then directions below.
Or you can make this air fryer donut recipe in it! Our biscuit donuts are pretty fabulous too.
Looking for other pressure cooker dessert recipes
If you want to make donuts from scratch we have this easy recipe for homemade donut holes here too. Let us know below or send comments by email to let us know how you loved these Instant Pot donuts yourself!
Watch the video showing how easy these donut holes are to make:
Want to see a few of my favorite things that I am totally obsessed with?? Take a peek and see how many you might already have…twinsies!
Looking for more easy family recipes and tips? LIKE The Typical Mom Facebook page?
Then sign up for my free newsletter, and follow me on Pinterest! 😉
***** If you LOVED this recipe give it 5 Stars below and let everyone know what you thought about it. 😉
Pressure Cooker Donuts
Pressure cooker donuts only have 3 ingredients and are so easy to make for breakfast or dessert. Add melted chocolate and sprinkles on the top and they're done perfectly in your Instant Pot or Ninja Foodi!
Instructions
Mix together your cake mix, buttermilk and egg well.

Spray the inside holes in your egg mold with non stick spray.

Put a trivet inside your pot with 1.5 c water.

Fill your egg mold holes 3/4 of the way full and cover with foil, use a foil sling to lower egg mold on to your trivet.

Close lid and steam valve and set to pressure high for 12 minutes.

Allow to naturally release steam for 2 minutes, then let out rest of steam.

Take mold out of pot. Take off foil immediately and allow to cool for a few minutes.

Pop donut holes out of mold and set on a paper towel, or enjoy them immediately if you aren't adding frosting.

If adding frosting put white chocolate chips and coconut oil dollop in the middle. Put in microwave for 30 seconds.

Stir, then microwave for additional 30 seconds. Stir until lumps smooth out.

Spoon white chocolate over tops of donut holes, place on non stick surface (parchment paper works), then sprinkle with sprinkles etc… Allow to cool and harden then enjoy.
Video
Nutrition Facts
Pressure Cooker Donuts
Amount Per Serving (2 oz)
Calories 222
Calories from Fat 54
% Daily Value*
Fat 6g9%
Cholesterol 20mg7%
Sodium 260mg11%
Potassium 37mg1%
Carbohydrates 38g13%
Protein 2g4%
Vitamin A 85IU2%
Vitamin C 0.1mg0%
Calcium 104mg10%
Iron 1mg6%
* Percent Daily Values are based on a 2000 calorie diet.