Cake mix donuts are so easy to make using any flavor and one of our favorite cake mix hacks ever! It's an easy baking project you can do with your kids and a fun way to make baked donuts right at home with a few ingredients. Load them up with fun toppings for breakfast or dessert.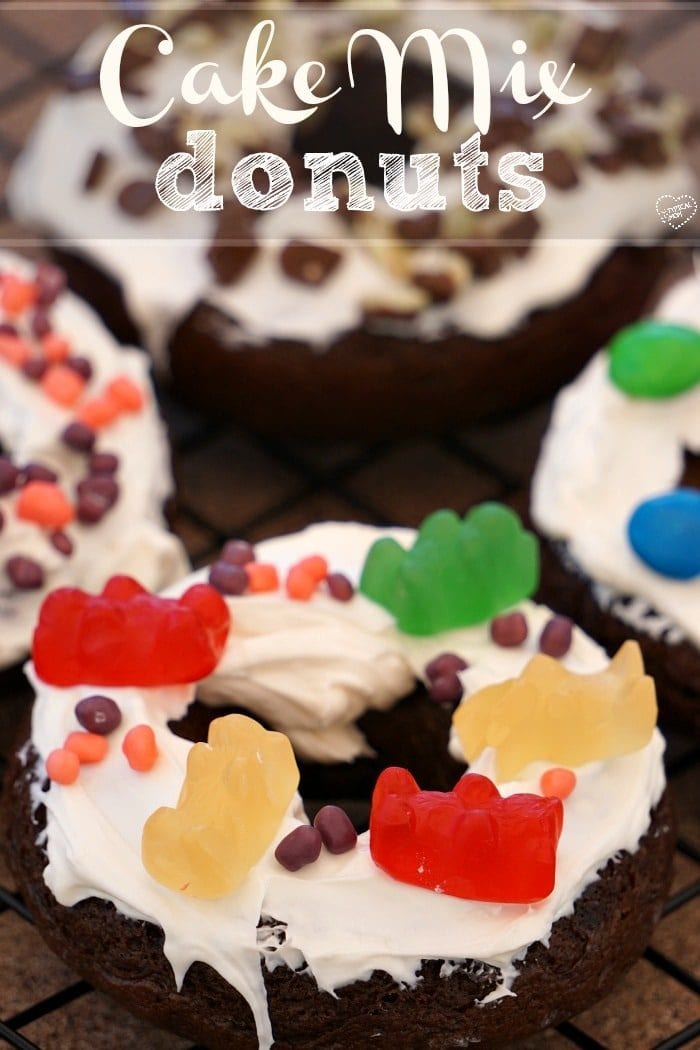 We are all about easy when it comes to baking and these cake mix donuts are just the best! Let us know what you think. One of our favorite boxed cake mix recipes. (originally published 6/16, affiliate links present)
Chocolate Cake Mix Donuts
Using just 4 ingredients these doughnuts came out fantastic, and were fun to make with the kids. Top them with lots of candies and sprinkles to customize them however you'd like and they're a great birthday party activity too!
We make cupcakes often, have made cookies too, and have even shared how to make brownies from cake mix but thought there had to be a way to make easy cake mix donuts so we gave it a go this afternoon. These are fun because not only are they super simple to mix together but there are tons of flavors to choose from.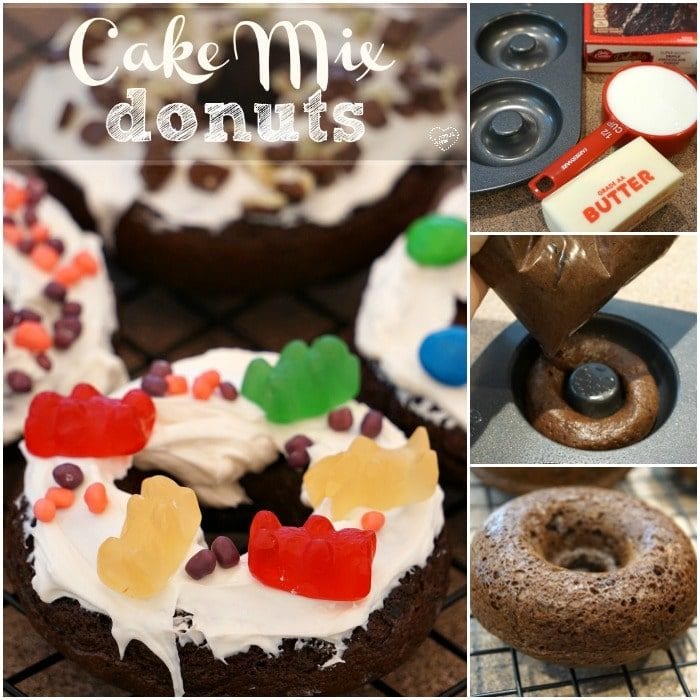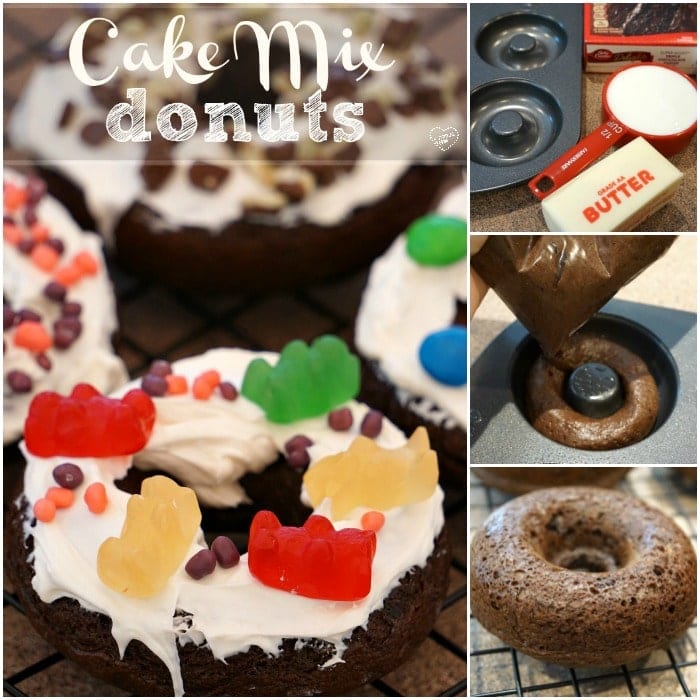 Cake Mix Mini Donuts
My daughters and I made these together and they were really tasty + the consistency of cake donuts you would buy at the donut store! When we made peanut butter cookie brownies using cake mix and then thought using cake mix to make something else might be fun!
Cake mix of your choosing or make homemade yellow cake mix
Donut pan or mini pan
Pint size freezer baggies
Wilton melts (for chocolate "icing")

Or melt chocolate chips with a little coconut oil (helps it to melt smooth)

Variety of toppings (smashed Andes mints are amazing)
Medium sized bowl
Cooling rack so they can cool completely before frosting them
Plastic bag (freezer style) if you want to squeeze frosting on with a design, and to squeeze in your batter.
There are a LOT of different ways to glaze or frost doughnuts so use your imagination as far as that goes. You can use a hardened type of chocolate like we did here with candy melts. Those come in a rainbow of flavors and colors so they are appropriate for any holiday. Pair with sprinkles to stick on while still wet and have fun with it. We will share our favorite choices we made below.

Donuts Using Cake Mix
We added gummy bears, Nerds, M&Ms, and some crushed Andes mints to ours because that is what we had in the cupboard. These really are a fun and easy baking project to do with kids because they bake quick and easy.
I suggest that you squeeze batter into your Donut pan using pint size freezer bags. Just cut the tip off and use it like a pastry bag of sorts.
Then they will all have an equal amount of batter in each one.
Of course you can splurge and buy pastry bags with a wide dip if you like but literally these do the same thing for a fraction of the price.
How to Glaze Homemade Donuts
For a REALLY easy vanilla extract glaze just whisk together water and powdered sugar until it is thick and the right consistency. That is it! You do want that one quite thick or it just slides all over the place and right off of the top. Making sure your baked goods are completely cooled will help with preventing that from occurring too though.
If you do want to add sprinkles or candies do so right after that so it sticks. Give it a good 10 minutes in a cool place to settle down and harden up a bit before picking them up unless you want to use a bunch of paper towels and wipes to clean up all the mess.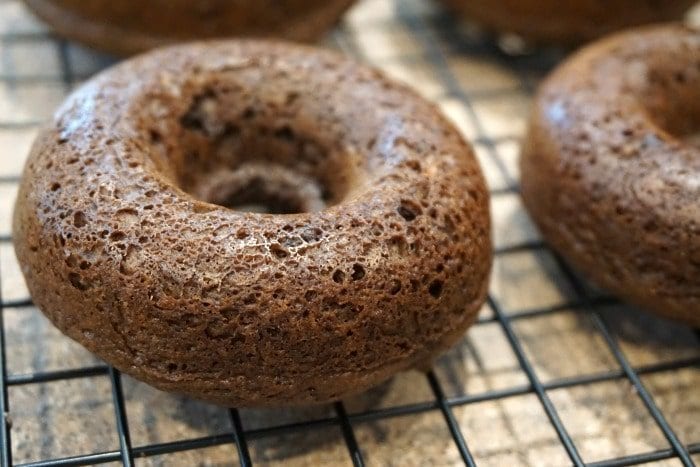 Cake Mix Donut Holes
As far as the shape and size these will turn out to be that really is determined by the pan you choose to use. There are tons of different ones out there online and at cake decorating stores. Holes are fun because you can make 4x what this will create whole. Of course they will all taste the same, the bake time is just different the larger you go.
What can I do if I don't have a donut pan?
Well, instead of round you can make a batch of Instant Pot donut holes. You'll use a version of this recipe, and they are still so good + fun to make!
Which is better baked or fried donuts?
I prefer anything that isn't fried personally. We have made baked pumpkin donuts in the oven too that were great. I'd just rather omit the oil entirely.
Are Krispy Kreme donuts baked or fried?
Ok this is my exception to the rule. These are fried and so addictive with a really fluffy texture. At home though I'd rather bake.
The best part is how to decorate them though right?? Just like cute cupcakes everyone can make their own creations.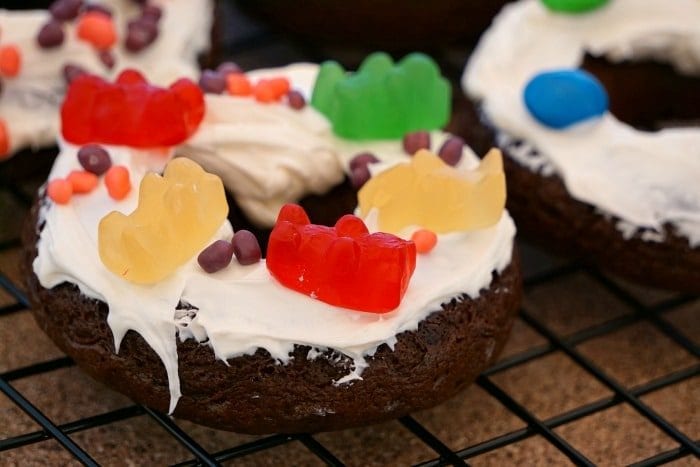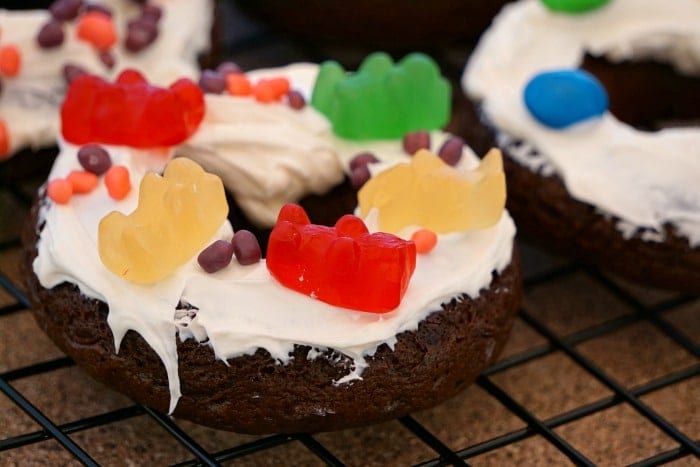 Another easy idea is to beat together some room temp. cream cheese with marshmallow creme and frost. Make sure you spray your donut pan so they will just slide out when they are done too or you may have a bunch of unhappy kiddos at the end. I just use Pam non stick spray in the pan lightly since it is already nonstick itself.
You can melt chocolate chips, use frosting out of a tub, or the melt the Wiltons melts to dip the tops in once the donuts are cooled. This can be done in the microwave in 30 second intervals stirring in between so they don't burn. Directions are on the back of the bags though.
Cake Mix Breakfast
Then add candies when chocolate/frosting is still wet and warm so they stick well. You can go all out during the holidays with gumdrops, crushed candy bars, even candy canes smashed work well with the peppermint chocolate combo theme.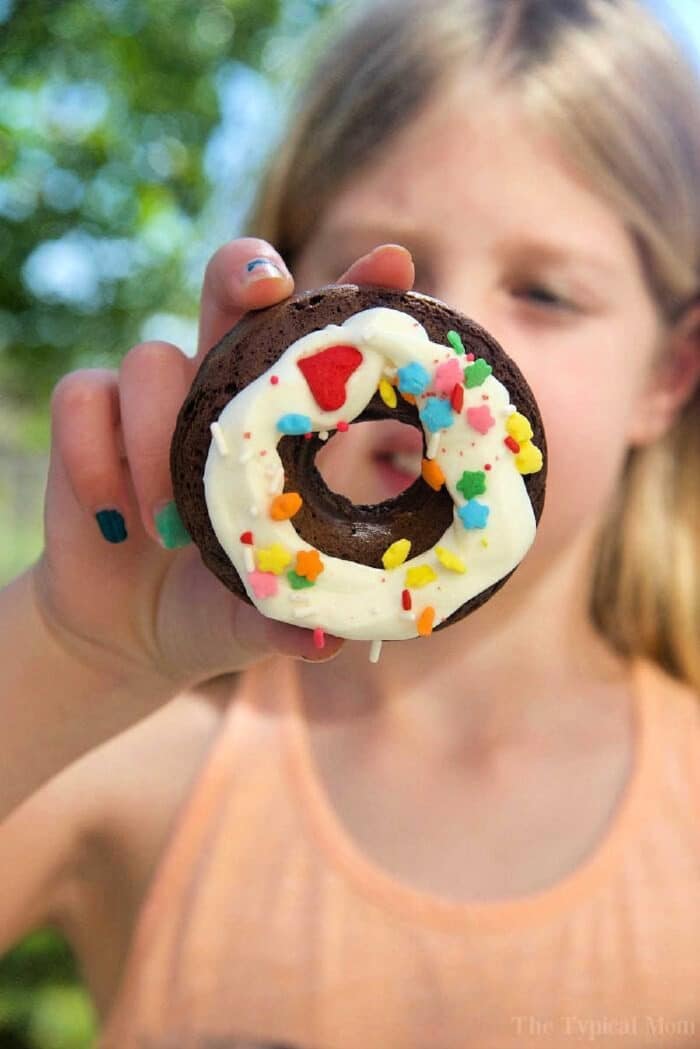 Cake Mix Donuts Fried
If you didn't want to bake them you could easily fry as well. It is harder to do since the shape isn't going to hold well though. You are better off squeezing in a circle and letting it fry that way in a sort of donut hole shape. Looking for other cake mix dessert recipes??
Mix together melted butter, eggs, buttermilk and cake mix.
Add mixture to pint freezer bag and cut end off.
Preheat oven to 350 which will take about 15 minuts to do.
Spray donut plan and squeeze mixture into pan (barely halfway full).
Bake at 350 degrees for about 10 minutes or until donut springs back when touched gently on top.
If you do want to frost them you must allow them to cool, or at least a bit for 5-10 minutes so they are safer to hold in your hands. Melted chocolate is going to harden and stick the toppings on better but if you were hangry you could just dunk into a tub of frosting if you wanted too.
If you want to make doughnuts from scratch here is an easy homemade donut holes recipes.
Want to see a few of my favorite things that I am totally obsessed with?? Take a peek and see how many you might already have…twinsies!
Looking for more easy family recipes and tips? LIKE The Typical Mom Facebook page?
Then sign up for my free newsletter, and follow me on Pinterest! 😉
***** If you LOVED this recipe give it 5 Stars below and let everyone know what you thought about it. 😉
Cake Mix Donuts
Cake mix donuts are easy to make with boxed cake mix! Easy baking project with kids and a fun way to make donuts right at home with a few ingredients.
Instructions
Mix together melted butter, eggs, buttermilk and cake mix.

Add mixture to pint freezer bag and cut end off.

Spray donut pan with non stick spray and squeeze mixture into pan (barely halfway full).

Cook at 350 degrees for about 10 minutes or until donut springs back.
Nutrition Facts
Cake Mix Donuts
Amount Per Serving (3 oz)
Calories 35
Calories from Fat 27
% Daily Value*
Fat 3g5%
Cholesterol 26mg9%
Sodium 39mg2%
Potassium 20mg1%
Vitamin A 120IU2%
Calcium 15mg2%
Iron 0.1mg1%
* Percent Daily Values are based on a 2000 calorie diet.