Cake mix donuts are so easy to make using any flavor of boxed cake mix! It's an easy baking project you can do with your kids and a fun way to make baked donuts right at home with a few ingredients. Load them up with fun toppings for breakfast or dessert.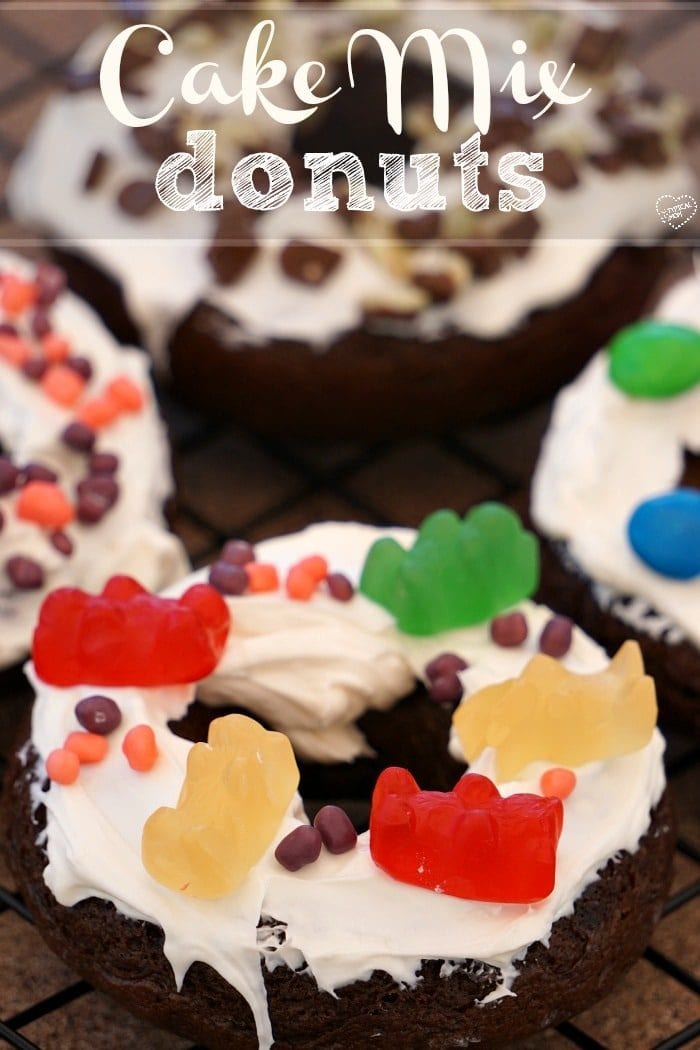 We are all about easy when it comes to baking and these cake mix donuts are just the best! Using just 4 ingredients these doughnuts came out fantastic, and were fun to make with the kids. Top them with lots of candies and sprinkles to customize them however you'd like and they're a great birthday party activity too! Let us know what you think.(originally published 6/16)
We make cupcakes often, have made cookies too, and have even shared how to make brownies from cake mix… but thought there had to be a way to make easy cake mix donuts so we gave it a go this afternoon.
Aren't these cake mix donuts fun??!!
My daughters and I made these together and they were really tasty + the consistency of cake donuts you would buy at the donut store!
When we made peanut butter cookie brownies using cake mix and then thought using cake mix to make something else might be fun!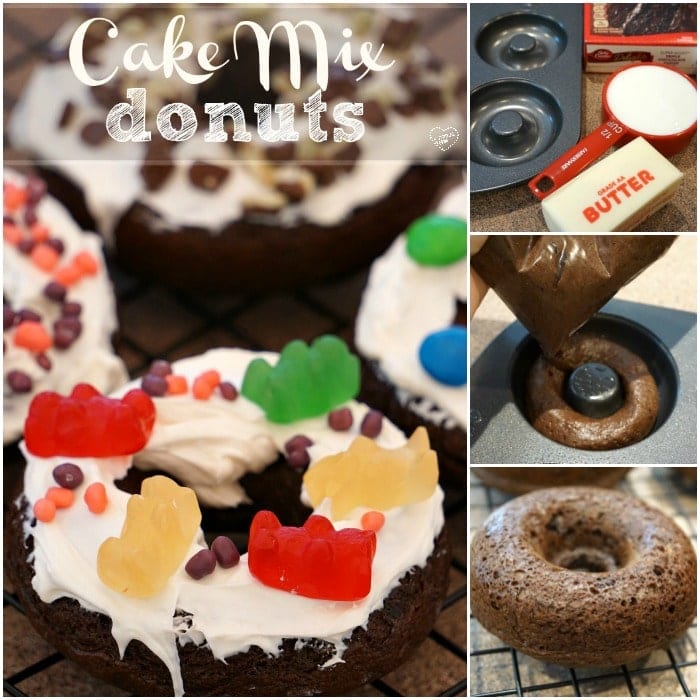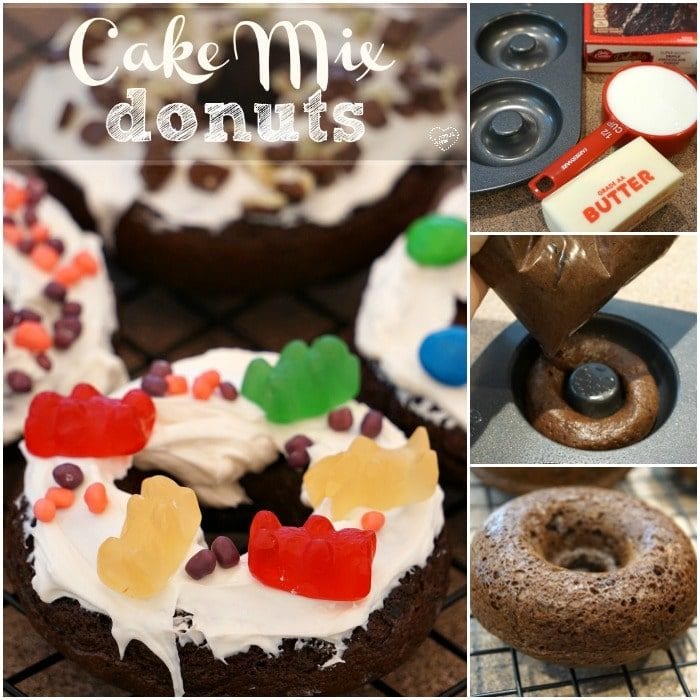 Here are a few things you will need to make these easy cake mix donuts
Wilton melts (for chocolate "icing")

Or melt chocolate chips with a little coconut oil (helps it to melt smooth)

Variety of toppings (smashed Andes mints are amazing)
Medium sized bowl
Cooling rack so they can cool completely before frosting them
Plastic bag (freezer style) if you want to squeeze frosting on with a design, and to squeeze in your batter.
There are a LOT of different ways to glaze or frost doughnuts so use your imagination as far as that goes. We will share the choice we made below though.

We added gummy bears, Nerds, M&Ms, and some crushed Andes mints to ours because that is what we had in the cupboard.
Donuts using cake mix are a fun and easy baking project to do with kids because they bake quick and easy.
Here is how you make this super easy breakfast or dessert treat:
Preheat oven to 350 degrees
Mix together ingredients listed below
Spoon your batter into a freezer bag, get air out, and snip corner off of bag.
Squeeze batter into your Donut pan so they all have an equal amount
Bake at 350 degrees for 5-10 minutes depending on how thick your batter is, 10 minutes seems to work well for us if you will it well
Allow to cool for at least 15 minutes
Mix together glaze and spoon over the top
For a REALLY easy vanilla extract glaze just whisk together water and powdered sugar until it is thick and the right consistency. That is it!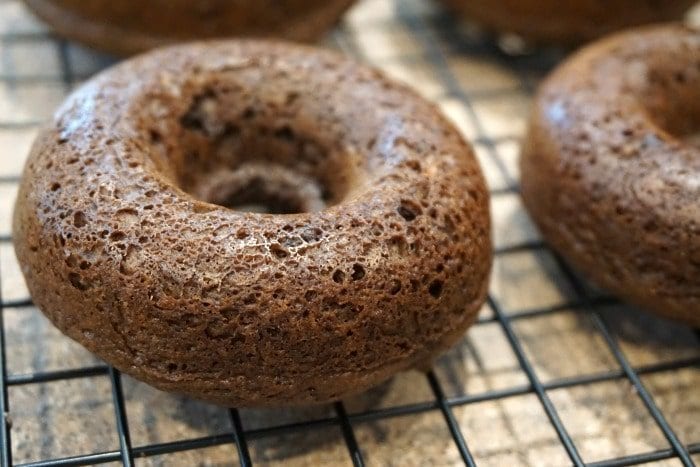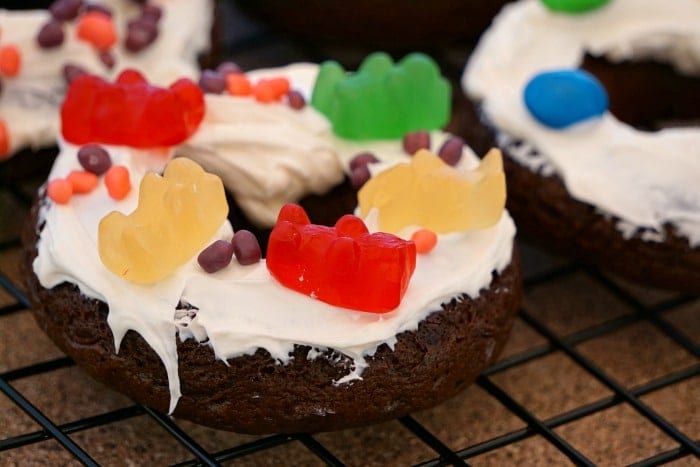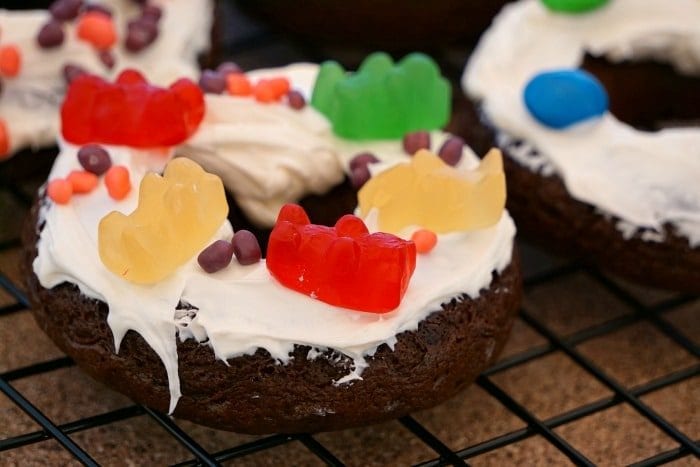 Another easy idea is to beat together some room temp. cream cheese with marshmallow creme and frost.
Make sure you spray your donut pan so they will just slide out when they are done. You can melt chocolate chips, use frosting out of a tub, or the melt the Wiltons melts to dip the tops in once the donuts are cooled.
Then add candies when chocolate/frosting is still wet and warm so they stick well.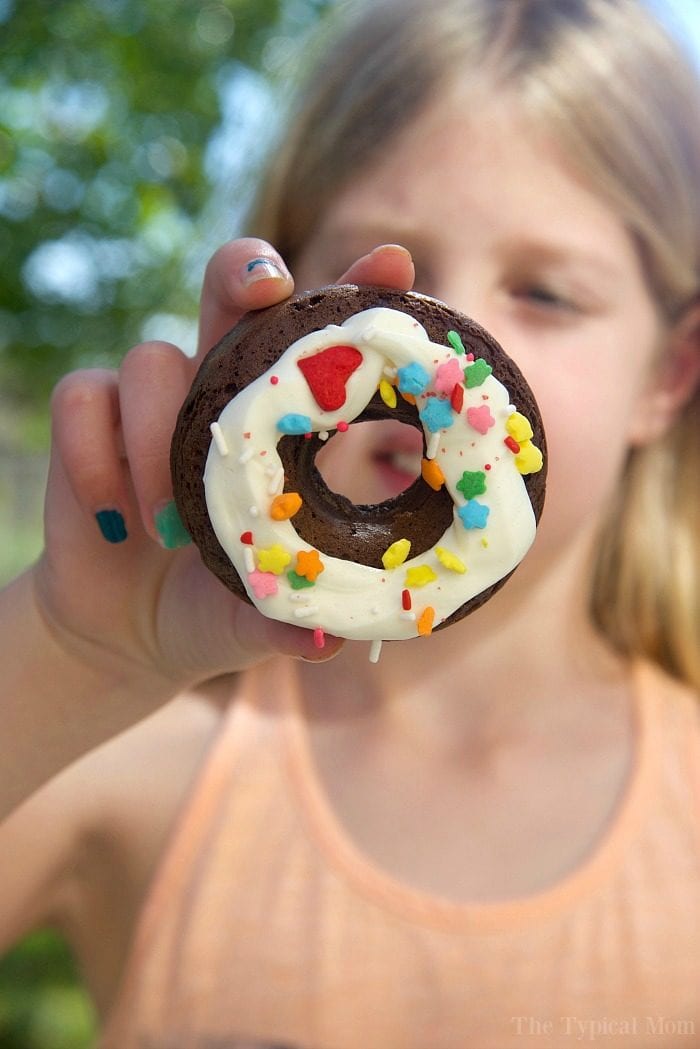 Ok so let us show you just how easy and fun these chocolate cake mix donuts are to make!
Looking for other cake mix dessert recipes??
If you want to make doughnuts from scratch here is an easy homemade donut holes recipes.
Cake mix donuts
Cake mix donuts are easy to make with boxed cake mix! Easy baking project with kids and a fun way to make donuts right at home with a few ingredients.
Ingredients
Instructions
Mix together melted butter, eggs, buttermilk and cake mix.

Add mixture to pint freezer bag and cut end off.

Spray donut plan and squeeze mixture into pan (barely halfway full).

Cook at 350 degrees for about 10 minutes or until donut springs back.
Video
Nutrition Facts
Cake mix donuts
Amount Per Serving (3 oz)
Calories 35
Calories from Fat 27
% Daily Value*
Fat 3g5%
Cholesterol 26mg9%
Sodium 39mg2%
Potassium 20mg1%
Vitamin A 120IU2%
Calcium 15mg2%
Iron 0.1mg1%
* Percent Daily Values are based on a 2000 calorie diet.
For more easy recipes, tips and crafts please LIKE The Typical Mom on Facebook and follow me on Pinterest! You can also sign up for my free weekly newsletter which is packed with goodies I know you'll love. 😉
Visit The Typical Mom's profile on Pinterest.