This is how to make brownies out of cake mix easily with just 2 ingredients and any flavor you like! Rich and chewy chocolate cake mix brownies or try strawberry for fun. A quick dessert your kids will love and cheap to make for a bunch of people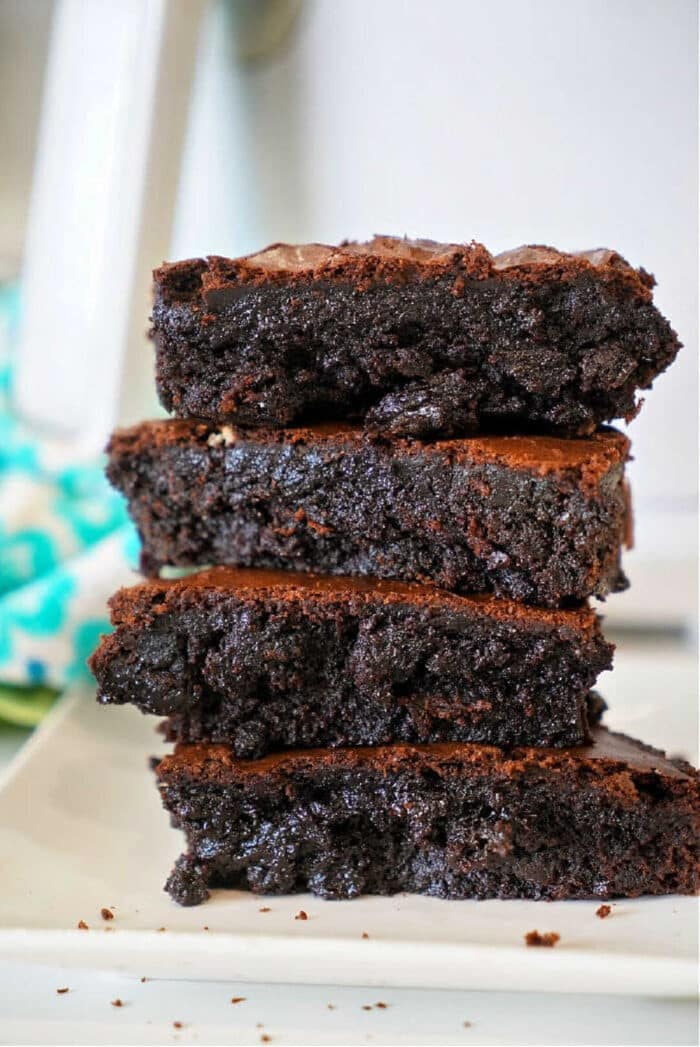 Knowing how to make brownies out of cake mix comes in handy. We're suckers for something sweet after dinner. One of our favorite boxed cake mix recipes. (participates in the amazon program, affiliate links present, originally published 3/17)
Cake Mix Brownies
We've made peanut butter brownie in a mug, cake mix brownies, homemade brownies, and now these. If you've never made anything other than a cake right out of the box there is actually a lot you can do with cake mix.
You can use the peanut butter version above, or the strawberry one down below.
We've made donuts too which I will share below. There's an easy way to make just a portion of the box so you don't have to make all 24 cupcakes either.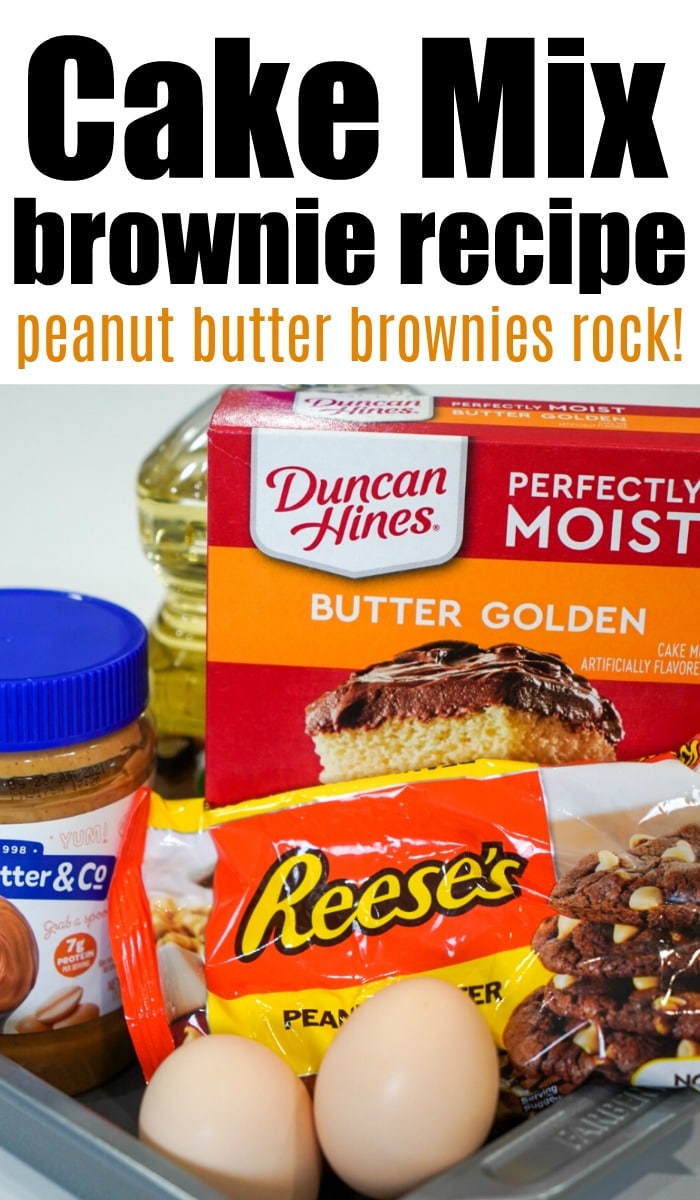 Strawberry Brownies
Varying the ingredients is the only difference between a sheet cake, a few cupcakes, donuts, or making these brownies with cake mix here. It's texture really. You want brownies to be dense, chewy, and thicker than a cake.
We made strawberry brownies this time but it really works for any flavor cake mix you choose.
You only need 3 ingredients to transform any cake mix into brownies and I am sure you have them all at home. From there you can add things like nuts, frosting on the top when they're cooled, or even chocolate chips if you want to load them up.
How do I turn cake mix into brownies
Instead of following the directions on the back of the box you just add oil and eggs. That will make the packaged mix more dense like you'd expect from this chocolatey dessert. The really fun thing about doing it this way is you can make it into all sorts of different flavors though.
A box won't make a 9×12″ pan full like it will if you make a cake as directed.
Rather it will fill a square 8×8 pan or so and come out the thickness you see here. I would suggest non stick so they slide right out or could line with parchment paper, lift out and cut into pretty squares.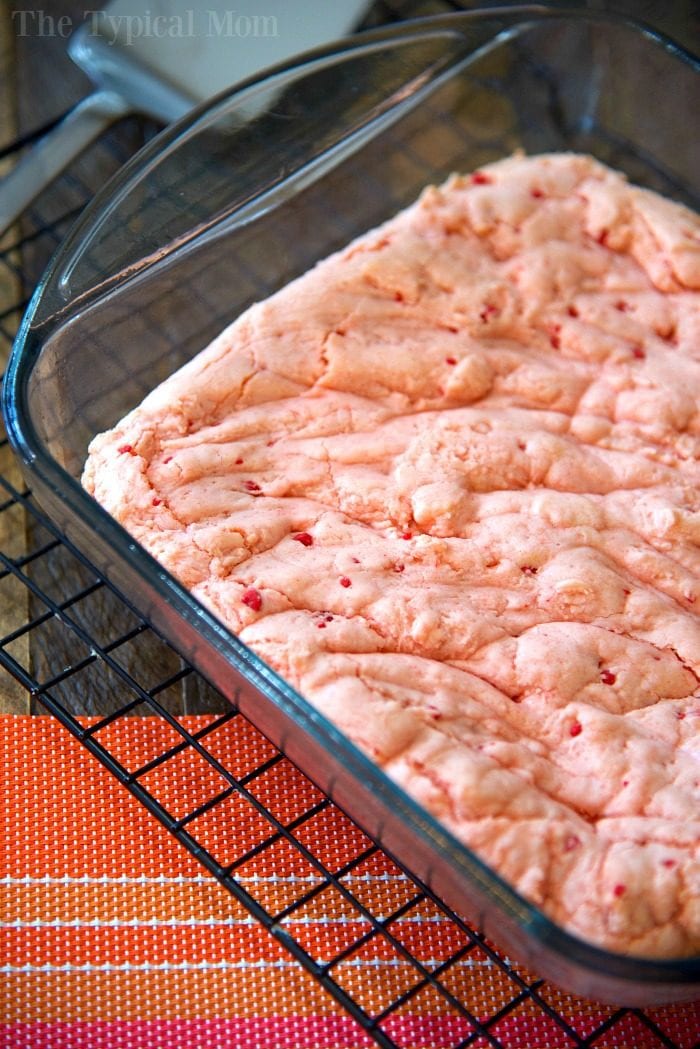 Best Cake Mix Brownies Recipe
They are quite rich and sweet so half of one of these pieces is quite enough to satisfy my sweet tooth. It's is an easy brownie recipe if you don't have the time to make any from scratch or a box of ready made in your house.
Cake mix

we used strawberry but you can choose your flavor of choice
chocolate cake mix is great too for devils food brownies
yellow cake mix turns out more like blondies
there is gluten free boxes of cake mix available too

Oil
Eggs
Parchment paper – helpful to lift them out and cut them
A square 8×8 baking dish

non stick cooking spray is very helpful

Large bowl
If you want to frost them like seen at the top I just use a tub of already made chocolate or other flavor.
How to Make Cake Mix Brownies
All you do is mix together your box of cake mix, eggs and oil well in a bowl until smooth. It will be thick, that is okay.
Spray your pan or line with parchment paper and add mix. Make sure it is smoothed out and the same thickness across your pan so they cook evenly.
Bake in a preheated oven at 350 degrees for about 18-20 minutes or until edges are slightly brown and middle is no longer wet, do not overbake!
DO not slice right away, it still needs more time to stiffen up. Put pan on a cooling rack until completely cool and then slice and serve. If you don't it will be quite a bit wetter and more like a scoop rather than a nice square. lol. But if you cannot wait I get it. 😉
3 Ingredient Cake Brownies
If you love chocolate brownies try this with devil's food cake mix and add some finely chopped nuts if you like. They are quite good and definitely satisfy a sweets craving if you need something quick!
TIP to making really soft and chewy brownies

= do NOT overbake them! Make sure you take them out when the outside rim is light brown and the center is not wet but looks underdone.
The same is true if you're using our air fryer brownies method of cooking too.
Allow them to cool completely in the baking dish after that before slicing for perfection.
Cake Mix Recipe
We use this stuff for all sorts of other goodies too. Like I said, it is great for items well beyond just a fluffy sheet cake for sure. During the later months we even make cake mix gingerbread men which is really fun. You would never know that they weren't from scratch. You can roll the dough out just the same and decorate with icing and goodies.
2 ingredient strawberry cake is seriously the best ever
You can make chocolate chip cookies made with cake mix or pumpkin cookies with cake mix that are fast treats
We have a bunch of other great angel food cake mix recipes here to try as well.
Brownies From Cake Mix
Of course oven temperatures vary slightly and altitude will change the cook time a bit.
Bake for about 20 minutes or so. Ovens do vary slightly and if you are at elevation like we have been it may take a minute or two beyond that. The key is to remove the pan once the edges and outside are of 1.5″ or so is somewhat stiff and the middle is not liquidy any longer. Then it will continue to solidify as it sits before slicing.
How do you store brownies for the next day?
Brownies can actually taste better the next day! Completely cool in the pan, do not cut them, cover the pan with foil, refrigerate.

If you want to freeze them wrap uncut brownie in 2 layers of foil, and 1 layer of plastic wrap. Freeze the batch for up to 4 months.
Can I leave my brownies out overnight?
Yep! You can definitely leave them out at room temperature, never put them in the fridge or they will dry out and not be nearly as moist. Store them in airtight bags or wrap tightly with plastic wrap or foil so air does not get in. They will stay nice and fresh for about 3-4 days on the countertop.
Want to see a few of my favorite things that I am totally obsessed with?? Take a peek and see how many you might already have…twinsies!
Looking for more easy family recipes and tips? LIKE The Typical Mom Facebook page?
Then sign up for my free newsletter, and follow me on Pinterest! 😉
***** If you LOVED this recipe give it 5 Stars below and let everyone know what you thought about it. 😉
Cake Mix Brownies
Cake mix brownies with just 2 ingredients and any flavor of cake mix you like! Rich and chewy strawberry brownies are our favorite but try lemon cake mix brownies too. A quick dessert your kids will love and cheap to make for a bunch of people.
Instructions
Mix together your box of cake mix, eggs and oil well.

Spray your pan and add mix making sure it is smoothed out and the same thickness across your pan so they cook evenly.

Bake at 350 degrees for about 18-22 minutes or until edges are slightly brown, beginning to stiffen and middle is not liquidy but do not overbake!

Put on cooling rack until they are totally cooled before slicing.
Nutrition Facts
Cake Mix Brownies
Amount Per Serving (3 oz)
Calories 268
Calories from Fat 81
% Daily Value*
Fat 9g14%
Cholesterol 32mg11%
Sodium 388mg17%
Potassium 36mg1%
Carbohydrates 42g14%
Protein 3g6%
Vitamin A 45IU1%
Calcium 114mg11%
Iron 1.2mg7%
* Percent Daily Values are based on a 2000 calorie diet.