This pressure cooker banana bread is fluffy like cake and so delicious! Imagine 4 ingredient banana bread for breakfast cooked in your Instant Pot, Crockpot Express or Ninja Foodi and no oven.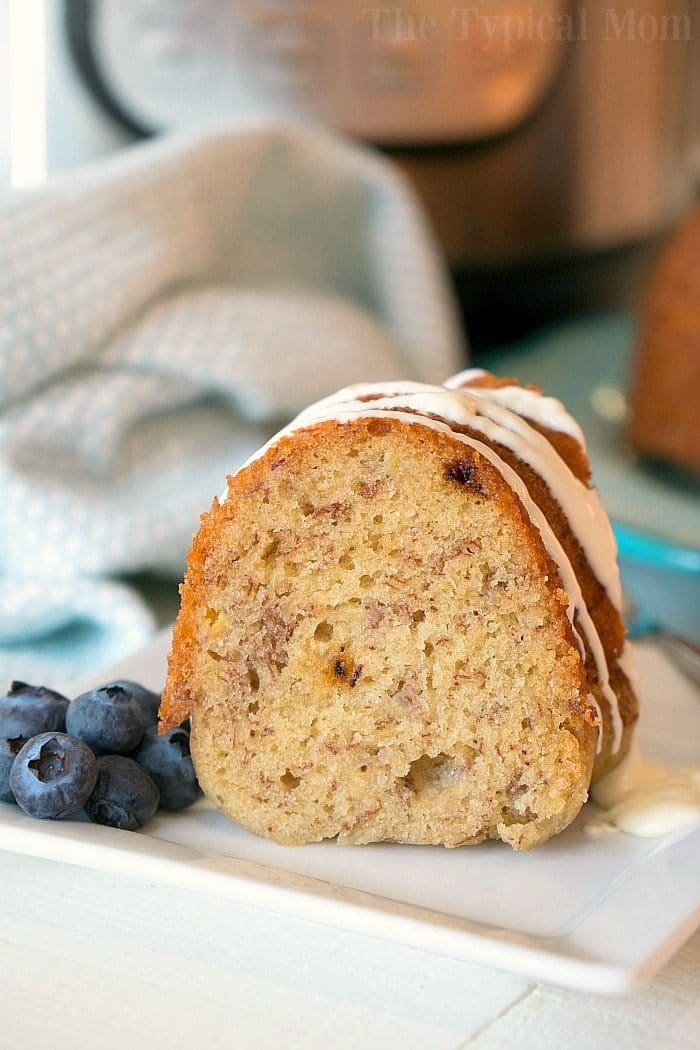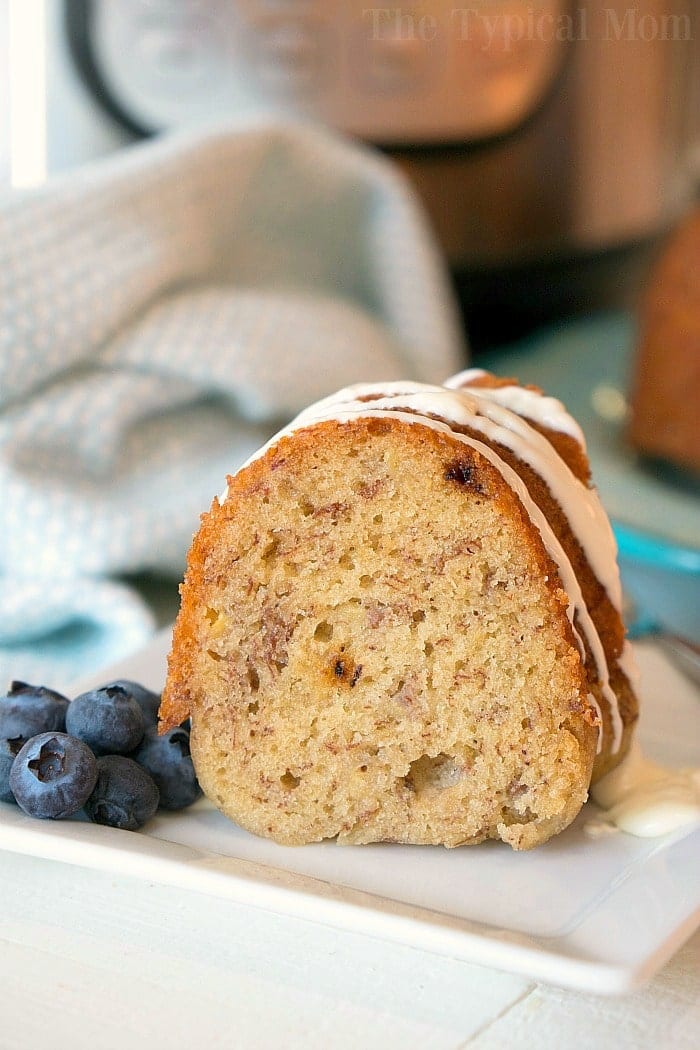 Now that I have an Instant Pot I have been baking in it here and there and today made this easy pressure cooker banana bread. I had for breakfast, and then again for dessert that day. 😉 One of our favorite Instant Pot recipes. (originally published 2/18, affiliate links present)
Instant Pot Banana Bread
There is one thing my mom made from scratch growing up, that was banana bread bundt cake. Everything else pretty much came out of a box but I do agree that you can't really find a great store bought banana bread, you really have to make it yourself for perfection.
If you have never baked in your pot yet you are in for a treat. Doesn't make much sense that it would even work right? Well not only does it but you get seriously the moistest baked goods ever. The steam bakes your breads in a cute mini bundt pan in a Crockpot Express or Ninja Foodi.
FIRST – You should sign up for my free newsletter so you get new posts emailed to you twice a week and never miss out on anything! Now let's start with a few basic tips:
Make sure to Bookmark our InstaPot recipes page. We add new ones each week!
Then PRINT this —–> Instant Pot cooking times cheat sheet that will help you understand how long meat, vegetables and beans take to cook in your pressure cooker.
For reference, this is the pressure cooker I have (a 6 quart) and use for all recipe creations.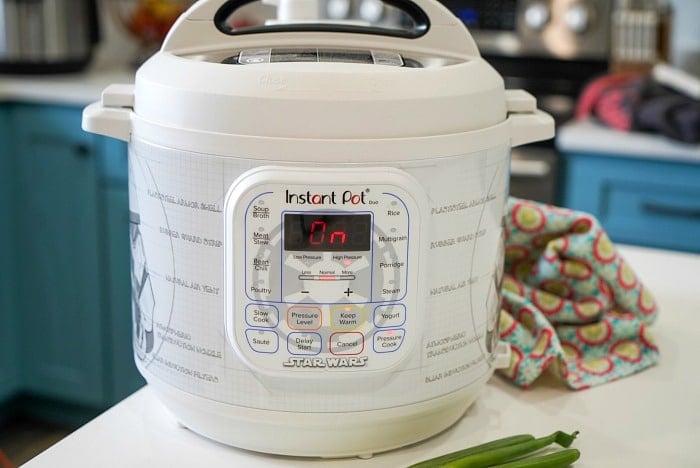 Ninja Foodi Banana Bread
Now if you use this type of multi cooker you actually have more than one option. You can use the pressure cook function like we did here, or make air fryer banana bread. Both are wonderful with very different textures to the outside.
We added them years ago when we made these coconut banana bread mini muffins so I thought I'd figure out how to tweak that recipe to make it in my pressure cooker and it was really delicious.
I have baked in my pressure cooker before and it came out yummy but I have to say with time it has improved. It always does with trial and error when it comes to using a new kitchen appliance.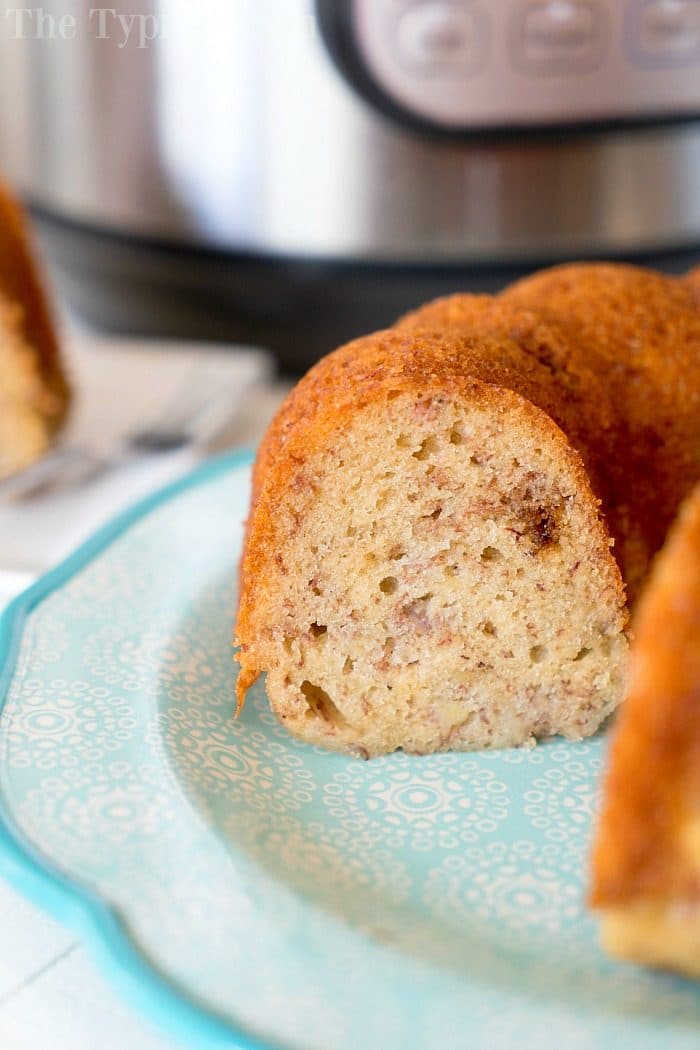 Pressure Cooker Banana Bread Bundt cake
I made this fabulous Instant Pot coffee cake first that we loved. BUT there are two important things that help when you are baking in your pressure cooker that you must follow or it will not come out right.
Tips to making the best Instant Pot banana bread
Before covering with foil, cover with a paper towel as well. (helps to absorb water and allow it to brown a bit)
Measure flour by spooning it into your measuring cup vs. scooping it up with the cup. (it makes a huge difference when using a pressure cooker in my trials this year because it allows breads it to rise properly).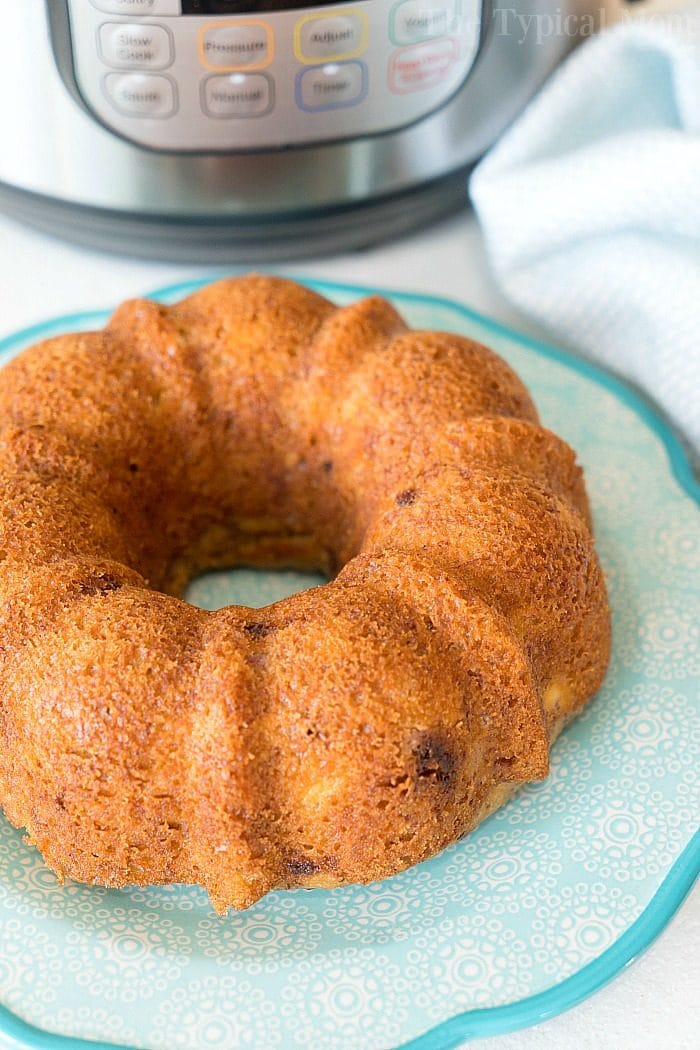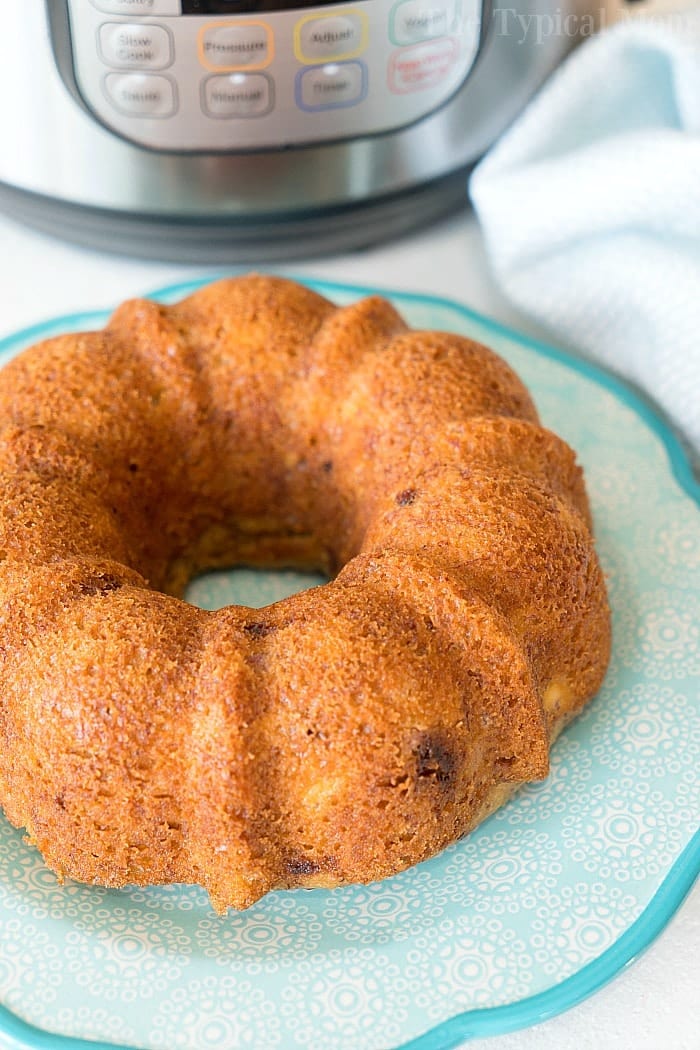 Pressure Cooker Banana Bread with Chocolate Chips
Following these tips will result in a fluffy bread that is lightly browned and really moist! Like way more moist than baking it in the oven which we love. Of course there are tons of banana bread recipes out there and if you have a favorite you can use yours.
The key is to not fill your bundt pan past about the 3/4 full mark or it will really stick to the paper towel and if it is too much it will overflow and just be a mess.
7″ bundt pan – will fit in either 6 or 8 qt. Instant Pot, Ninja Foodi or Crock Pot Express

if you use a springform pan it needs to be bundt shaped so it cooks evenly

Trivet – one with handles is best
All purpose flour – this is how to measure flour properly or it will be dense
Butter
Eggs
Vanilla
Sugar
Baking soda
Overripe bananas – mashed bananas, as brown as possible
Almond extract
1.5 cups of water
Adding a bit of sweetened flaked coconut is fabulous
Can add just a bit of pineapple tidbits if desired
You could add 1/4 cup of mini chocolate chips if you wanted too.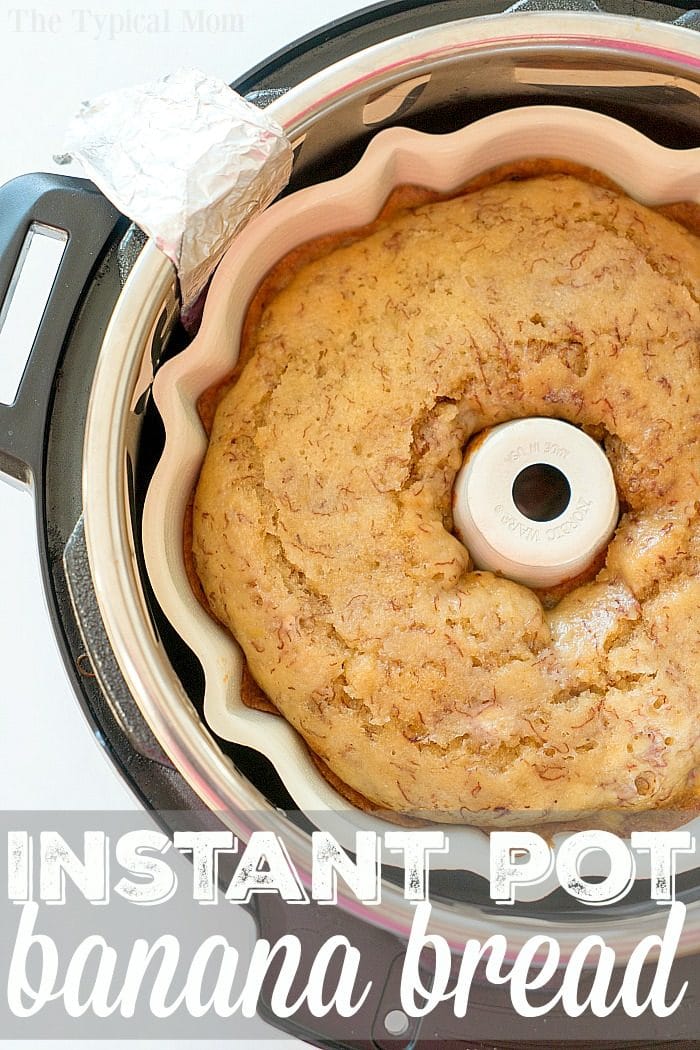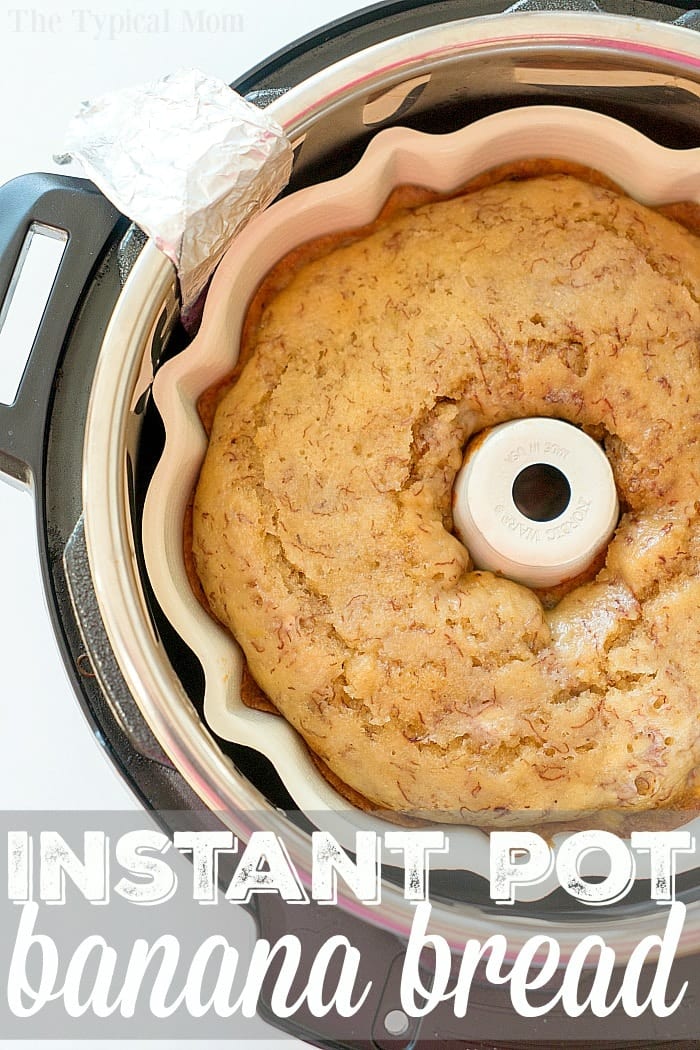 Banana bread in Instant Pot
This recipe fits perfectly and serves about 8-12 depending on how big the slices are. AAaaaaand done!
I always suggest making a sling out of tinfoil like you see here

It will allow you to lower it on to your trivet and lift it out when it is done easier.
Just get a large piece of foil and starting at the corner fold it like a bandana all the way up so you have a long strip.

I keep this sling in the drawer with my foil and use it over and over again!
This is a great Crock Pot Express or Ninja Foodi banana bread recipe too. You just need high pressure for the setting and the rest will work the same.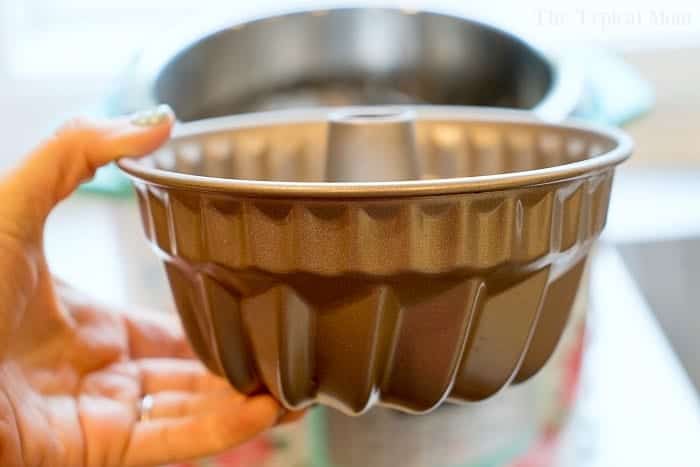 Ninja Foodi Banana Bread Recipe
Make sure you spoon flour into your measuring cup, don't scoop or bread will be dense.
Mix all dry ingredients in 1 bowl and wet in another before combining the two.
Spray your bundt pan with non stick spray.
Cover with aluminum foil so condensation doesn't make the top wet.
After 50 minutes cook time do NOT quick release.
Allow to naturally release steam by itself so it is fluffy.
We have instructions for that too as well as 4 ingredient banana bread muffins.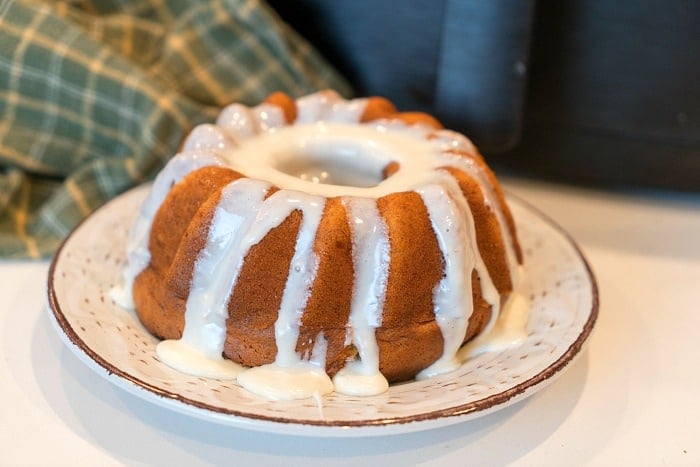 Can you store banana bread on the counter?
The best place to store most quick breads is right on your counter at room temperature.
When you keep it on the counter the bread will stay soft and moist.
If you wrap it tightly in plastic wrap, and then inside of a freezer bag without air, it will taste as good as it did when you first pulled out of the oven.
I would enjoy it within the first 2 days ideally for best results.
Storing it in the fridge will tend to dry it out.
The same is true no matter how to bake it. In an oven, air fryer or otherwise it is the same as far as saving.
What are the benefits of making Instant Pot banana bread?
There are many benefits to making instant pot banana bread. First, it is very quick and easy to make. Second, it does not heat up your oven, which is great during the summer or if you do not have a lot of time to cook. Third, instant pot banana bread is very moist and flavorful.
What are some tips for making Instant Pot banana bread?
1. Make sure your bananas are very ripe. The riper the bananas, the sweeter and more flavorful your bread will be.
2. Do not overmix the batter. Overmixing can make your bread tough.
3. Let the bread cool completely before slicing and serving. This will help prevent the bread from crumbling.
Want to see a few of my favorite things that I am totally obsessed with?? Take a peek and see how many you might already have…twinsies!
Looking for more easy family recipes and tips? LIKE The Typical Mom Facebook page?
Then sign up for my free newsletter, and follow me on Pinterest! 😉
***** If you LOVED this recipe give it 5 Stars below and let everyone know what you thought about it. 😉
Pressure Cooker Banana Bread
This is a really fluffy and easy pressure cooker banana bread recipe that's delicious! Add bits of coconut and pineapple too if you like for a great twist. Your favorite traditional sweet bread can now be made in your Instant Pot or Crock Pot Express in no time at all. Breakfast or dessert is served!

Instructions
Mix mashed bananas, sugar, eggs, vanilla, almond extract and melted butter in one bowl.

Put rest of dry ingredients into another bowl and mix.

Fold in dry ingredients into your wet ingredient mixture gently as to not over mix it. Fold in coconut and/or pineapple if you want to add it in now too.

Spray your 7" bundt pan with non stick spray, just a bit.

Pour banana bread mixture inside. Cover with a paper towel, then cover with foil.

Pour 2 cups of water into your Instant Pot or pressure cooker and put a trivet inside.

Lower your bundt pan on to your trivet. Close lid and steam valve.

Set to pressure, high, for 50 minutes.

Allow to naturally release.

Lift out when steam has released and set on cooling rack.

When slightly warm use a knife to loosen sides of bread from bundt pan.

Put plate on top of pan and gently flip over allowing bread to slide out of bundt pan.
Nutrition Facts
Pressure Cooker Banana Bread
Amount Per Serving (4 oz)
Calories 352
Calories from Fat 117
% Daily Value*
Fat 13g20%
Cholesterol 72mg24%
Sodium 292mg13%
Potassium 188mg5%
Carbohydrates 53g18%
Protein 5g10%
Vitamin A 440IU9%
Vitamin C 2.7mg3%
Calcium 41mg4%
Iron 1.4mg8%
* Percent Daily Values are based on a 2000 calorie diet.
My first attempt at making pressure cooker banana bread several months ago (with pineapple and coconut added in), didn't come out ideally, it came out like you see below.
It was like a cross between a pudding cake consistency and fudge and when done it looked like this. Dense and didn't hardly rise at all.
Upon thinking what went wrong I realized I had been in a hurry and scooped the flour with my measuring cup vs spooning it in allowing the flour to aerate so it would come out fluffy.
I show you this so you can see the difference. It actually tasted pretty yummy but like I said there is a big difference if you do it correctly (also make sure your all purpose flour isn't expired, I have made that mistake before in years past and no bueno).