Homemade banana bread bundt cake is the best breakfast or dessert overripe banana recipe. Moist and pretty baked in a circular pan. You can add a simple glaze or enjoy as is. Make dairy free or not, your choice.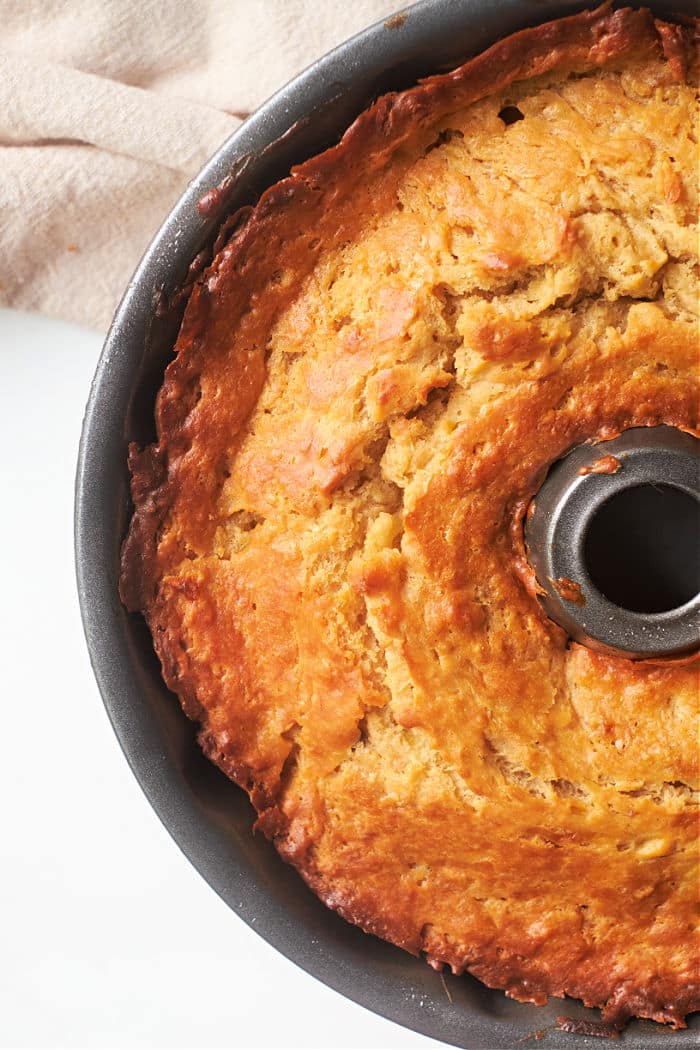 If you have only made this old fashioned baked good in a loaf pan, banana bread bundt cake takes things to the next level. You can use your own favorite cake mix banana bread recipe and use our temp. and timing below or follow ours.
Banana Bread in Bundt Pan
What is a bundt cake? Well if you have a brunch coming up, or it's close to the holidays, you might want the bake but just with a newer – prettier look. 😉 This round pan can do just that. It make anything go from ohhhhhh to WOW. I've done this many times and just changing the shape makes all the difference.
Whether you are baking something sweet like our 5 ingredient monkey bread or a savory special like an egg and cheese breakfast bundt cake, you'll want one of these pans. They can be simple or have shapes embedded into the metal too. Let's explore this new idea today…..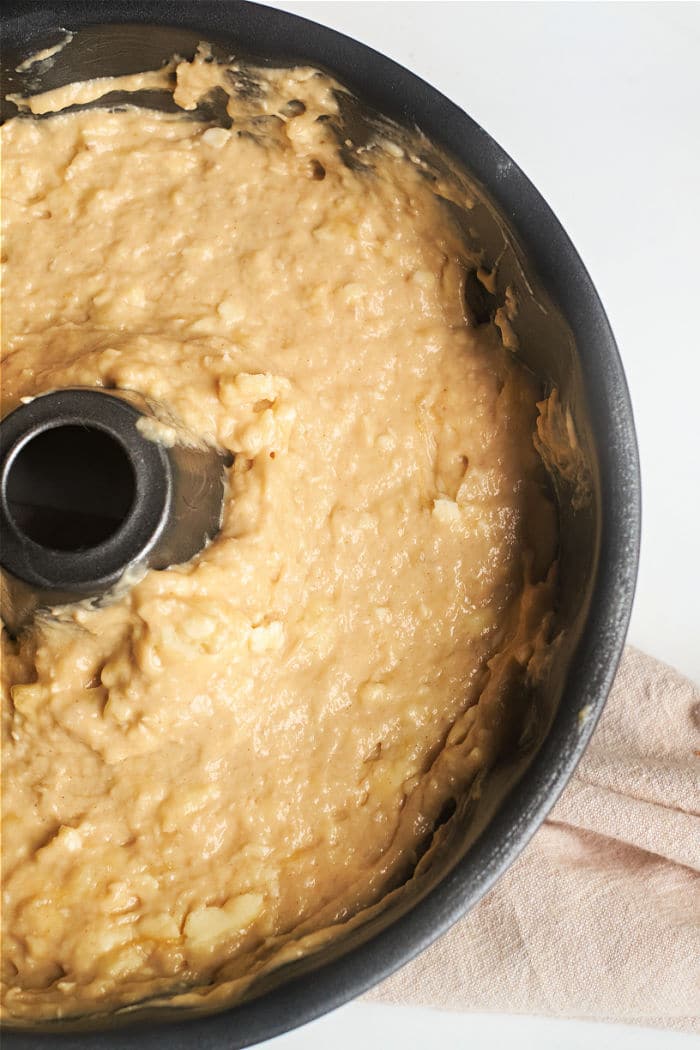 Banana Bundt Cake
If you too hate wasting food this one will come in quite handy. I think I buy a bunch of bananas every single time I go to the grocery store. I'd say it's 50/50 whether they all get consumed before they turn too brown. Rather than waste food and money I love having a variety of ways to bake with them.
Can I use a bundt pan instead of a loaf pan?
If you just have enough batter to fill a loaf it will become a rather thin bundt but you can use one, yes. The volume inside would typically be double a 9″ loaf pan that was filled half way. It will hold up to 8 cups of batter to safely bake and not overflow. More batter means a longer bake time though.
How full should you fill a bundt pan?
You should not fill beyond 3/4 of the way full or you will risk it overflowing and not cook evenly. If you have more than that I would recommend filling a few muffin cups with liners and making muffins out of the excess.
Another great thing about this shape is that it takes less bake time than if you were to make a 1/2 sheet cake or use a 9×13″ baking pan. It makes sense if you think about it though since there isn't such a distance from the edges to the middle. No more a bit overdone on the sides and barely done in the center.
Dairy Free Banana Bread
It's easy to alter without lactose like our dairy free brownies. Beyond what is listed below you can always add a few add ins of course. Mini chocolate chips, chopped nuts or dried cranberries work out the best I think. Depends on my mood as to whether I want to add anything else, personally I am a no nuts in sweet breads myself.
Room temperature eggs
Butter softened – Country Crock has a plant based butter product for dairy free banana bread
White sugar
Large mashed bananas that are browned, very ripe
All purpose flour
Cinnamon
Baking soda & powder
Large bowl
Sour cream, vanilla greek yogurt, or Silk dairy free vanilla yogurt will add a lot of moisture so it becomes as tender as possible
Chocolate Chip Banana Bread Bundt Cake
This is my favorite bundt pan because it just comes out so pretty. I have had mine like forever, it cleans so easily and never rusts. I have another with leaves embedded which is fun for Fall with my gingerbread pumpkin bundt cake and there are others for different holidays too.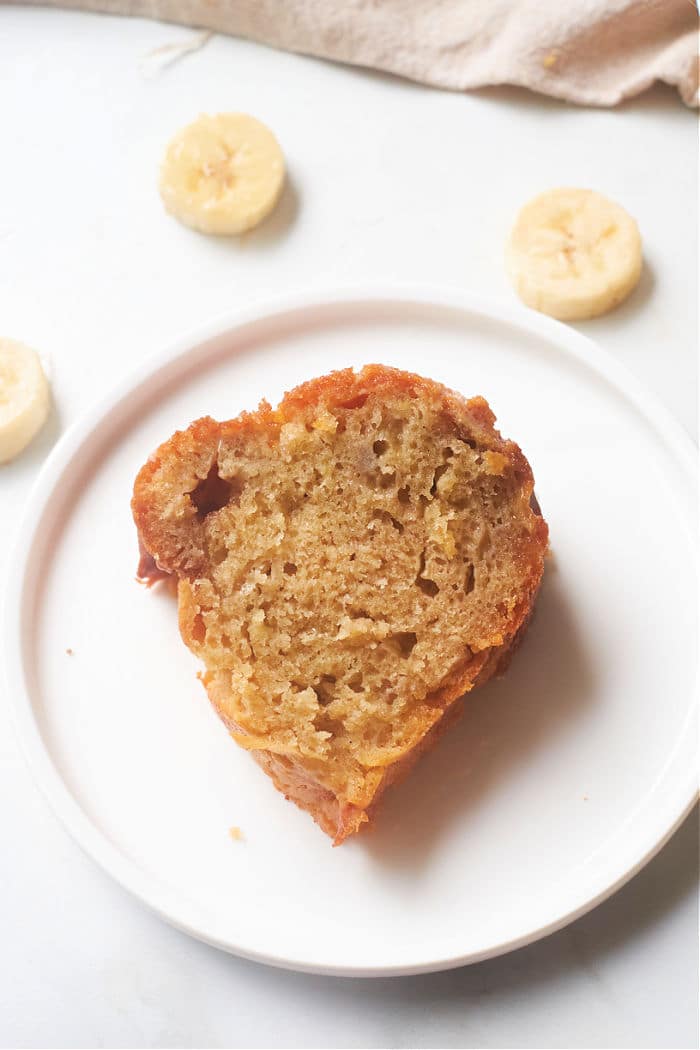 Moist Banana Bundt Cake
How do you make the moistest banana bread right?? There are a few tips I can share with you but #1 top on the list is do NOT over-bake it!! The old adage that you should check with a toothpick and it should be completely clean is so wrong. If it does, it is going to be dried out.
Instead, bake for the least amount of time listed on your recipe and test in the middle / thickest part until it is not wet but does have some moist crumbs attached to your pick. Once you reach that point, take it out!!! Only allow it to sit in the pan for about 10 minutes so it doesn't fall apart, then remove from pan.
Leaving your banana cake inside the pan for any longer will continue to cook it and suck out that moisture. You can place a plate on top and gently flip over to serve as is or with a bit of melted frosting drizzled over the top.
Bundt Cake Banana Bread
I have a printable recipe card for you below. Keep it handy or just come back every time to get the ingredients needed. You can use the same batter to make mini banana muffins too. If you tweak another way with something you love let us know! We love trying other versions that turn out well too.
Start by preheating your oven to 350 degrees F. Cream butter and all of the wet ingredients together. It might be a bit lumpy but that is ok!
Mix together your flour mixture of dry ingredients in a bowl and then incorporate together. You want the batter to be think but spreadable.

Grease a Bundt pan and add batter.
Bake for approximately 45 minutes at 350 or until a toothpick comes out mostly clean but with tender crumbs attached.

Remove and set on cooling rack for about 10 minutes. Then put a large plate on top and carefully flip over holding both the pan with pot holders and the plate. Serve or allow to cool completely and enjoy with some melted cream cheese frosting on top.
Like I said, if you have another easy recipe you love you can use that but in this new fun pan. This saves quite well if you have leftovers too, but you have to do it right.
How to save leftover banana bread
You want to keep it nice and moist so remember that air is going to be the enemy. Ideally use a freezer bag to slide the rest of your loaf into. ONLY slice off the pieces that you're going to eat immediately, leave the rest of it whole so it stays as tender as possible.
If you do have individual slices you will want to wrap each one tightly in a piece of plastic wrap or foil. Then slide all of those inside a larger freezer bag and keep on your countertop. Either way you do not want to store in the fridge as the cool temp. will dry it out more than necessary. It can stay at room temp.
How to reheat leftover banana bread
You do not want to try this out. Just unwrap your slice and place on a plate or paper towel with a very light spread of butter on top. Microwave for 15 seconds to 20 sec. until warmed to your liking. You just want to take the edge off and not heat too long or it will suck the moisture out of it, which is no good.
Enjoy with a cup of coffee for breakfast throughout the week. Ideally you should consume within 3-4 days for ideal freshness if possible.
Want to see a few of my favorite things that I am totally obsessed with?? Take a peek and see how many you might already have…twinsies!
Looking for more easy family recipes and tips? LIKE The Typical Mom Facebook page?
Then sign up for my free newsletter, and follow me on Pinterest! 😉
***** If you LOVED this recipe give it 5 Stars below and let everyone know what you thought about it. 😉
Banana Bread Bundt Cake
Homemade banana bread bundt cake is the best breakfast or dessert overripe banana recipe. Moist and pretty baked in a circular pan.
Instructions
In a bowl mash bananas with a fork but leave some larger chunks inside, set aside. In another larger bowl cream your softened butter, sugar, vanilla and eggs until incorporated together. Fold in sour cream and mashed bananas.

In a bowl whisk together dry ingredients and then slowly incorporate it into the wet items using a spoon just to incorporate. If you want to fold in crushed nuts or chocolate chips do so now.

Now preheat oven to 350 F. Spray inside of bundt pan with non stick spray and pour batter inside. Bake once preheated for about 43-45 minutes or until a toothpick inserted comes out mostly clean with some crumbs attached.

Set on a cooling rack for 10 minutes before placing a large plate on top and flipping it over to slide out. Sprinkle with powdered sugar or melt frosting and drizzle on top.
Nutrition Facts
Banana Bread Bundt Cake
Amount Per Serving (2 oz)
Calories 346
Calories from Fat 135
% Daily Value*
Fat 15g23%
Cholesterol 74mg25%
Sodium 206mg9%
Potassium 188mg5%
Carbohydrates 48g16%
Protein 5g10%
Vitamin A 459IU9%
Vitamin C 3mg4%
Calcium 54mg5%
Iron 1mg6%
* Percent Daily Values are based on a 2000 calorie diet.