Here are lots of great overripe banana recipes, 28 of them! A great way to use brown bananas and make something delicious with them. Here are our favorites.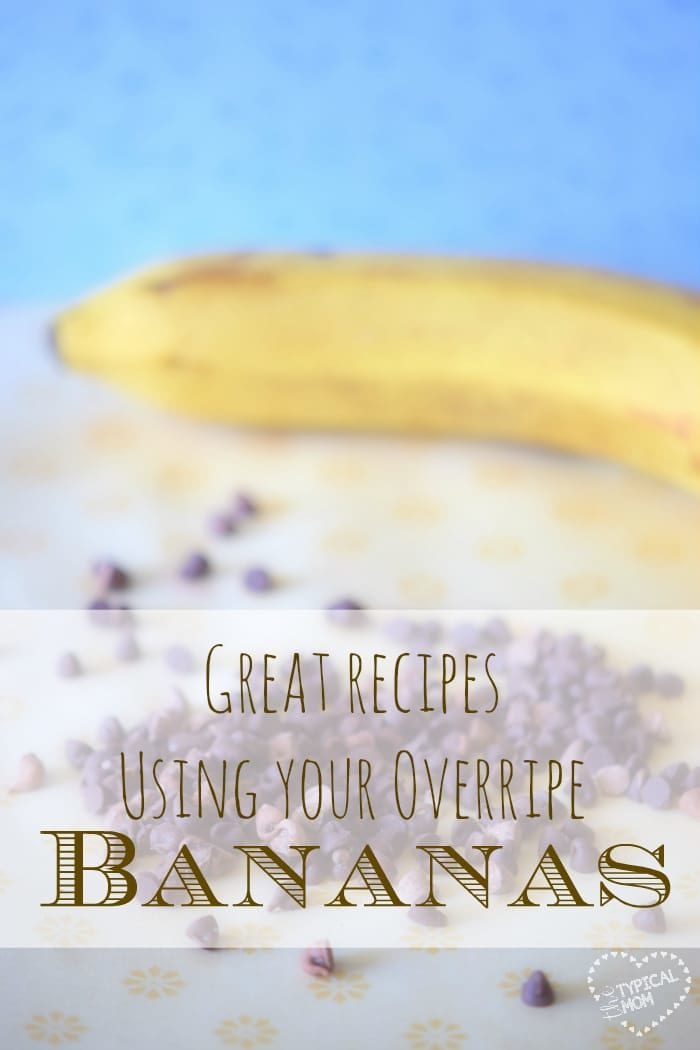 We go thru a lot of fruit in our house, but inevitably we need overripe banana recipes so they don't go to waste. I just can't bear to throw something out that can be turned into something else delicious! We will continue adding to this list so bookmark it for future goodies too. (originally published 9/17, affiliate links present)
Ripe Banana Recipes
Using frozen bananas thawed out, or ripe bananas that have browned too much to just eat them, you'll love all of these possibilities. Baking banana nut bread or any of these other breakfast recipe ideas just makes my mouth water.
We just made chocolate banana oatmeal cookies with oats recently and you can see how they turned out here. For a fast sweet bread you can try our Bisquick banana bread recipe too. You don't always have to go all out with homemade and from scratch ideas. Amping up a cake mix can fool your guests into thinking that you slaved all day too. 😉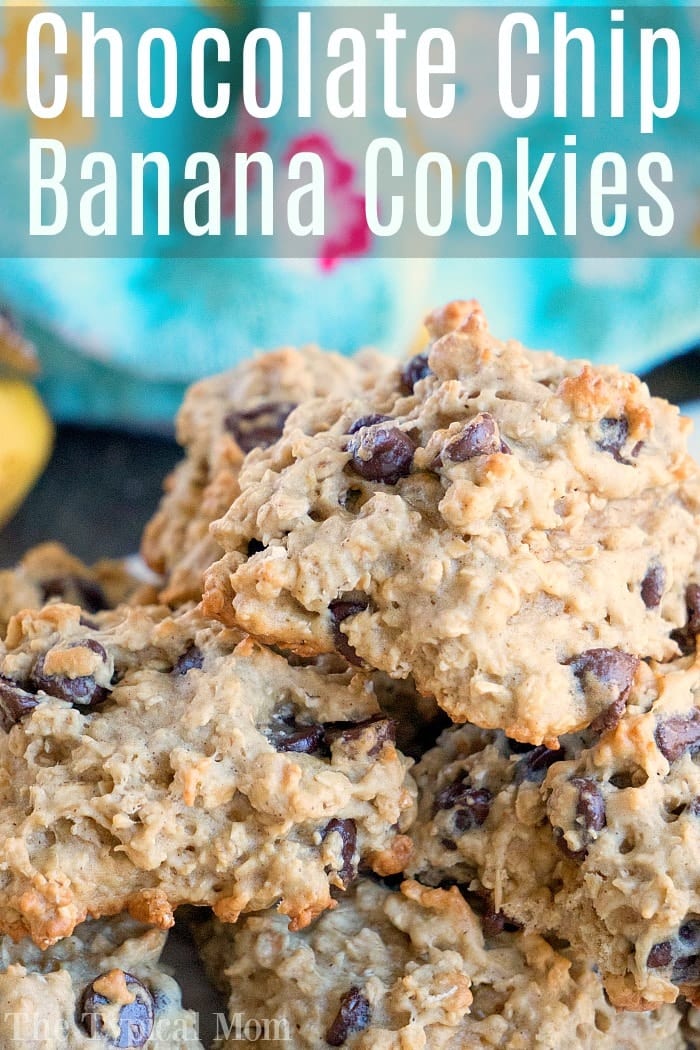 Recipes using Brown Bananas
Adding in another fruit is a great idea too though. There are many that work well but coconut or pineapple are our favorites I would say. I guess they meld together because of their tropical nature. Coming from Hawaii they are my go to favorite flavors so you will see a lot of them integrated. Here are a few other choices.
Like our Banana pineapple bread is great. You can make in a loaf pan or as banana bread bundt cake too. If you are in need of a dairy free variation you can do that easily. I have to do this for my husband and my daughters never know the difference.
You can do the same with our Pressure cooker banana bread too. Either versions are great if you have an Instant Pot or Crock Pot Express. You can find lactose free plant butters at the store pretty regularly now.
And for the Fall…..this pumpkin banana bread recipe is amazing.
You can make air fryer banana bread now too. If you have never baked in this hot air machine, stuff comes out surprisingly well. Using your oven I would try pumpkin banana muffins with your brown nanners.
If you haven't used a box of Jello pudding in a cake mix it is to die for I'll tell you. It brings a bought of moisture you can't get any other way.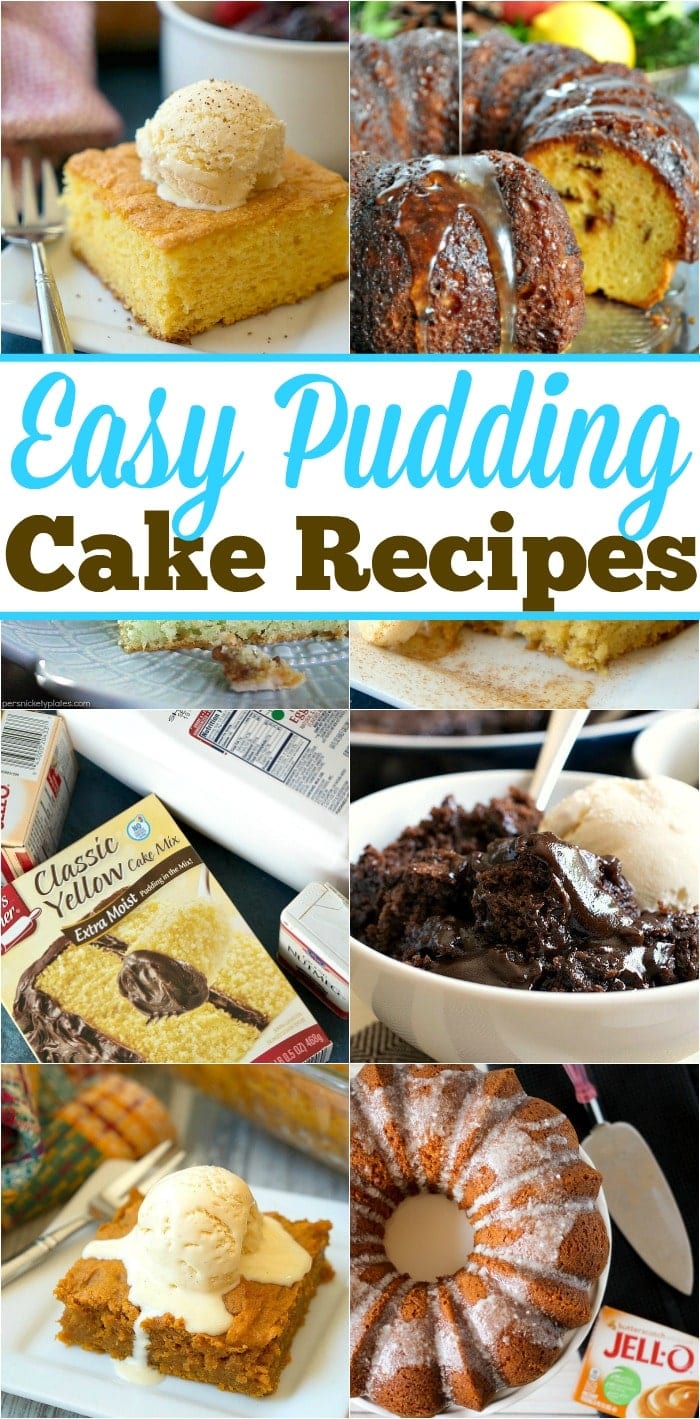 Brown Banana Recipes
After the holidays you can add some chopped berries you may have left over, like in our banana cranberry bread. Now of course you can use them in other ways beyond baked goods too. Drink them too!
Looking for a quick easy dessert with just 4 ingredients? Make one of our fabulously easy boxed cake mix recipes some night. One of the most popular to make are these easy banana bread muffins for breakfast.
They also have a cinnamon sugar crusted banana bread that I have to try next.
Try our quick 4 ingredient banana bread recipe some night, talk about easy!! I use spice variety most often but occasionally I can find coconut and that is to die for. You don't follow the box ingredients, use mashed naners, egg and 2 others to make a loaf or muffins this way.
Simpler is always better if you ask me. I have 3 kids and work full time so semi-homemade is my style a lot of times. You just need one bowl to fold all the things together. No finding the baking powder, measure the flour or any measuring really this way. You just dump and go, throw it into a pan and bake.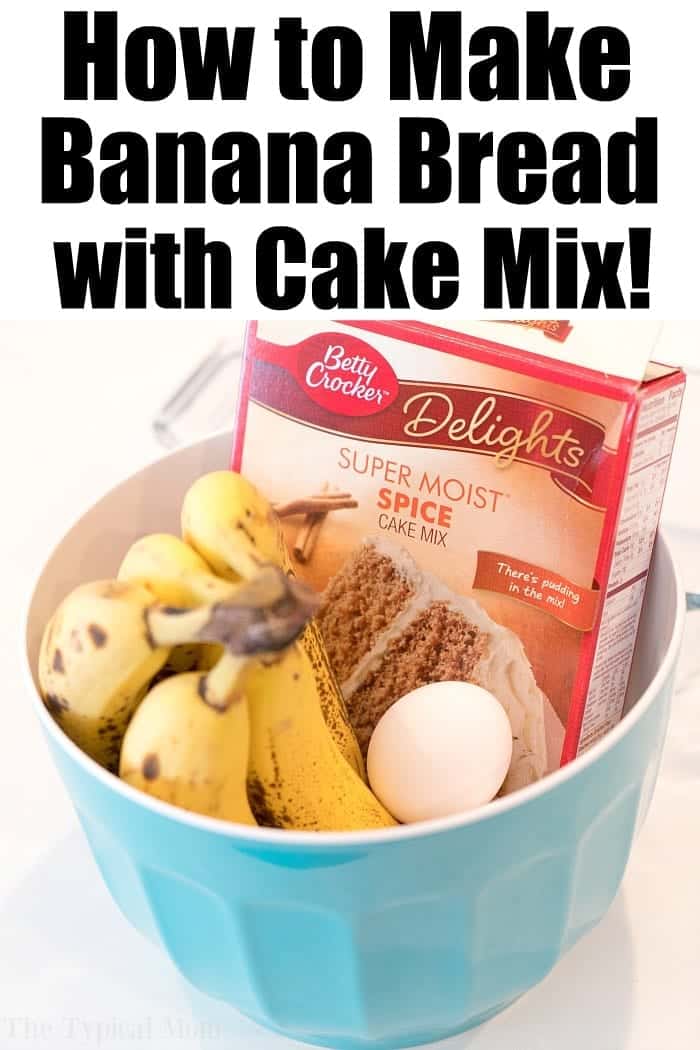 Easy Overripe Banana Recipes few Ingredients
Several of these are kinda' cheater methods and start with cake mix. That is great if you have little time and want something sweet. I you want to start from scratch though I would highly recommend our banana upside down cake here.
We make coconut banana bread muffins drizzled with cream cheese frosting and it's so yummy! If you love fresh baked goods these are awesome. You can even substitute a bit of pineapple juice instead of a bit of the liquid to give it more of a tropical flavor overall. It creates a really moist cake / bread using coconut milk!
Instead of mini bundt cakes you could use the same mixture to make a loaf instead. I kinda' like hand held individually portioned out though. Makes things easier once they are done with no slicing required, and I think they stay moist longer if you have leftovers too.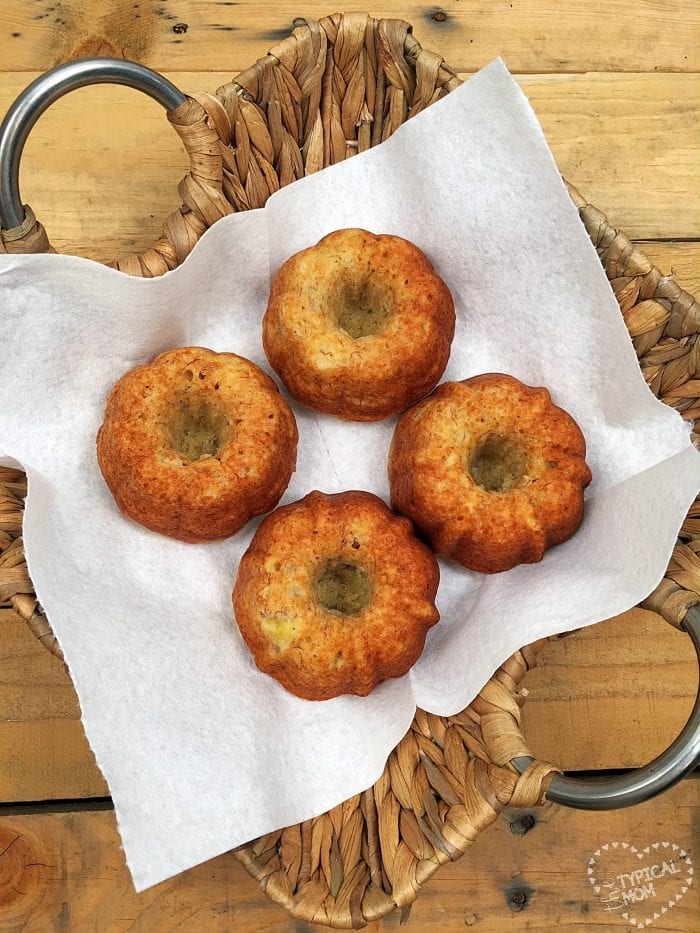 Recipes Using Lots of Bananas
Life Currents has a bourbon banana walnut bread recipe…..uh yum! Have you heard of banana bread hummus….well Make The Best of Everything will show you how to make it here. If you have never had a sweet version of this creamed dish or garbanzo beans it is pretty darn yummy. Serve it with Nilla wafers for a fun treat with your kids.
Like I said, we continue adding to this list every single month. Literally every time I have 3-5 browned it is time to think of something new to make. If I am going to try something for my family I will take pictures along the way in case it turns out. Yes there have been times where what I thought would be good didn't work.
BUT more times than not I am surprised at what a hit it was and have to share it all wit y'all. 😉 Did you know you can make Instant Pot banana bread too Yes, you can in fact bake in your pressure cooker. I know, sounds crazy but totally works great.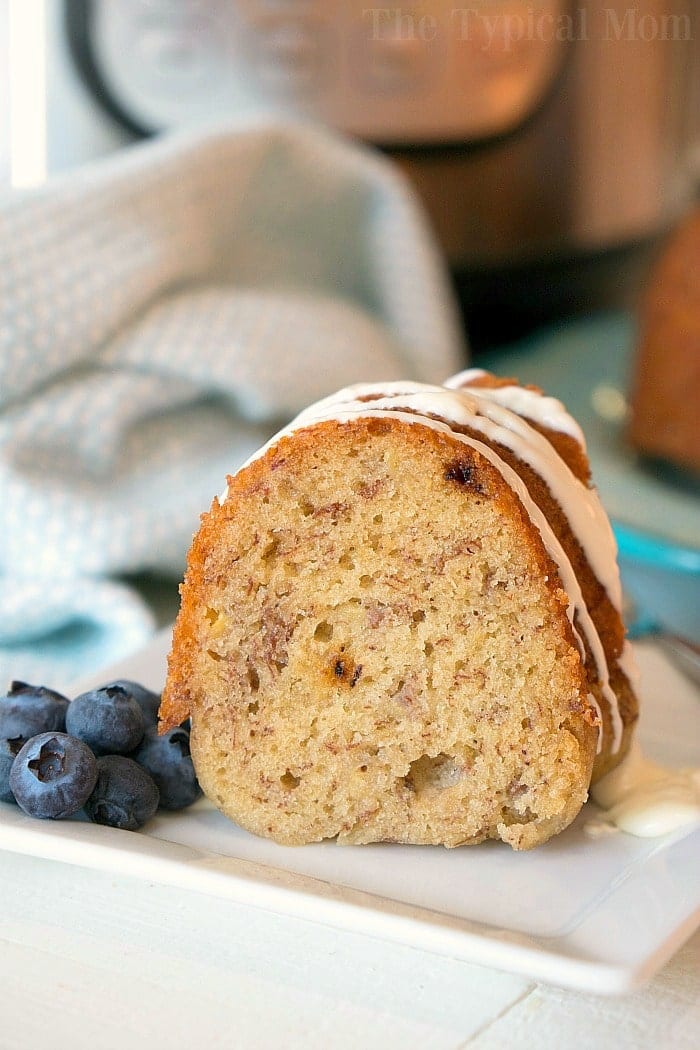 Quick Banana Recipes
And we have a few more from our other blogger friends too. Yes there is a large community of us (women mostly) who love creating yummy things in the kitchen. There are so many possibilities with this ingredient that I couldn't possibly make them all myself. That is when I decide to include some from friends who I know create lots of great recipes too.
Look at these banana cream pie cookies from Butter with a Side of Bread. Super moist by themselves or make into sandwiches with some cream in the middle too.
A cheater way to do this is just buy a tub of frosting already made. Use the back of a spoon to fill the top, lay a 2nd over that and roll the edges in some sprinkles to make them pretty. If you love zucchini too, try our chocolate banana muffins that are oh so moist! You really can't go wrong with any of these overripe banana recipes!!
Don't let those sweet fruits go to waste because man they make the most delicious cakes, breads, smoothies and more if you just have a little bit of time to bake. Even if you don't have a lot of time and doctor up a cake mix with your overripe bananas like in my banana pudding cake, it brings such a wonderful sweetness and taste to it that you just cannot replicate.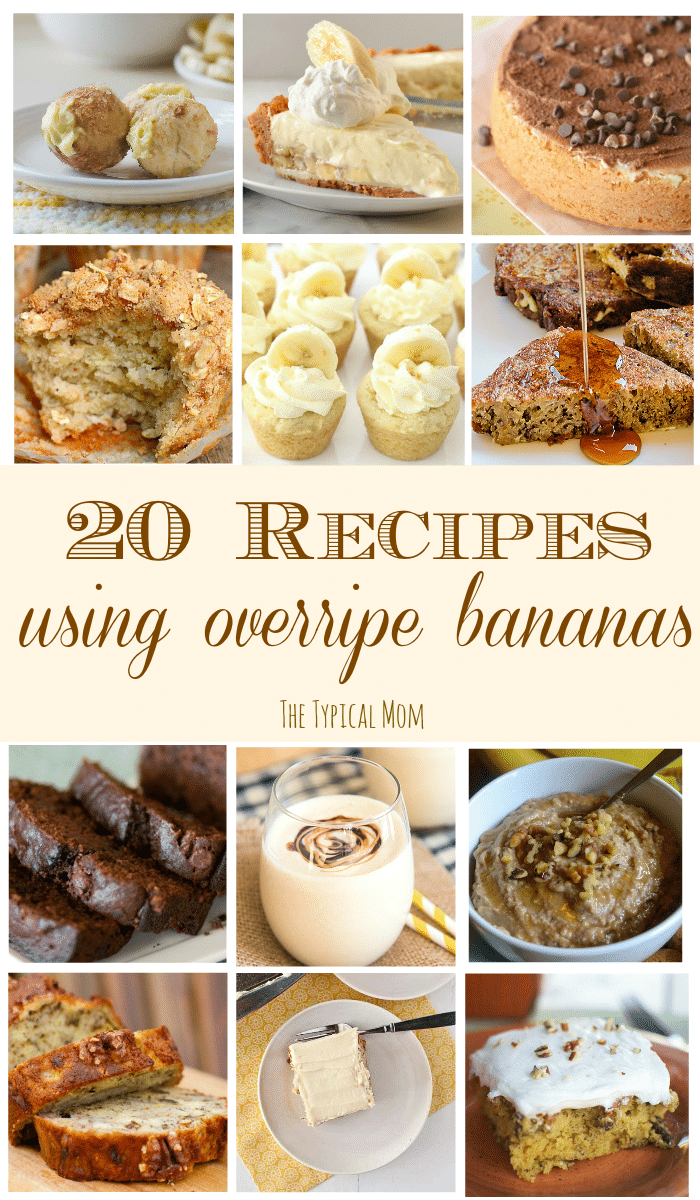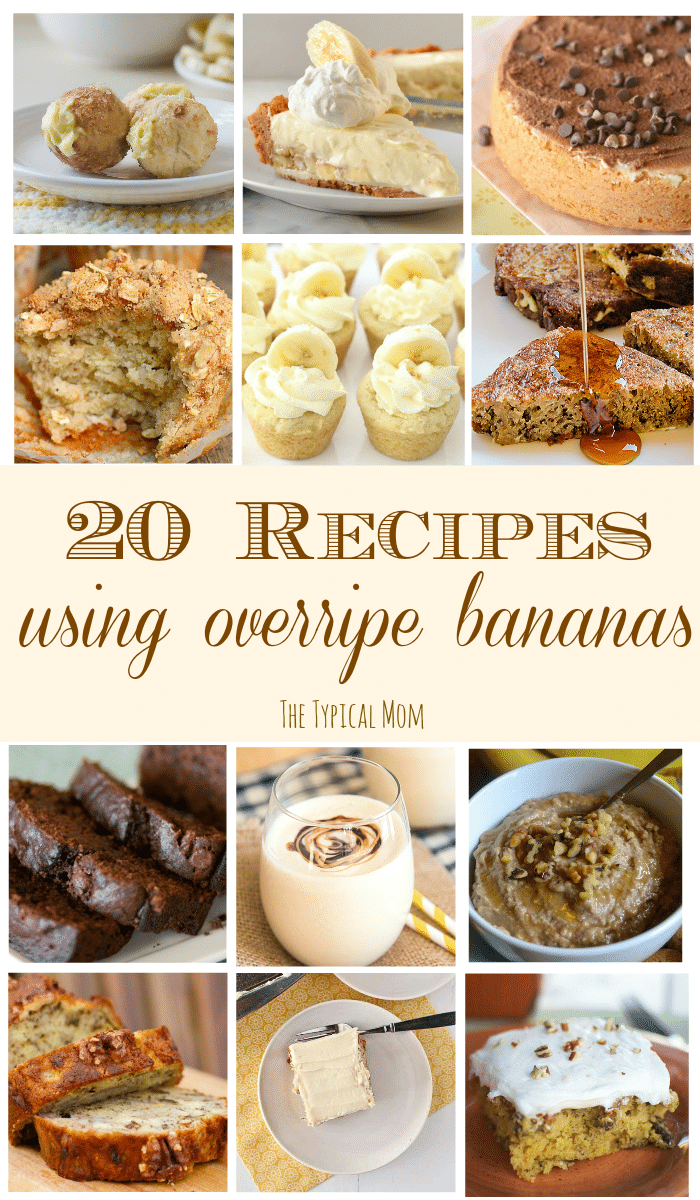 How to Store Your Overripe Bananas
Ok so I don't always have the energy or time to bake when I find our fruit browned. You can easily slow down the process and buy yourself a few days by putting them in the fridge. I would highly recommend putting them into a bowl or freezer bag first because they can start to leak. If you think you'll take longer to get to them you can freeze too.
For this method you should separate them at the top, ideally, and put into a gallon Ziploc baggie. Zip closed void of air and store for up to a few months. If you plan on using them in smoothies I would peel them first. Then you can throw them into a blender and go for it with some milk and/or ice cream or yogurt.
Planning on baking with them later? Leave them as is in a bag and take them out a day before you want to make something. Defrost bag full in the fridge and they will soften overnight. Note that they will be very soft and literally slide out of the skin once you open the top so little mashing is necessary but they will work great just the same this way.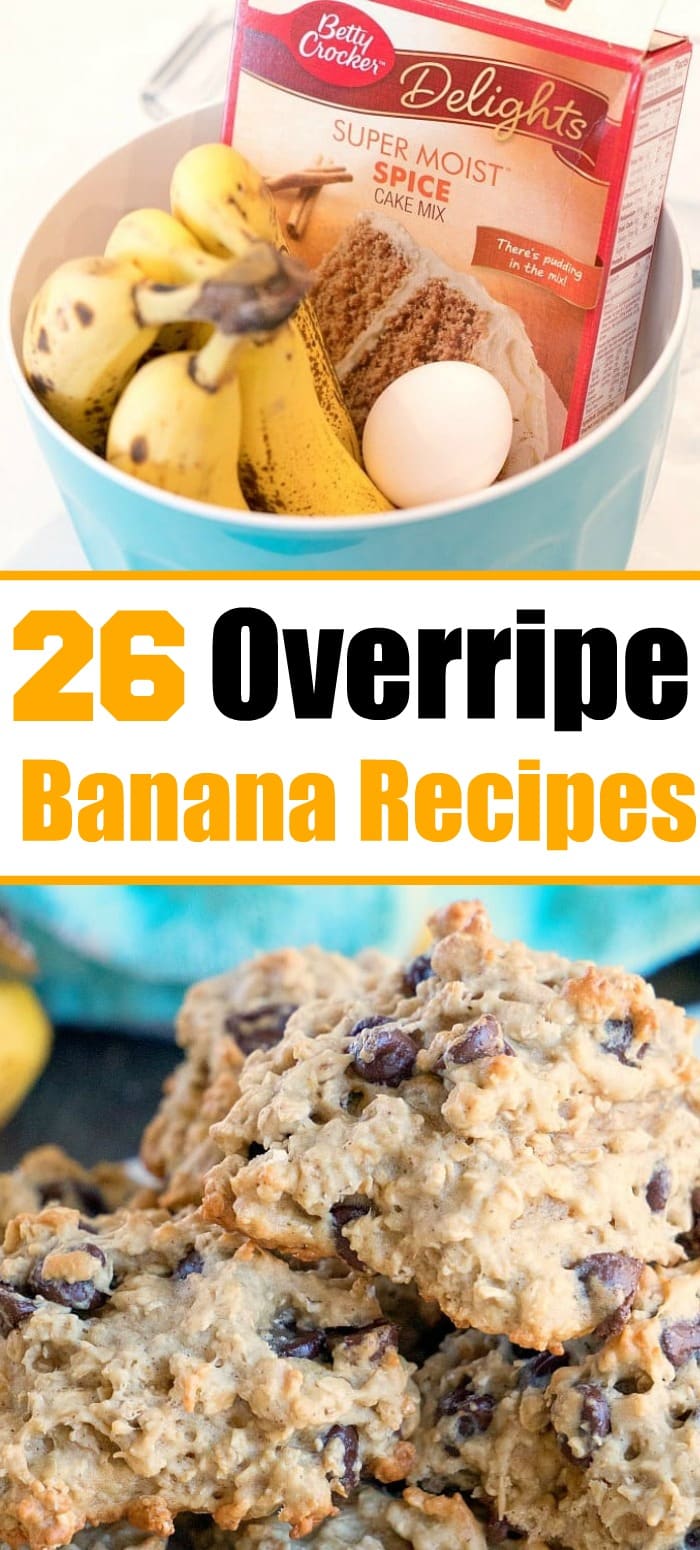 Want to see a few of my favorite things that I am totally obsessed with?? Take a peek and see how many you might already have…twinsies!
Looking for more easy family recipes and tips? LIKE The Typical Mom Facebook page?
Then sign up for my free newsletter, and follow me on Pinterest! 😉
***** If you LOVED this recipe give it 5 Stars below and let everyone know what you thought about it. 😉
Overripe Banana Recipes
Tons of easy overripe banana recipes you can make with brown bananas for dessert. From cake to pancakes, sweet bread, muffins and more.
Ingredients
Instructions
Use an entire loaf of thick sliced bread or French bread. Remove heels and discard. Cut each piece into 8 pieces into squares with a sharp knife.

Put bread pieces into a large bowl and pour milk over the top. Use a spoon to move bottom pieces to the top so they are all soaking in liquid.

In another bowl combine all other ingredients and stir together. Pour that over the bread and very gently fold it all together 3 times or so.

Preheat oven to 350 F. Spray 9×13" pan with non stick spray. Pour bread mixture in and spread out so it is in an even layer.

Bake for 30 minutes until middle is no longer wet. Remove and allow to cool in the pan for 15 minutes at least before serving.
Nutrition Facts
Overripe Banana Recipes
Amount Per Serving (2 oz)
Calories 274
Calories from Fat 54
% Daily Value*
Fat 6g9%
Cholesterol 48mg16%
Sodium 307mg13%
Potassium 258mg7%
Carbohydrates 47g16%
Protein 10g20%
Vitamin A 172IU3%
Vitamin C 2mg2%
Calcium 153mg15%
Iron 2mg11%
* Percent Daily Values are based on a 2000 calorie diet.