Free printable vacation packing list plus tips and tricks on what to pack when you're going on a vacation. This packing checklist makes things easier with kids whether you're on a road trip or cruise.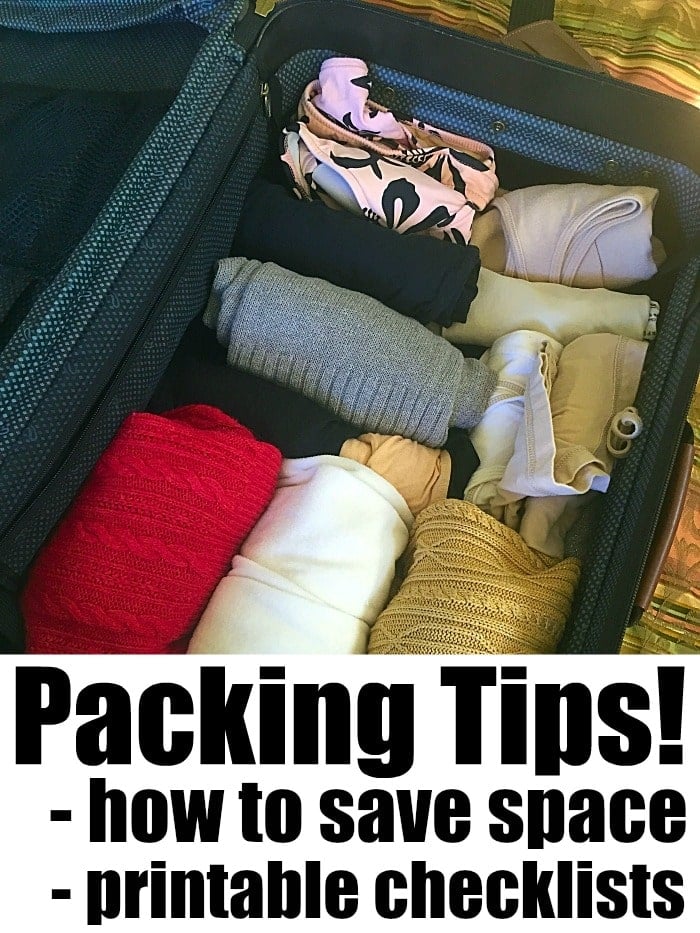 If you're anything like my family, you love going on vacation. The part that nobody loves is the packing part….but that's just part of the deal. What I dread (and you probably do too), is getting to our destination and realizing I forgot something. That's the worst! So, in my quest to be more organized during our last trip I created a printable vacation packing list so that doesn't happen again. I hope our packing tips help you too! Just one more resource on our road trip blog. (originally published 6/15, affiliate links present)
I'm sure I'm not alone when I say that although there are 5 people in my family, only 1 of us does the packing! The children are pretty easy. With a few pairs of shorts, jeans, t-shirts, and a jacket (just in case), they are pretty content and could care less what they wear most of the time.
With that said I always seem to forget something, so this vacation packing list comes in handy.
Tip #1 – When you're packing for a road trip you need to condense everything! There is a limited amount of room, so each day of clothing looks like this!
Do this for every person in your family, for each day of your trip. Just grab a bag in the morning and all items are inside to get dressed!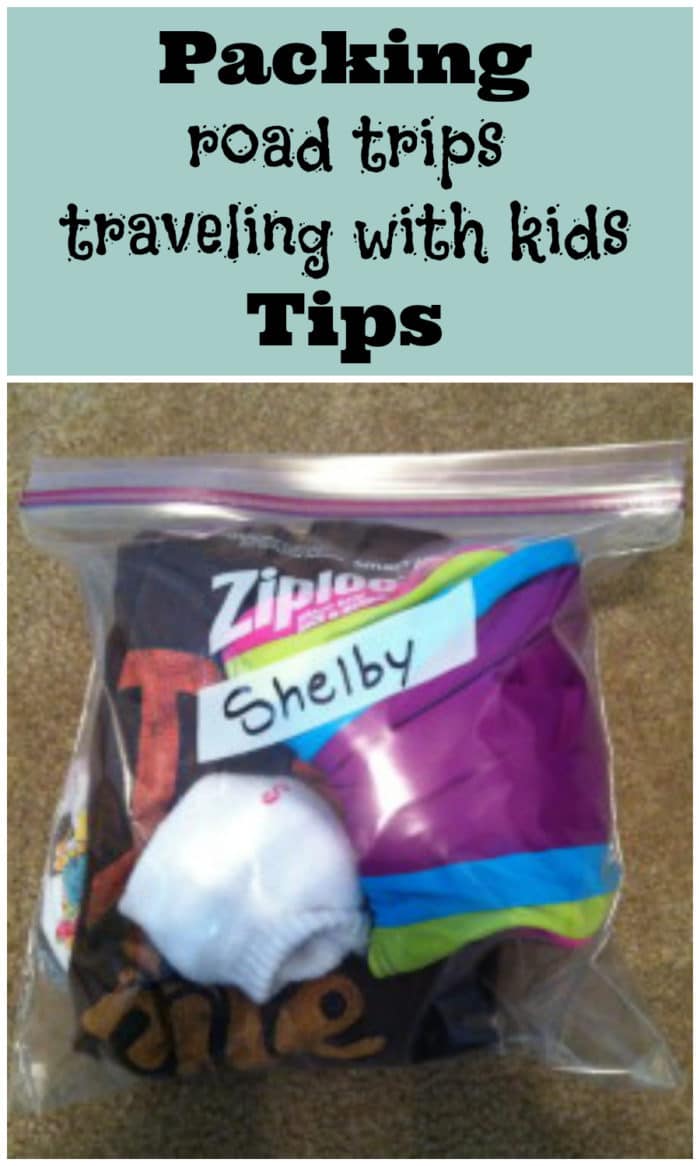 Include the following items in your zipper gallon baggie:
Underwear
Socks
Shirt
Shorts or pants
Swimsuit if you know they'll need one
Packing cubes are a similar idea (just more expensive)
Tip #2 – Pack light! I give everyone a soft duffel bag and they can only take what fits in there. Hard suitcases take up a lot more room so soft is best.
Road trip tip #3 – Especially when packing my own suitcase I make sure everything is rolled, NOT folded. This will help avoid the nasty wrinkled shirt look! Just roll your shirts and dresses like you see in the top photo to avoid the lines that are made when you fold them and they're stuck in a suitcase for hours on end.
I use one of these large gallon sized bags for all my undergarments too. I do this for two reasons; so they don't get lost, and they don't get caught on other items of clothing and/or suitcase zippers and get ruined.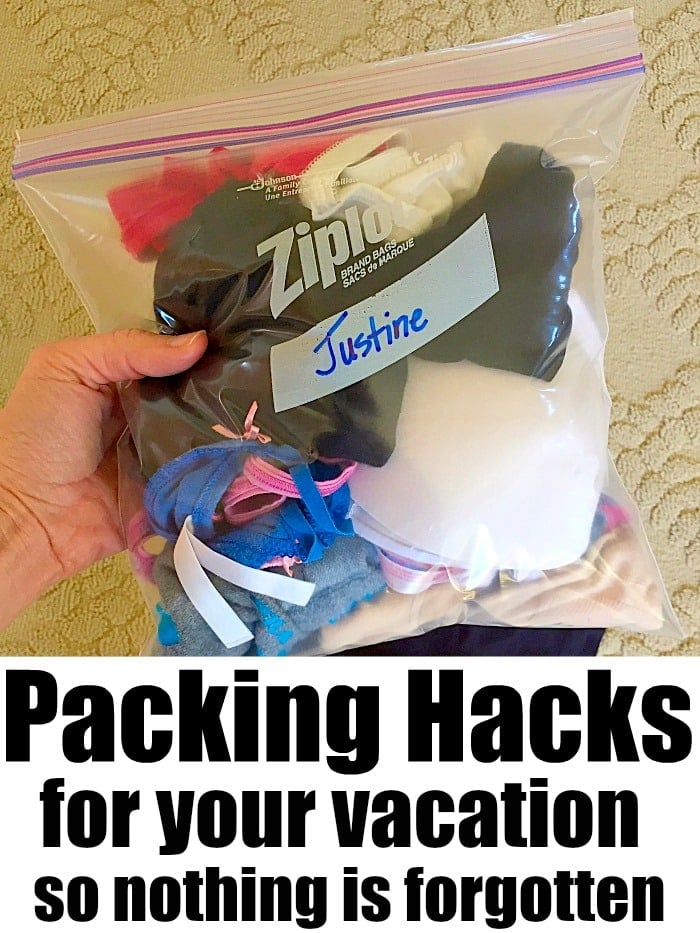 Tip #3 – Remember with your printable vacation packing list to always pack a few "just in case items" for each person like:
A light jacket – waterproof is helpful, it's no fun being caught in the rain with nothing.
1 nice dress or shirt that you can pair with some jeans if you find a really nice place you want to go to.
Bathing suit – normally I don't swim but we've come across some hot springs on road trips that have been amazing.
Travel pillow is a good idea to have on road trips as well as an individual water bottle for everyone.
You just never know what might come up, that's why we share things to pack for a road trip here.
Of course you may not be driving at all, but this vacation checklist will help if taking a cruise too!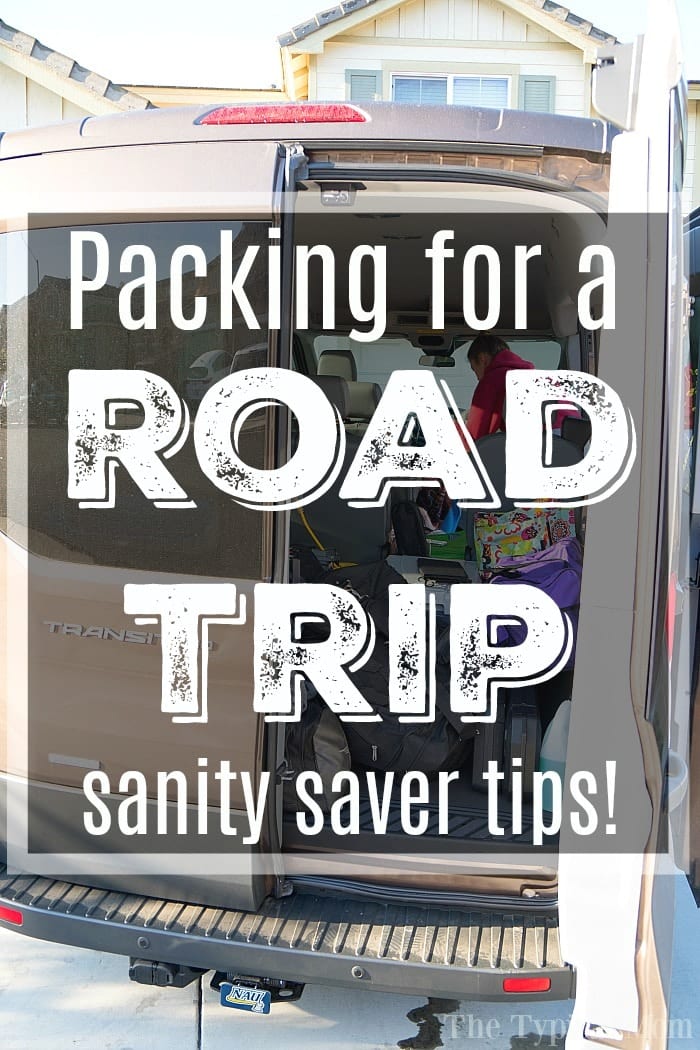 This ultimate packing list has helped me in the long term since I am usually getting things together at the last minute and we travel often.
I want to make SURE I haven't forgotten anything, so I'm all about a travel packing list.
Last things to remember for your personal items, I would put them in a fanny pack or money belt of some kind. (don't be vein and think it looks silly, it will be super helpful)
Include:
Credit cards – debit cards
Small first aid kit
ID – student ID too because some places offer discounts
AND invest in a good pair of walking shoes!!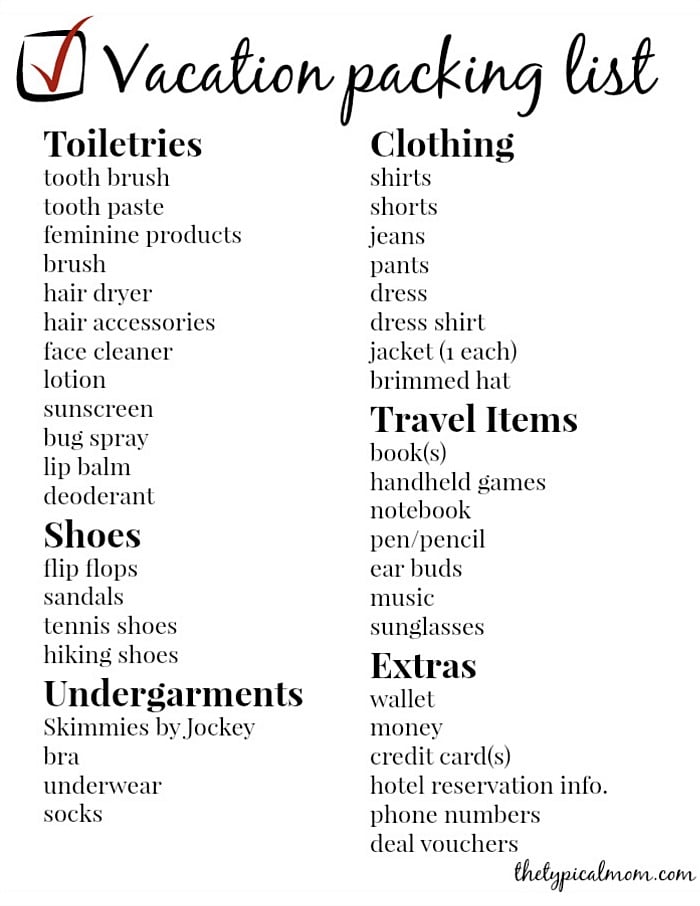 Want to see a few of my favorite things that I am totally obsessed with?? Take a peek and see how many you might already have…twinsies!
Looking for more easy family recipes and tips? LIKE The Typical Mom Facebook page?
Then sign up for my free newsletter, and follow me on Pinterest! 😉
***** If you LOVED this recipe give it 5 Stars below and let everyone know what you thought about it. 😉