These sloppy joe egg rolls are really yummy and easy to make at home for dinner!! Kids love them and they are a perfect football party appetizer too. Use this homemade sloppy joe recipe that only requires 4 ingredients and wrapped up in an egg roll wrapper they are easy to eat and a new way to eat your favorite meal.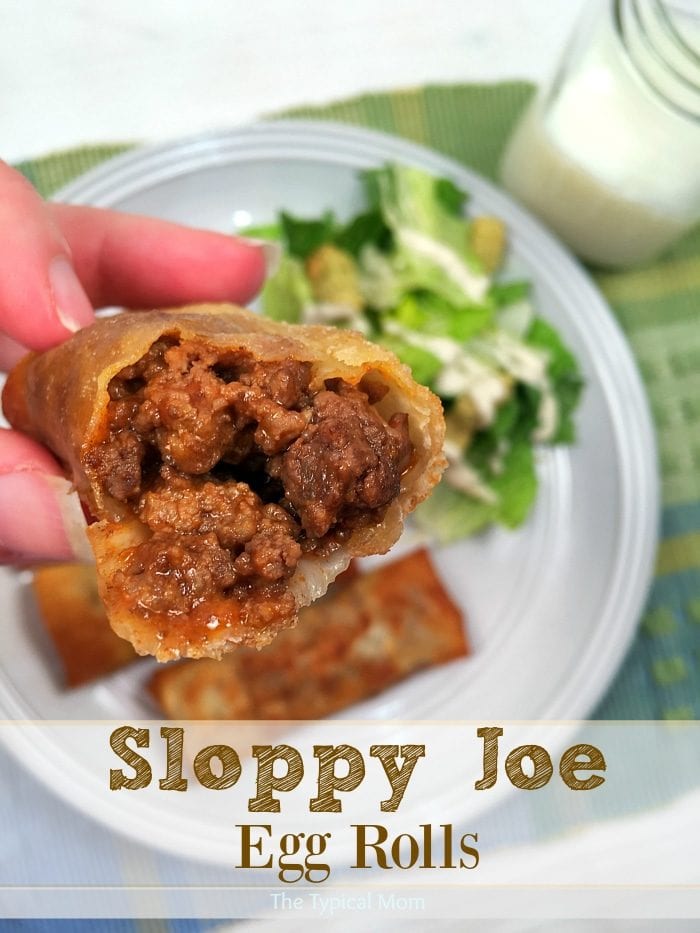 So I made pizza egg rolls for my family the other day and thought I should make this using our homemade easy sloppy joe recipe and make sloppy joe egg rolls too! We have made sloppy joe bread bowls, a sloppy joe casserole, and traditional sloppy joes on buns so why not inside an egg roll…..they ended up being really fun and amazing! (originally published 3/16)
How fun right??!!
Of course the kids got a kick out of them and anything finger foods is a big winner with 3 kids at home…but my husband and I liked them too.
It is really quite simple to make (nothing I make is complicated), let me share with you the recipe for sloppy joe egg rolls.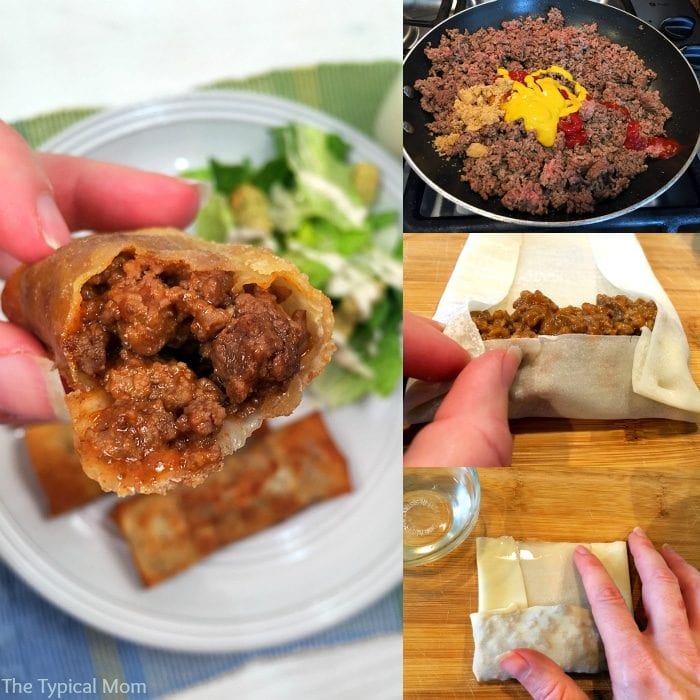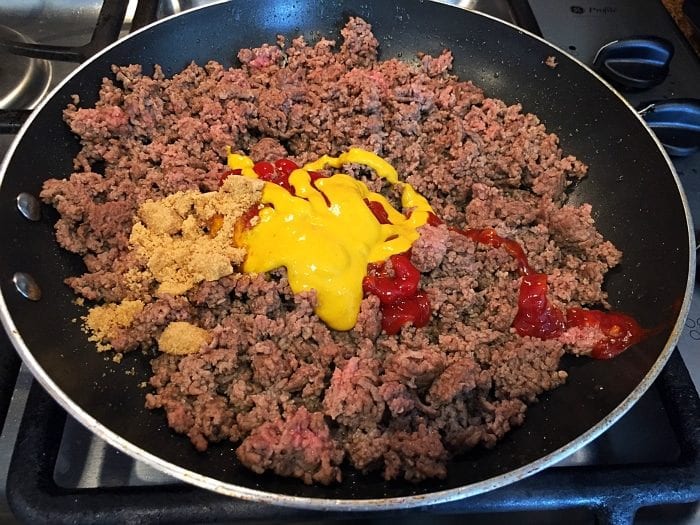 You're first going to make my easy sloppy joe recipe but we are going to omit the bun and use our egg roll or won ton wrappers instead for this recipe. Brown your ground beef or turkey and drain before adding these ingredients. To make your own sloppy joe sauce you just need mustard, ketchup, and brown sugar….easy enough right??!!
Here's what you need to make these easy sloppy joe egg rolls
Egg roll wrappers
Ground beef
Mustard
Ketchup
Brown Sugar
Vegetable oil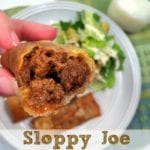 Sloppy Joe Egg Rolls
Course:
Appetizer, Entree, Main Course, Snack
Ingredients
1

lb

ground beef

1/8

c

mustard

give or take depending on how much you like, taste at the end before adding into wrappers

3/4

c

ketchup

give or take

2

tbsp

brown sugar

1/2

c

onion

diced, optional

1

pkg

egg roll wrappers

3-4

c

vegetable oil
Instructions
In a pan on the stovetop cook ground beef and diced onions until pink is gone, drain grease.

In a bowl add your meat, add ketchup, mustard, brown sugar and mix until well combined.

Taste and add more of any of these depending on how wet or mustardy you like your sloppy joe mixture.

Lay out 1 egg roll wrapper and fill with 2 tbsp or so of sloppy joe mixture on one end as you see in pictures in this post.

Leave space on the sides so you can roll them up.

Fold sides in and roll the meat up into the wrapper. Once you reach the other end use your finger and dab with water and roll the filled end over on that end so it is well sealed and won't come undone.

Do this until all sloppy joe mixture is gone.

Wait until your oil is hot, hot enough to sizzle a little piece of egg roll wrapper that is dropped in but not burn it immediately when dropped in.

Put sloppy joe egg rolls into oil just until lightly browned on one side, flip and put on paper towel when both sides are light brown to absorb remaining oil.
Nutrition Facts
Sloppy Joe Egg Rolls
Amount Per Serving (3 oz)
Calories 1055
Calories from Fat 846
% Daily Value*
Total Fat 94g 145%
Cholesterol 45mg 15%
Sodium 609mg 25%
Potassium 290mg 8%
Total Carbohydrates 42g 14%
Protein 15g 30%
* Percent Daily Values are based on a 2000 calorie diet.
While you are waiting for your mixture to cook and simmer a bit get a cutting board out with a small bowl of water and take 1 egg roll wrapper out so you are ready when the meat is done.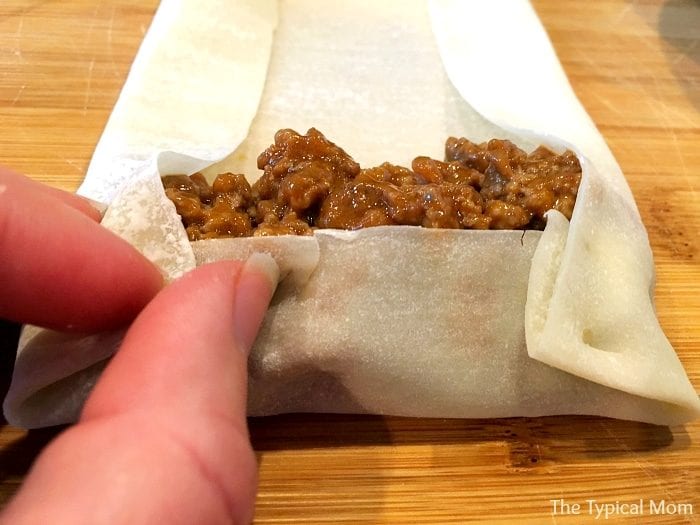 When your meat is done put it in a bowl next to your wrapper. Spoon some on like this and leave some room at the end and on the sides of your egg roll wrapper. Fold the end up and the sides over like this and then roll over and over.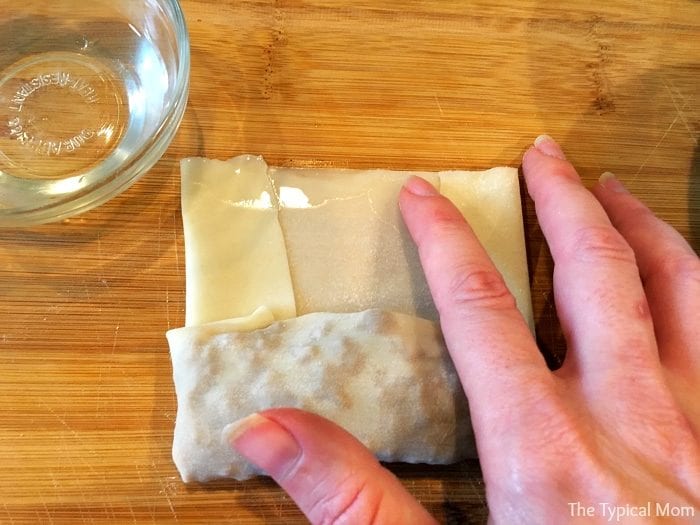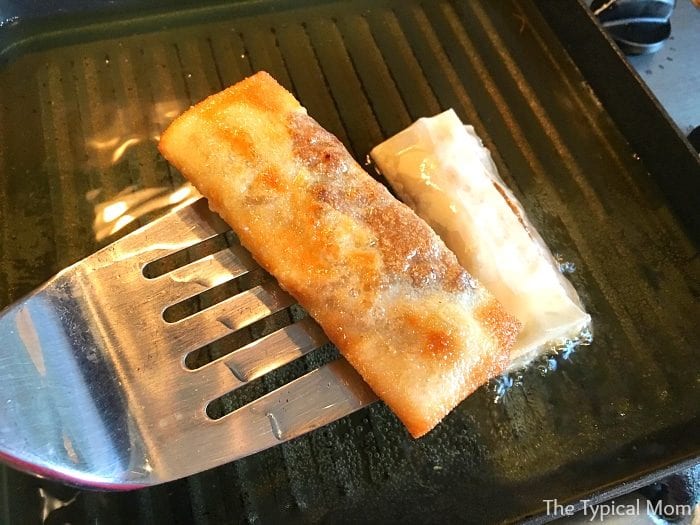 Before rolling all the way over wet the very end with water and then roll all the way over so it sticks and doesn't come apart. While you're rolling the first few sloppy joe egg rolls turn your oil on so it can get nice and hot. Test the oil by putting a tiny piece of egg roll wrapper in and see if it fries nicely, doesn't just sit there or fry way too hot and burn and adjust heat accordingly before you put your egg rolls in. Serve with some salad and your sloppy joe egg rolls are done!!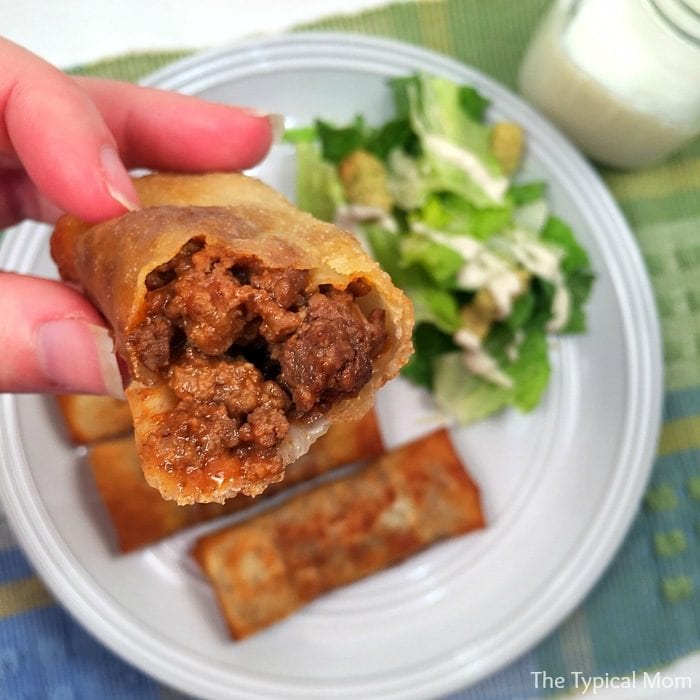 If you love these you will love our pizza egg rolls too.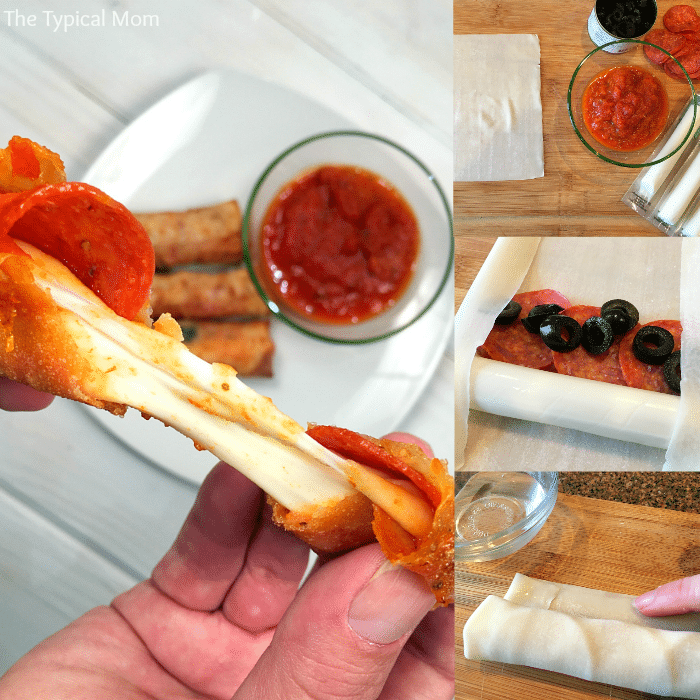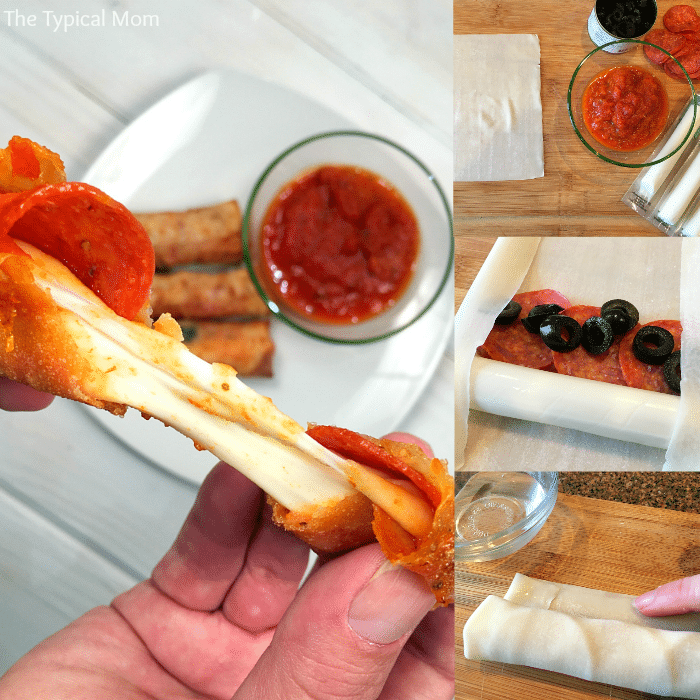 For more easy recipes and crafts please LIKE The Typical Mom on Facebook, sign up for my newsletter, and follow me on Pinterest!
Visit The Typical Mom's profile on Pinterest.