Ninja Foodi chocolate oatmeal is a sweet breakfast idea or pressure cooker dessert everyone will love. Top with some chocolate chips and strawberries for ultimate yum.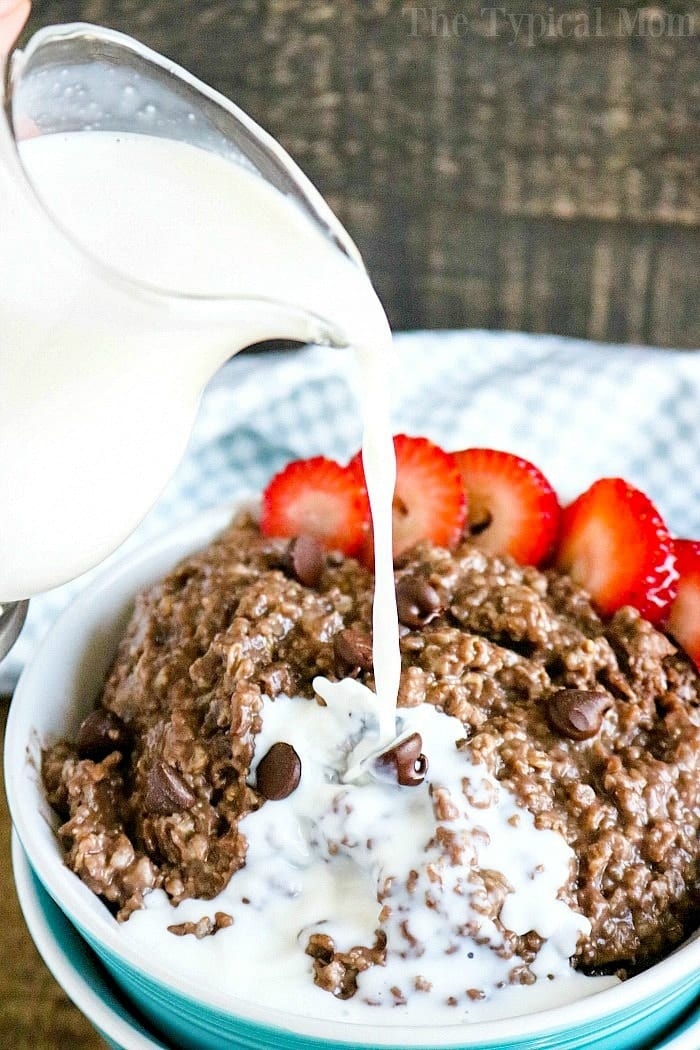 I know, I bet you're drooling already right??!! Ninja Foodi chocolate oatmeal is what we're calling it basically. Serve it for dessert or still call it breakfast but either way it is just amazing! We will share Ninja Foodi oatmeal the traditional way too, both are listed on our 101+ Ninja Foodi recipes page so you can choose. 😉 (originally published 8/19, affiliate links present)
Chocolate Oatmeal
You may never go back to traditional Instant Pot oatmeal again after this bite of goodness. I mean who doesn't love a bit of dessert early in the morning to get you going for a day of work or school??!!
Do you love making oatmeal for breakfast?? I do…because the fiber is great for me and it keeps me full all morning too. This takes the whole "old fashioned" meal up a few levels though. This isn't your Grandmother's recipe, but it should have been. 😉
FIRST – You should sign up for my free newsletter so you get new posts emailed to you twice a week and never miss out on anything!
If you too are obsessed with your Ninja Foodi pressure cooker air fryer machine, here are a few resource to start with:
You can

bookmark

our Ninja air fryer recipes page, we add to that weekly.

Here's a printable air fryer cooking times chart here for your fridge.
Be sure to save this link to Instant Pot recipes for beginners too. You can use any of those in your pot too.
Grab a set of wooden utensils to work with. They are great so your pot doesn't get scratched!
Then join our

Ninja Foodi EASY Recipes

– Facebook group where you can share and find more ideas you'll love. Thousands of others share both pressure cooker and air fryer recipe ideas there daily and you can too!
If you need to know how to cook frozen meat in a pressure cooker, we have information on that. NO, you aren't the only forgetful one. 😉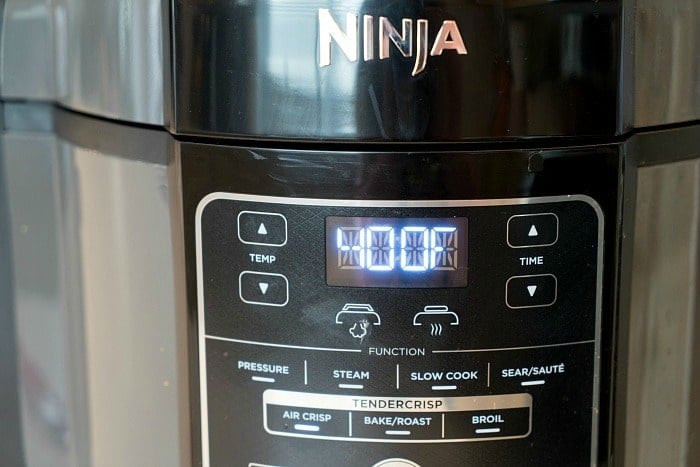 Instant Pot Chocolate Oatmeal
When I got my pressure cooker 2 years ago it was one of the first recipes I created. I was eating it the original way every morning and thought it had to be easier with this fancy kitchen appliance. It was.
Fast forward 24 months and here is another version incorporating chocolate, and berries on top so we can bring back a bit of the healthiness. 😉
I have used the pot in pot technique for this pressure cooker breakfast as well as directly in your pot itself. If you don't have a non stick pot yet I highly recommend it, mention it above too in my tips. It makes everything so much easier to clean for one, and you don't lose as much food sticking to the sides.
When cooking dinner items it can also trigger the burn notice on the screen at time. If you have this coated pot you're less likely to find that happening which will help you not get so frustrated. New to cooking this way? Don't worry, I will walk you thru all the steps one by one.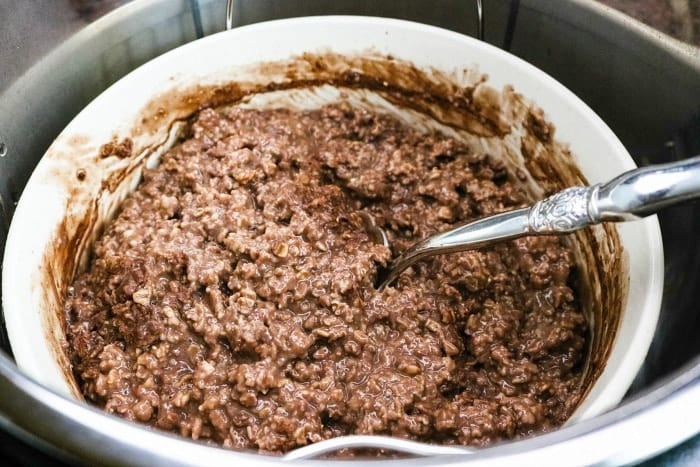 Ninja Foodi oatmeal with chocolate
If you have only made slow cooker oatmeal this is much faster.
An oven safe bowl – this is the best one

only necessary for the pot in pot technique

Chocolate chips
Quick cook oats for pot in pot or Old Fashioned rolled oats for directly inside the pot, there are gluten free options out there too.
Chocolate almond milk – yes this works best
Toppings

Sliced fruit and chia seeds – optional but strawberries are best
Chocolate chips and nuts on the top
Brown sugar and/or maple syrup if you're making traditional oatmeal
Peanut butter or almond butter is great
Want a fun side item to add to your breakfast or brunch? Bake some banana nutella muffins in the oven while this is cooking.
Pressure cooker breakfast recipes
Looks like an amazing late night treat after the kiddos go to bed doesn't it?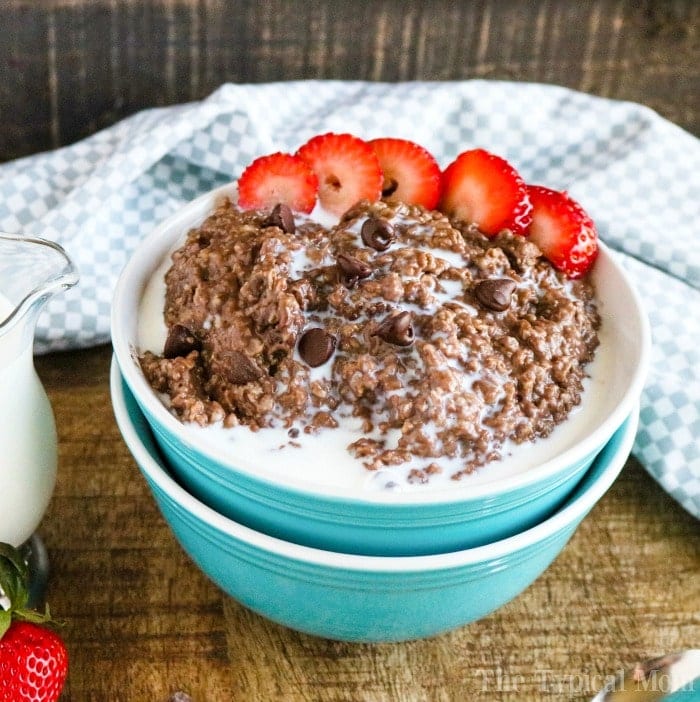 Instant Pot Oatmeal with Chocolate
If you are going to make pressure cooker oatmeal pot in pot with quick oats you can follow these directions. They are also in the printable recipe card below.
You'll want to spray the inside of your oven safe dish with non stick spray.
Add your quick oats and chocolate almond milk (or regular chocolate milk) into your bowl and stir. Add 1.5 c water into the bottom of your pot and lower your trivet down with your filled bowl on top.
Put the pressure cooker lid on and close the steam valve tightly.
Set on high pressure cook, for 5 minutes.
Do a quick pressure release, stir, serve with chocolate chips and strawberries on top!
You can make this entirely gluten free with that type of oats and there are great chips out there by Enjoy Life at the grocery store. My friend with celiac swears by that brand and says there's no substitution. Quaker oats are GF but would suggest purchasing the container that is labeled as such to be extra safe.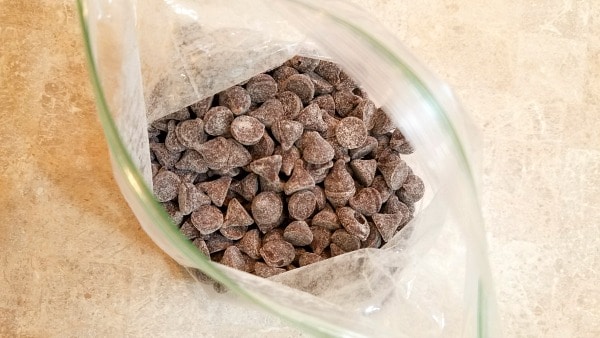 Or you can make Ninja Foodi chocolate oatmeal as you would any other time for breakfast and just substitute your milk for water. Another option is to make "regular" and just add chocolate chips to the top so it's not as rich.
Add 2 tbps butter directly into your pot set to saute
Once it melts turn the pot off
Pour in 2.5 c. chocolate milk or water + 1 cup old fashioned oats
Stir contents
Seal lid and steam valve and cook for 5 minutes with a quick release
Top with chocolate chips and fresh strawberries and enjoy. If you want to know how to cook steel cut oats I prefer to use my slow cooker for those.
Making traditional oatmeal in your Foodi is a game changer. SO quick and easy and the consistency comes out perfect every time. Substituting regular milk, chocolate or vanilla almond milk is fine. Cooking time works well for this both methods shared above, it is just different oats used for Ninja Foodi chocolate oatmeal PIP.
Chocolate Oatmeal Quaker
You can use old fashioned oats as well, they will just create a different consistency. It will have more texture, which personally I kind of like. Your preference really.
Here's our Crockpot oatmeal directions too. If you are cooking for a bigger crowd like brunch at Christmas time this is a great way to do just that. It can then sit in the slow cooker for a good hour on warm after it's done so people can enjoy it all day long.
You can find many more easy Ninja Foodi recipes here on The Typical Mom blog too. From breakfast, to lunch, dinner and sweet treats we have it all. The wonderful thing about this machine is you can air fry foods as well as this function you're using here. There literally isn't anything I haven't made in this thing that hasn't turned out great.
Making Ninja Foodi breakfast, like an omelette but made with your air fryer
Pressure cooker donuts are another favorite for breakfast
Air fryer cinnamon rolls or sticky buns are our favorite treats.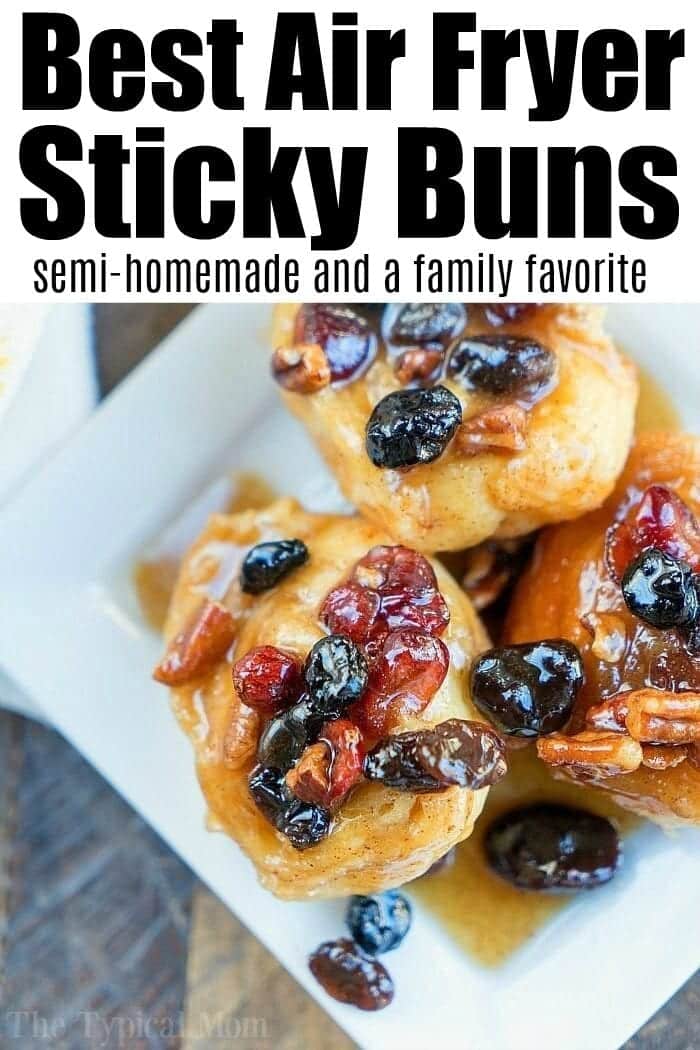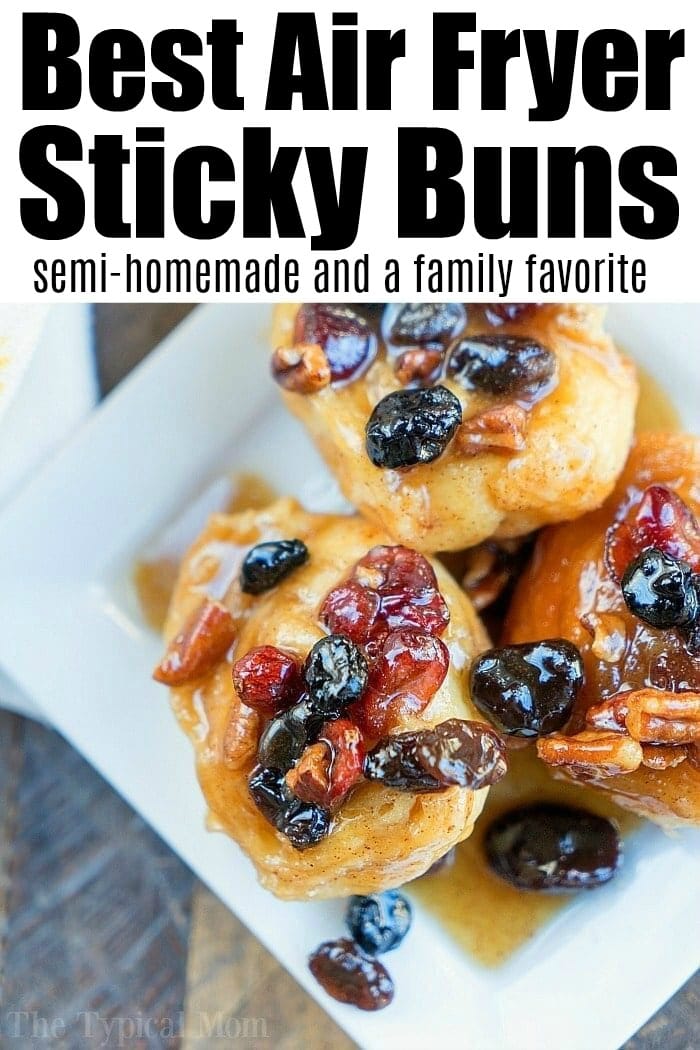 Dairy Free Chocolate Oatmeal
This is another creation I made at the beginning. Using canned refrigerated crescent rolls you too can make these bites of heaven. Regular cinnamon rolls can even be "baked" using the air crisp lid that is attached to the machine itself. It takes far less time than heating up your oven and turns out just as good.
I would highly suggest trying both functions, it may replace your oven entirely as it has in my home. Ok so I do still make frozen pizzas in it but I can't remember much beyond that in a long while. When we renovated our kitchen I used my Foodi exclusively to cook for over a month and nobody batted an eye.
How to Store Cooked Oatmeal
Ok so I don't think this is worth it because the texture changes way too much and thickens up a lot. You can do it though, in a bowl stored in your fridge. You'd want to pour a bit of milk on top before reheating in microwave. Stir every 30 seconds to incorporate the moisture throughout it evenly until warmed.
Want to see a few of my favorite things that I am totally obsessed with?? Take a peek and see how many you might already have…twinsies!
Looking for more easy family recipes and tips? LIKE The Typical Mom Facebook page?
Then sign up for my free newsletter, and follow me on Pinterest! 😉
***** If you LOVED this recipe give it 5 Stars below and let everyone know what you thought about it. 😉
Here are the printable instructions below:
Chocolate Oatmeal
Pressure cooker chocolate oatmeal is a sweet breakfast idea or dessert everyone will love. Top with some chocolate chips and strawberries for ultimate yum.
Instructions
Pot in pot directions: Spray the inside of your oven safe dish with non stick spray.

Add quick oats and chocolate almond milk into your bowl and stir. Add 1.5 c water into your pot and lower your trivet down with your filled bowl on top.

Put pressure cooker lid on (one that isn't attached) and close steam valve.

Set for pressure, high, for 5 minutes. Do a quick release, stir, serve with chocolate chips and strawberries on top!

In pot directions: Melt 2 tbsp butter on saute directly inside pot. Once melted turn pot off. Add 1 cup old fashioned oats + 2.5 cups water or chocolate milk. Stir, seal lid and steam valve and cook on high for 5 minutes with quick release. Top with chocolate chips
Nutrition Facts
Chocolate Oatmeal
Amount Per Serving (4 oz)
Calories 296
Calories from Fat 99
% Daily Value*
Fat 11g17%
Cholesterol 3mg1%
Sodium 341mg15%
Potassium 143mg4%
Carbohydrates 43g14%
Protein 7g14%
Vitamin A 50IU1%
Calcium 345mg35%
Iron 2.1mg12%
* Percent Daily Values are based on a 2000 calorie diet.