These 2 Ninja Foodi or Instant Pot oatmeal recipes only take 5 minutes to cook and taste amazing! An easy pressure cooker breakfast that the whole family will enjoy and is a healthy meal too. Try apple cinnamon oatmeal or pumpkin oatmeal this morning and let us know what you think!
Ok, so I'm obsessed with my Instant Pot…do you have one yet??! Now in just 5 minutes you can make Instant Pot oatmeal packed with diced apples and cinnamon. I made a pumpkin oatmeal version too! It's one of our favorite breakfast Instant Pot recipes! (originally published 2/17, affiliate links present)
Ninja Foodi Oatmeal
This pressure cooker oatmeal turned out perfectly this morning. Yes my kids even give an "MMmmmmmm" when they see that's what we are having! You can use whatever brand of pot you have at home. Crockpot Express or made as an easy Ninja Foodi recipe work just the same way.
We always add diced apples into the mix but you could choose to make plain and slice bananas on top when done if you preferred, that is great too.
FIRST – You should sign up for my free newsletter so you get new posts emailed to you twice a week and never miss out on anything! Now let's start with a few basic tips:
Make sure to Bookmark our InstaPot recipes page. We add new ones each week!
Then PRINT this —–> Instant Pot cooking times cheat sheet that will help you understand how long meat, vegetables and beans take to cook in your pressure cooker.
For reference, this is the pressure cooker I have (a 6 quart) and use for all recipe creations.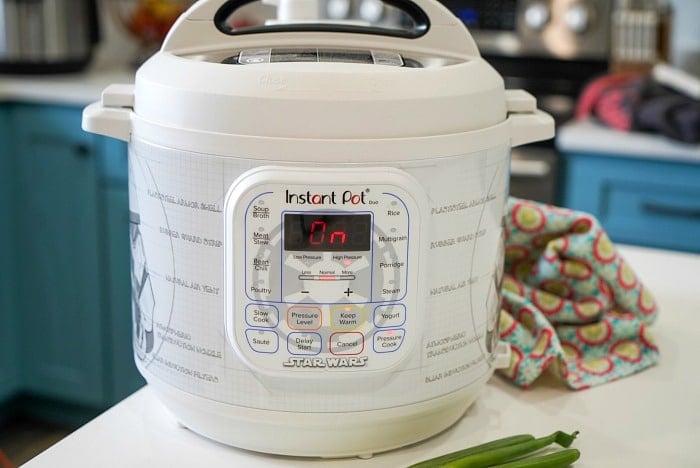 Pressure Cooker Oatmeal
With all the goodies you can add in to Old fashioned rolled oats, they can be quite flavorful as well as a healthy breakfast option. We love adding some extras to make apple oatmeal but you could leave that out. Love fruits though, I'd recommend skinned and diced Fuji and even add dried cranberries if I have some.
I tell you it is all about the goodies when it comes to this favorite "old fashioned" breakfast dish. Brown sugar, yes, and cinnamon is a for sure. After you melt your butter you just throw everything in and cook for 5 minutes! I know, seriously so easy.
It just takes 15 minutes total (with time to come to pressure) in your Instant Pot. This is the pressure cooker I have.
Instant Pot Oatmeal Recipe
Yes you can cook oatmeal on the stove top, but I'm telling you this is a game changer because you can just walk away!
There's a video showing you how to make Instant Pot oatmeal right in the pot in this post so you can see how simple it is for me to throw this together in the morning. It is a great way to lower your cholesterol (which I need) and eat healthy in the morning.
I recommend using Old Fashioned oats, not instant or steel cut as those would change the timing quite a bit.
Oatmeal in Ninja Foodi
Here is a peek of what it typically looks like when it is done. Top with additional goodies if you like, for sure with the kiddos they want all the things right? Remember that as it sits it will continue to thicken. When you first open the pot it will be quite loose.
Some like a thinner version so eating right away will be perfect. Every 5 minutes or so it will get thicker and thicker until it completely cools. If you make a large pot you can really eat it more than once that day. Just use a bit of milk after it is totally cold until it is the consistency you want. Then microwave for 30 sec. to 1 minute, stir and test.
You'll feel it is as good as fresh this way. I hate wasting food so I am always talking about how to reheat and eat another serving later. 😉
Pumpkin Oatmeal Recipe
Now if you're looking to make pumpkin oatmeal we have that too. There are slightly different ingredients and you will use an oven safe dish lowered into the pot. You will need the following ingredients
2 c. Quick oats
1/2 cup pumpkin puree – out of the can or here is how to make Instant Pot pumpkin puree
4 c. almond milk – or regular milk but almond milk is best for flavor
Toppings

Brown sugar
Honey roasted pecans
The directions for this one are below, they are different than the steps in the printable recipe card below.
Instant Pot Pumpkin Oatmeal
This is how you make that variety. If it is Fall you're in for a real treat with these classic flavors. For classic cinnamon oatmeal follow the instructions below in the printable recipe card.
Combine all ingredients except add ins to an oven safe bowl that fits inside your IP like this dish
Pour 1 c. water into your Instant Pot
Place dish on top of a trivet
Close your lid and steam valve
Set to high pressure for 5 minutes
Do a quick release
Transfer to a cool bowl (so you don't burn yourself eating out of the dish inside your pressure cooker).
Instant Pot Oatmeal Apple
The best way to do this is to core the middles and remove most of the skin. I normally wouldn't say to remove those because that is where all the fiber and some nutrition is but the texture gets weird cooked this way.
Old fashioned oats – not instant
Butter
Water
Brown sugar
Cinnamon
Toppings or add ins you'd like to use, there are tons of options we will go over below
What is the water-to-oats ratio for cooking oatmeal in an Instant Pot?
Typically it is 1 cup of oats to 2 cups of water give or take a bit. You can adjust the ratio based on your desired oatmeal consistency. If you prefer thick oatmeal, reduce the water slightly, and if you like it more liquidy, you can add a bit more.
Can I add flavors and toppings to the oatmeal before cooking it in the Instant Pot?
You can add ingredients like cinnamon, diced apples, raisins and/or vanilla extract before cooking if desired. Milk or other dairy products should be added at the end.
Should I use the Manual or Porridge setting on the Instant Pot?
You can use either one but I do like to manually put in my own timing to get the texture just right for me. If you are new you can use the porridge button and decide from there if you'd prefer more or less time the next time.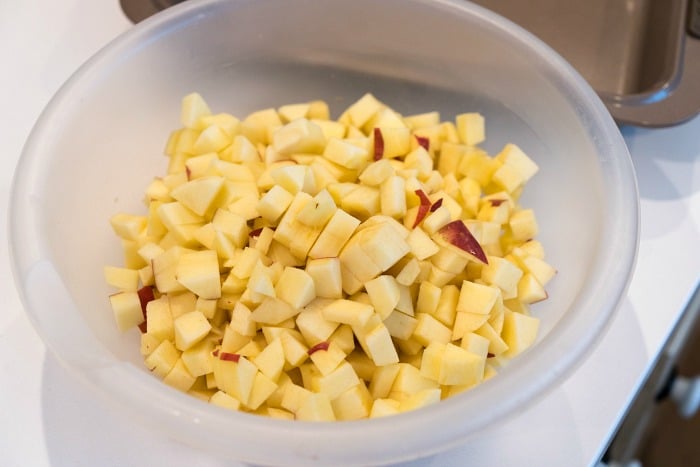 Ninja Foodi Apple Cinnamon Oatmeal
The add ins are up you and could be omitted to make it just plain too. If you'd like to make Instant Pot oatmeal using a pot in pot method this is how you do it.
Use an inner pot that will fit inside your pressure cooker like this 7″ one
Mix in 1 cups of oats & 2 cups of almond milk or water (almond milk makes it creamier) together
Put a trivet at the bottom of your Instant Pot
Pour 1.5 cups of water inside
Lower your bowl with oatmeal inside on to your trivet
Close lid and steam valve and set on high for 5 minutes cooking time
Release the pressure quickly when done
If you have a Crock Pot Express or other brand of pressure cooker the directions should work the same, just needs high pressure for 5 minutes.
What Toppings are Good for Oatmeal?
Really you can add anything. You might want to try a savory option with a fried egg on top sometime. If you need dairy free options vanilla almond milk will bring a bit more sweetness than the plain version. You can use coffee creamers instead too!
Diced apples
Raisins
Peanut butter or nut free butters like sunflower or almond varieties
Chocolate chips
Sprinkles are fun for the kiddos
Whipped cream or Cool Whip is great
Can you double this recipe? Sure! The cook time will remain the same with twice as much. Of course timing is subjective according to just how tender you want it but below is a good base to start with.
You can also make it a bit softer by doing a natural release of the steam vs. a quick one. Just keep timing the same and try this as well to create your perfect bowl.
Ninja Foodi Oatmeal
You can use your Ninja Foodi or any other brand you have at home to make this. Looking for other pressure cooker breakfast ideas?
If you want to make a batch of slow cooker steel cut oats we have directions for that too.
Want to see a few of my favorite things that I am totally obsessed with?? Take a peek and see how many you might already have…twinsies!
Looking for more easy family recipes and tips? LIKE The Typical Mom Facebook page?
Then sign up for my free newsletter, and follow me on Pinterest! 😉
***** If you LOVED this recipe give it 5 Stars below and let everyone know what you thought about it. 😉
Instant Pot Oatmeal
These 2 Instant Pot oatmeal recipes only take 5 minutes to cook and taste amazing! An easy pressure cooker breakfast that the whole family will enjoy and is a healthy meal too. Try apple cinnamon oatmeal or pumpkin oatmeal this morning and let us know what you think!
Instructions
Spray inside of pot with non stick spray. Push saute button on your Instant Pot or pressure cooker

Add butter and allow to melt. Turn Instant Pot off…important step to avoid "burn" message from showing up.

Add water, oats, brown sugar, apples, cinnamon and raisins if desired. Stir

Put lid on and close steam valve, set to manual high pressure for 5 minutes, do a quick release, open and serve.
Nutrition Facts
Instant Pot Oatmeal
Amount Per Serving (6 oz)
Calories 192
Calories from Fat 90
% Daily Value*
Fat 10g15%
Cholesterol 22mg7%
Sodium 87mg4%
Potassium 106mg3%
Carbohydrates 23g8%
Protein 2g4%
Vitamin A 285IU6%
Vitamin C 1.4mg2%
Calcium 23mg2%
Iron 0.9mg5%
* Percent Daily Values are based on a 2000 calorie diet.