Here's a yummy pressure cooker breakfast bundt cake full of eggs, biscuits, ham or bacon & more! Load it up and enjoy it for brunch. Easy and fast in your Instant Pot!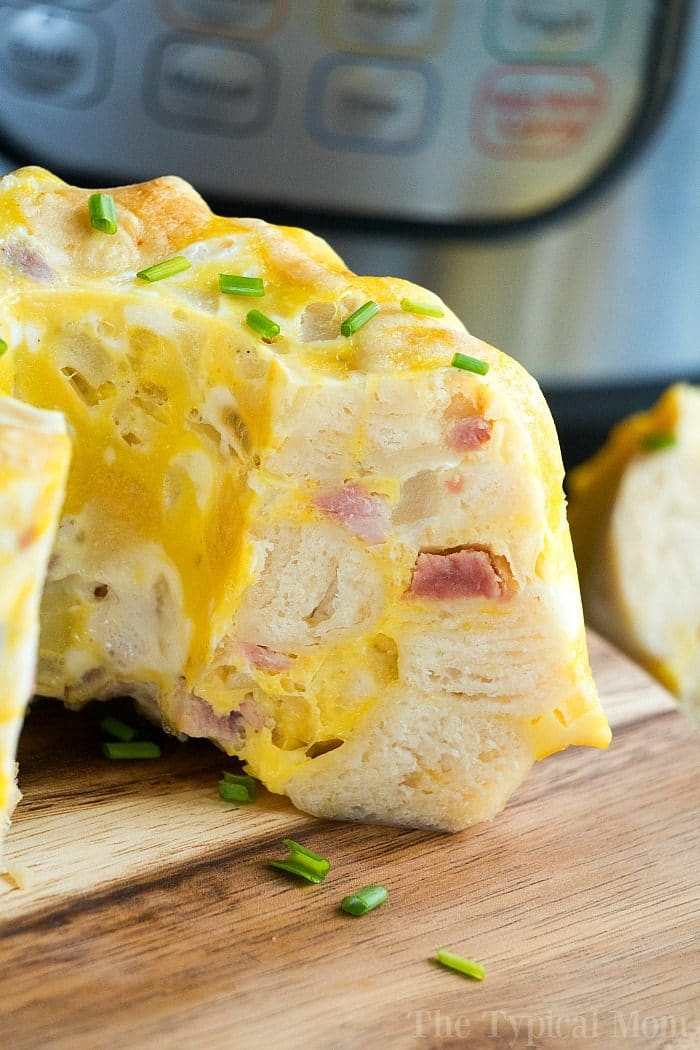 I made this pressure cooker breakfast bundt cake not knowing how it would turn out and was surprised to find it out it worked amazingly well!! Packed with eggs, leftover ham, onions and biscuits it was hearty and full of flavor! Definitely on the top of my list of great Instant Pot recipes we can now share with all of you.
I made this breakfast bundt cake in the oven a while back, and an Instant Pot breakfast casserole as well but this is a nice cross between the two and looks so pretty when it's done!
I have a link to the bundt pan I used to make our pressure cooker breakfast because that is a MUST because of it's size, shape, and it is the best coated so anything you cook inside just slides right out.
It was so good I tell you…..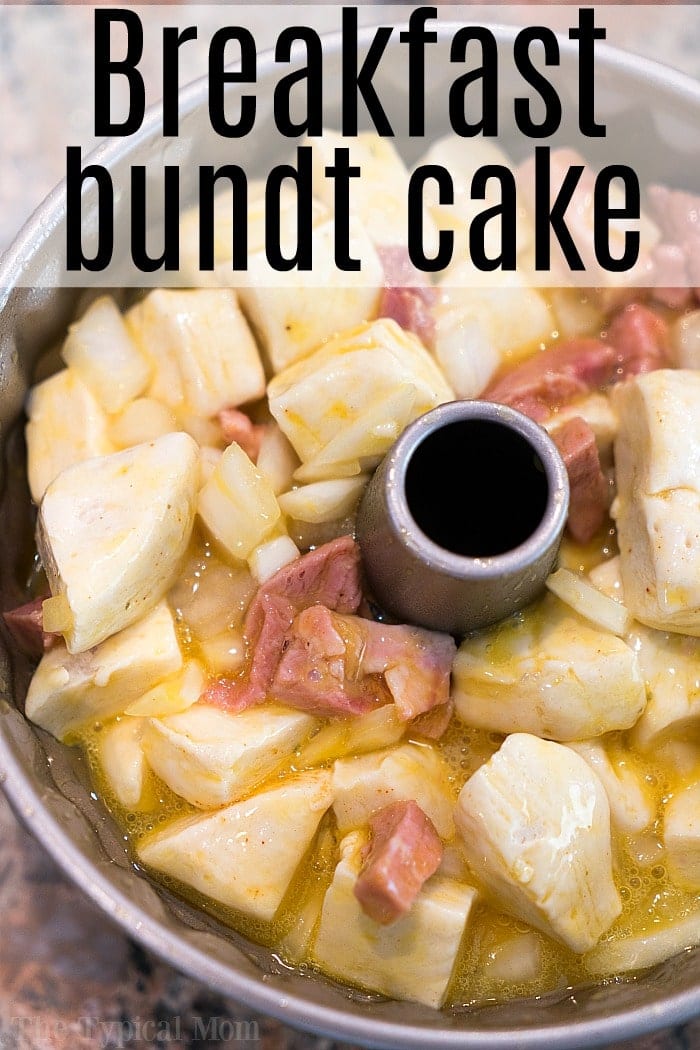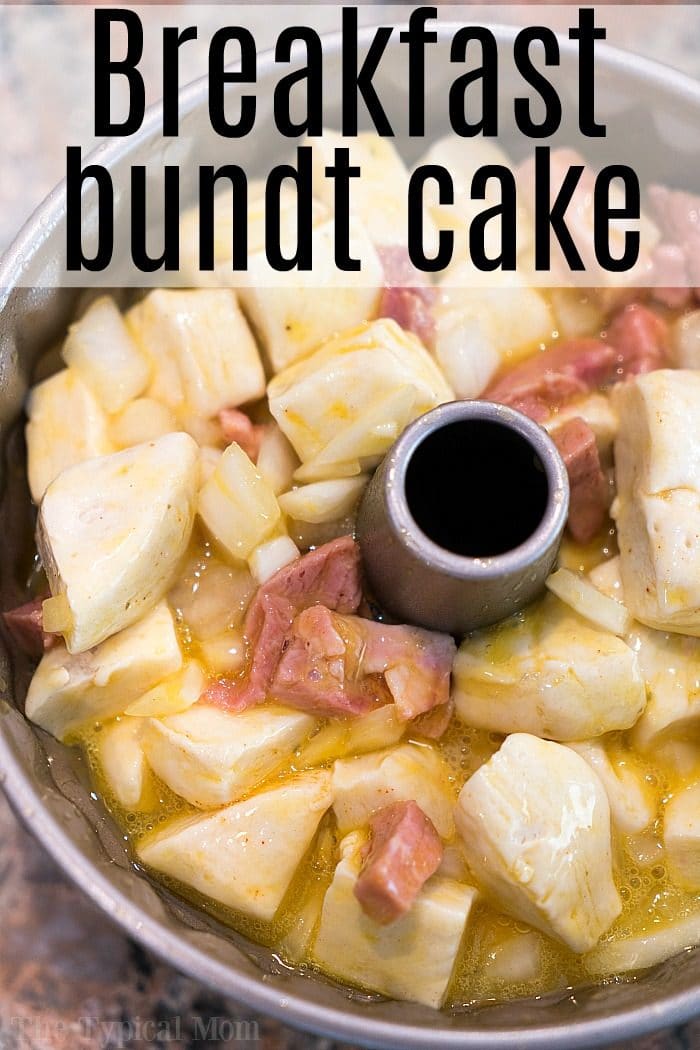 I started this because I had leftover ham after cooking an Instant Pot ham and hate wasting food.
So…..I thought I would give this a whirl and see if it would turn out well.
Amazing is all I have to say.
Not all I make in my pressure cooker the first time work out well, this is true.
Figuring out the timing on it is the hardest part since you can't see it like if you put it inside the oven or something.
It's kinda' a guess when you're developing a recipe but 30 minutes worked perfectly for this to ensure the biscuits were cooked through and the eggs weren't still runny at all.
You could easily substitute the diced ham for bacon bits or precooked ground sausage too I'm sure, I am going to use sausage next time and will update with a pic. when I do that.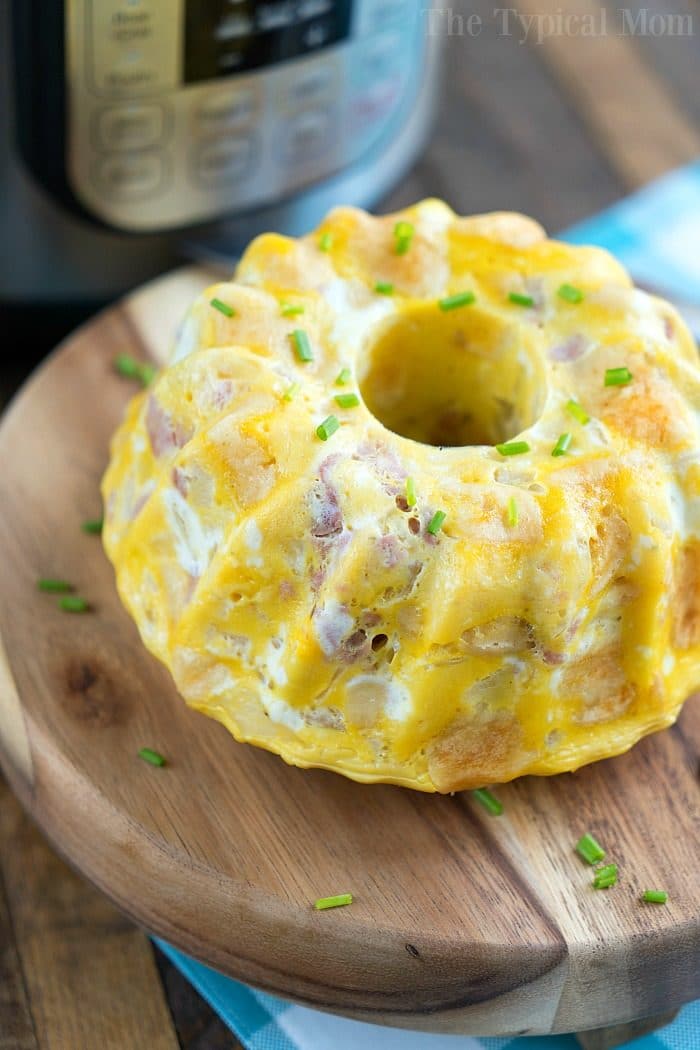 Such a pretty savory bundt cake idea right?? Would present well at a brunch and feeds a fair amount since it is rather dense, but FULL of flavor I tell you.
If you allow it to cool at least 5 minutes it is easy to slice through as you can see on the bottom photo here and each bite had plenty of egg and ham.
You could also add a bit of cheese, I think 1/4 cup would work well. I didn't this time because my husband is dairy free and wanted him to try it…and he loved it!
This is what you'll need to make our pressure cooker breakfast bundt cake
7″ bundt pan – fits in 6qt. Instant Pots or larger, the best one I've bought!
Eggs
Refrigerated biscuits – I used Grands (a bit larger than traditional ones, found right beside all others in refrigerated section at store)
Diced ham – I used leftover ham and it was fabulous, could use real crumbled bacon or bacon bits
Diced onion
Seasoned salt – I used Lawry's
Garlic salt
Could add a bit of cheese if desired, maybe 1/4 c shredded (I did not this time)
Let me tell you it was so fabulous!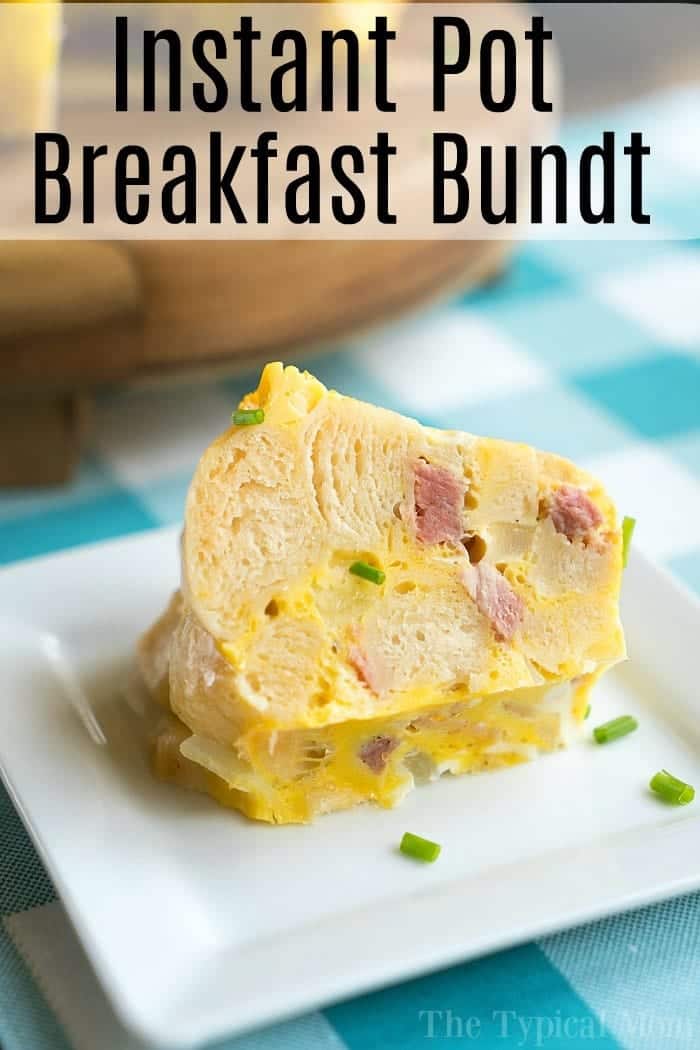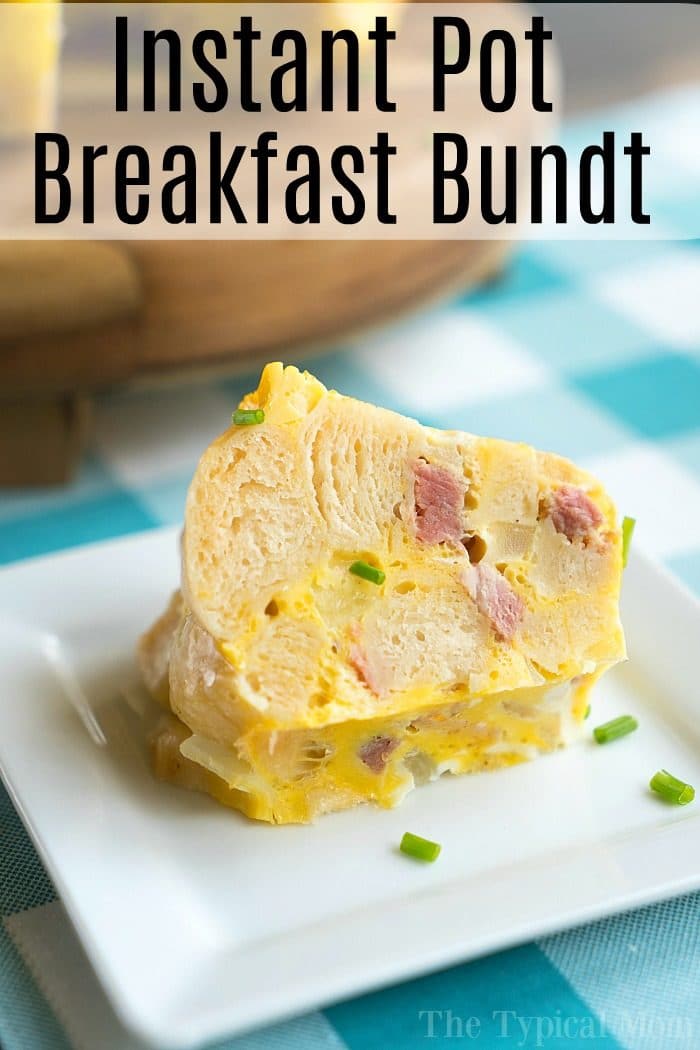 Here's a video for our easy pressure cooker breakfast bundt idea.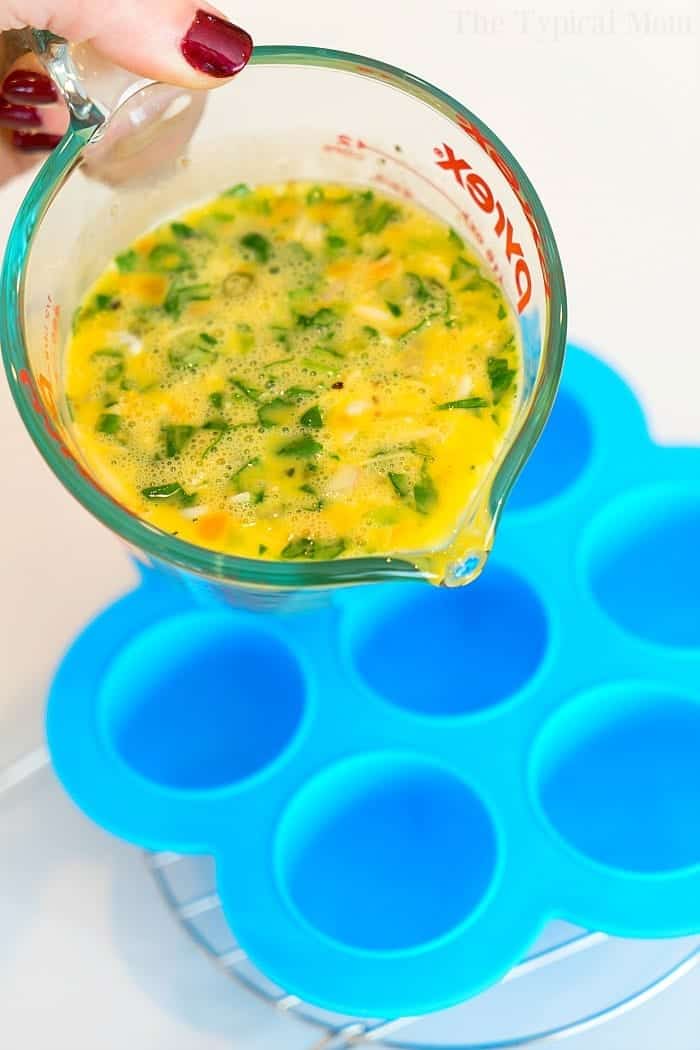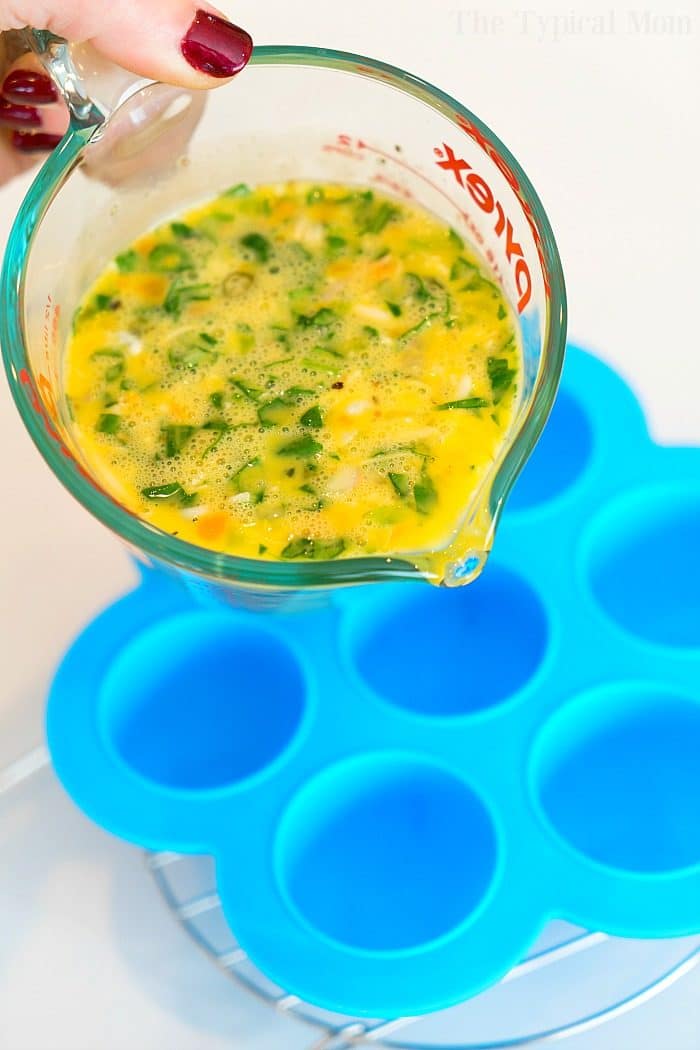 Printable directions for this Instant Pot breakfast bundt cake here:
Pressure Cooker Breakfast
Here's a yummy pressure cooker breakfast bundt cake full of eggs, biscuits, ham & more! Load it up and enjoy it for brunch. 30 minutes in your Instant Pot!
Ingredients
1

tube

refrigerated biscuits

I used Grands, only used 7 out of 8 biscuits

1/4

onion

diced

3/4

c

ham

precooked, diced - could use 1/2 c. real bacon bits instead

1

tsp

garlic salt

1/2

tsp

seasoned salt

I used Lawry's

4

eggs

1/4

c

cheese
Instructions
Scramble your eggs in a bowl.

Cut each Grands refrigerated biscuit into 9 pieces and put into the bowl with the egg.

Add your diced ham, garlic and seasoned salt and diced onions. (could add 1/4 c. cheese too, I didn't this time for pics but have other times and it is great)

Fold this mixture together until biscuits are coated well with egg.

Spray the inside of your 7" bundt pan with non stick spray and pour your mixture in.

Cover it with foil allowing the top to be a bit domed so it can rise inside the pan a bit.

Put 1 1/2 c. of water inside your Instant Pot and put a trivet at the bottom.

Make a sling out of foil and lower your breakfast bundt cake down on to the trivet.

Set to pressure high for 30 minutes.

Allow it to naturally release (I waited 20 minutes).

Uncover and cool a bit so when you flip it over it stays in tact.
Video
For more easy recipes, tips and free printables please LIKE The Typical Mom on Facebook and follow me on Pinterest! You can also sign up for my free weekly newsletter which is packed with goodies I know you'll love. 😉