Apple cinnamon pull apart bread made with refrigerated biscuits is the best breakfast or dessert! Ooey gooey finger food with a slight caramel flavor.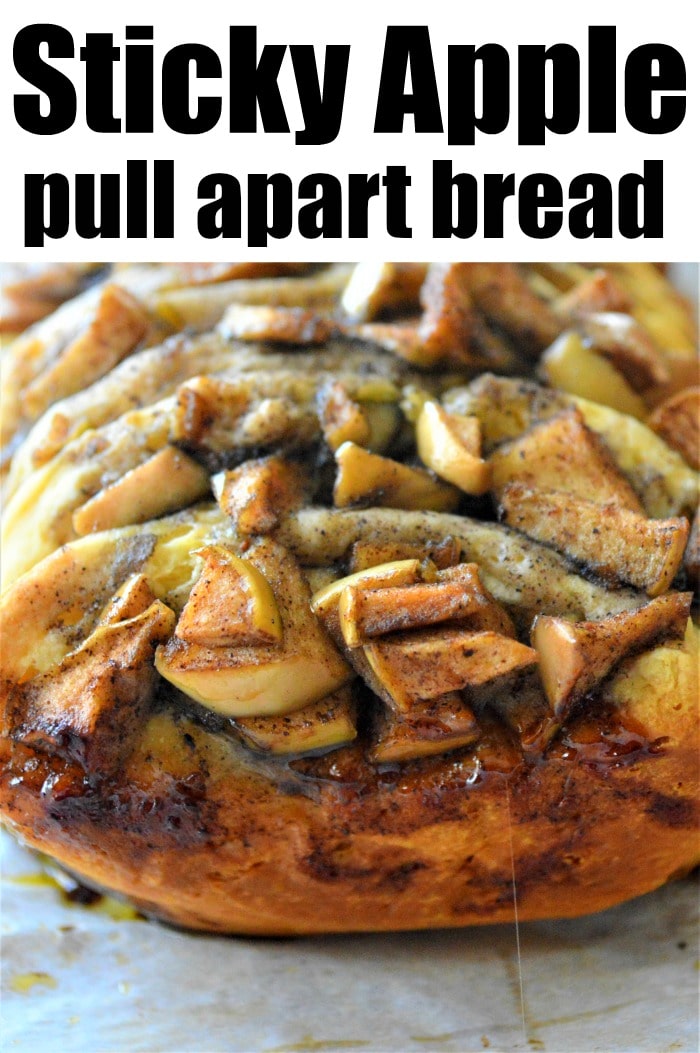 Have you made an apple cinnamon roll pull apart bread loaf yet?? You can really use any flavors you want but this type of dessert is just incredible. I promise it will become your new favorite quick treat.
We started this whole refrigerated bread journey with this cheesy garlic pull apart bread. This original recipe was such a hit.
It was so popular with spaghetti that we just couldn't stop with all the other ideas.
Since we had a savory version it was time to integrate some fruit and sweetness. Simmered and spooned in between and on top a can of refrigerated biscuits, it couldn't be easier.
Cinnamon Pull Apart Bread with Biscuits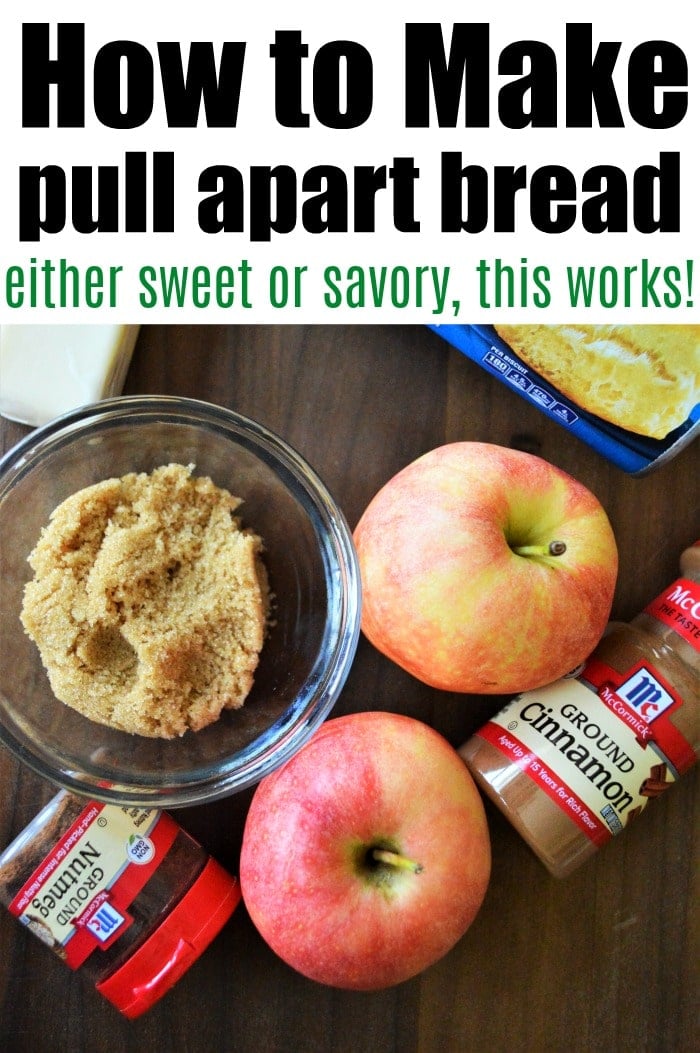 If you know me at all you know that I would likely eat dessert before dinner any day of the week. That is just how it is around here. I don't like SUPER sickeningly sweet stuff though. Fruit cuts that and gives this great texture too.
There are many varieties you could choose from, I choose Fuji for almost everything. In our fresh apple monkey bread they worked best, so I figured this would be best in this case too.
Red are going to be too soft when cooked and will likely fall apart.
Granny Smith are quite tart and don't soften enough for my liking.
If I had to choose a close second I might choose Pink Lady.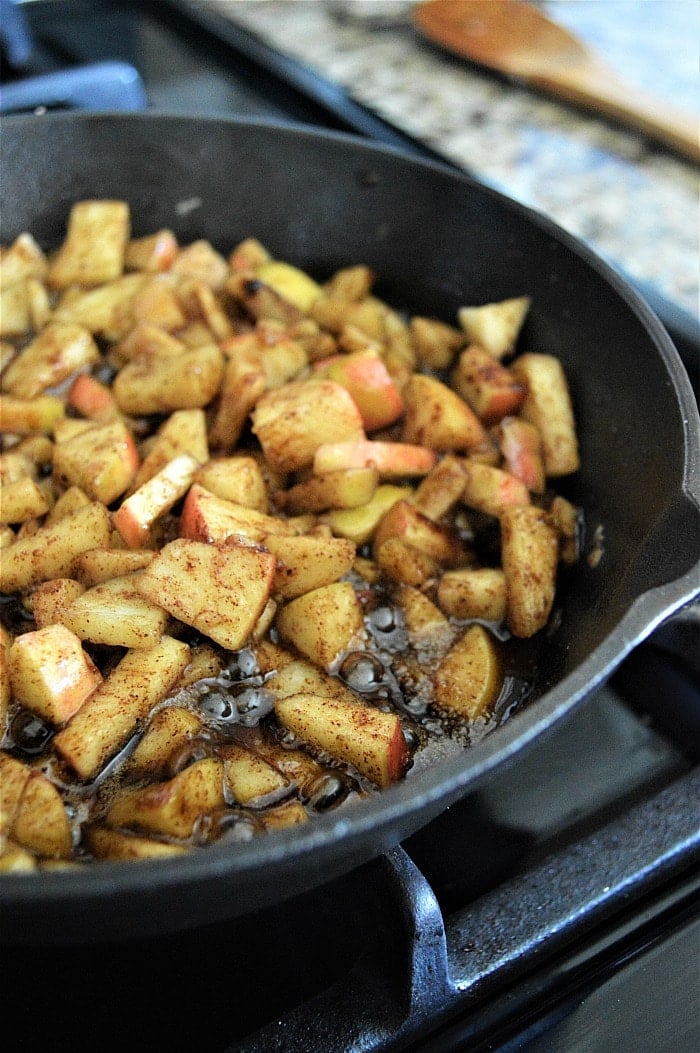 This might be one of our favorite fresh apple recipes we've made in a while.
What is refrigerated biscuit dough?
They are made from a stiff dough that when refrigerated becomes even stiffer. It's usually shaped into a log that is sliced into rounds and can be separated into 8-10 rolls.

You can also get frozen Rhodes rolls and defrost them for 45 minutes, flatten and use those.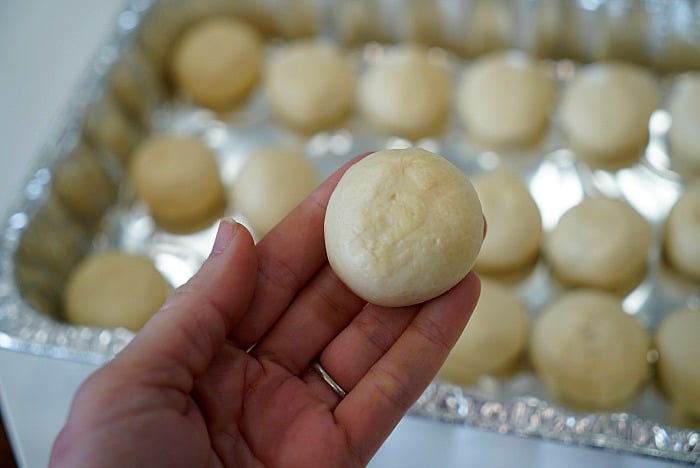 How do you make canned biscuits better?
Make an easy monkey bread recipe with fruit or just cinnamon and sugar! Dice up, mix with cheese and seasonings and make a savory pull apart bread in the oven!
Can you refrigerate biscuit dough after opening?
Only for a few hours, beyond that they will start to deflate and become a weird consistency. You won't want to use them much after that time period.
The only real "prep" you have to do is to cook down the diced apples, cinnamon and sugar. You don't want to get SOFT, but tender. Just as if you were sauteeing onions to lose that "bite", it's kinda' the same idea.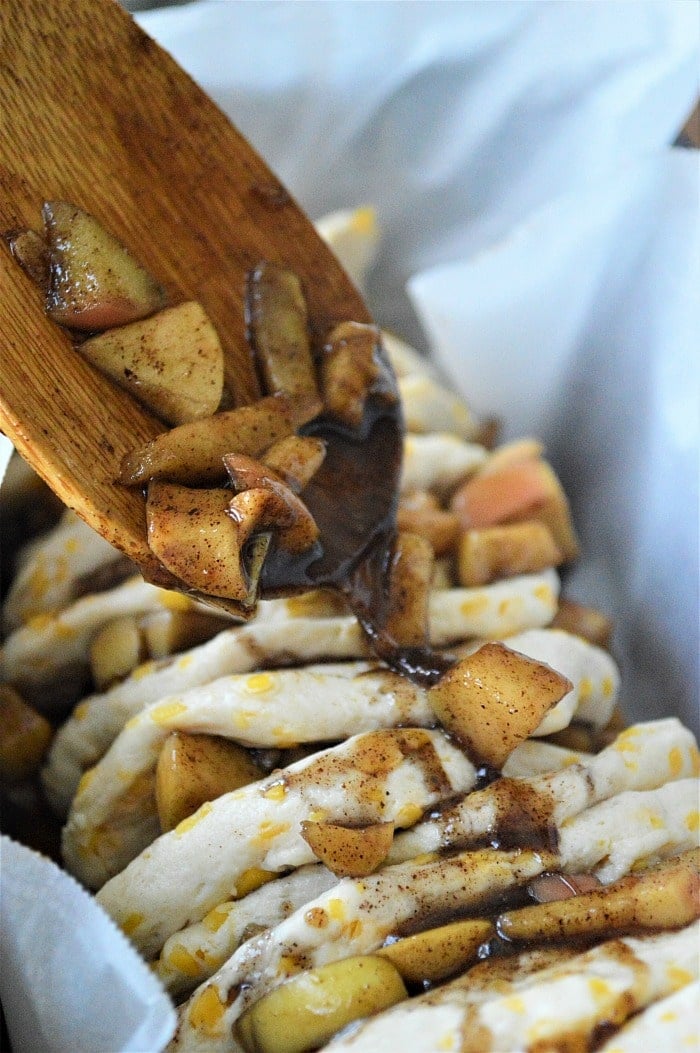 You could easily make 2 batches at once too. You'd need 2 loaf pans and double the ingredients but if you have a crowd, or making a Christmas brunch recipe it would be easy to do.
Now if you made homemade pull apart bread you would need a stand mixer, dough hook, yeast, time for the dough to rise and double in size, a medium bowl to add the eggs….. I just can't in the morning y'all.
Sweet Pull-Apart Bread
Grands refrigerated biscuits
Apples, diced
Sugar and cinnamon
Room temperature or melted butter
Small bowl
Parchment paper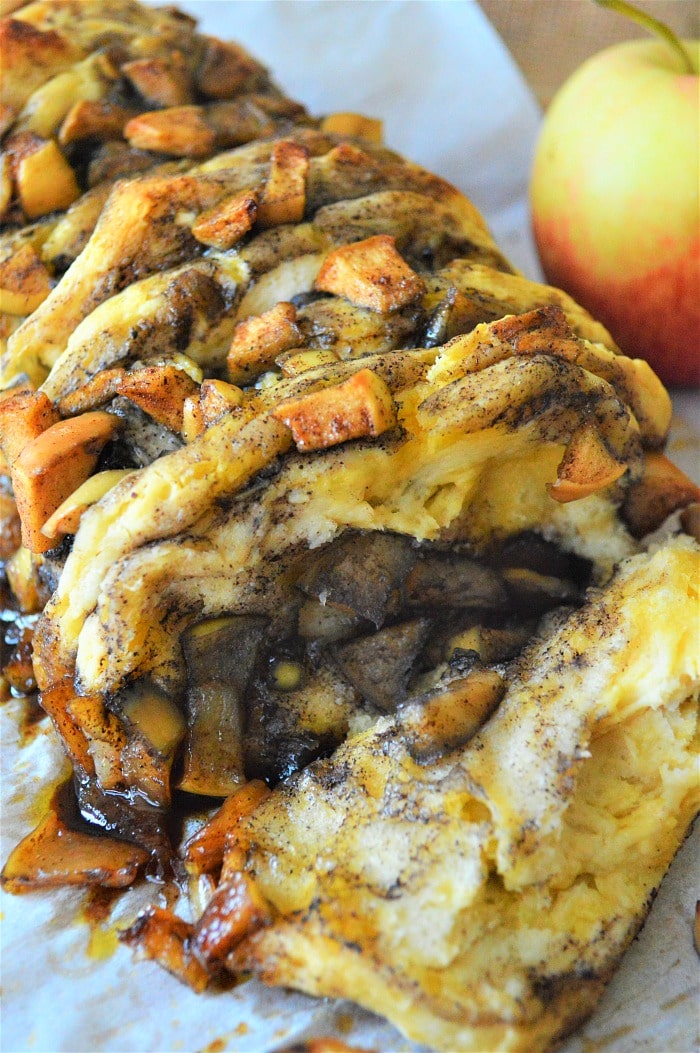 THIS is what you get when you're done!! Don't scrimp on the apples y'all.
Time needed: 35 minutes.
Pull-Apart Bread Cinnamon
Saute

In a pan on the stovetop make your easy baked apples. Add your diced apples, sugar, cinnamon, nutmeg and butter. Cook until apples have softened. Remove from heat.

Preheat oven

Preheat your oven to 350 degrees F.

Prepare pull apart loaf

Slice biscuits in half and reshape in your palms so they are thinner but round again. Place parchment paper (or spray with cooking spray) in loaf pan and lay each piece in next to one another.

Add fruit

Spoon apple mix in between each biscuit piece, then use remaining to spoon on top.

Bake

Bake for 35-40 minutes or until the top is golden brown. Allow to cool in pan for at least 5 minutes before serving so it stiffens up and sauce continues to thicken.
Is your mouth watering yet?? I bet it is and you're already thinking of what you should make after this one, well we have it! Our smoker bread is it!!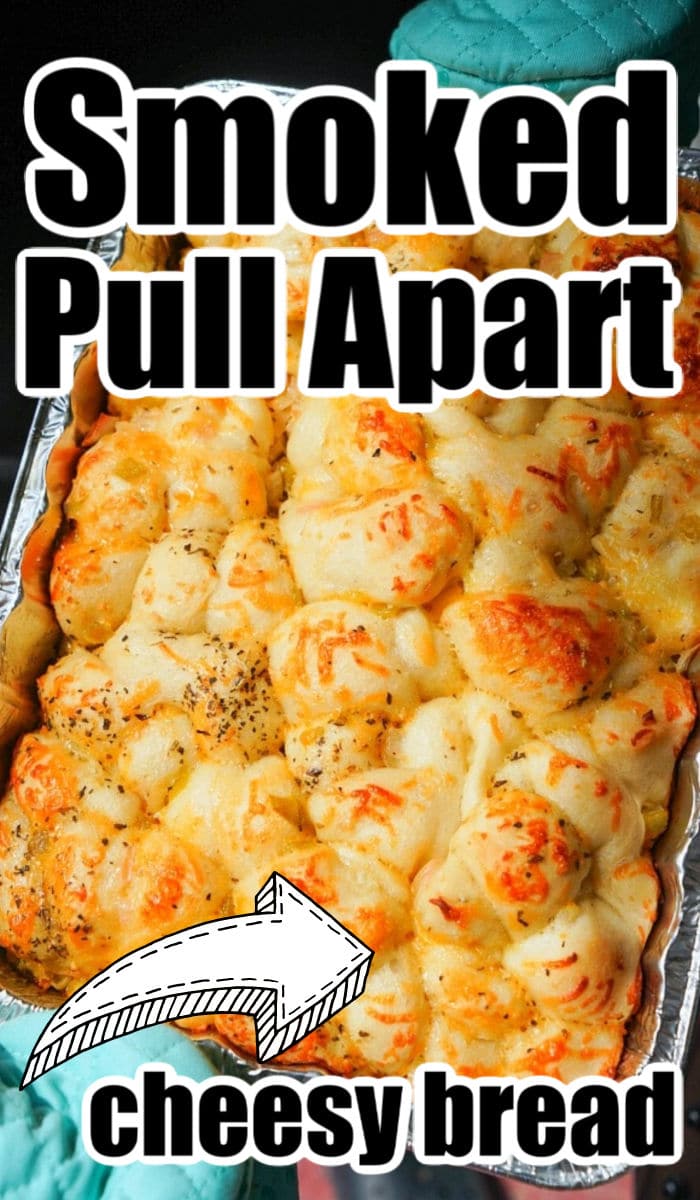 See how easy these are to make in just about 30 minutes? We are already thinking of our next creation with maybe Rhodes cinnamon rolls.
I think one with a pizza flavor might be incredible too right?!! I know, so good right??
Whether you're having people over for Christmas breakfast and want something sweet to serve.
OR it's the weekend and you want to treat your family and kids to something incredible, this will definitely be a hit!
Want more easy recipes and tips from The Typical Mom blog? Sign up for my free newsletter, and follow me on Pinterest!
***** If you LOVED this recipe give it 5 Stars below and let everyone know what you thought about it. 😉
Cinnamon Pull Apart Bread
Apple cinnamon pull apart bread made with refrigerated biscuits is the best breakfast or dessert! Ooey gooey finger food with a slight caramel flavor.
Instructions
Finely dice apples and put into a skillet. Add brown sugar, butter, cinnamon and nutmeg. Cook over medium heat until fruit becomes slightly tender. Remove from heat and allow to cool.

Preheat oven to 350 degrees F

Open can of biscuits and slice each one in half. Then use palms to flatten out into a thinner circle again.

Put parchment paper into a loaf pan and line flattened biscuits up in a row.

Spoon cooked cinnamon apples in between each piece leaving a bit to spoon over the top.

Bake for 35-40 minutes or until the top is golden brown.

Take out and allow to cool slightly before serving to pull apart into individual servings.
Nutrition Facts
Cinnamon Pull Apart Bread
Amount Per Serving (2 oz)
Calories 220
Calories from Fat 81
% Daily Value*
Fat 9g14%
Cholesterol 4mg1%
Sodium 447mg19%
Potassium 150mg4%
Carbohydrates 33g11%
Protein 3g6%
Vitamin A 55IU1%
Vitamin C 2mg2%
Calcium 32mg3%
Iron 2mg11%
* Percent Daily Values are based on a 2000 calorie diet.