Best frozen cinnamon rolls recipe is here! How to make chocolate or a basic easy monkey bread with frozen Rhodes cinnamon rolls you'll love. A family favorite dessert or breakfast pull apart bread people go crazy over!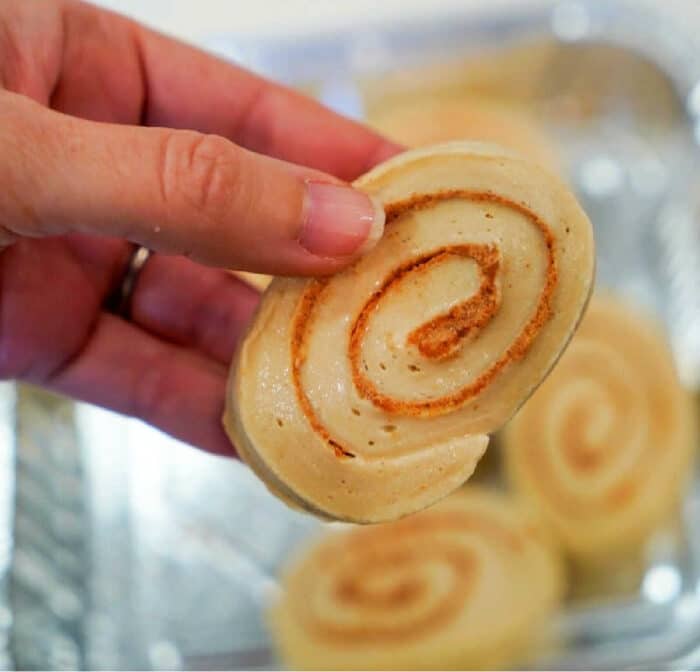 Frozen cinnamon rolls can be made into so many recipes!! Monkey bread is just one and we share how to make that below with Rhodes. Slightly defrosted they can be cut and made into all sorts of pull apart breads, or just baked as is with frosting. (affiliate links present)
How to Cook Frozen Cinnamon Rolls
Just like when you buy a bag of Rhodes frozen rolls, there are directions for how to rise and bake the rolls on the back. If you wanted to just lay in a baking dish and cook as is for breakfast, you would follow without any modifications. What you do is basically leave them on a sheet pan covered with non stick plastic wrap for 3 hours. Bake cinnamon rolls for 17 minutes at 350 F.
How long does the speed method take for Rhodes cinnamon rolls?
Compared to the regular method which requires 3 hours you can speed thaw frozen rolls for 15 minutes in an oven with just the light on. Add a bowl of warm water on the shelf beneath it and once they double in size you're ready. 15 – 20 minutes is about the quick rise timing.
If you are going to cut them to make our monkey or cinnamon pull apart bread you do want them to stay a bit firm for that step. Therefore we thaw for 45 minutes and then let them rise a while longer in the pan. If you thaw and rise as directed they will not slice properly so follow our lead in the recipe card below for our creation.
How to Quick Thaw Frozen Cinnamon Rolls
Cinnamon roll speed thaw method is possible with just a tad bit of heat, but not too much. This makes it possible to proof dough quicker.
The best way to do this is to turn the oven light on, not the heat.
That will produce just a tiny bit of heat.
You'll need to set a small shallow bowl with warm water on the bottom rack.
On the shelf above that set your deep dish baking pan or baking sheet with unbaked cinnamon rolls on or inside. Needs to be sprayed with non stick spray inside with a dish towel draped over the top. If you only want to make a few (not all) just do that, wrap up and freeze cinnamon rolls unused to bake later.
Close and check after 15 minutes. Once they've doubled in size take out and then you need to be quick in your next steps. If you want to bake them it is best to have your other oven already preheated to cook them.
If you are making slow cooker cinnamon rolls you'll need to transfer them in there like this quickly and have that pot preheated to low already too. To make our recipe below you do NOT want to do this or they will become too soft and not be able to be cut properly.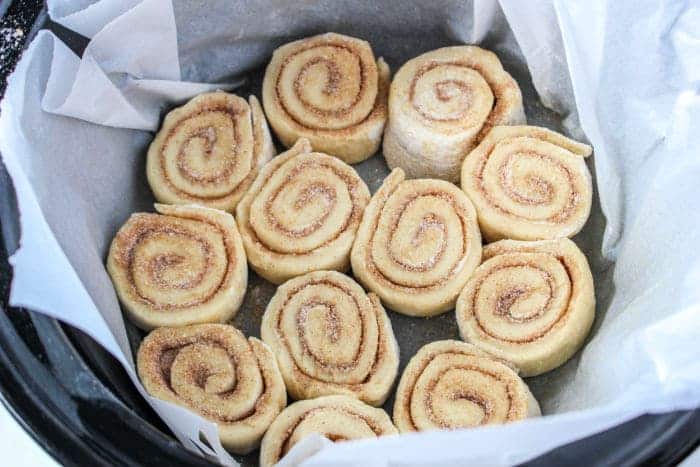 Frozen Cinnamon Rolls Recipe
This is what you will need for just a simple cinnamon sugar monkey bread. If you wanted to make it chocolate you would want to add 1/2 cup of chocolate chips to the bottom and 1 tbsp of cocoa into the sugar mixture. We have made pumpkin monkey bread too you could follow if you love that flavor.
Cinnamon rolls frozen, defrosted for 45 minutes
Sugar and cinnamon
Butter melted
Brown sugar
You'll need a bundt pan to make this too, it's worth it to buy a nice one
Most people will want to bake this in the oven. After making a ton of different varieties we did venture out and make monkey bread on a smoker too. That was fun, and worked well. If you like to cook outside especially during the summertime you should try that. This way it will not heat up your whole house.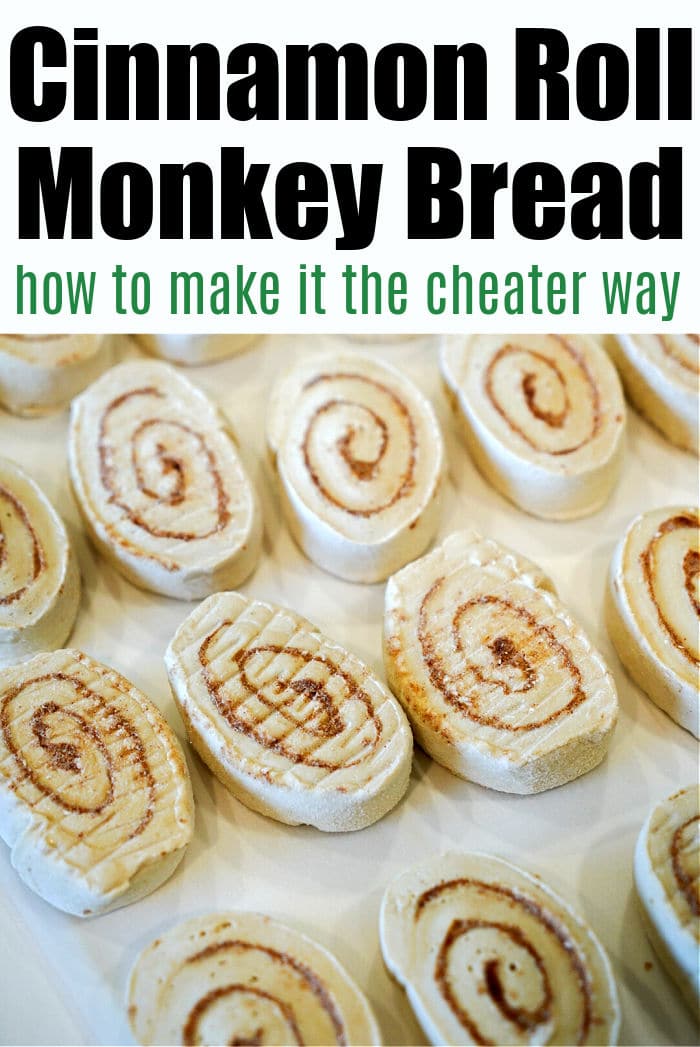 The same thing can be done using refrigerated or homemade cinnamon rolls too really. Honestly these are cheaper overall though with the number you get in one bag. OH and there are a few little bags of frosting in there too. If you throw them into a bowl of warm water they will defrost.
Then you can just squeeze it right over the top and enjoy. No need to buy a tub of vanilla or cream cheese frosting.
Making a batch of cinnamon rolls with heavy cream (seen on TikTok) are incredible too.
Rhodes Cinnamon Rolls
This is the most common brand out there. I have seen occasionally store brands too but I have never bought or tried them. If you did only want to make one or a few you should store in a freezer bag the rest. Another way you can enjoy them is to defrost at room temperature like directed here.
Then you can actually bake monkey bread in air fryer instead. This makes a much smaller batch, more like to enjoy between 2 or 3 people instead of 8-10. Remove, allow to cool completely and slide it out to eat!
Want to see a few of my favorite things that I am totally obsessed with?? Take a peek and see how many you might already have…twinsies!
Looking for more easy family recipes and tips? LIKE The Typical Mom Facebook page?
Then sign up for my free newsletter, and follow me on Pinterest! 😉
***** If you LOVED this recipe give it 5 Stars below and let everyone know what you thought about it. 😉
Frozen Cinnamon Rolls Recipe
Best frozen cinnamon rolls recipe is here! How to make chocolate or a basic easy monkey bread with frozen Rhodes cinnamon rolls you'll love.
Instructions
Lay frozen cinnamon rolls on parchment paper to allow them defrost for 45 minutes, no longer. Slice into 4 equal pieces, each one.

On a shallow plate combine sugar, cinnamon, (and 1 tbsp cocoa if you want it chocolate). Spray inside of bundt pan well with non stick spray. Dip and coat each cut roll in the sugar mixture.

(if making chocolate version sprinkle 1/2 cup chips in very bottom of pan first) Put coated pieces into bundt pan so they're evenly spread out. Melt butter with brown sugar, stir and pour on the top.

Cover pan with plastic wrap and a towel. Put into a warm place (in colder months place into oven with just the oven light on). Allow to rest for 1 hour.

Preheat oven to 350 degrees F. Remove towel and plastic wrap. Put filled bundt pan with risen rolls into oven on 2nd to lowest rack in oven and bake for 40 minutes or until middle is no longer sticky when toothpick or knife is inserted.

Remove and sit on cooling rack for 15 minutes. Place a plate on top and flip pan upside down so bundt slides out. Serve as is or with a tub of melted frosting poured over the top.
Nutrition Facts
Frozen Cinnamon Rolls Recipe
Amount Per Serving (2 oz)
Calories 142
Calories from Fat 72
% Daily Value*
Fat 8g12%
Cholesterol 20mg7%
Sodium 78mg3%
Potassium 15mg0%
Carbohydrates 18g6%
Protein 0.2g0%
Vitamin A 237IU5%
Vitamin C 0.01mg0%
Calcium 12mg1%
Iron 0.1mg1%
* Percent Daily Values are based on a 2000 calorie diet.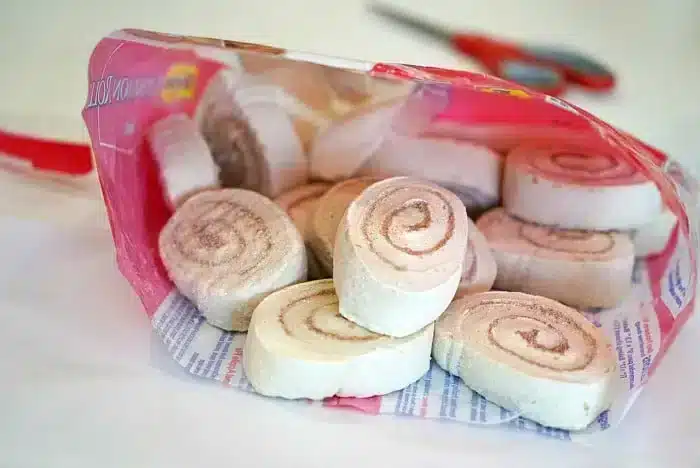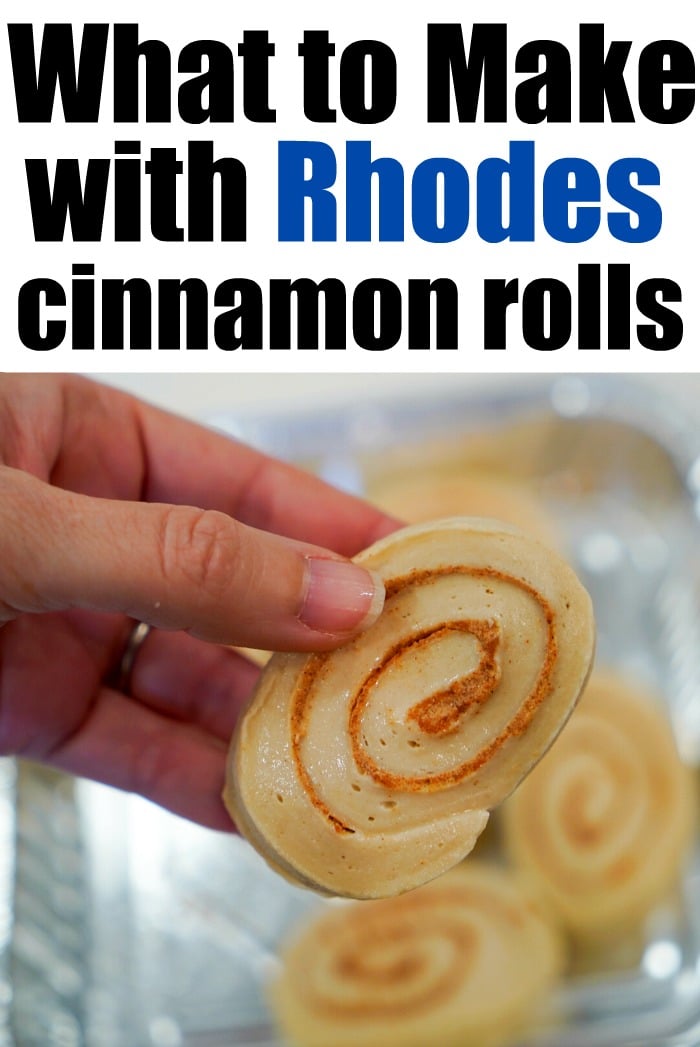 You can find these cinnamon rolls frozen at the store and they can be made into all sorts of things beyond just round with frosting. Of course those are wonderful and tasty too but if you think outside of the box there are other unique frozen dough recipes we will share with you too.