We visited the Discovery Science Center in Santa Ana last weekend! Last time we visited Discovery Cube OC (they recently changed their name to this) almost 5 years ago and boy has it changed!! They have expanded, added a new high tech theater where they have fantastic shows like the Bubblefest and more!
The Discovery Cube OC has two floors full of activities and hands on exhibits for kids….but there is even more outside!! This time was special because my middle daughter is about ready to do a report on dinosaurs, and wanted to get up close and personal with one for a photo opp…..this is a great place for that. Not only is the huge dinosaur something to see, but you can climb inside and see all the inner workings of their body too! It is so cool, even for adults! (originally published 4/16)
Discovery Science Center Review
There is a lot to see and do outside (and learn), including a rocket that makes you feel like you're about to take off to the moon, and lots of dinosaurs.
Discovery Cube Orange County
We headed inside to check things out and the girls headed in to experience what being in a tornado would feel like first…lol.
They have several experiences like this one that are fun and like nothing else you would see at any other children's museum. They even have an earthquake simulator. Not that us Cali natives haven't experienced those ourselves first hand, but some youngin's haven't. lol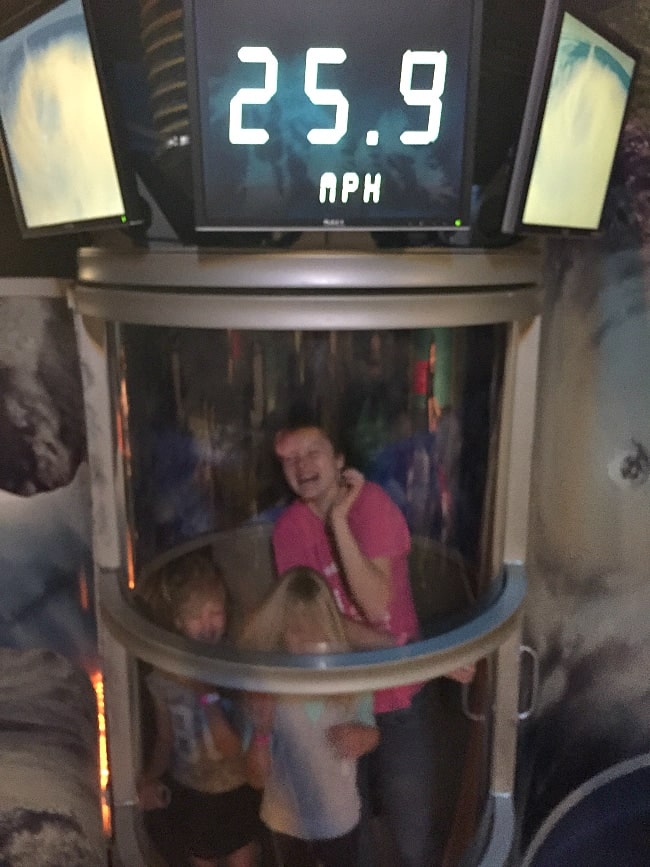 Discovery Cube Exhibits
Depending on the time of year you will find one or two special exhibits inside these walls. You can check their calendar to see which y'all would be most interested in and plan ahead for those. That is what we would do when we had passes so we ended up visiting all of them and wasn't one we said ehhhh.
The Eric Carle exhibit was probably one that brought back more memories for me than anything. On to the next experience on the second floor. My youngest strapped on a helmet and gloves to catch some hockey pucks and defend her goal.
While her sister was in the area beside her pretending she was a hockey player and trying to shoot some goals against the simulated opponents in front of her on the screen. Lots of pretend play at the Discovery Science Center.
The newest area was their FAVORITE part of the whole day…….the grocery store!! It was adorable, even my 14 year old grabbed a cart and played along for a good 30 minutes or so until we dragged them out. 😉
Each child got a shopping cart that had a scanner and a screen that told them what category of food they needed to find (ex. produce). They went to that area, scanned something in that area, went on to the next item, and then at the end they input their code and they got points for the # of items they got correct!!
Seriously SO cute…even adults were doing it. lol Now it was on to the Bubblefest show………………
Bubblefest comes once a year and although we saw it about 10 years ago it was nothing like I had remembered it. They added a laser light show that was spectacular…and of course the bubbles were amazing. Here is a sneak peek of the laser light portion with bubbles galore!!
Discovery Cube Tickets
If you'd like to see Bubblefest up close I would suggest visiting the Discovery Center in Santa Ana soon as this experience is only in April. They have other great programs throughout the year like their Gingerbread activities in Nov-Jan that are a lot of fun too.
The best deal is to grab a Membership, that way your whole family (2 adults and 2 kids) can visit all year for just $99 and you get a discount on the shows (like Bubblefest) too!
Occasionally they will offer deals where adults can get in for the same price as children so keep an eye out for those. You can easily spend the whole day there since they change up the hands on experiences often, have lots of special events, and an area for lunch too. One of the best places to take kids in Orange County I tell you. 😉