If you've been following me for a while you know I've been a bit obsessed with mug recipes! Why…well because they are fun and so easy to do. My kids absolutely love being able to cook a quick treat like this strawberry cake in a mug after school, and this omelette in a mug is really great for busy mornings (we have a lot of those)! You can make it simple with just cheese and a pinch of bacon bits, or load it up with your favorite additions like sausage and mushroom like we did here. Either way you make this easy breakfast in a mug recipe it's a winner for any age. Here's how you make it.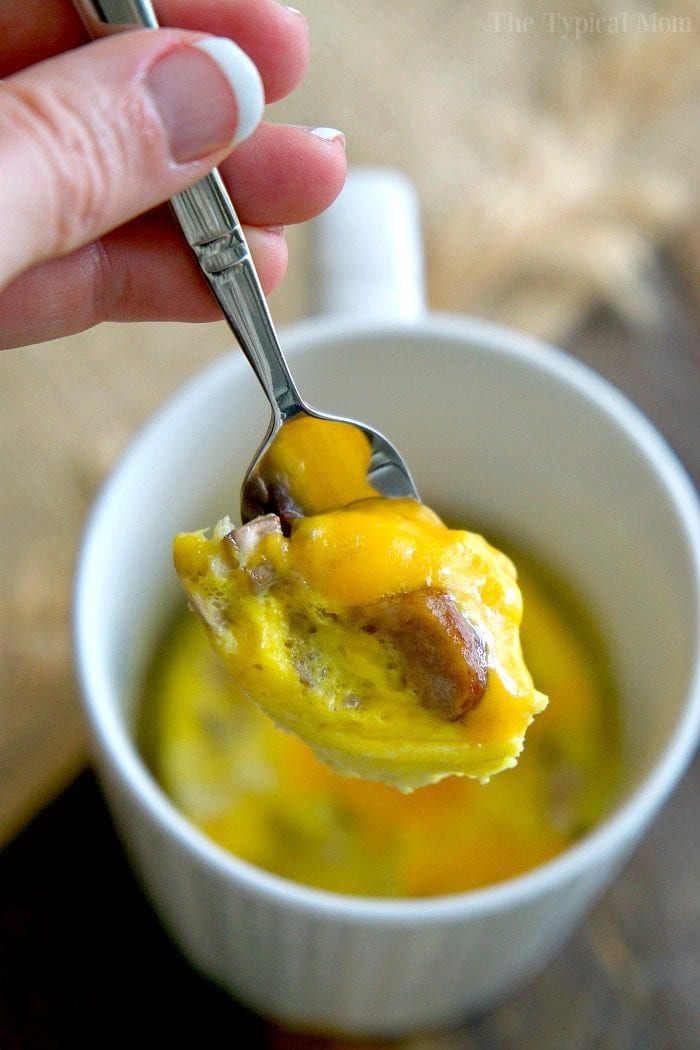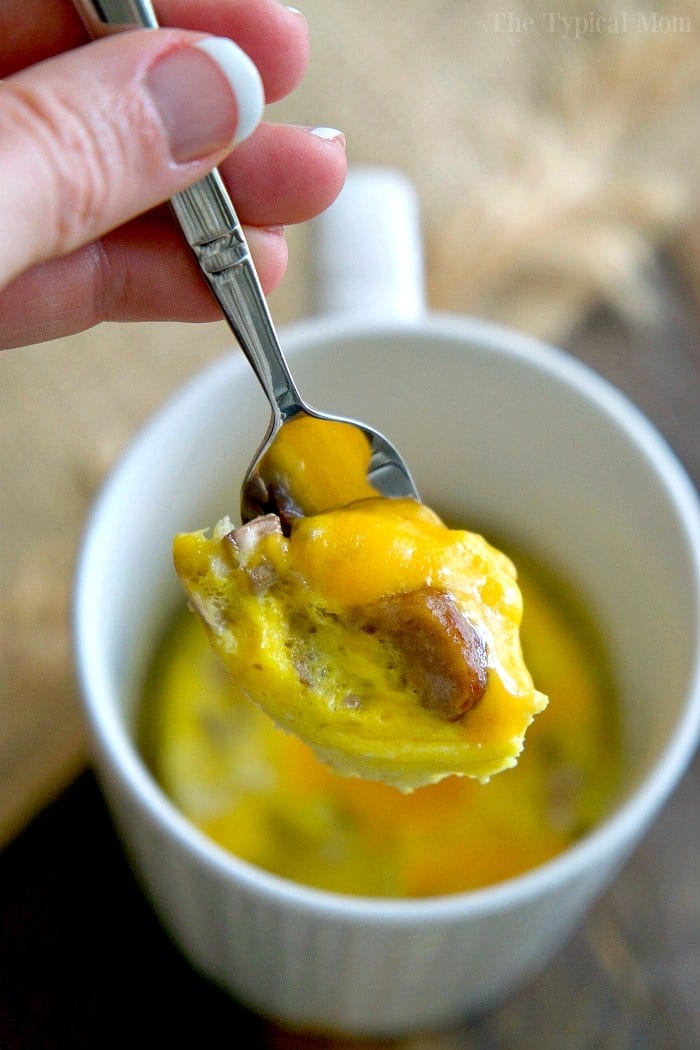 From start to finish you can have a hearty omelette in a mug in about a minute and a half, seriously! I don't know about you but my kiddos really need something hearty in the morning that will stick with them until snack time which is mid afternoon. A lot of times a piece of toast or cereal doesn't really cut it. Occasionally they will make a minute cinnamon roll in a mug but when I want them (or me) to load up on protein this is a perfect breakfast mug recipe.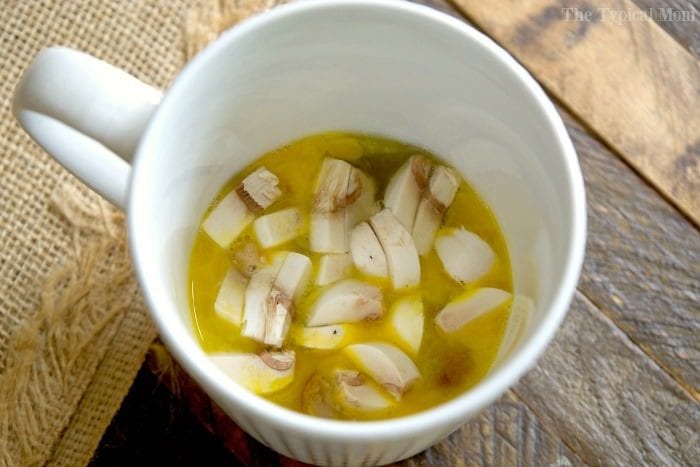 You really just whip up 2 eggs, add your ingredients, microwave, add cheese, microwave again, and then enjoy!! I bought these already cooked sausages at the store so they are in the fridge and they can microwave them beforehand for 15 seconds, dice them, add to their mug along side their other favorite items like bacon bits (already cooked and diced in a bag in the fridge too) so everything is handy and it can be cooked really quickly. A lot of times I make this for lunch since I work from home and it tides me over until dinner. Here are the step by step directions:
Omelette in a Mug
Spray inside of large mug with non stick spray
Add 2 eggs and whip up with a fork
Add ingredients such as:

1/2 sausage diced
1 mushroom diced
1 tbsp. bacon bits

Stir together
Put in microwave for 40 seconds if just adding 1 ingredient, or 1 minute if adding several
Stir mostly cooked omelette
Sprinkle some cheese on top
Microwave again for 10-20 seconds to finish cooking and melt cheese (I like my eggs on the dry side so start with 10 sec & check consistency)
Enjoy!
If you're looking for more easy mug recipes we have a lot more fun here too!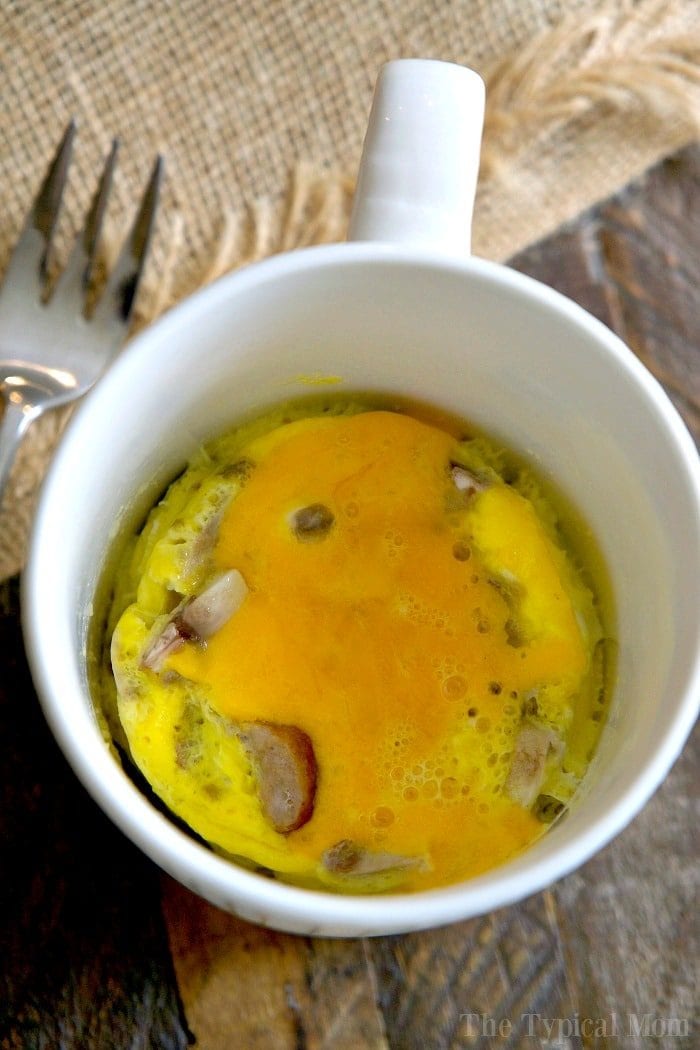 For more easy recipes, tips and free printables please LIKE The Typical Mom on Facebook and follow me on Pinterest! You can also sign up for my free weekly newsletter which is packed with goodies I know you'll love. 😉
Visit The Typical Mom's profile on Pinterest.