This is how easy it is to make pizza in a mug! Just 2 minutes in your microwave and you can have a little personal pizza that's cheesy and filled with your favorite toppings. A great after school snack that kids can make on their own and a fun "baking" project you can do with little ones. We love easy mug recipes.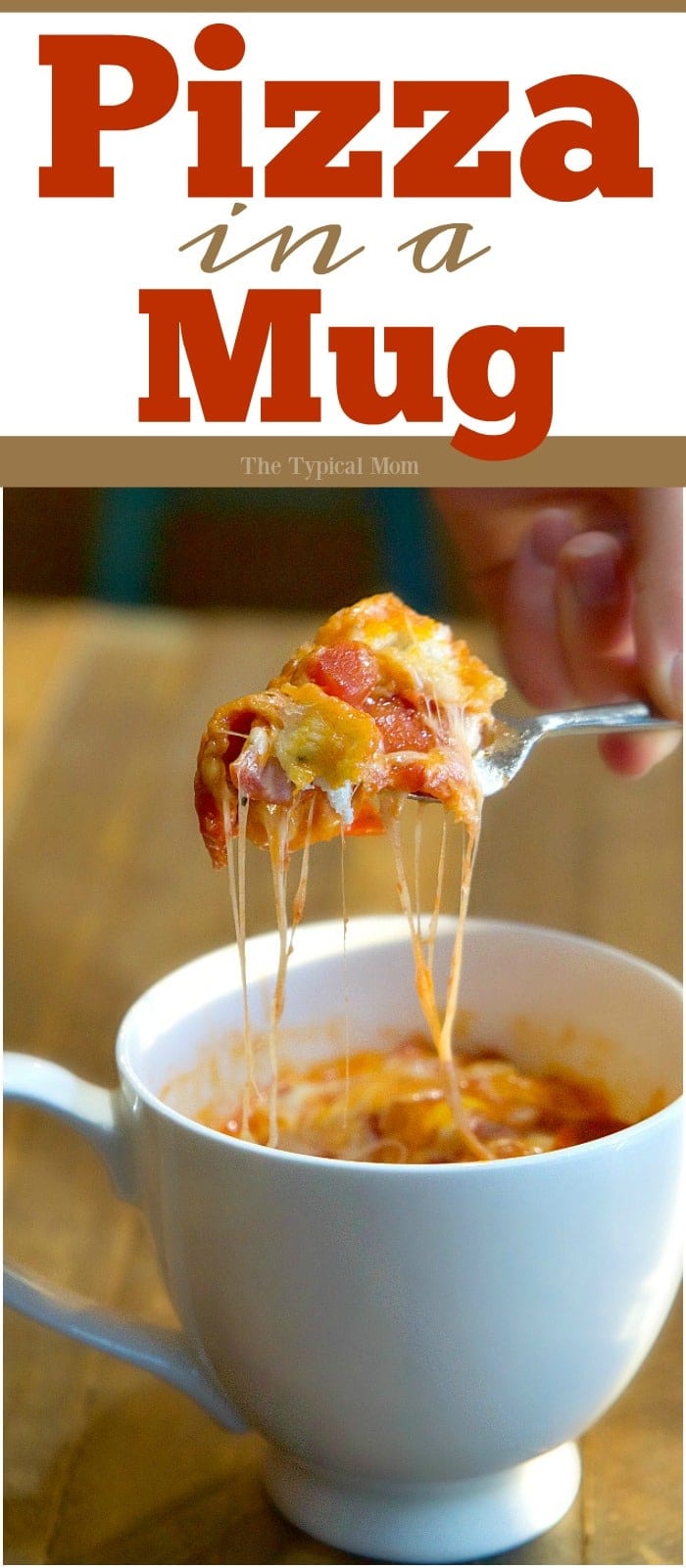 Have you ever made pizza in a mug?? It's actually quite good, and a great quick snack! You only need a few ingredients, similar to any pizza recipe, except for the dough that obviously has to be smaller. We've got the answer to that issue too, refrigerated biscuits! If you're looking for a "cool" after school snack, quick lunch, or fun activity to do when you have a few kids come over you should try this easy pizza in a mug recipe here. Let us know what you think after you try it! It's one of our favorite mug recipes. (originally published 1/17)
I know….good right??!! It's filled with the ooey gooey cheese and toppings you love and it only takes about 2 minutes to make each one! You can easily load it up with whatever you like as far as toppings go. Add diced mushrooms, olives, or even substitute Canadian bacon for the pepperoni.
Make a pizza bar of sorts if there are several people and everyone can really make their own because they're just so easy to do.
Here's what you need and how you make pizza in a mug
Refrigerated biscuits
Spaghetti sauce
Peperoni
Mozzarella
Pizza toppings
Mug
Here's my youngest helping me.
First make sure to spray the inside of your mug with non stick spray.
Then lay a Grands (large) refrigerated biscuit at the bottom.
Microwave for 30 seconds.
Spoon 2 tsp. of spaghetti sauce in the middle of your partially cooked biscuit.
Sprinkle some cheese over that.
Add your toppings.
Microwave for 1 minute.
Enjoy your pizza in a mug!
Here's a quick rundown of how you make it:
Seriously that is how easy it is, and perfect for us when I just can't get to cooking. There are 5 of us and when it is a "make your own dinner" kinda' night this is perfect. 8 biscuits come in a package so there's just enough for a light lunch or dinner for us.
Use a second mug per person and make a salad too. Paired together my kids think it is the best meal ever!!
If you love this pizza in a mug recipe you've got to try our other mug recipes like
Do you have any other favorite mug recipes we might enjoy trying?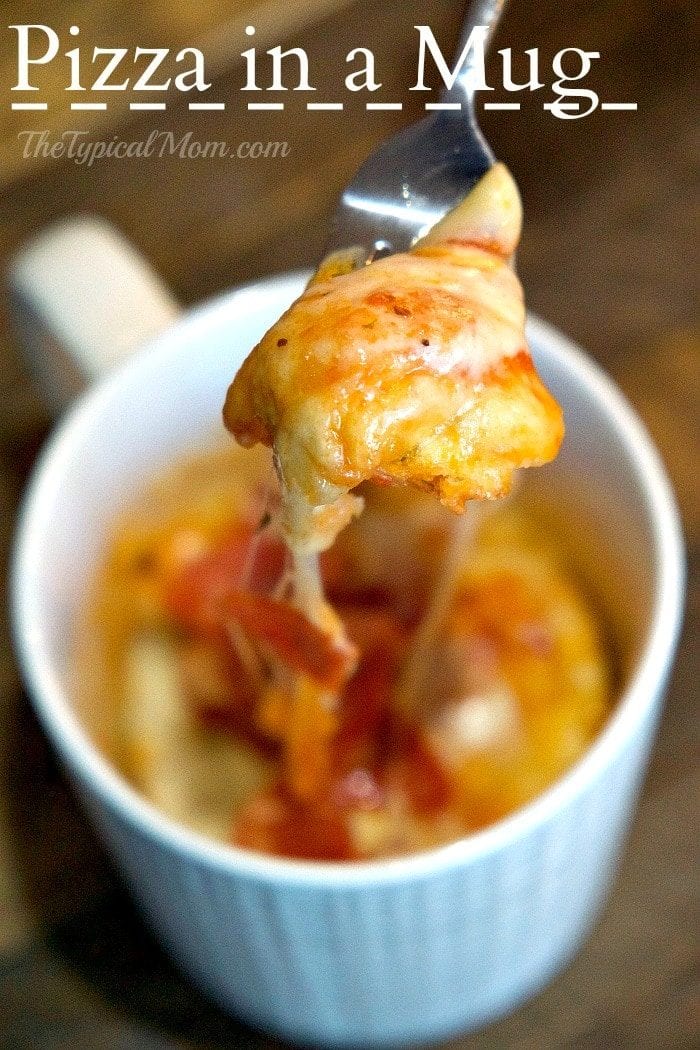 For more easy recipes, tips and crafts please LIKE The Typical Mom on Facebook and follow me on Pinterest! You can also sign up for my free weekly newsletter which is packed with goodies I know you'll love. 😉
Visit The Typical Mom's profile on Pinterest.