Moist pumpkin bread recipe that is easy to make and uses one surprise ingredient to make it the moistest bread you will ever make! Use a loaf pan or make into Libbys pumpkin muffins for breakfast or a fun Fall dessert.
When September arrives I start thinking about baking, and anything pumpkin is my favorite! I like really moist pumpkin bread paired with a mug of warm tea or coffee. This is just one quick easy dessert recipe we love to make on The Typical Mom blog. (originally published 11/15, affiliate links present)
Incredibly Moist Pumpkin Bread
I have baked pumpkin bread from scratch and have also bought it in a box. Come this time of month you can find quick bread mixes at the grocery stores. Homemade is always best though I say, especially during the holidays when you want to hunker down and bake. This is a must at Thanksgiving and Christmas brunch.
Personally I like adding either nuts, chocolate chips or dried cranberries inside too in order to give it a bit of texture. That is up to you of course. Plain with a bit of butter on your slice is amazing as well.
If you are serving a crowd you could easily double or triple this. Add different things to each one so guests can try them all. OR make mini pumpkin muffins out of it to grab and go.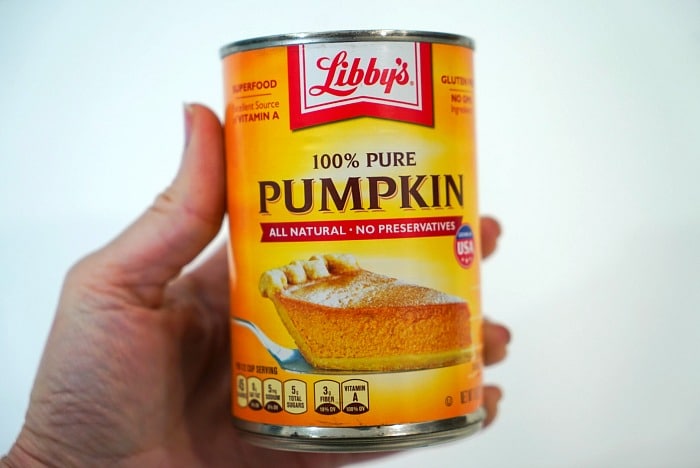 Moist Pumpkin Bread Recipe
It all starts with that orange can. Okay so if you do have time, or prefer it, feel free to make homemade pumpkin puree yourself and use that. There are usually two brands at the store, this and store brand. Occasionally you might find another organic version at Trader Joes or other specialty grocery stores.
Best Ever Moist Pumpkin Bread
In addition to what is listed below you can of course include about 1/2 cup of additions. In the photo above you can see some dried cranberries were thrown in, a fun one. White chocolate chips or mini semi-sweet can be a nice touch too. OR drizzle on a bit of glaze or frosting over the top when cooled. A few other options would be;
Chopped nuts such as walnuts or even roasted pumpkin seeds are fun.
I have heard of some people adding a few Tbsp of dried fruits used in fruit cake to add sweetness.
On the top you can just whisk 1 cup of powdered sugar with a bit of milk and then smother over the top
What are the benefits of eating pumpkin?
It is quite healthy actually! There is Vitamin A, antioxidants, and a variety of nutrients that boost immunity. High in fiber too, it's great for your stomach.
Can pumpkin be eaten raw?
Yes. You can slice it and eat the flesh on the inside without cooking if you wanted. Eating it right out of the can, like Libbys, is okay too.
How do make pumpkin bread from scratch?
We will show you how here! As usual you'll mix the dry and wet ingredients separately, then combine the two slowly. The KEY to the best pumpkin bread though is to not over-bake it!!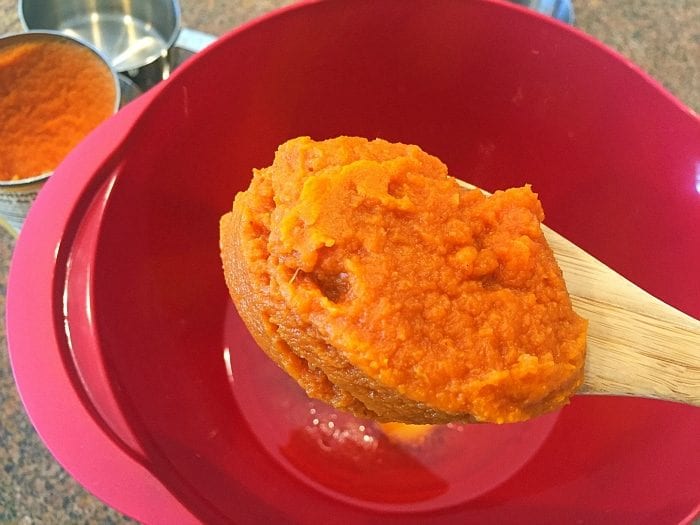 How do you keep pumpkin bread moist?
Bake it at a lower temperature for a bit longer and take it out when your toothpick comes out MOSTLY clean. If it is totally dry coming out, it will be dry. A bit wet but left in the pan until cool is key. I have made this so many times that I just use my touch. Gently touched in the center is key, if it springs back take it out immediately.
There are tons of things you can add in to create a variety of flavors such as using overripe bananas. If you'd like to try that version, follow our pumpkin banana bread recipe here too. That added ingredient adds flavor and a bit of texture if you mash them with some chunks left in it.
Moist Pumpkin Muffins
We have added dried cranberries too which was yummy. Of course my kids would choose chocolate chips every time, and I make that too.
If you'd rather bake 2 ingredient pumpkin muffins, follow the recipe below.
Fill muffin cups 3/4 of the way full.
Bake for 18-20 minutes until middle bounces back when touched gently.
Once again, do not over-bake them or they will dry out. 18 minutes works well for us but oven temperatures do vary so start with that. Add 2 minutes if that doesn't do it and check often. Remove from oven AND the muffin pan so they don't continue baking in that hot pan. Transferring to a cooling rack is the best way to keep them very moist.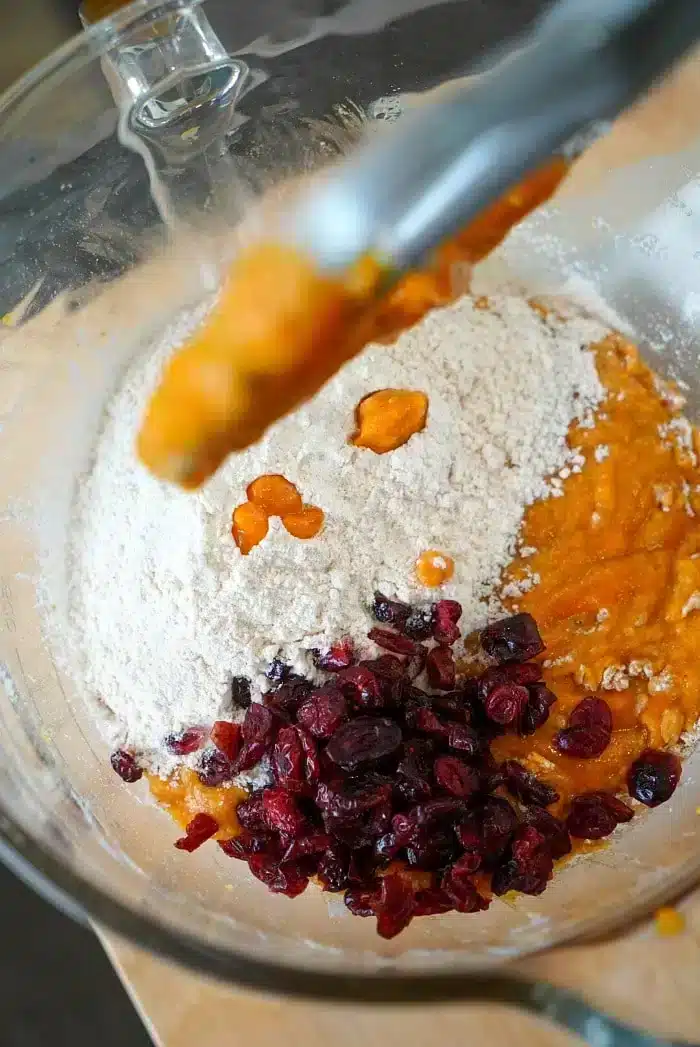 What does that mean? It just means that there may be small lumps inside. Just ensure the dry and wet mixture incorporates well. You don't want a hunk of baking powder to take a bite out of. It will taste awful and may not rise properly if it is not mixed into the entire batch. You know what I mean.
Super Moist Pumpkin Bread
I like to use my KitchenAid stand mixer but you could easily use your good old fashioned hand mixer too. Don't have either, that is okay. Elbow grease will work it is just that the batter won't be as smooth.
Flour measured properly is key to any baking projects success
Sugar and brown sugar
Eggs are best added room temperature but if you forget don't worry
Baking powder
Vegetable oil
Milk – vitamin D is best
Pumpkin pie spice and other spices
Nuts or cranberries optional
You can see our pumpkin cranberry bread here that turned out great. These addd a bit of texture and spunk to the loaf.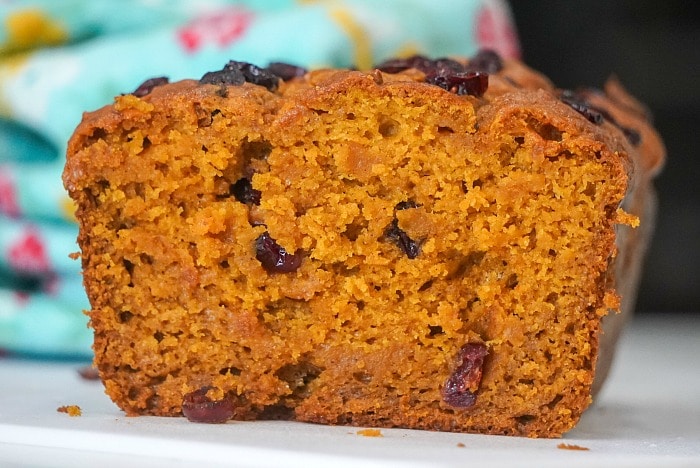 Old Fashioned Pumpkin Bread Recipe
Here is a quick step by step as far as instructions go. Refer to the bottom of this post to get the printable recipe card but you can see how easy this is to make:
Add all dry ingredients into one bowl and wet ingredients into a mixing bowl. I use my stand mixer.
Mix well in both bowls and slowly incorporate the dry ingredients into the wet ones until they are mixed.

If adding nuts, chocolate for pumpkin chocolate chip bread, or dried cranberries fold them in at the very end.

Line 9×5 loaf pan with parchment paper and pour batter in.
Put into a preheated oven at 325 for 1 hour and 15 minutes bake time or until toothpick inserted comes out mostly clean in the center.
For muffins fill 3/4 of way full and bake for 18-20 minutes until middle springs back when gently touched with a finger.
Do not remove from pan until cooled so it can continue to bake in the pan and stay moist. Allow to sit in pan for at least 20 minutes before lifting out and slicing.
Melt 1/2 cup of vanilla or cream cheese frosting and drizzle it on top of each slice and serve if you want to add even more sweetness. To make chocolate pumpkin bread you can follow this link, or just add chips to the one below. One is more chocolatey than the other for sure.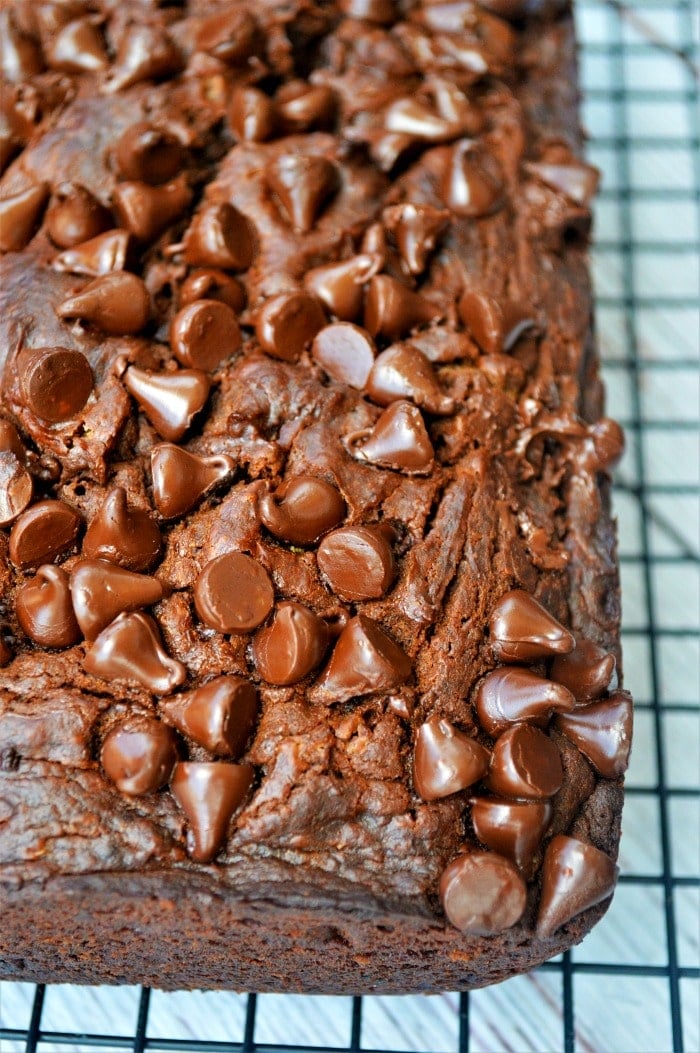 How do you eat pumpkin bread?
I eat it with just a drizzle of frosting on top, or plain. My husband prefers some butter on top. You could spread cream cheese or apple butter on top. Enjoyed plain is of course a winner too. Coffee is my go to pairing unless it's after dinner, then milk is it.
Eating pumpkin bread is a delightful experience that offers a blend of sweet, spiced flavors and a moist, tender texture. It can be enjoyed in various ways, depending on your personal preferences and creativity. Here are some popular ways to enjoy this delicious treat;
Enjoying a slice on its own is a simple pleasure. The natural sweetness and spices in the bread make it a satisfying snack or breakfast option. Just slice a piece and savor the flavors.
Toasting enhances its flavors and adds a slight crunch to the exterior. Spread a little butter or cream cheese on a toasted slice for a comforting and indulgent treat.
Slathering a warm slice of pumpkin bread with butter can create a luscious and rich flavor combination. The butter melts into the bread, adding moisture and a hint of saltiness that complements the sweetness.
Cream cheese is a classic accompaniment to pumpkin bread. The creamy and tangy flavor of the cream cheese balances the sweetness of the bread. You can spread a thin layer on a slice of pumpkin bread for a delicious contrast.
Nut butters like peanut butter, almond butter, or cashew butter can add a satisfying nutty flavor and protein boost to your pumpkin bread. Spread nut butter on a slice or drizzle it over the top for a hearty and nutritious snack.
For a touch of indulgence, top your pumpkin bread with a dollop of whipped cream. This airy and sweet topping pairs well with the flavors of the bread.
Turn your slice into a dessert by serving it with a scoop of vanilla ice cream. The warm bread and cold ice cream create a delightful contrast in temperature and texture.
Layer slices of pumpkin bread with yogurt and your favorite fruits to create a delicious and wholesome parfait. This makes for a satisfying breakfast or snack.
Transform your day old bread into a decadent breakfast by using it to make French toast. Dip slices of pumpkin bread in a mixture of beaten eggs and milk, then cook them on a griddle until golden brown. Serve with maple syrup for a treat that's perfect for special occasions.
Stale or leftover pumpkin bread can be transformed into a delightful dessert by making a pumpkin bread pudding. Tear the bread into pieces, soak it in a custard mixture, and bake until set. Serve warm with a drizzle of caramel sauce or a scoop of ice cream.
Get creative and use slices of pumpkin bread as the base for sandwiches. Combine ingredients like turkey, cream cheese, and and cranberry sauce for a savory-sweet delight. After this you should make our pumpkin pie sheet cake too. Now jump to recipe below and you can print it out if you like.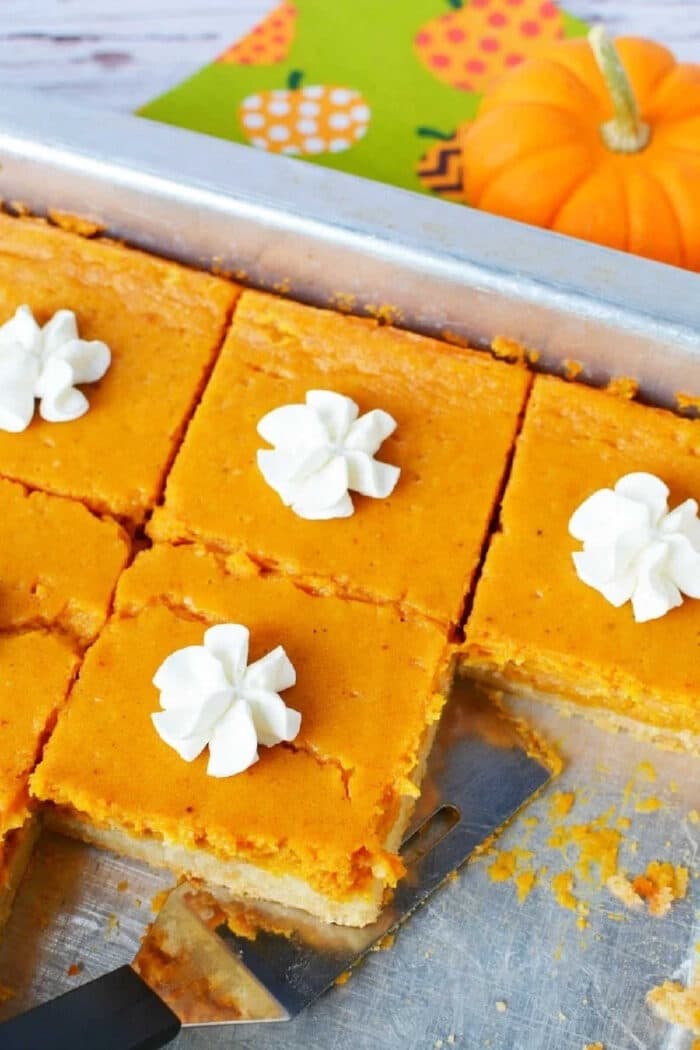 Can I leave pumpkin bread out overnight?
It is better to leave on the countertop versus refrigerated. This will prevent it from drying out. BUT you need to wrap it appropriately first. Wrap your leftover pumpkin bread in plastic wrap tightly. Then slide it into a storage bag or wrap it in aluminum foil. Remove air in order to keep it incredibly moist for up to 3 days.
How do you reheat a loaf of pumpkin bread?
If you made two of these and saved the second for later in the freezer, great idea!! You will want to leave it out overnight to defrost it first. Then if you wanted to warm it you could. In the oven you would;
Preheat your oven to 350°F
If your bread is sliced, keep the slices together as much as possible.

If it's a whole loaf, wrap it tightly in aluminum foil.

Place the wrapped pumpkin bread on a baking sheet to catch any potential crumbs.
Heat the wrapped pumpkin bread in the preheated oven for about 10-15 minutes for slices or 15-20 minutes for a whole loaf. The exact time may vary based on the size of the loaf and its moisture content.
Check periodically to prevent over-reheating. You want it to be warmed through without becoming too dry.
Reheating Pumpkin Bread in the Microwave
If it is sliced, arrange the slices on a microwave safe plate. If it's a whole loaf, place it in a microwave safe container with a lid.
If using a microwave safe plate, cover with a damp paper towel to help retain moisture.
Microwave the pumpkin bread on a low power setting, such as 30% or 50% power, for short intervals of 10-20 seconds each.

Avoid using full power, as it can cause the bread to become tough or dry.

Check the pumpkin bread after each interval to gauge its warmth. If it's not warm enough, continue microwaving in short bursts.
Be cautious not to overheat the bread, as microwaving for too long can cause it to become tough or dry.
Want to see a few of my favorite things that I am totally obsessed with?? Take a peek and see how many you might already have…twinsies!
Looking for more easy family recipes and tips? LIKE The Typical Mom Facebook page?
Then sign up for my free newsletter, and follow me on Pinterest! 😉
***** If you LOVED this recipe give it 5 Stars below and let everyone know what you thought about it. 😉
If you want to know how to half a recipe to make less, read this post. Tip: Spray your pan with non stick spray to clean a pot.
Moist Pumpkin Bread
The best moist pumpkin bread ever that I add pineapple to which gives it an amazing flavor!
Instructions
Add all dry ingredients into one bowl and wet ingredients into a mixing bowl. I use my stand mixer.

Mix well in both bowls and slowly incorporate the dry ingredients into the wet ones until they are mixed.

If adding 1/2 c. nuts, mini chocolate chips, or dried cranberries fold them in at the very end.

Line 9×5 loaf pan with parchment paper and pour batter in. Put into a preheated oven at 325 for 1 hour and 15 minutes or until toothpick comes out mostly clean in the center. *For muffins fill 3/4 of way full and bake for 18-20 minutes until middle springs back when gently touched with a finger.

Do not remove from pan until cooled so it can continue to bake in the pan and stay moist.
Nutrition Facts
Moist Pumpkin Bread
Amount Per Serving (3 oz)
Calories 298
Calories from Fat 117
% Daily Value*
Fat 13g20%
Cholesterol 28mg9%
Sodium 221mg10%
Potassium 91mg3%
Carbohydrates 42g14%
Protein 4g8%
Vitamin A 63IU1%
Calcium 32mg3%
Iron 1mg6%
* Percent Daily Values are based on a 2000 calorie diet.