Here are the Instant Pot cooking times for beans and free printable pressure cooker cooking times you can print out for meat and vegetables too. How long to cook each type of bean in your Instant Pot to make healthy soups and dinners in a fraction of the time with no soaking required.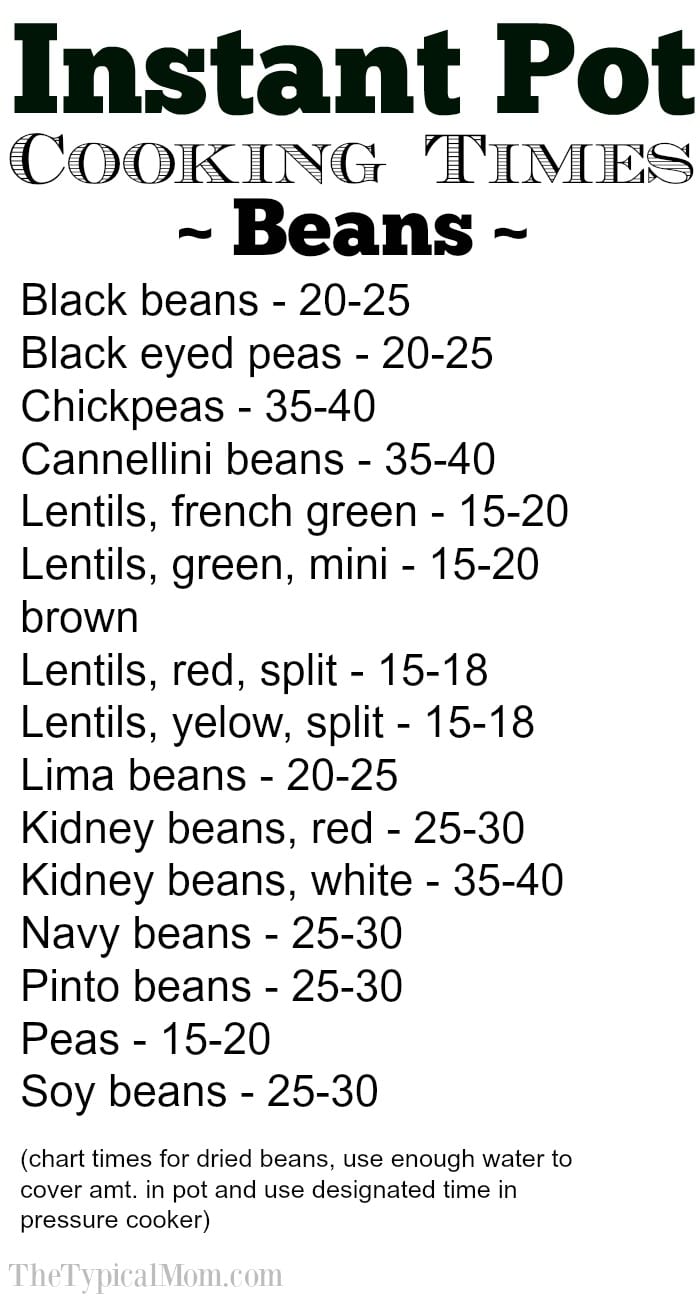 If you have an Instant Pot or pressure cooker you know it is fabulous and so much easier and quicker to cook just about anything. Cooking dried beans doesn't take very long but having a "cheat sheet" of sorts helps when you want to make them. I have a free printable here showing you the best Instant Pot cooking times for beans, works for a traditional pressure cooker too, so you can print it out and not have to search for this info when you need it. Just print it out and keep it in your cookbook or drawer where you keep your hot pads for quick reference. This and more helpful hints and Instant Pot recipes are here on The Typical Mom! (originally published 2/17)
Instant Pot Cooking Times for Beans
If you're new to the Instant Pot world welcome!!
I got one around Christmas time and was hesitant at first to experiment but once I did I came up with tons of easy Instant Pot recipes and literally use it to make either dinner or dessert every night! It makes it SO much easier on me since I work full time and don't have forever to be in the kitchen to cook a good meal.
Most of my dishes require 5 ingredients or less, and take about 15 minutes start to finish..I am all about easy recipes! Using canned beans works well too and of course cooks even quicker, a few of our favorites are below.
It is nice to have a free printable pressure cooker times sheet for beans to keep handy in your cookbook or drawer so you don't have to go searching for it when you need it.
Now this time gage is for dry beans that have been covered with water. I typically use 16 oz. of dry beans and put 4 cups of water inside the pot with them.
I set it to the bean setting/button using these times and they are pretty dead on. Of course everyone has their preference as far as how tender you want them but it is a good guide.
I have used it several times when I've cooked these meals and sides without having to soak them first.
Examples of cooking dry beans in your Instant Pot are here, you've got to try:
Make sure to sign up for my newsletter at the bottom of this post so when I add another Instant Pot bean recipe it will come to your inbox for free!
Now that you have the pressure cooking cooking times for beans you can print out the cooking times for meat here too, and I also have Instant Pot vegetable recipes and cook times. All three are really handy to have in your drawer so you can pull them out when you're thinking of making a new recipe, or of course you can come back to my site. 😉
Looking for a few easy Instant Pot recipes using canned beans?
For more easy recipes, tips and free printables please LIKE The Typical Mom on Facebook and follow me on Pinterest! You can also sign up for my free weekly newsletter which is packed with goodies I know you'll love. 😉