We're here to share how to cook mung beans on the stove, in a pressure cooker, rice cooker or Instant Pot or in a slow cooker today. A healthy green bean with a ton of flavor, you are going to be surprised at how easy cooking dry beans can be. If you already loved how to cook Northern beans and want to try another type, here it is!
Boiling mung beans is so easy. If you have had these at a restaurant and were surprised at how much you liked them, you can make these dry beans right at home. With a little seasoning and a pot of your choice we will explain how long to cook each type, in every way. (affiliate links present)
Green Mung Beans Recipe
We have how long do beans take to cook chart here that covers a bunch of different varieties. Below we are going to use the stove with boiling water or broth. Along the way I will explain other methods you might want to try as well. With all of them you need to rinse them well, a few times, with fresh water.
No real need to soak them first since they are rather small. If you do feel like you want to it is only necessary for a few hours vs. overnight with larger varieties. Packed with lots of protein and fiber you can season them with all the flavors you love.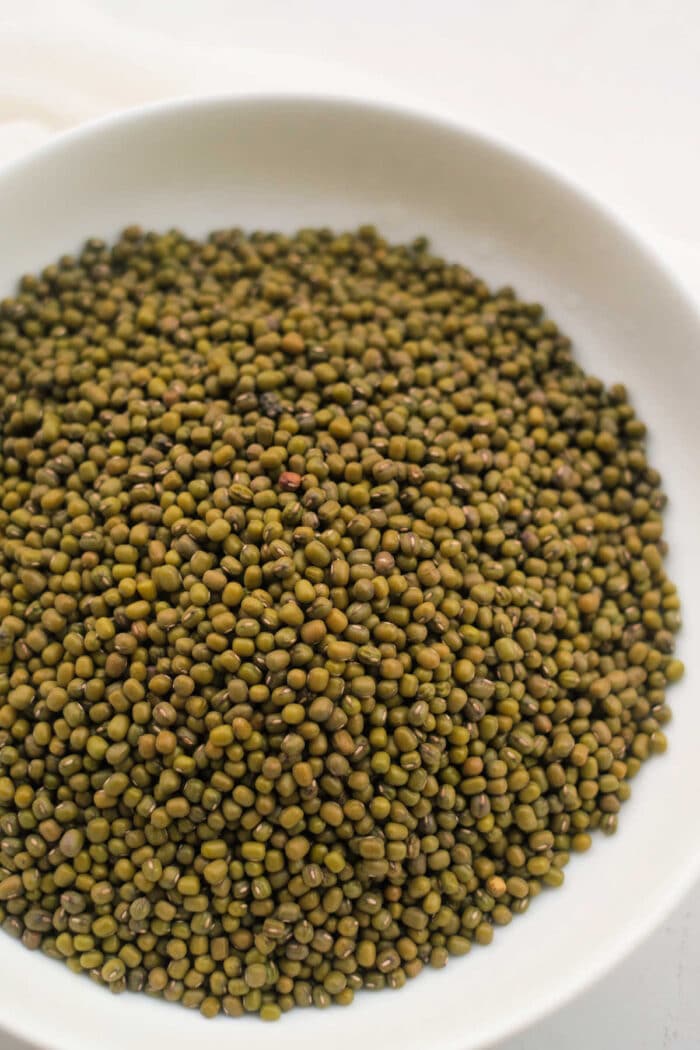 How Long to Boil Mung Beans
There are several types of mung beans, each with its own unique characteristics. Timing is close to how long to cook black eyed peas which are great side dishes as well. Each variety has a different boiling time which we will list below.
Green mung beans are the most widely available variety. They have a vibrant green color and a mild, slightly sweet flavor. Green are commonly used in both sweet and savory dishes, including soups, curry, salads, and desserts.

30 to 40 minutes cook time

Yellow mung beans are similar to green mung beans but have a yellowish hue. They are slightly sweeter and creamier in taste compared to the green variety. Yellow are often used in sweet dishes like desserts, puddings, and porridge.

30 to 40 minutes to become tender

Sprouted mung beans are green that have been soaked and allowed to germinate. The sprouts are crunchy, refreshing, and packed with nutrients. They are often used in salads, stir-fries, and sandwiches as a healthy and nutritious addition.

boiled for about 5 to 10 minutes

Split mung beans are hulled and split into halves, resulting in small, yellowish-white legumes. They cook relatively quickly and have a soft texture when cooked. Split are commonly used in dal, lentils and rice, as well as in various curries and stews.

usually take about 15 to 20 minutes of boiling

Black mung beans are small, black legumes that have a rich, earthy flavor. They hold their shape well when cooked and have a firmer texture compared to other varieties. Black are often used in Asian desserts, such as black bean paste or black bean soup.

45 to 60 minutes to become tender
It's important to note that the cooking times and characteristics of mung bean varieties may differ slightly. Always refer to specific recipes or package instructions when cooking them to ensure the best results.
Mung Beans in Pressure Cooker
These cook faster than something larger, like Mayocoba beans that are much larger. Since they are so very small there really isn't a need to soak beforehand as there is only a few minute difference if you just throw them in after being rinsed.
Rinse in a colander several times until water runs clear.
Add 1 cup beans per 3 cups of liquid, either water or broth of choice.

diced onions are a great add in if you like
seasonings such as 1 tsp, red chili powder + salt + garam masala works well too

Set the pressure cooker to high pressure. The cooking time will vary depending on whether you soaked the mung beans or not. For un-soaked mung beans, cook them for 12 minutes under high pressure. If you soaked them, reduce the cooking time to about 6-8 minutes under high pressure.
Once the cooking time is complete, allow the pressure to release naturally. This means you don't need to manually release the pressure. Let the pressure cooker sit for about 10-15 minutes until the pressure has naturally released.
Carefully open the lid of the pressure cooker once the pressure has been fully released. Be cautious of any remaining steam.
They should be tender and ready to be served. You can enjoy them as a side dish, in salads, soups, or as a filling for wraps or tacos.
Mung Beans in Rice Cooker
Cooking beans in a rice cooker is a convenient and fuss-free method. That is right, this machine isn't just for making white rice anymore. Here's how you can do it:
Measure the desired amount of beans and place them in a colander. Rinse under cold water to remove any dirt or debris.
Soaking mung beans is not mandatory, but it can help reduce cooking time and improve the texture.

If you choose to soak, transfer the rinsed mung beans to a bowl and cover them with water. Allow them to soak for about 2 hours. Then, drain the soaking water.

Place the soaked or un-soaked mung beans in the rice cooker's inner pot. Add the appropriate amount of water based on the desired consistency.

As a general guideline, use a 1:2 ratio of mung beans to water for a thicker consistency, or a 1:3 ratio for a soup-like consistency.

Add any seasonings or flavorings you prefer. For example, you can add a pinch of salt, turmeric, cumin, or other spices to enhance the taste. You can also add chopped onions, garlic, or ginger for added flavor.
Close the rice cooker lid and select the appropriate cooking setting which if it has multiple choices, choose white rice. Start the cooking process and let the rice cooker do its job. They will cook and soften gradually.
Once the cooking cycle is complete, check them for doneness. They should be tender but not mushy. Texture is very subjective thus the range of timing on each type out there. Check at the minimum and every 5 minutes after that to find the right amount for you.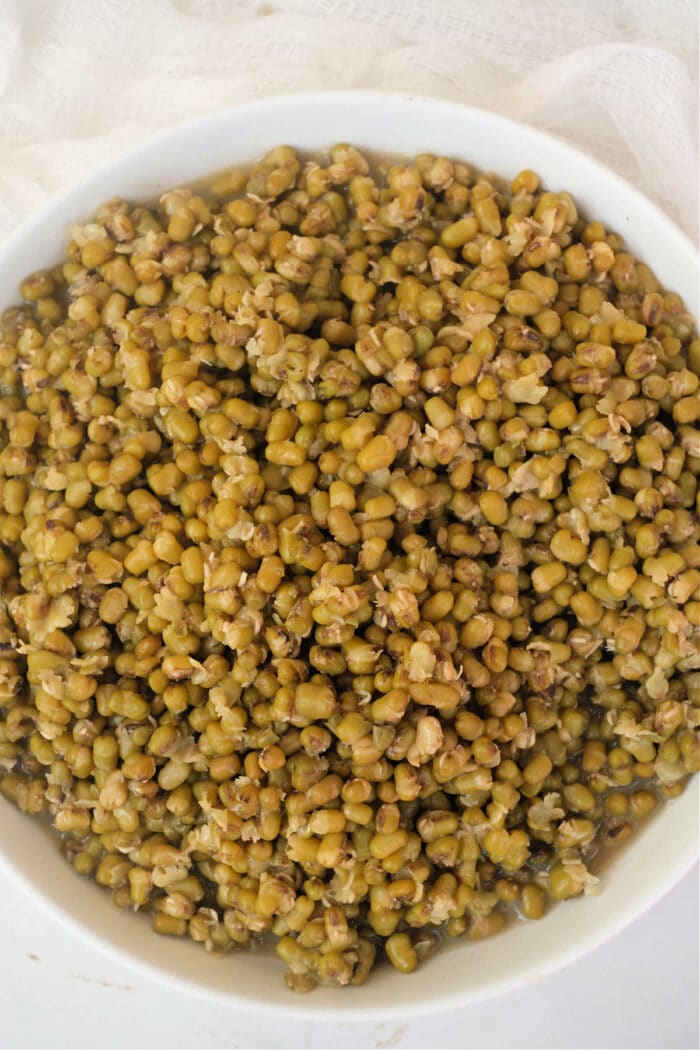 How to Cook Mung Beans in Slow Cooker
If you want them just plain to serve as a simple side dish there are directions below. There are slow cooker mung beans instructions here if you want it heartier with diced tomatoes and lots of seasonings though. You could add diced pre-cooked meat in this one too to make as a main dish.
Measure the desired amount of mung beans and place them in a colander. Rinse the beans under cold water to remove any dirt or debris.
Place beans in the slow cooker's insert. Add the appropriate amount of liquid (water or broth), typically 1:3.
Add any seasonings or flavorings you prefer. We like to add ham hocks in there too.
Place the lid on the slow cooker and set it to the desired cooking temperature and time. Generally, low heat for 7 hours or until tender.
Once cooked to your liking, turn off the slow cooker. Let them sit for a few minutes before serving. You can enjoy the cooked mung beans as a side dish, in salads, soups, or as a filling for wraps or tacos.
Remember to consult the specific instructions provided with your slow cooker as cooking times may vary depending on the model and size of the machine. Adjust the cooking time and liquid quantities accordingly. I do use this method if I want to add meat because in that long period of time the flavors can really permeate well.
How to Cook Mung Beans on Stove
We like using a Dutch Oven for this. You just need them rinsed, liquid, bring to a boil over medium high heat. Then reduce the heat, cover the bowl lid tightly and cook until tender. Timing varies depending on how tender you desire but 25-40 minutes is the range.
Want to see a few of my favorite things that I am totally obsessed with?? Take a peek and see how many you might already have…twinsies!
Looking for more easy family recipes and tips? LIKE The Typical Mom Facebook page?
Then sign up for my free newsletter, and follow me on Pinterest! 😉
***** If you LOVED this recipe give it 5 Stars below and let everyone know what you thought about it. 😉
How to Cook Mung Beans
Ingredients
3

c

mung beans

dry

6

c

water

salt and pepper to taste
Instructions
Rinse dry beans in a colander. Pour into a pot and cover with water so beans are covered + 2" above the top of the beans. Set on counter overnight to soak.

Next day rinse the beans enough so the water runs clear. Pour into a pot on the stove with 6 cups water or broth of choice.

Bring pot to a boil over medium high heat, then reduce to medium. Cover and simmer until tender, about 25-30 minutes.

Drain, season with butter salt and pepper and serve.
Nutrition Facts
How to Cook Mung Beans
Amount Per Serving (1 oz)
Calories 359
Calories from Fat 9
% Daily Value*
Fat 1g2%
Sodium 27mg1%
Potassium 1290mg37%
Carbohydrates 65g22%
Protein 25g50%
Vitamin A 118IU2%
Vitamin C 5mg6%
Calcium 144mg14%
Iron 7mg39%
* Percent Daily Values are based on a 2000 calorie diet.