How to cook lentils and rice together for the perfect low fat high protein side dish! Make on the stovetop or Instant Pot red lentils and rice to tender which are quick and taste amazing.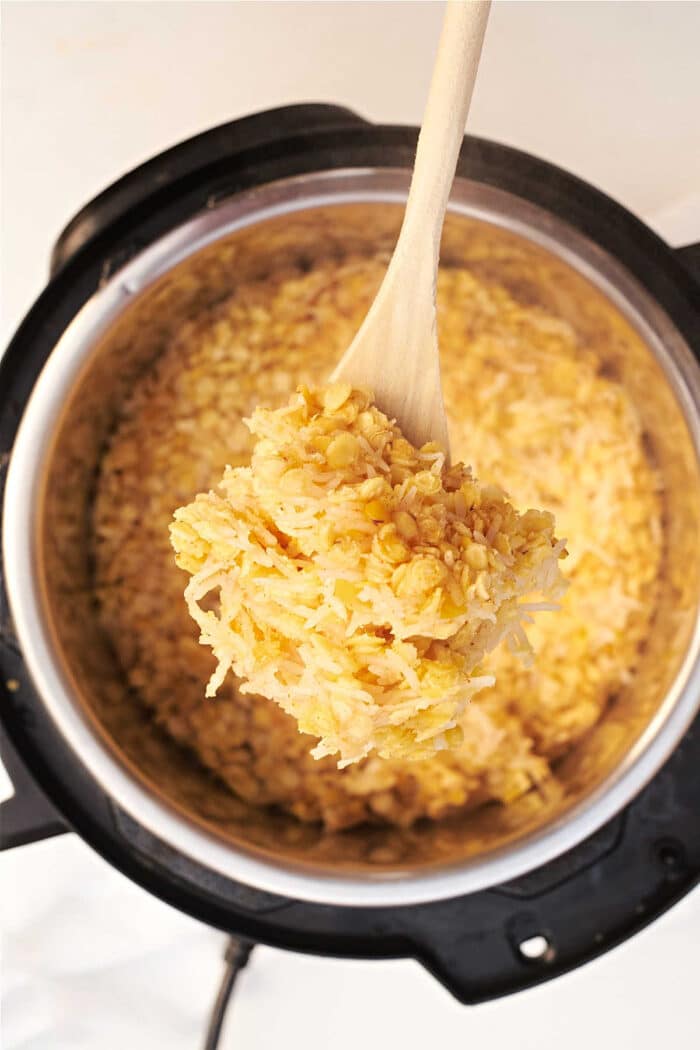 Cooking lentils and rice together has been a game changer! Two of our favorite foods made on the stove or in a pressure cooker, it is one of our favorite easy Instant Pot recipes on our site we make often. Use red or green lentils with brown or basmati rice for the perfect duo. (affiliate links present)
Instant Pot Lentils and Rice
We wrote a whole post about how to cook rice in Instant Pot, all the different kinds. In this case we are using long grain white but typically any white would do. I have directions for brown too using the stove which works better timing wise than when you cook on high pressure.
With both methods you are going to want a little bit of time to rest and fluff. In a pot that comes in the form of leaving the lid on for a few minutes once tender. In an InstaPot you can do the same thing with a natural release of steam to get just the right texture. We will explain how to do both step by step below.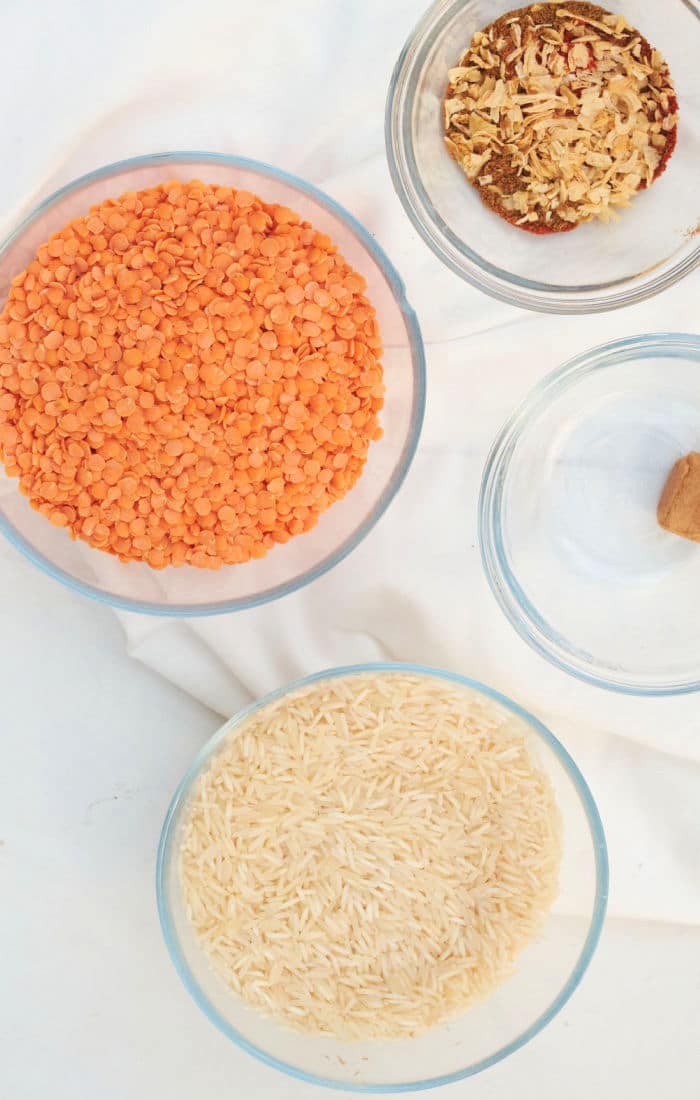 Lentils and Rice on Stovetop
You are going to want a skillet and a pot with a tight fitting lid to make this dish. If you do not want to add onions you can skip that section and just jump to making white rice and lentils tender with the timing and instructions below.
3 cups of broth or water
1 cup lentils and white rice
One teaspoon salt
1 Tsp minced garlic
Cumin 2 teaspoons
2 sliced onions
3 Tbsp olive oil
You can certainly add any other seasonings from middle eastern cultures or your favorites as well. Do this with the vegetable broth so they can permeate the dish.
Red Lentils and Rice
You are going to use a large skillet, cast iron is fabulous for this. To start you will kinda' do the same thing as if you were to make caramelized onions. This doesn't have a sweetness to it like those but the same idea where you want to soften them to begin with.
Add olive oil with sliced onions, garlic and cumin. Cook until softened and browned.
Remove half of your onions and set aside, continue browning first half until more browned (like caramelized color)
In a pot on another burner add water or broth over medium high heat until it reaches a continuous rolling boil.
Add lentils into your pot.

if you're adding brown rice use brown, green, puy or beluga lentils so they can go in together
use red or yellow lentils with white rice to add together at the same time

Reduce heat to medium and cover for 15 minutes.
After 15 minutes lift lid, add onions you set aside with raw white long grain or Arborio rice, and salt.

if you haven't already added the grains add now

Cover again for another 15 minutes stirring halfway thru, until rice grains are as tender as you'd like.
Add browned onions from skillet, fold together, cover and let sit for another 5-10 minutes to fluff.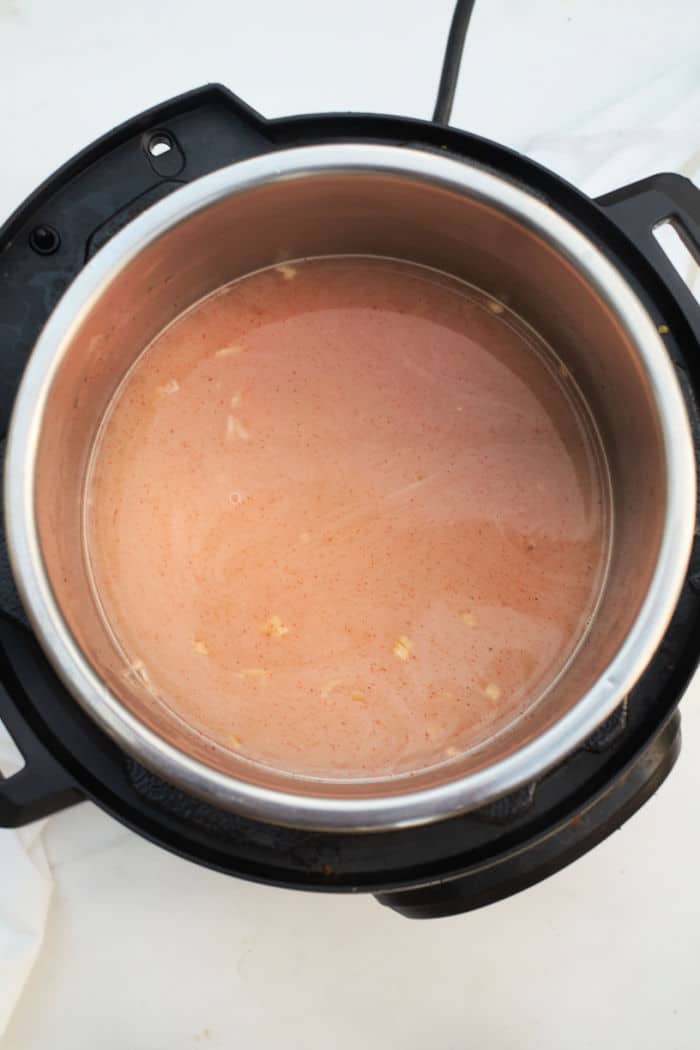 Lentils and Brown Rice
If you want to add brown rice instead of white you would add both ingredients together once water is at a rolling boil. That grain takes twice as long as the other so 30 minutes for lentils is the same as that grain. My family prefers Jasmine and long grain so typically I don't make that style.
Lentils and Rice Recipe
This method is like cooking Instant Pot potatoes and carrots together at the same time. MUCH faster than on the stove and you can throw them together at the same time vs. waiting until lentils are halfway done and then adding grains if using the white variety. A great way to make a really protein rich side dish with any meal for dinner.
White Rice and Lentils
Wondering how long does rice take to cook in other ways? You can use our guide here, but we are focusing on high pressure for these instructions because it is just so easy. About 1 year after I got this baby I got rid of my rice machine, didn't make sense to make it any other way anymore!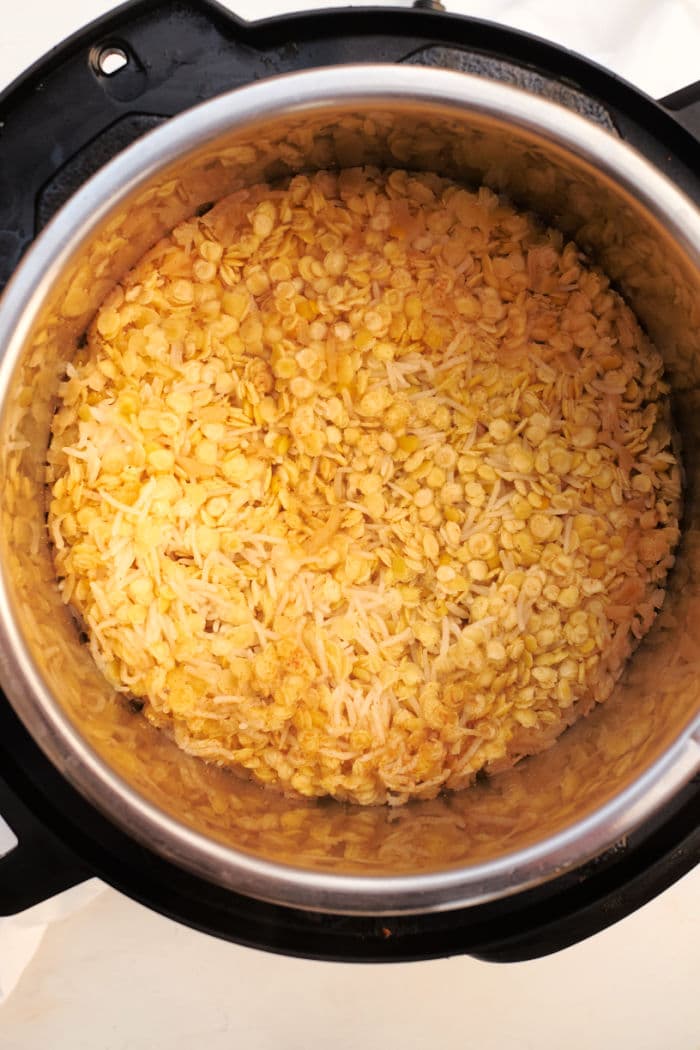 How to Cook White Rice and Red Lentils Together
Those two methods are it y'all. We have a printable recipe card at the bottom for you using the method we love but above you can use a pot as well. Use what you wish depending on what else you might be making for your meal.
Lentils Cooking Time
The timing below Older lentils may take longer to cook, so you may need to adjust the cook time accordingly. Additionally, they can be soaked overnight to reduce their cooking time by at least half.
Average cook time for whole is 15-20 minutes. For split lentils, cook time is typically only about 5-7 minutes.
Brown lentils or green lentils are most commonly used in recipes and take about 20-30 minutes to cook. They hold their shape well and have a slightly nutty flavor.
Red lentils or yellow lentils cook faster than brown or green, taking about 15-20 minutes to boil.

They break down more easily and are commonly used in soups and stews.

French or Puy lentils are smaller and darker, and have a slightly peppery flavor. They take around 25-30 minutes to cook.
Beluga lentils are small and black, and have a rich, earthy flavor. They take about 20-25 minutes to cook.
I include timing for all of these here so you can adjust the timing for the stove. Keep in mind that white rice takes about 15 minutes while brown takes 30. Adjust cooking time if adding both together accordingly.
if you're adding brown rice use brown, green, puy or beluga lentils so they can go in together
use red or yellow lentils with white rice to add together at the same time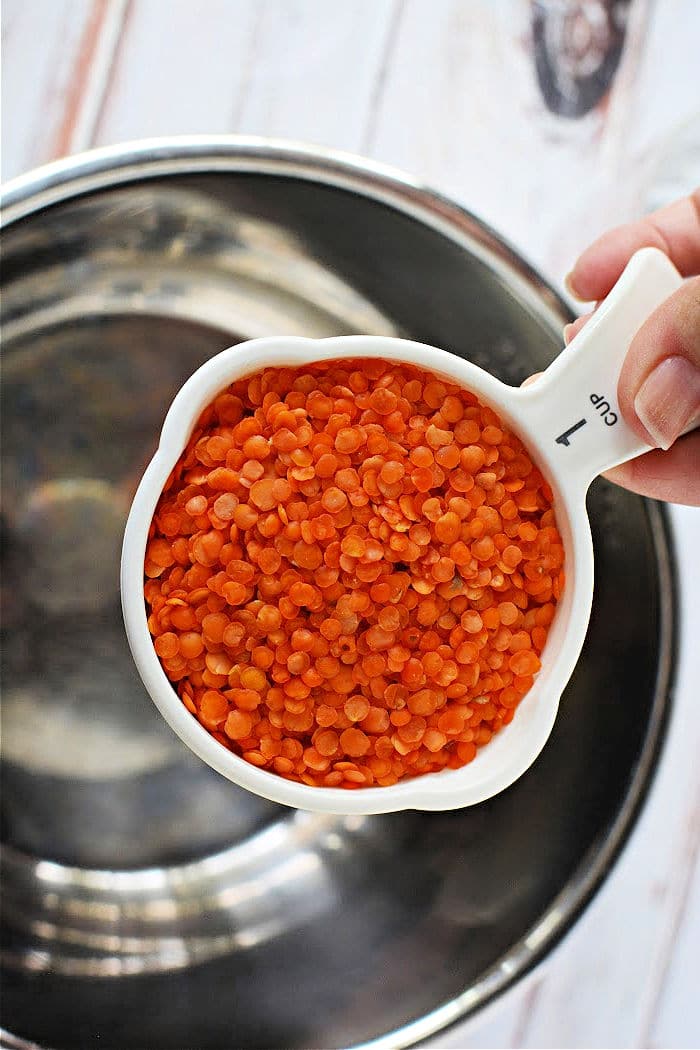 If you love the idea of cooking two things together at the same time but want protein in the mix, try our oxtails and rice recipe next!
How many days a week should I eat lentils?
They are super high in protein, and lower blood pressure so they are a great addition to your weekly diet. There aren't many negatives other than possibly creating some gas due to the high fiber content so 3-4 times a week would be great.
Are lentils a superfood?
Lentils are a part of the legume family and very nutrient dense so if you are looking for foods that hold a lot of nutrition and protein in a small package I would say yes lentils are a superfood.
Can You Eat Leftover Lentils
Of course, as long as they have been saved properly. Allow to cool before transferring into a sealed container and store in the fridge up to 3 days. To reheat add into a bowl with a tbsp of broth to thin it out and microwave for 30 seconds, stir, and heat for another 30-45 seconds until warmed.
Want to see a few of my favorite things that I am totally obsessed with?? Take a peek and see how many you might already have…twinsies!
Looking for more easy family recipes and tips? LIKE The Typical Mom Facebook page?
Then sign up for my free newsletter, and follow me on Pinterest! 😉
***** If you LOVED this recipe give it 5 Stars below and let everyone know what you thought about it. 😉
Lentils and Rice
How to cook lentils and rice together for the perfect side dish! Make on the stovetop or Instant Pot lentils and rice to tender.
Instructions
Set pressure cooker to saute and add olive oil or butter with onions and pinch of salt and pepper. Cook until softened and lightly browned. Turn pot off and pour onions into a bowl, set aside.

Pour in rice, lentils, broth and seasonings. Stir together. Lock lid and set steam valve to closed. Cook on high pressure for 10 minutes with a 2 minute natural release.

Lift lid, gently fold in browned onions. Set lid on for 1 minute to warm everything together and serve.
Nutrition Facts
Lentils and Rice
Amount Per Serving (1 oz)
Calories 262
Calories from Fat 27
% Daily Value*
Fat 3g5%
Sodium 475mg21%
Potassium 380mg11%
Carbohydrates 48g16%
Protein 11g22%
Vitamin A 267IU5%
Vitamin C 3mg4%
Calcium 34mg3%
Iron 3mg17%
* Percent Daily Values are based on a 2000 calorie diet.