Instant Pot lentil curry is a great vegetarian side dish with tons of flavor cooked quickly in your Ninja Foodi or pressure cooker.
If you love Indian food and flavors you will love this Instant Pot lentil curry recipe. Perfectly tender made in less than 30 minutes it is a healthy choice to serve for dinner to your family tonight. One of many easy quick Instant Pot recipes on our site. (affiliate links present, originally published 6/22)
Ninja Foodi Lentils
Yes you can make Instant Pot curried lentils in any brand of pressure cooker you have. The Crockpot Express, Mealthy and Ninja Foodi all have the high pressure function too. That is all you need to make this perfectly.
Can you adjust the seasonings and/or heat to your liking? Of course! Love spicy food, then add some Sriracha or chili powder into the mix if you like. Keep it mild if you'd rather, either way this popular dish is packed with Indian flavors you love.
FIRST – You should sign up for my free newsletter so you get new posts emailed to you twice a week and never miss out on anything! Now let's start with a few basic tips:
Make sure to Bookmark our InstaPot recipes page. We add new ones each week!
Then PRINT this —–> Instant Pot cooking times cheat sheet that will help you understand how long meat, vegetables and beans take to cook in your pressure cooker.
For reference, this is the pressure cooker I have (a 6 quart) and use for all recipe creations.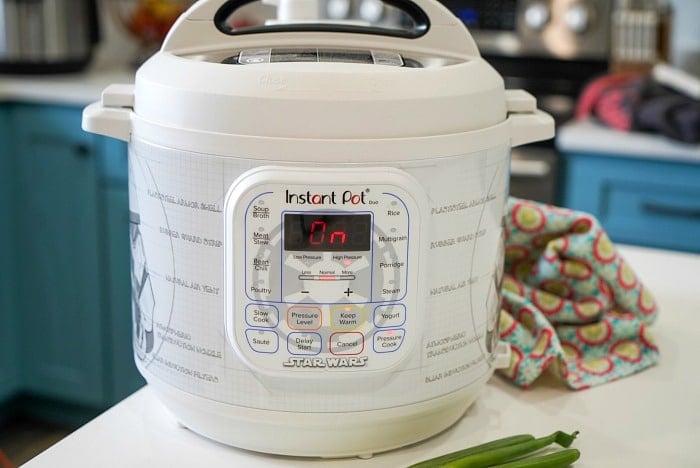 Indian Lentil Curry
We first started loving easy Indian recipes when we visited a place in Utah that had the best food. It was my first experience with all these unique flavors and I had to make Instant Pot butter chicken at home. It was phenomenal and everyone else loved it too. Years later we are at it again with this one.
This is what you will need to get started:
Red lentils were used for this one
Diced onion
Minced garlic
Can of diced tomatoes is used, I like the petite variety
Coconut milk

buy another can to make Instant Pot coconut chicken later too

Broth of your choice

water and lentils won't have a lot of flavor
use vegetable, beef or chicken instead

Curry powder is key
Tumeric
Ginger
Pressure Cooker Curry Lentils
Season with salt and pepper to taste. If you want to make another with meat inside, try our Instant Pot lentil soup with ham. That is a great option after the holidays when you will likely have leftovers you'll want to use up.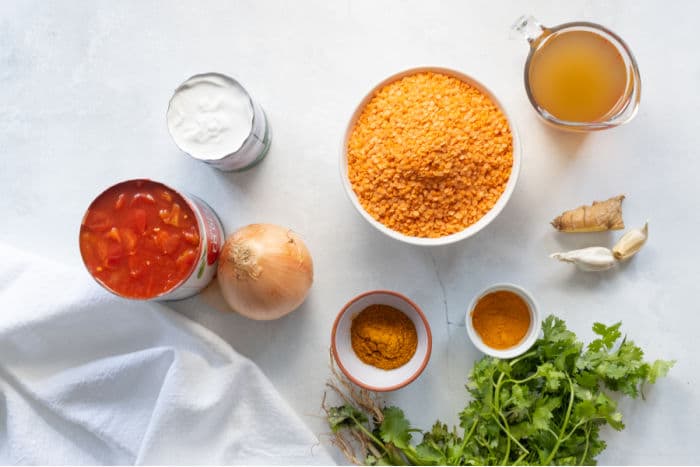 Do lentils need to be soaked?
No. You can just throw them in with the other ingredients under high pressure, sit back and wait until the time is up. If you do soak them you can typically reduce the cook time by half.
That is not necessary or really recommended when using a Ninja Foodi or Instant Pot.
Is lentil curry good for you?
Yes! It is a great form of vegan protein but you don't have to not eat meat to enjoy this easy side dish. This is really hearty but light at the same time. High in protein from dry lentils. There are so many different colors that have slightly different flavors to them that you could eat them often with a variety of main dishes.
What color lentils are best?
Red and yellow lentils are best for this and soups because they are split and break down easier. Brown lentils and green remain firmer in texture. SO it depends on what you're making when making your decision and to which one or two you want to use. You could mix and match but stay with similar consistencies so they get done at the same time.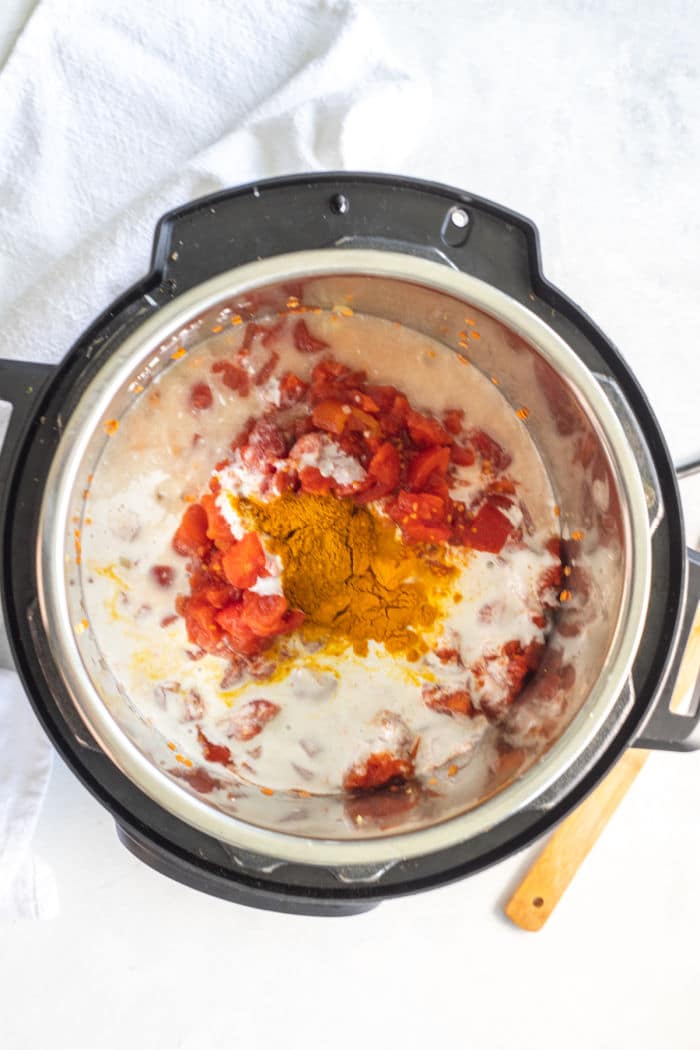 Red Lentil Coconut Curry
The added flavor of this thick type of canned milk is great and natural gluten free too. If you have never used it before and hesitant it will be too strong don't worry. It adds just a hint of the tropic to the dish. Paired with curry you get a fantastic flavor that isn't overwhelming.
Set your pot to saute and add olive oil. Add in your diced onion, ginger, and garlic. Cook down for about 4 minutes. Then turn your pot off so it can cool down.
Pour in all remaining ingredients, stir, and close lid and steam valve.
Cook on high pressure cook for 18 minutes, then naturally release for 10 minutes.

do not quick release the pressure or the texture won't be right
Release the remaining pressure that is left, gently fold/stir, and serve with fresh cilantro and/or lime. Serve with naan bread and enjoy. I kid you not even kids love this. They may be hesitant at first because of the color and look of it but mine took a bite and are now believers.
If you blend it up really smooth at the end you could make it into more of a soup consistency if you wanted. This is an option for your leftovers too, so it is a bit different served up the next day. Texture is definitely a personal preference and can be adjusted easily with an immersion blender.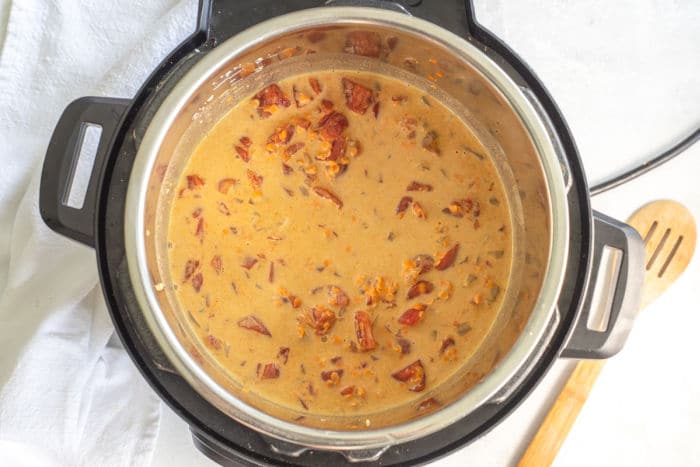 What is the best way to eat lentils?
I mean that is totally up to you and if you grew up eating these I am sure you have "your way". If this is a new food to you these are super versatile. If you want to add diced proteins inside by all means throw those in when cooking so they can absorb the flavors too.
If you wanted to make this into a soup you'd just want to add more broth to begin with. OR you can cook as is and then thin it out at the end.
Serve them as a side dish with any type of protein like stuffed chicken or baked salmon.
For a vegetarian meal just enjoy as is for a bowl full of delicious protein, could serve with a side of white rice too.
You can add more seasonings inside or on top when served such as garam masala, some minced garlic or ginger.
Toppings that are commonly used and a great add on would be a squeeze of lime, fresh parsley and/or cilantro. For a more complete and heartier meal, dice up some veggies to go on top. Cucumber, zucchini slices, portobellos the list goes on and on depending on your taste buds.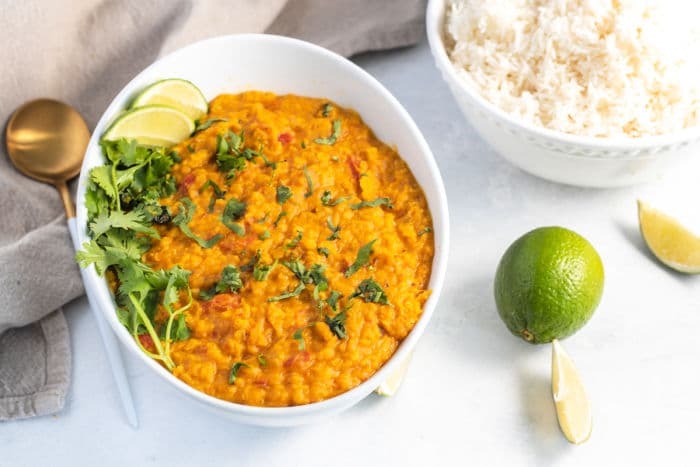 Can I eat lentils every day?
You may become obsessed after a bowl of this. I mentioned the high protein content and that they are gluten free but there is more. Have high cholesterol, you'll love this.
There is a great amount of fiber in these babies so eat away. Vary the type you use so you can taste and feel the difference in texture and see which you like best. The main ingredients no matter what variety you make though is just water and lentils, simple and pure.
You can make these on the sweeter side too instead as a treat. Use our link below and mess around with the added ingredients. We did this when we made breakfast quinoa, it was fantastic.
Instead of butter I drizzled honey on top with some fresh fruit. It was killer delicious I tell you. Maybe better than oatmeal for breakfast for sure.
We love this recipe because it's super easy to throw together and healthy. Want to make this without the curry? We have a recipe for plain Instant Pot red lentils you can follow here as well. Let us know what you add to yours so we can try your creations too.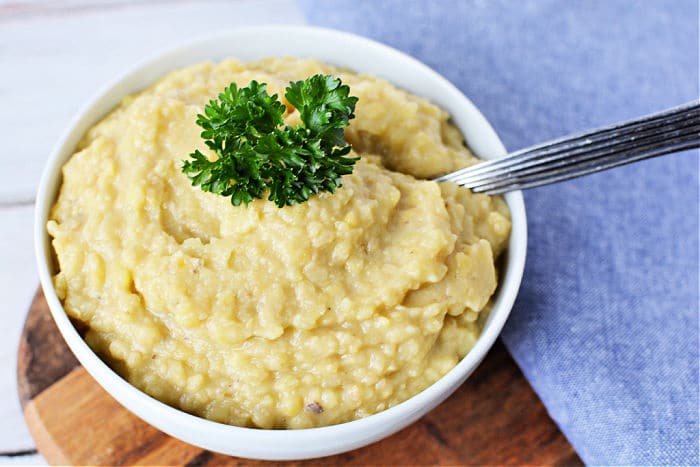 How do you store and reheat lentils?
As always you want to wait until they are at room temperature before transferring to a container. Make sure all air is eliminated from the tupperware and then store in your fridge. It will be okay for up to 3 days but will become softer as it sits so keep that in mind.
When reheating lentils you will want to add a bit of liquid to your bowl. It will continue to thicken up as it sits, so adding a bit of broth or water will help to loosen it up a bit.
Stir until it is the right consistency. Use a microwave bowl and heat for 30 seconds, then stir. Keep doing this until it is as warm as you'd like. Using a pot on the stovetop works the same too.
I wouldn't put it back into your Instant Pot unless you used a PIP or pot in pot technique. That is when you put into a bowl, on a trivet with a cup of water underneath. Then you can cook on high for maybe 2 minutes just to essentially steam it nice and hot again. I'd still add some water to thin it out but the steaming will add a bit as is.
Want to see a few of my favorite things that I am totally obsessed with?? Take a peek and see how many you might already have…twinsies!
Looking for more easy family recipes and tips? LIKE The Typical Mom Facebook page?
Then sign up for my free newsletter, and follow me on Pinterest! 😉
***** If you LOVED this recipe give it 5 Stars below and let everyone know what you thought about it. 😉
Instant Pot Lentil Curry
Instant Pot lentil curry is a great vegetarian side dish with tons of flavor cooked quickly in your Ninja Foodi or pressure cooker.
Instructions
Set to saute and add olive oil with diced onion, ginger, and garlic. Cook down for about 4 minutes. Then turn pot off.

Pour in all remaining ingredients, stir, and close lid and steam valve.

Set to high pressure for 18 minutes, then naturally release for 10 minutes.

Release remaining pressure, stir, and serve with fresh cilantro and/or lime.
Nutrition Facts
Instant Pot Lentil Curry
Amount Per Serving (2 oz)
Calories 314
Calories from Fat 135
% Daily Value*
Fat 15g23%
Sodium 138mg6%
Potassium 775mg22%
Carbohydrates 35g12%
Protein 14g28%
Vitamin A 211IU4%
Vitamin C 13mg16%
Calcium 76mg8%
Iron 7mg39%
* Percent Daily Values are based on a 2000 calorie diet.