This is a really easy Instant Pot butter chicken recipe that is moist and full of flavor. It only takes 5 minutes to cook and the perfect family dinner with a side of naan. If you're never tried making pressure cooker butter chicken this is an easy one to start with. Add your own spices to make it just right for you!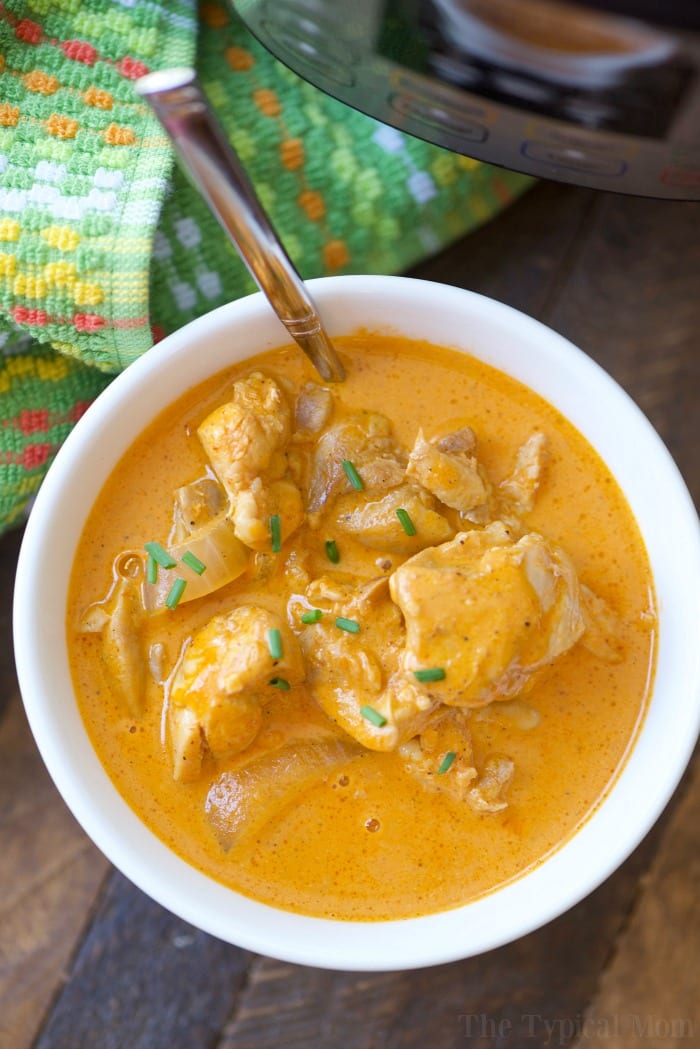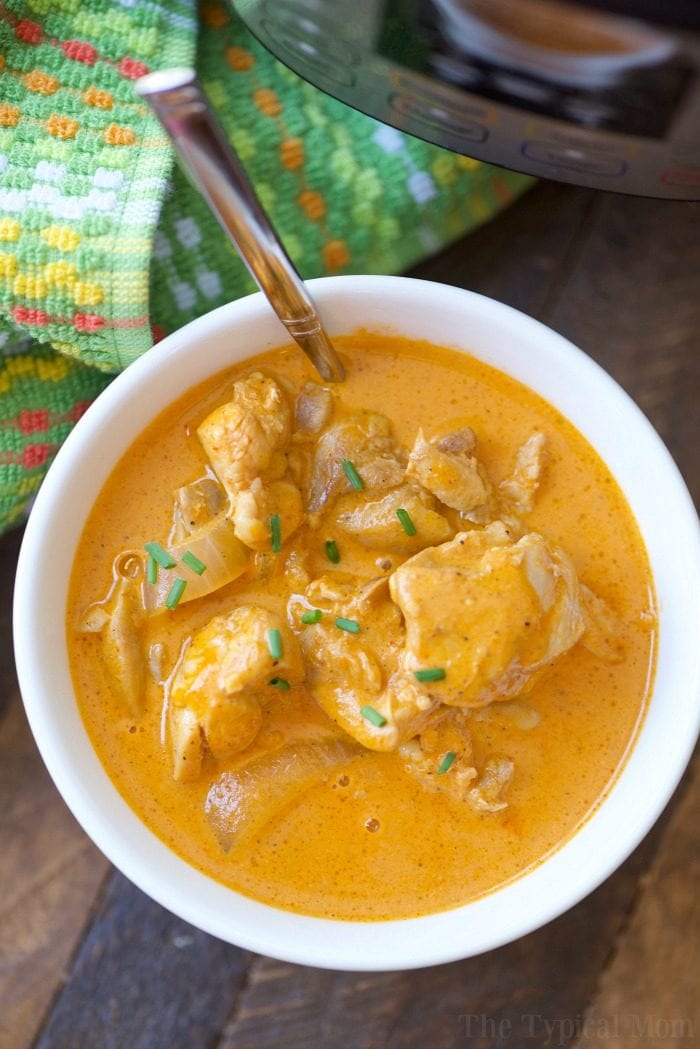 I came up with this easy Instant Pot butter chicken recipe that tastes pretty similar to one at the restaurant! One of our favorite Indian dishes listed on our Instant Pot recipes roundup. (originally published 7/17, affiliate links present)
I went out to eat Indian food with a few friends when I went to a conference in Utah last month. I hadn't had it in years and wasn't sure what to order so my friend suggested butter chicken since it was a milder dish and she said "everyone loves it".
It. Was. Amazing! Now that I am all about my pressure cooker I was sure I could make a simple version (my take on it).
Served with a side of rice and/or naan this easy butter chicken recipe is definitely a winner at our house when I make it!
First of all if you don't have one of these life changing kitchen appliances, or are scared to use it, let me convince you why it's amazing.
Why do cooks love the Instant Pot? With a super short cooking time, you can make this dish in under 30 minutes. Throw it all in, set to high pressure with a quick release and it's done. Pressure cooking rocks!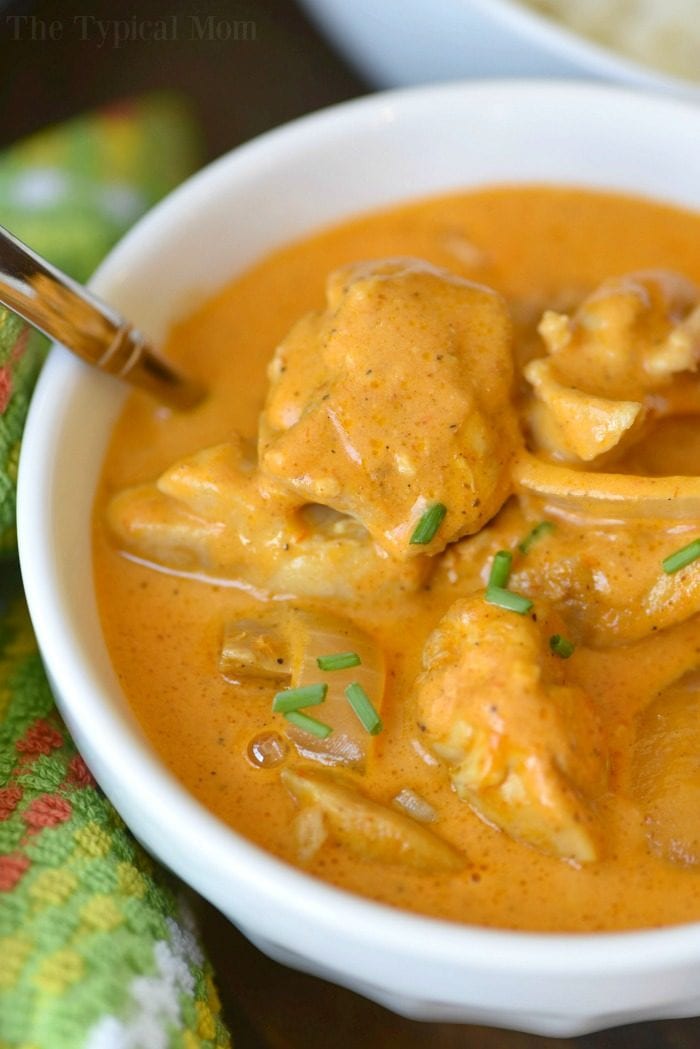 I am sure there are a lot of variations of recipes for butter chicken. Of course with any sort of recipe you should adjust the spice level to your liking. I will say this one is on the milder side of things. So if you like more spice or a more pungent flavor, then just add more:
chili powder
garam masala
cumin
or all 3
You can use chicken breasts cut up instead of chicken thighs to make our easy Instant Pot butter chicken. However, thighs are much moister and have a lot of flavor so I prefer them for this recipe.
Of course there are many ways to make butter chicken so this may not be totally authentic. It is my take on it and tastes very similar to the one I loved.
Is butter chicken bad?
Meaning is it unhealthy?? Well there are several versions, if you'd like to make a healthy butter chicken with more tomato sauce you can try this one.
It's very much a throw it in and go kinda' meal and if I am in a real rush I throw on some Minute rice on the stovetop and they are done in less than 10 minutes flat…now that's a quick dinner!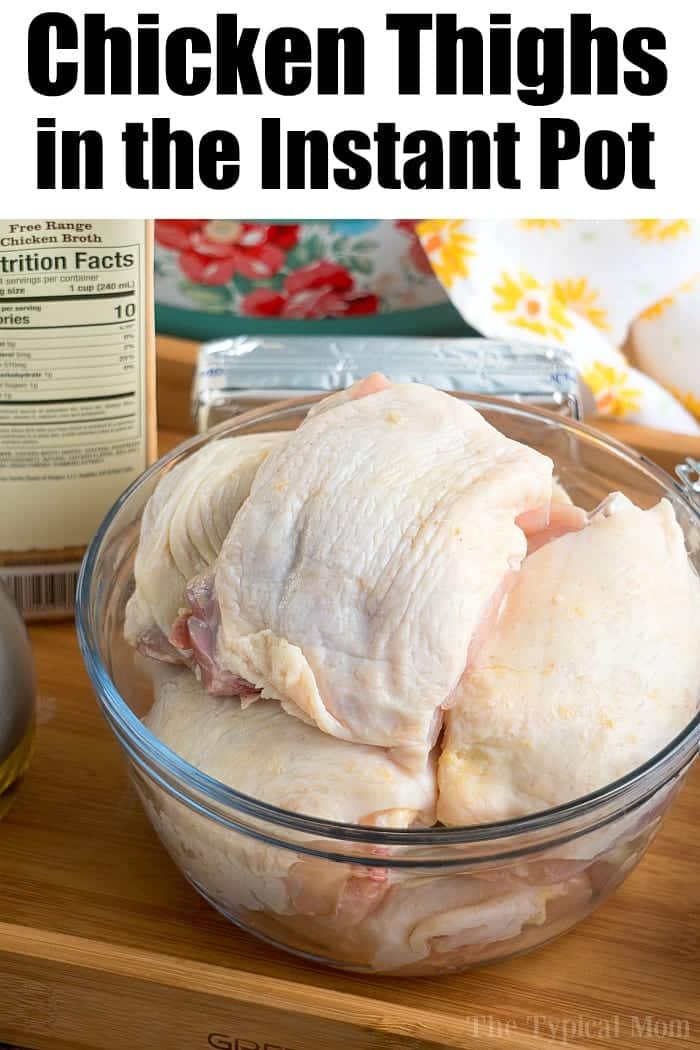 I haven't made homemade naan myself yet and haven't found a store in town that carries it on a regular basis so I use rice but making it myself is on my list of things to do.
Until then I found this super easy naan bread recipe you can use and pair with my easy Instant Pot butter chicken, seeing a trend here…EASY. 😉
Like I said, if you have specific spices you use, and amounts, then go with that if it is to your liking but use my timing so you can make it in your pressure cooker.
Indian butter chicken Instant Pot recipe
Pressure cooker

I HIGHLY suggest you get a non stick pot too, it almost eliminates the burn notice from coming on for all recipes.

Chili Powder (optional but good even if you only add a bit, my version is not spicy)
Heavy cream

If you need it to be dairy free you could try coconut milk. It just won't be as thick.

Rice – this is how you make fluffy Instant Pot white rice
If you want to thin it out at the end you can use chicken broth.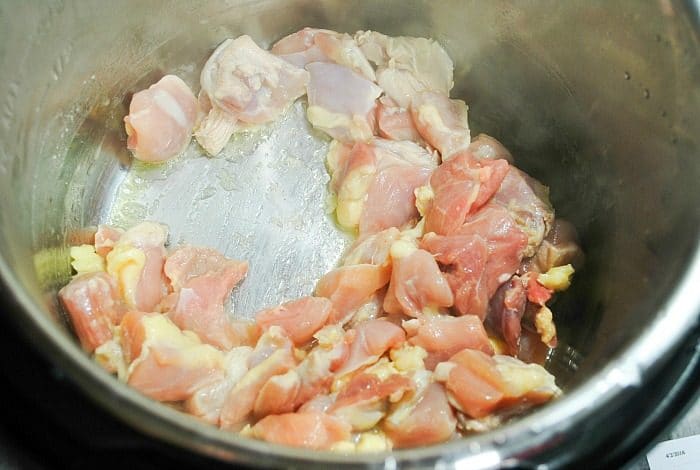 Which is better chicken tikka masala or butter chicken?
Depends on who you ask but I prefer this recipe over the other.
There are a few different versions of this as well. Some are more tomato based and others are heavier with cream.
Is there another name for butter chicken?
I've heard it called Indian chicken before. I guess that's because you typically won't find this on any other restaurant menu. BUT now you can make it right at home using my directions below so that's fun!
Why do they call it butter chicken?
Um…well for obvious reasons, there is butter in it.
Beyond that it does definitely have a creamy butter flavor to it.
Do NOT use butter substitutes, you have to go all out.

Salted butter is best, we prefer organic.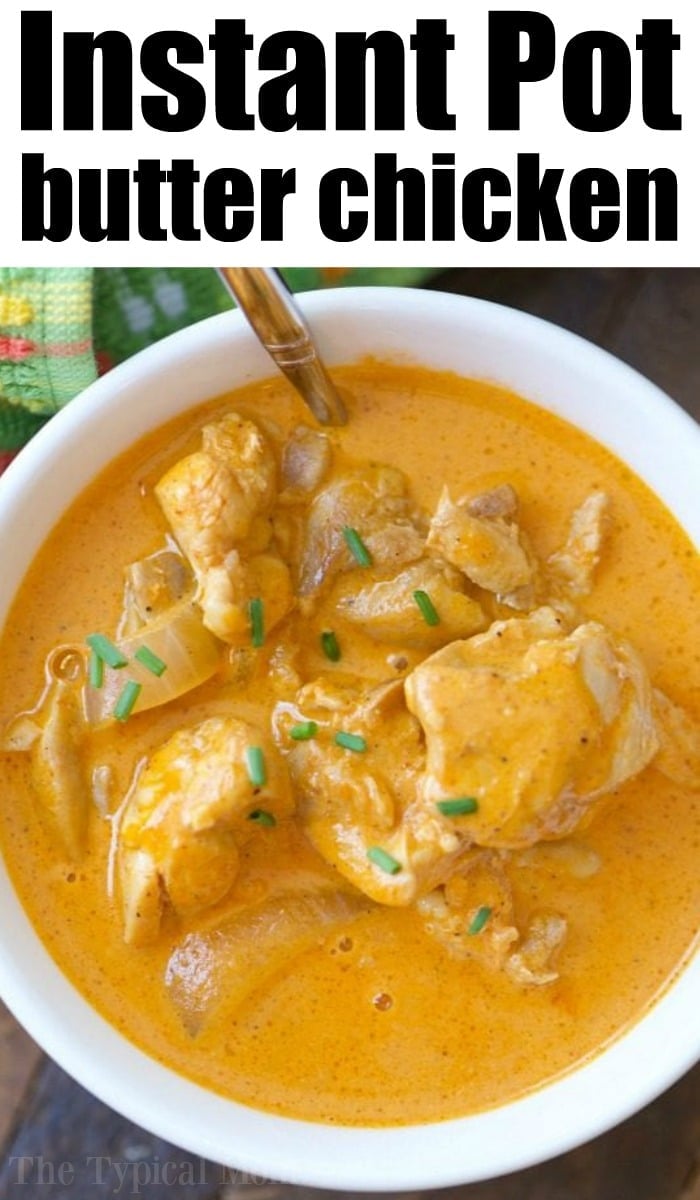 Don't have this brand of electric pressure cooker?
NO problem!
You can make this into Ninja Foodi butter chicken just by using the pressure cooker lid and the instructions below.
Works well for the Crockpot Express too. Just use brown button instead of this one saying saute. Those are the same functions.
Mealthy pots will use the same instructions below too.
Can you make butter chicken with chicken breasts?
Sure! I personally like thighs because they're a lot more tender but I do swap the two types depending on what I have on hand. If I find a really good sale too I will use that. Why not right??!!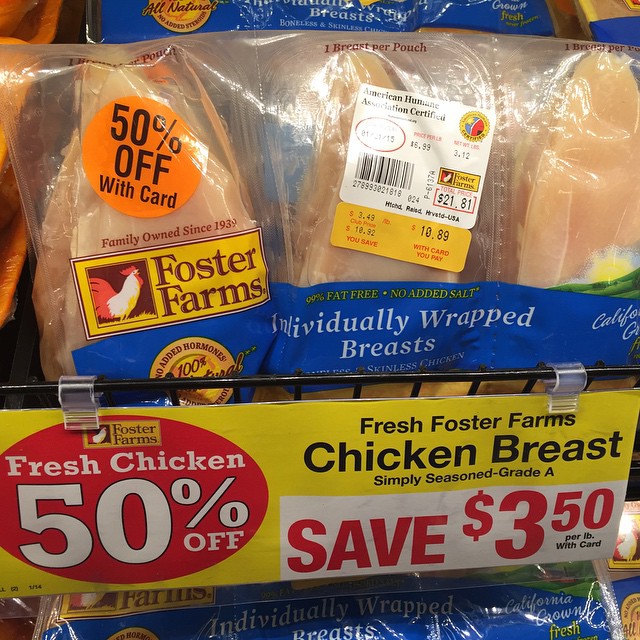 What type of rice is used in Indian food?
A long grain variety of rice is commonly used in Indian recipes. Basmati rice is commonly available at most grocery stores and is available in both white and brown varieties. I like this and Jasmine rice personally.
Either one can be used with our Instant Pot white rice instructions. We serve this butter chicken recipe over the top and it's a complete meal everyone loves.
Can you reheat butter chicken?
I will start by saying we rarely if ever have any leftovers but if you do, yes you can. Although it's a less popular option, chicken and other meats can certainly be reheated on the stovetop. Do so in a small saucepan over low heat to avoid overcooking.
If you don't have a microwave or are short on time, this is a good method. Add some oil or butter to the pan to thin out sauce.
Reheating leftovers in a microwave are a bit easier. Do so in a microwave safe dish in 30 second intervals stirring in between times.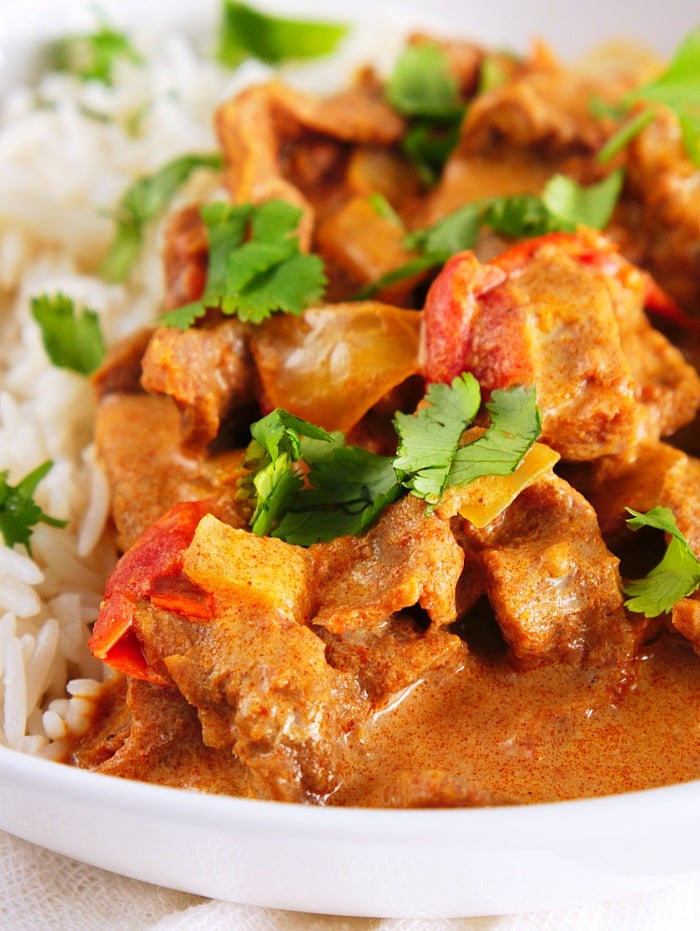 Looking for more Instant Pot chicken recipes?
Here's the best ever butter chicken recipe you can make in your Instant Pot tonight.
Easy Instant Pot butter chicken
Really easy Instant Pot butter chicken recipe that is moist and full of flavor. Takes just 5 minutes to cook and the perfect family dinner with a side of naan. If you're never tried making pressure cooker butter chicken this is an easy one to start with. Instant Pot Indian food perfection.

Instructions
Turn your pressure cooker to saute, and add your butter.

When butter is melted add cubed chicken and onions.

Cook just enough for chicken pieces to cook just a touch on the outside and are no longer pink.

Add all other ingredients into your pressure cooker and mix together well.

Put lid on and close steam valve.

Set to low pressure for 5 minutes.

When done allow to naturally release for 1 minute (to avoid splatters), then do a quick release.

Carefully lift lid. Serve immediately or remove chicken and set to saute low for just a few minutes. Put some of the hot liquid in a small bowl with 1 tbsp of cornstarch and whisk together, add back into the pot and stir. May do this again with another tbsp. depending on how thick you want the sauce to be.

Sauce will thicken more as it sits. Turn off, add chicken back in, and serve with rice and/or naan.
Nutrition Facts
Easy Instant Pot butter chicken
Amount Per Serving (6 oz)
Calories 574
Calories from Fat 450
% Daily Value*
Fat 50g77%
Cholesterol 217mg72%
Sodium 527mg23%
Potassium 514mg15%
Carbohydrates 9g3%
Protein 20g40%
Vitamin A 1725IU35%
Vitamin C 5.4mg7%
Calcium 68mg7%
Iron 1.8mg10%
* Percent Daily Values are based on a 2000 calorie diet.