Here's a healthy butter chicken recipe you can make in your slow cooker or make really quick pressure cooker butter chicken too. If you loved our Instant Pot butter chicken, this is a tomato based version of that favorite Indian dish. Full of flavor on top of rice or with a side of naan it will be a family favorite too.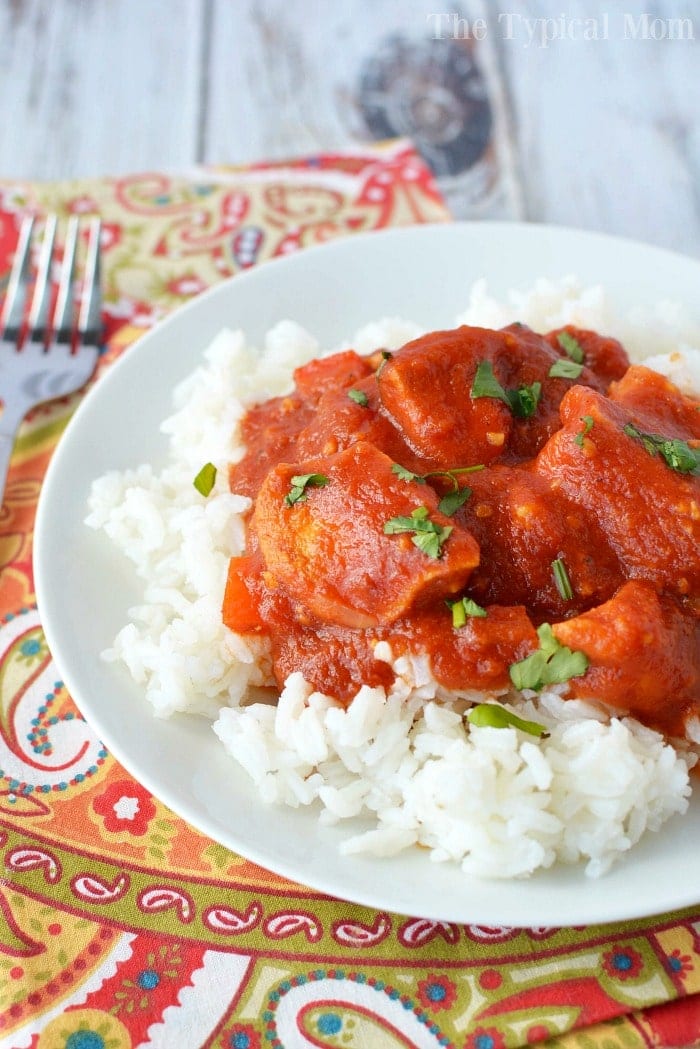 If you love Indian food but looking for a healthy butter chicken recipe to make at home I have a great recipe for your slow cooker or pressure cooker! Just refer to our directions as far as cooking it in your crockpot. If you need an easy version the one below we created is great. One of our favorite Easy Crockpot recipes. (originally published 5/18, affiliate links present)
Crockpot Butter Chicken Recipe Healthy
We first made this as an easy Instant Pot recipe and it did come out delicious. But if you're looking for a healthier side of things this one is great. Of course there are very traditional Indian butter chicken recipes and if you already have one then by all means use your recipe.
I find that if you visit a few different restaurants, they all have their own tweak to this. Some serve over rice while others serve it more like a soup with naan bread on the side. There is a lot of variance to this and I will explain a few of them below as well as how to make it dairy free.
FIRST – You should sign up for my free newsletter so you get new posts emailed to you twice a week and never miss out on anything! Let's talk a little bit about slow cooking shall we?? First off I have a few different varieties and I love them all. Each one has an occasion to be used like….
This is my favorite 6 quart programmable one with a locking lid so it's great for bringing to a potluck too.
If you just want to serve a few appetizers you should get this one that sit side by side one another.
I prefer not to use liners, but rather just spray olive oil inside before adding my food for easier cleanups.
Let me give you a peek of my pretty thang I bought recently. It goes with my kitchen so I can just leave it out on the countertop all the time. 😉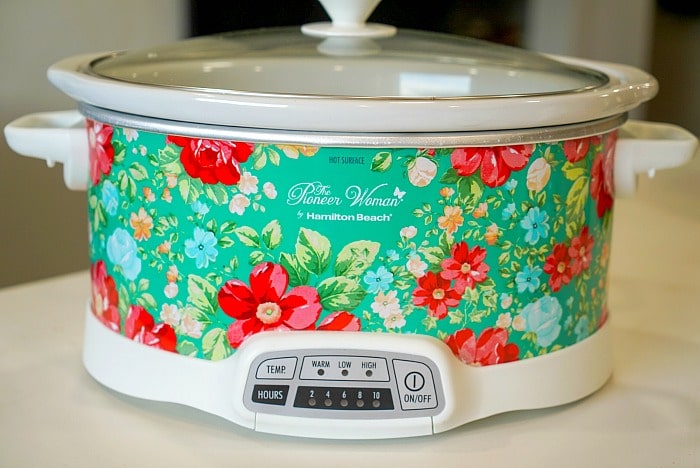 Healthy Butter Chicken No Cream
When it comes to Indian food it is all about the spices right??!! Many of them you probably have in your cabinet but there are a few you may need to pick up or order online. Once I bought them all I was able to make all the things, well beyond this dish.
Yes it amps up the flavor in chicken but if you want a vegetarian dish our Instant Pot cauliflower curry is amazing too. I will share those below, and they are necessary when getting that authentic flavor you love. You can in fact make a dish with the same bold authenticity without the heavy cream or calories though.
This is a great tomato based version without any of that. I have had both and they are definitely different dishes. If I had to choose my favorite I guess I would say the yellow, dairy based, cream version (but it isn't that great for the waistline). This one reminds me of a sort of Indian Crockpot chicken cacciatore of sorts.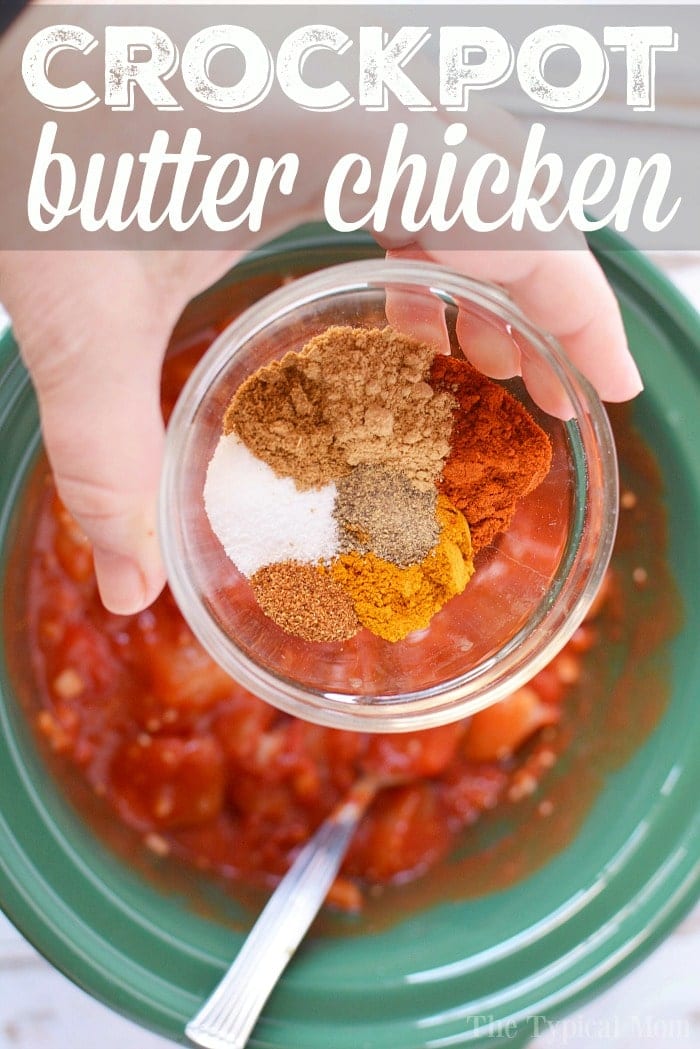 Slow Cooker Butter Chicken Thighs
You could really use chicken breasts or chicken thighs for this one. I will say that the latter one does have more flavor and typically costs less money so that is a win win. If you need it free from dairy products this is a great one to try since there isn't really any. To add a bit of creaminess you could add a bit of light coconut milk to it.
Chicken, breasts or slow cooker chicken thighs can be used – boneless skinless is best since you are cubing it into bite size pieces
Onions are great in all the dishes because they add flavor and texture with very little money out of pocket. Yellow or white would be the best choices for this.
Garlic goes in everything I make too. Minced out of the jar works just fine unless I roast it which is beyond amazing.
Tomato sauce and paste will give it that thick rich base.
Curry powder is one that if you love this you will surely use it again. In lentils, rice, other chicken dishes, it won't go to waste y'all.
Cumin – this is the one I have and I bought it online since my store didn't have it.
Paprika
Ginger
Cayenne pepper, just a bit will give it a tad of a kick but of course you can amp it up if you want it to be spicy. Another option would be red pepper flakes which tends to be hotter, or dry Sriracha.
Salt and pepper is optional and I typically will wait to add it when this is done, to each their own on these.
If you have and enjoy the taste of garam masala you could add 1/4 tsp of that too. Rice – here's how to make perfect Instant Pot white rice. Basmati rice is traditionally served with this but long grain and Jasmine work well too, I use what I have on hand.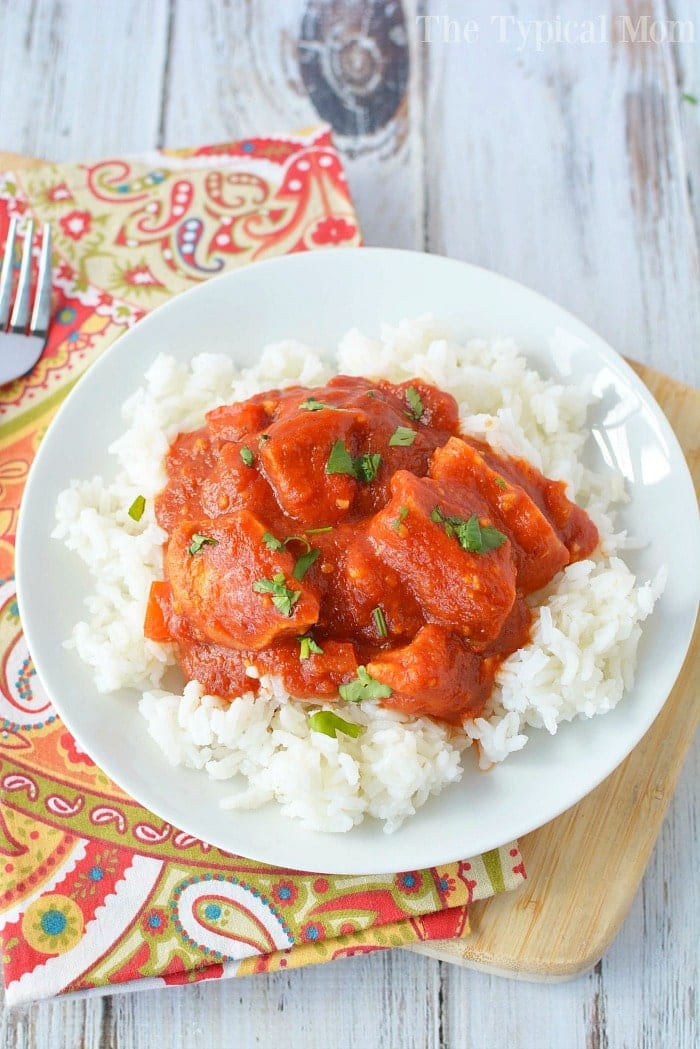 Crock pot Butter Chicken
Now if you want to make our Instant Pot healthy butter chicken recipe there's a link to that one at the very top of this post too. The ingredients and instructions are different. The recipes are different and since this one doesn't have heavy cream. It is healthier but seriously they are both yummy!
You are going to love this recipe and want to add it to your monthly rotation. I will typically add it when poultry is on sale because it makes an easy chicken thigh recipe in our house that everyone enjoys for sure. Recipe for this method of cooking is below in the printable card.
Now you could use this sauce itself with leftover chicken too. If you wanted to amp up your leftover chicken breasts for example you'd just want to dice those up into bite size pieces. Whisk this sauce together and throw it into a pot on your stove with the meat. Heat over medium high heat until it thickens and protein is tender again. A great way to revive an "old" dish.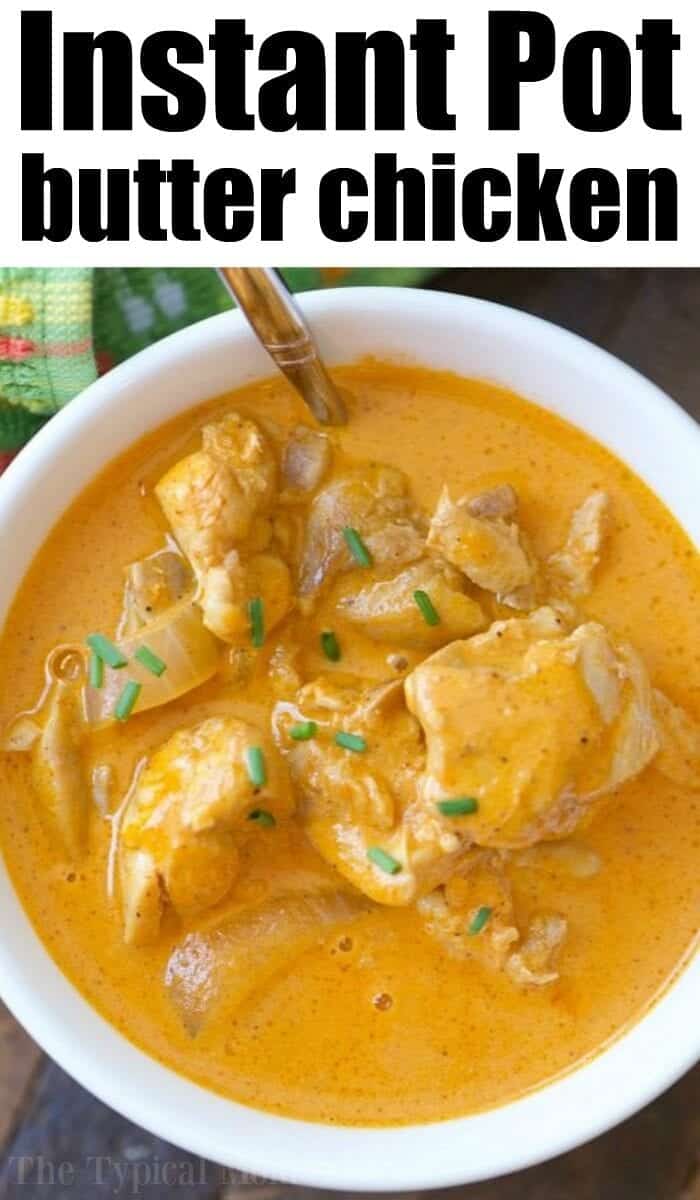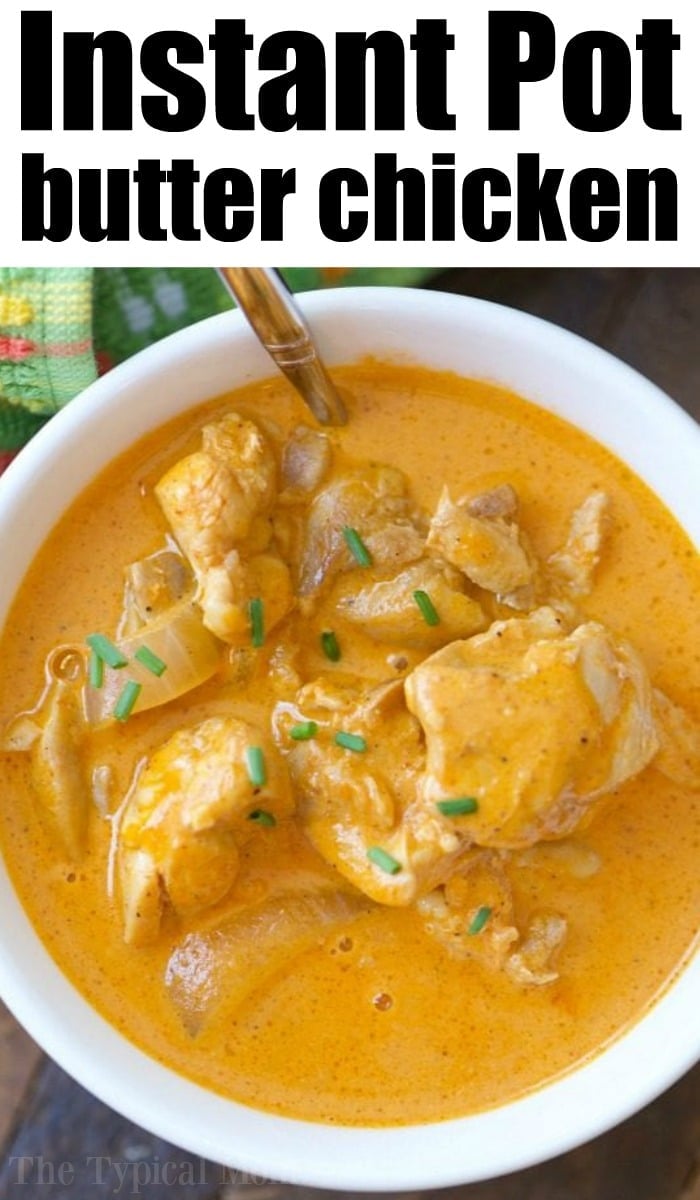 Is butter chicken good the next day
Yes. I hate wasting good food so I am there with you in wanting to save what is left and enjoy it again for lunch the next day or so. I do like to enjoy it within 24 hours but that isn't always possible. If you do have leftovers you want it to come to room temperature and then store in a sealed container in the fridge. It should be eaten within 3 days.
How do you reheat butter chicken
The best way to reheat it would be on the stove over medium heat in a pot with a lid. Warmed in the sauce it won't get dried out like in the microwave but that is another method. If you need to nuke it no problem. It may splatter a bit though so you will want to use a plate or paper towel over the top. Use a microwave safe dish and cover.
Then heat on regular 100% power in 45 second increments stirring in between the times. Do this just long enough for it to be warmed to your liking. If you have naan or pita bread you can warm that a tad just to bring that back to life, or make a fresh pot of rice (that doesn't save well if you ask me).
Want to see a few of my favorite things that I am totally obsessed with?? Take a peek and see how many you might already have…twinsies!
Looking for more easy family recipes and tips? LIKE The Typical Mom Facebook page?
Then sign up for my free newsletter, and follow me on Pinterest! 😉
***** If you LOVED this recipe give it 5 Stars below and let everyone know what you thought about it. 😉
Healthy Butter Chicken Recipe
Here's a healthy butter chicken recipe you can make in your slow cooker or make really quick pressure cooker butter chicken too. If you love this traditional Indian dish it's never been easier to make right at home for dinner. Full of flavor on top of rice or with a side of naan it will be a family favorite too.

Instructions
Place diced chicken pieces, onions, garlic, pepper, tomato sauce, tomato paste, and spices into your slow cooker. Mix well to coat chicken with everything.

Put lid on and cook on low for 6-8 hrs or on high for 4 hrs. (I prefer slow and longer).

Serve on a bed of rice or with a side of naan, top with cilantro.
Nutrition Facts
Healthy Butter Chicken Recipe
Amount Per Serving (6 oz)
Calories 180
Calories from Fat 18
% Daily Value*
Fat 2g3%
Cholesterol 58mg19%
Sodium 1553mg68%
Potassium 1189mg34%
Carbohydrates 17g6%
Protein 23g46%
Vitamin A 1985IU40%
Vitamin C 35.1mg43%
Calcium 41mg4%
Iron 3mg17%
* Percent Daily Values are based on a 2000 calorie diet.