Instant Pot cauliflower curry is an Indian side dish or one pot meal with tons of flavor. A vegetarian pressure cooker recipe you'll love.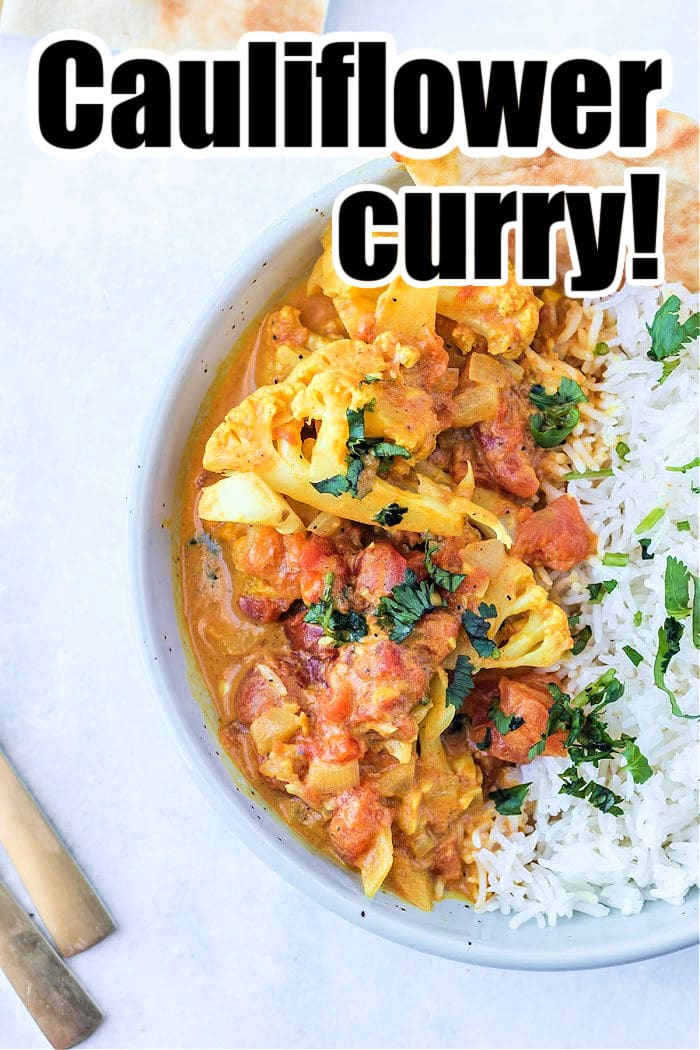 Maybe you've used a pot on your stove to make this in the past but Instant Pot cauliflower curry is the best. If you love Indian food you can now make one of your favorite dishes right at home in no time. Any pressure cooker brand will do to make this Instant Pot recipe for beginners. (affiliate links present, originally published 3/22)
Curry Cauliflower
I got addicted to these flavors after a conference in Salt Lake City. A few colleagues and I went to a restaurant and I was hooked. When I went home I tinkered around and came up with Instant Pot butter chicken. It was so good! As you know I use my pressure cooker almost daily. It makes my life easier and gets dinner on the table fast.
Yes I do have different brands as well, they all basically work the same. Crockpot Express, Mealthy and Ninja Foodi recipes are my jam too. As long as it has the high pressure function you are good to go.
FIRST – You should sign up for my free newsletter so you get new posts emailed to you twice a week and never miss out on anything! Now let's start with a few basic tips:
Make sure to Bookmark our InstaPot recipes page. We add new ones each week!
Then PRINT this —–> Instant Pot cooking times cheat sheet that will help you understand how long meat, vegetables and beans take to cook in your pressure cooker.
For reference, this is the pressure cooker I have (a 6 quart) and use for all recipe creations.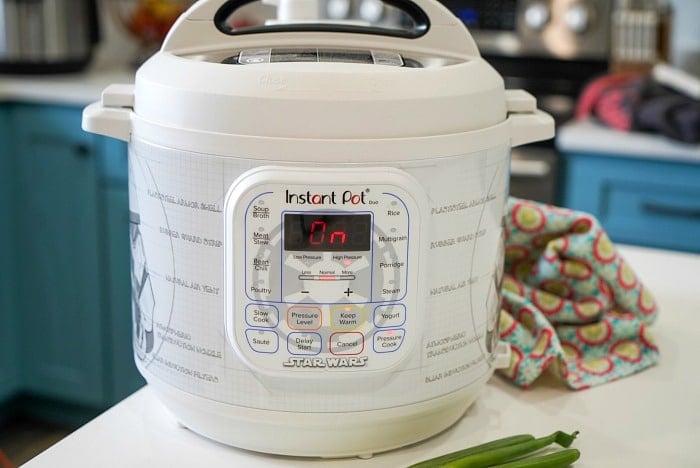 Instant Pot Indian Recipe
Let's talk about these flavors shall we? What does curry taste like? Maybe you are new and wonder what it is similar to, that is kinda' hard I will try to find the words here.
I would say that it has an earthy flavor that is sweet and savory. Mixed with vegetables, chicken or made into a gravy all I can say is it has a bold flavor that's typically creamy and always delicious.
What is curry exactly?
Basically it is an Indian sauce or gravy served over or with meat, vegetables or even tofu. Typically it's served with Basmati or Jasmine rice in a bowl, a little like a thick soup. There are a lot of spices combined together to make this.
You can buy curry powder and mix it with a variety of other seasonings, or buy it ready made in a sauce already bottled. You can find it either mild or spicy. If you aren't sure how hot you want it to be I would make your own and adjust the heat with more or less Sriracha.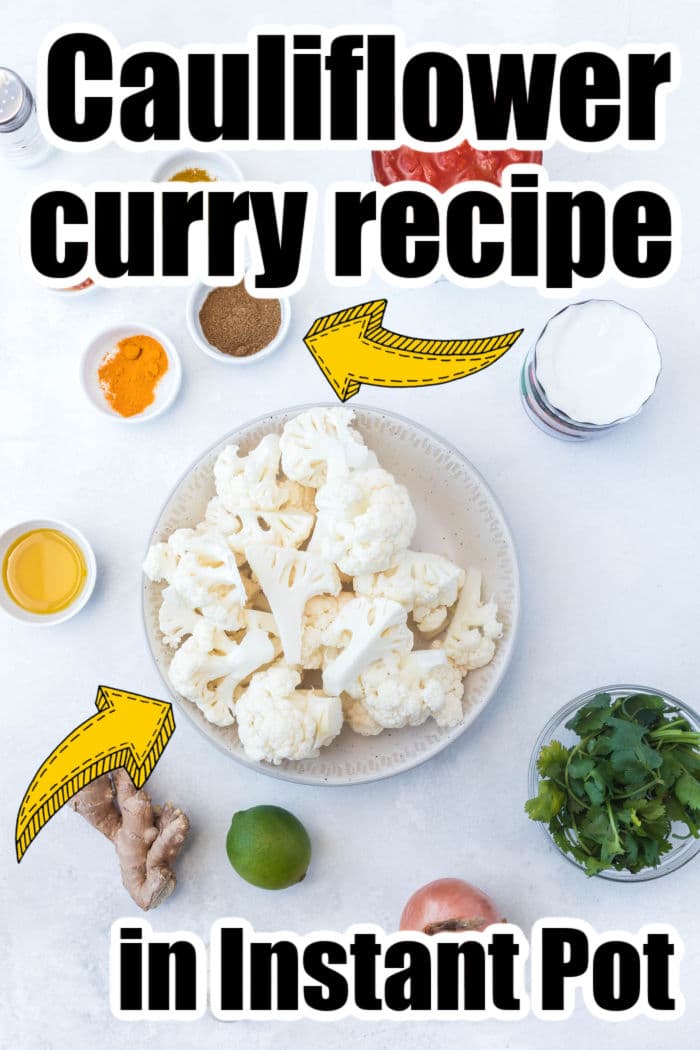 Instant Pot Cauliflower Recipe
There are a lot of spices and seasonings in this. I am sure you'd expect that if you have ever made Indian food at home, it is all about FLAVOR y'all. If you're new to this type of cooking I will include links to where you can buy more "unusual" items online. Then you'll have them handy for making other Instant Pot Indian recipes later.
You could buy and use this curry sauce already made if you wanted to but I'd recommend making your own as directed below. For that you will need;
Curry powder
Minced ginger and Garlic
Coconut milk, full fat do not go for low fat versions – we want it creamy
Diced tomatoes
Sriracha or chili powder if you want to add heat
Turmeric
Lime juice and zest
Cilantro
Olive oil and diced onion
We like to serve this with a piece of homemade naan
Then we're not going to cook a full whole head of cauliflower as is, you'll instead want to cut into florets so they get tender and soak up all the goodness.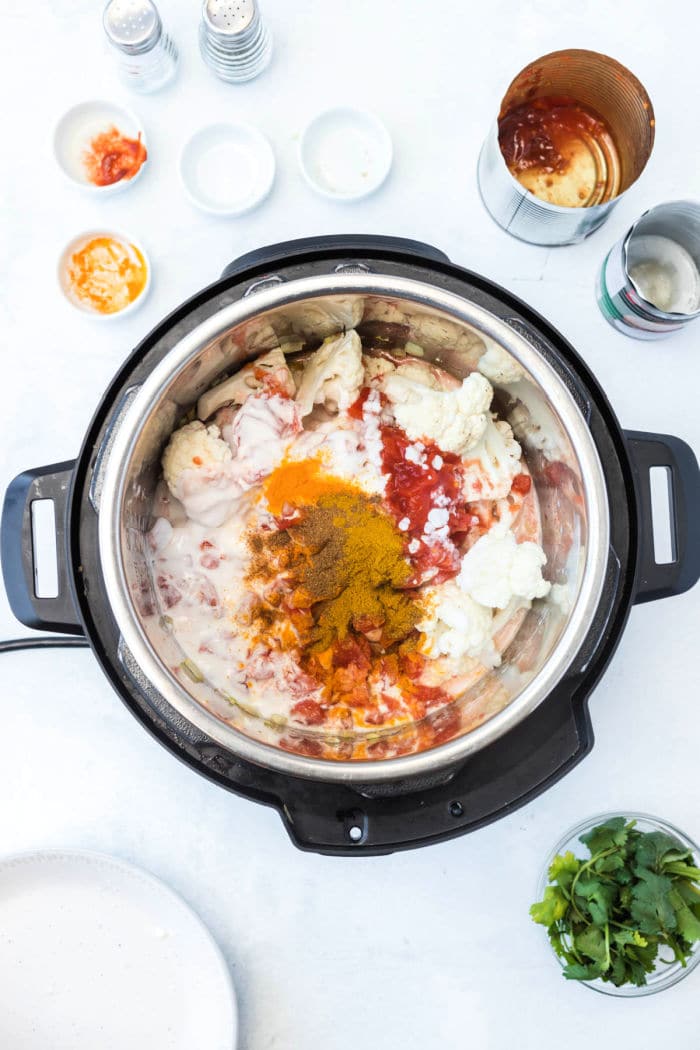 Ninja Foodi Cauliflower Curry
Believe it or not this truly is a dump and go kinda' meal or easy side dish. If you're looking for a vegetarian Instant Pot recipe this is definitely a great one. Hearty especially when served with some white or wild rice in Instant Pot it would fill you up nicely for the evening.
I will say that this wasn't a vegetable I ate a lot as a child. No idea why but it wasn't on my mom's radar, I guess broccoli was more often served in her generation so she would always go with that. Oh and peas, maybe because those were so cheap and we were always paycheck to paycheck.
As an adult I have definitely expanded my palate. Because of that my children are more adventurous eaters and love trying things from other ethnicities. If given a choice they would choose sushi (raw) over anything else when going out to a restaurant. Curry and peanut sauces are always given a try because we've just trained them to try once.
Helps as you age to be willing to try new things I think, glad we instilled this quality in them early on.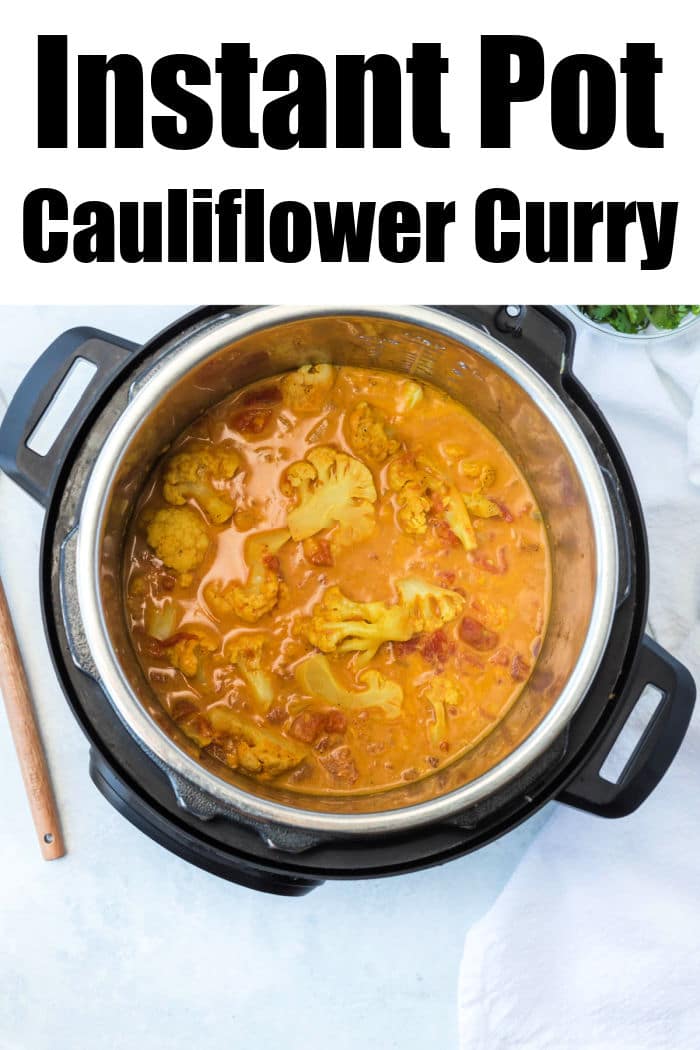 I have a printable recipe card for you at the bottom of this post. Keep in on hand in your folder or book or just come back often because we love "seeing you" as often as possible. 😉 For this dish make sure you keep an eye on it and release the pressure quickly at the end, if not the contents will get too soft.
Curry Instant Pot
If you do like a bit of "bite" to it meaning you want your pieces to not be as soft, just cut them larger. The smaller they are the softer they will become. A large bite is kinda' how I explain how large you should make them ideally.
First press saute and add your olive oil, onion, garlic and ginger. Cook until onions becomes more clear. Turn pot off.
Cut stem and leaves off and cut into large cauliflower florets
Add all other ingredients EXCEPT for the cilantro, that is for garnish later.
Close lid and seal steam valve.

Pressure cook on high pressure for 5 minutes cooking time with a quick release when done, NO longer.

Stir contents together gently so veggies don't break apart. Serve on a bed of white rice with fresh cilantro sprinkled on top.
Serve immediately or in a large bowl with chicken.
Instant Pot Cauliflower Chickpea Curry
If you did want to add a bit of meat into the pot you could. I would suggest that you use precooked diced pieces like chicken thighs maybe. Alternatively you could dice up 1 breast into small pcs. and saute at the beginning until there is no pink on the outside. Then continue on with the rest of the directions as stated. OR add 1/2 can of drained chickpeas into the mix to add protein.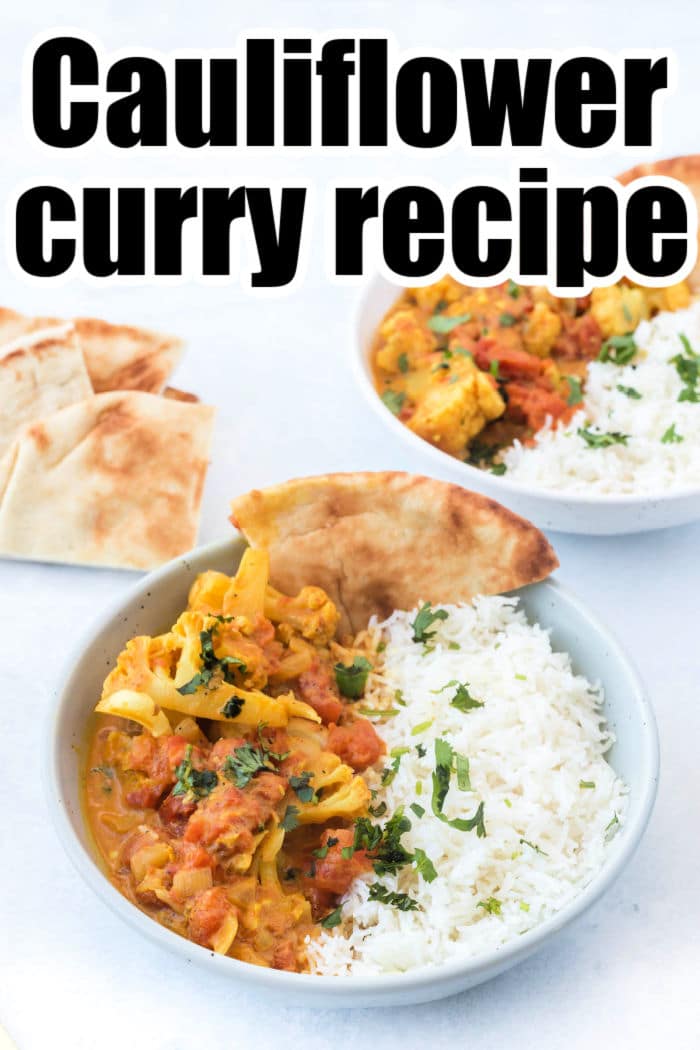 How do you cut cauliflower for curry?
You want them to be in large bite size florets. Start by removing any green leaves from the outside. Then on a cutting board remove the stem at the bottom. Use a sharp knife to cut off the pieces and cut the larger ones in half so they are all the same size and cook at the same rate to tender. Then cook curry cauliflower in Instant Pot like we show you here or on the stovetop.
Does cauliflower shrink when cooked?
A bit. You want to cut pieces into large bite size pieces. Some of the water inside the vegetable will leach out and the pieces will get super tender so yes there will be a bit of a smaller size once your head of cauliflower pieces are cooked.
Cauliflower Curry in Instant Pot
If you have leftovers, no worries. Allow it to cool completely first. Then transfer into containers with lids. Make sure you include as much sauce as possible so it stays moist. Reheat cauliflower curry in a microwave safe bowl for about 1 minute stirring in the middle of that timing.
It does save quite nicely if you don't finish it all the first day. I would not keep it beyond 2 days or so personally but it usually doesn't last that in my house anyway. Want another easy recipe using this same veggie? Give our air fryer roasted cauliflower steaks a whirl too! Done in about 15 minutes you could serve it alongside your coconut curry dish or on another night.
Want to see a few of my favorite things that I am totally obsessed with?? Take a peek and see how many you might already have…twinsies!
Looking for more easy family recipes and tips? LIKE The Typical Mom Facebook page?
Then sign up for my free newsletter, and follow me on Pinterest! 😉
***** If you LOVED this recipe give it 5 Stars below and let everyone know what you thought about it. 😉
Instant Pot Cauliflower Curry
Instant Pot cauliflower curry is an Indian side dish or one pot meal with tons of flavor. A vegetarian pressure cooker recipe you'll love.
Instructions
Press saute and add olive oil, onion, garlic and ginger. Cook until onion becomes more clear. Turn pot off.

Add all other ingredients EXCEPT for the cilantro.

Close lid and seal steam valve. Press high pressure for 5 minutes with a quick release when done.

Stir contents together gently so veggies don't break apart. Serve on rice with fresh cilantro sprinkled on top.
Nutrition Facts
Instant Pot Cauliflower Curry
Amount Per Serving (2 oz)
Calories 235
Calories from Fat 180
% Daily Value*
Fat 20g31%
Sodium 77mg3%
Potassium 744mg21%
Carbohydrates 15g5%
Protein 5g10%
Vitamin A 209IU4%
Vitamin C 62mg75%
Calcium 83mg8%
Iron 4mg22%
* Percent Daily Values are based on a 2000 calorie diet.