The easiest crockpot chicken cacciatore recipe ever! If you've never made this it literally takes 10 min. to prep and my kids love it too over rice!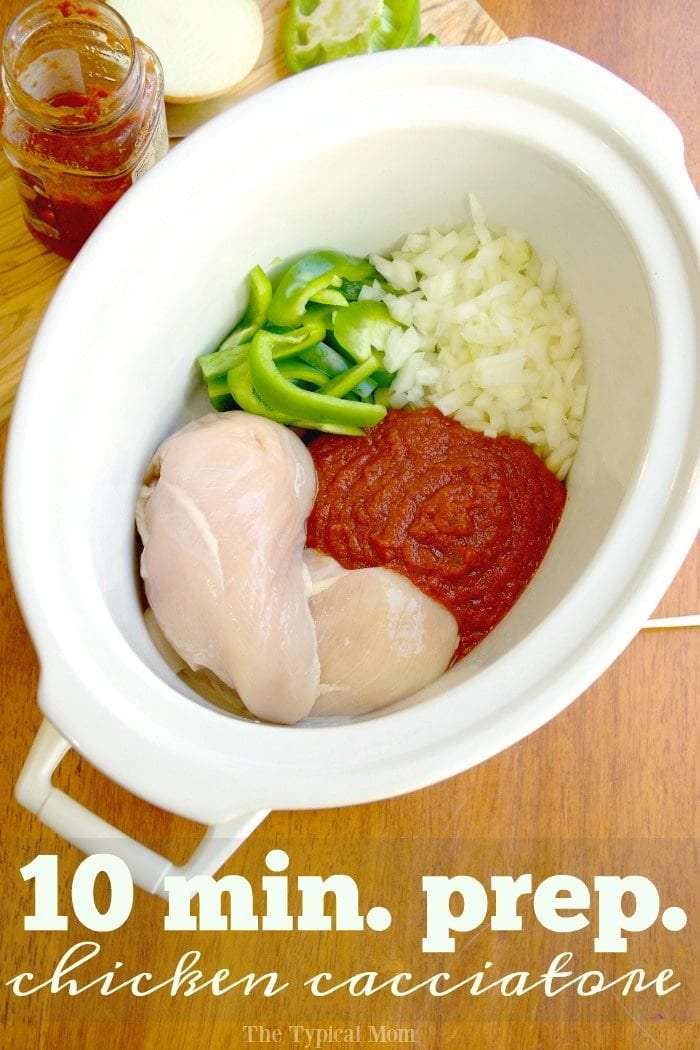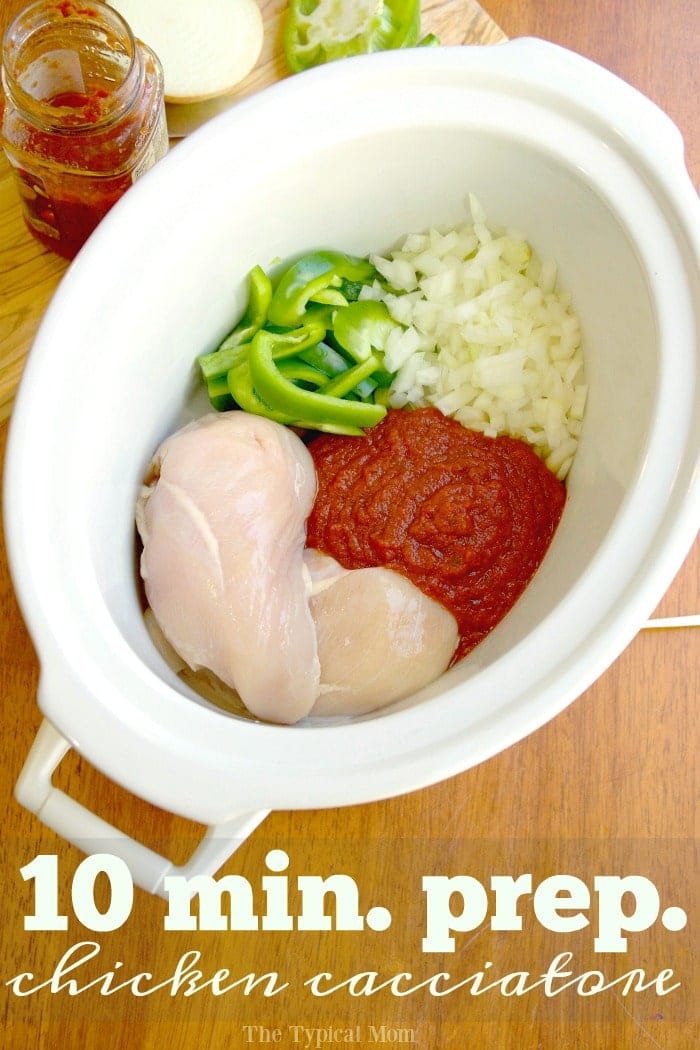 I love an easy dinner, like the easiest crockpot chicken cacciatore recipe ever that just takes 10 minutes to prep.! Seriously, it's so easy and even the kids gobble this one up! It is an inexpensive crockpot meal and quite healthy too incorporating chicken and veggies that cook down and get nice and soft in the process. Perfect over rice, I bet all of you will love this meal too. Here's how you make one of our favorite crockpot recipes.
Have you ever made chicken cacciatore?? Well my mom used to when I was younger, but from scratch. Ok, so I don't have time to do the from scratch thing usually during the week, so using the flavors and ingredients she used but in a much simpler form here's an easy crockpot chicken cacciatore recipe! I've also made it in just a few minutes with my Instant Pot chicken cacciatore recipe. Let me know what you think. (originally published 11/16)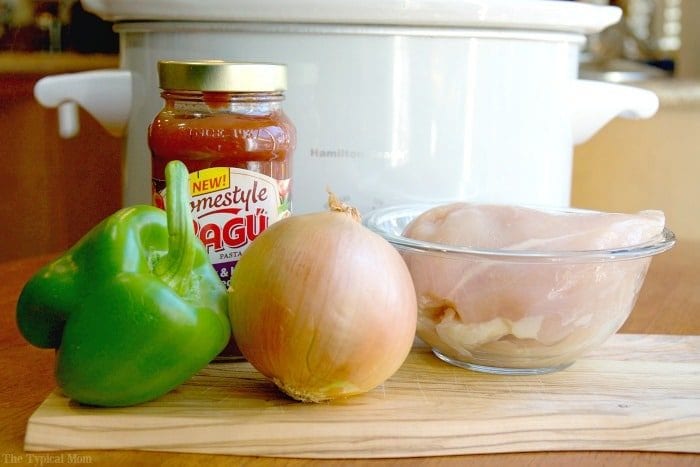 Literally this is all you need, and maybe some rice if you want to serve it over that when it's done….that is what we do. It doesn't matter what brand spaghetti sauce you use. Choose whatever (I'm all about what is on sale), just stay away from meat flavor. I tend to choose garlic based, or mushroom and prefer a thicker version but like I said I usually buy what's on sale and use whatever is in my cupboard. 2 large chicken breasts will do and will feed the 5 of us. I also add mushrooms but prefer to keep them a bit more turgid so I want until the last hour to add those (you can omit those if you prefer).
Crockpot chicken cacciatore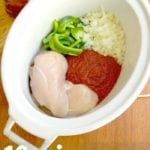 Crockpot chicken cacciatore
Crockpot chicken cacciatore is so good! If you've never made this it literally takes 10 min. to prep and my kids love it too over rice!
Course:
Entree, Main Course
Ingredients
2

chicken breasts

1

jar

spaghetti sauce

1

green bell pepper

1/2

onion

1

container mushrooms

1.5

c

uncooked rice + 3 c. water - serve over - optional
Instructions
Place chicken breasts (not frozen) on bottom of crockpot.

Pour jar of spaghetti sauce on top.

Pour about 3/4 c. water into jar and swish around to get rest of sauce out of jar and pour that into crockpot as well.

Slice bell pepper, dice onion, and put into crockpot.

Add minced garlic if you wish. Stir just a bit but keep chicken on bottom and covered with sauce.

Add mushrooms that have been rinsed and quartered into crockpot, stir slightly cook for an additional hour on low. Can double if you'd like. Serve over rice.
Nutrition Facts
Crockpot chicken cacciatore
Amount Per Serving
Calories 471
Calories from Fat 63
% Daily Value*
Total Fat 7g 11%
Cholesterol 144mg 48%
Sodium 3832mg 160%
Potassium 3439mg 98%
Total Carbohydrates 47g 16%
Protein 59g 118%
* Percent Daily Values are based on a 2000 calorie diet.
If you are busy like we are these quick crockpot meals are lifesavers! I use mine at least once a week if not more and have several sizes. I use my large crockpot (affiliate link) for this and many of our other favorites like our: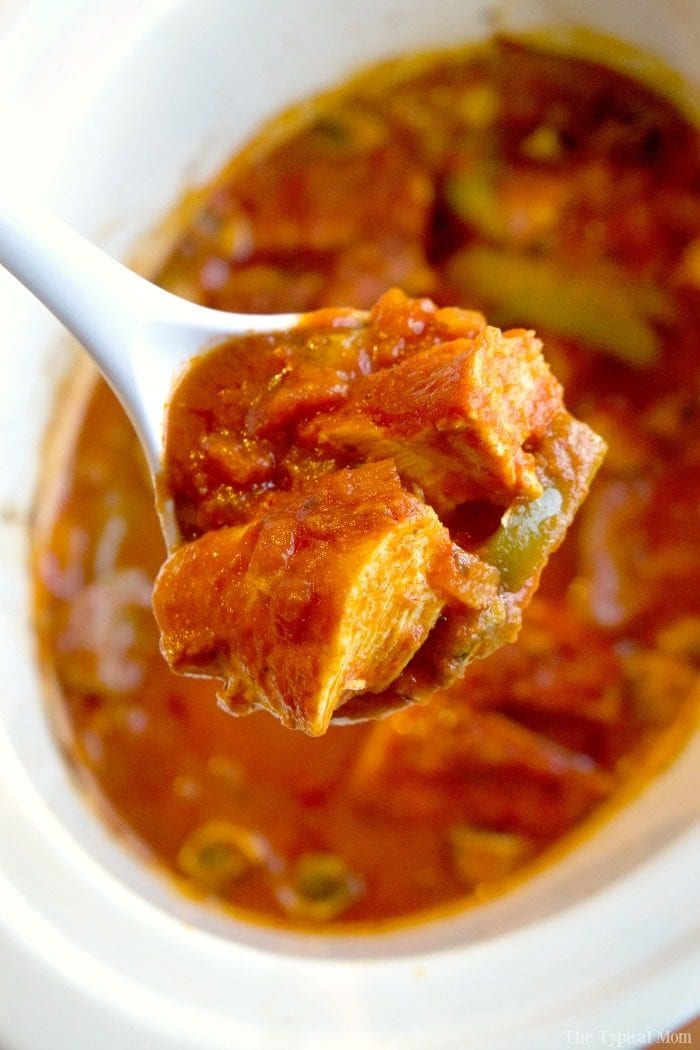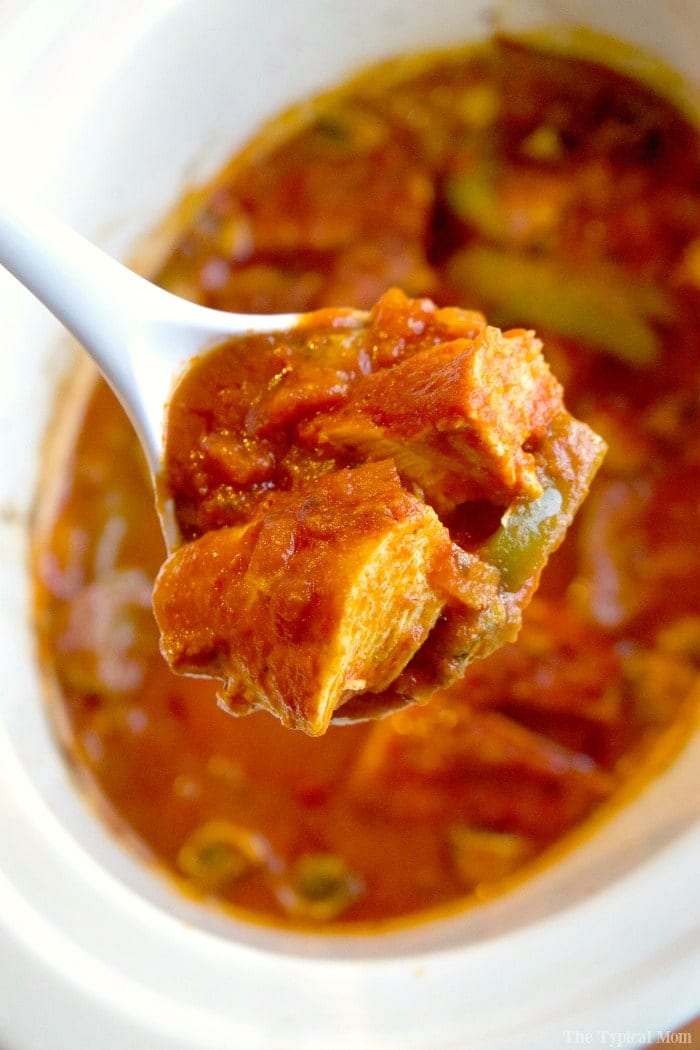 For more easy recipes, tips and crafts please LIKE The Typical Mom on Facebook and follow me on Pinterest! You can also sign up for my free weekly newsletter which is packed with goodies I know you'll love. 😉