Crockpot jerk chicken thighs are packed with seasonings, cooked with corn and black beans for a complete healthy slow cooker meal. Just delicious!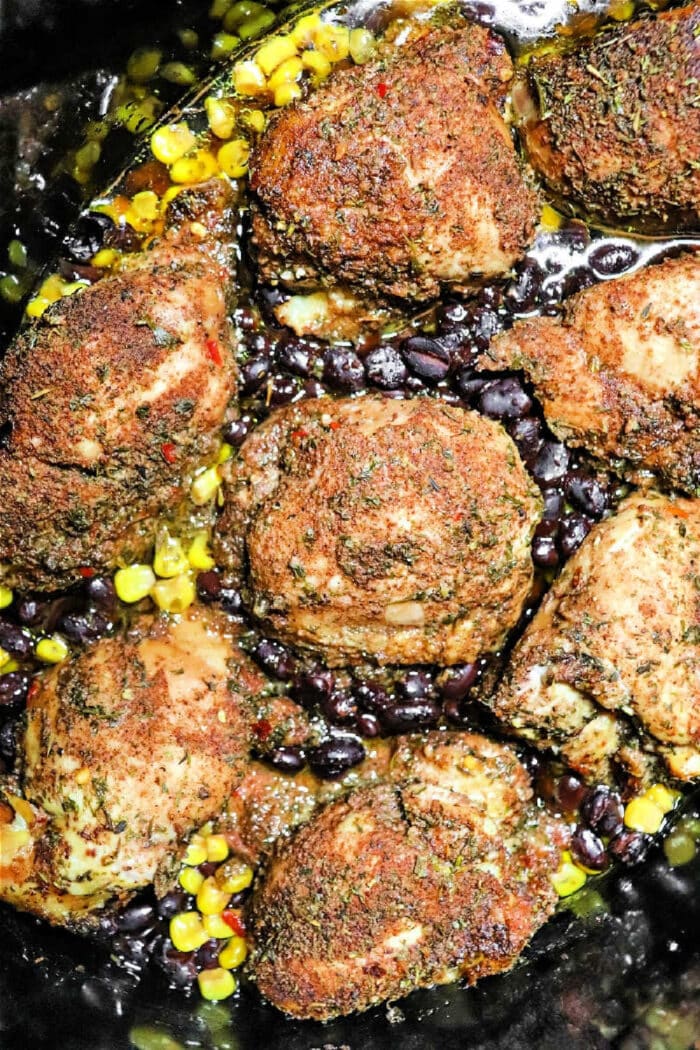 If you haven't made a batch of Crockpot jerk chicken yet you should. This Jamaican dish has become widely popular everywhere but you don't have to grill it to taste amazing. This is an easy way to make this one pot meal for your family this week. (affiliate links present, originally published 11/21)
Jerk Chicken Thighs
Made with this cheap brown meat, overall this meal feeds a bunch and will impress all of your guests. It only takes about 15 minutes to prep so you can throw it all in before work and enjoy it once everyone gets home. Serve it on a bed of rice and serve.
You can buy ready made seasonings but I am sure you have all the ingredients already in your cupboard so no need to spend more money on that. We will walk you thru the whole process here.
FIRST – You should sign up for my free newsletter so you get new posts emailed to you twice a week and never miss out on anything! Let's talk a little bit about slow cooking shall we?? First off I have a few different varieties and I love them all. Each one has an occasion to be used like….
This is my favorite 6 quart programmable one with a locking lid so it's great for bringing to a potluck too.
If you just want to serve a few appetizers you should get this one that sit side by side one another.
I prefer not to use liners, but rather just spray olive oil inside before adding my food for easier cleanups.
Let me give you a peek of my pretty thang I bought recently. It goes with my kitchen so I can just leave it out on the countertop all the time. 😉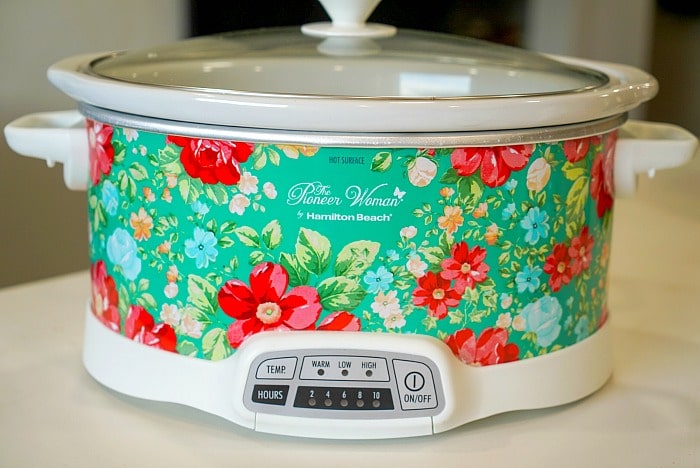 Crockpot Jerk Chicken Thighs
Maybe you had this at a restaurant once, or were on vacation and this rocked your world. Either way you may have thought it to be way to complex to make yourself, wrong. Grab a can of beans and a bag of frozen corn and then coat your meat. Low and slow all day for about 6 hours should do it and done my friend…..yes, that easy.
I typically order everything I need from Imperfect foods when I put in my request so it's all delivered to my door. Talk about making things even easier on myself. 😉
Slow Cooker Jerk Chicken
I will say that making your own seasoning blend is best. That way you can tweak it to be as spicy as you want, or not.
Fresh or defrosted skinless boneless chicken thighs
Frozen corn
A can of drained and rinsed black beans
You can buy bottled seasoning here or follow our directions below
You want a really thick coat on all sides and in all the crevices of your meat. I mean let the excess fall off before setting them inside but rub it on real good.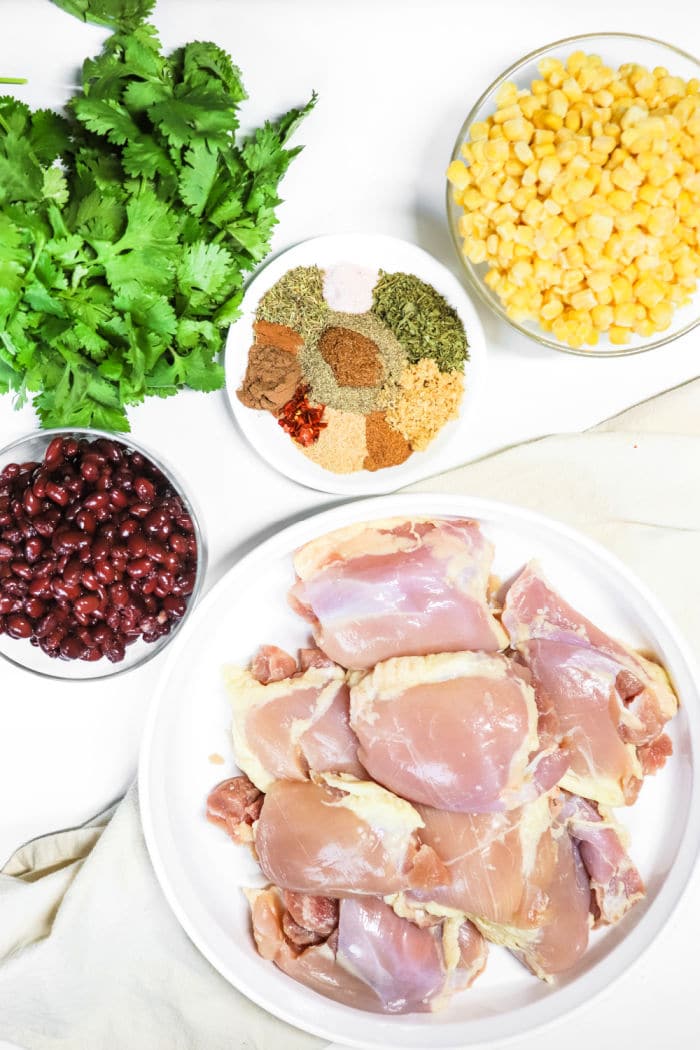 Peppas Jerk Chicken
If you love this Brooklyn joint and want your food to taste similar to this, we think these seasonings do the trick. You are going to mix this together:
What is Jerk seasoning made of?
There is always a tweak here and there but the main base items are as follows;
Parsley
Garlic powder
Onion powder
Thyme
Salt and nutmeg
Allspice
Pepper and red pepper flakes amount can be adjusted for spicy or mild
Cayenne
Cinnamon and brown sugar for sweetness
Before you massage it in your can taste it with your fingertip and fine tune things to your liking. Heat is personal preference for sure.
Boneless Jerk Chicken Slow Cooker
Using a slow cooker is great for meat. You don't really need to add liquid because as it cooks there will be some chicken broth released. The longer you cook it the more fork tender it will become. I mean to a point, you can overcook it to the point where it's dry but give or take an hour you will be fine.
In your Crock pot add the can of drained beans and frozen corn.. Mix seasonings in a bowl and coat outsides of thighs completely with it.

Massage into all crevices, on top and bottom and everywhere in between. Allow excess to fall off but make a thick coat all around.

Lay coated meat on top of your vegetables. Cover and cook on low for 4-6 hours or until thickest part of meat is cooked through and fork tender.
You could use a wet jerk sauce marinade made with scotch bonnet peppers as an alternative. I haven't done that as I feel like you'd need to let chicken pieces sit for several hours beforehand for that to really soak in. This sticks well and won't slide off in the cooking process.
I haven't used chicken breasts either. Thighs have SO much more flavor and moisture to them. Do NOT cook on high either. You want that slow roasted in soaked in yummy sauce flavors to marinate together.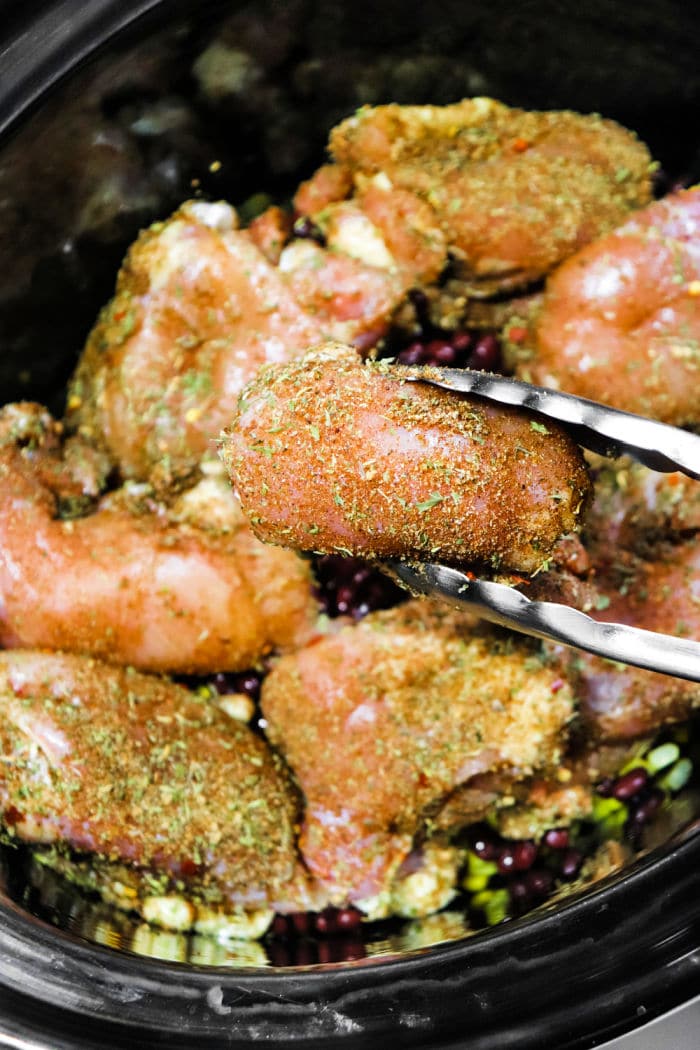 Jerk Chicken Sides
Want to add a bit of island sweetness to this? Pour 1/2 cup of pineapple juice into the pot initially. You really don't need anything else to serve this with since there are already side dishes on the bottom but here are a few ideas:
Served on a bed of Ninja Foodi rice is usually my go to with a squeeze of lime juice on top.
You can make a batch of roasted potatoes with a sprinkle of salt and pepper.
More vegetables always enhances any easy chicken recipe like slow cooker carrots or green beans.
Whatever you serve with this jerk chicken recipe I assure you that it will become a part of your regular meal plan for sure. Low in saturated fat we have all needed nutritional information for you too below. You can print it out and keep it on hand or just come back time and time again when you want to make it.
If you add another wow to the mix let us know after you leave a rating about how much you enjoyed it.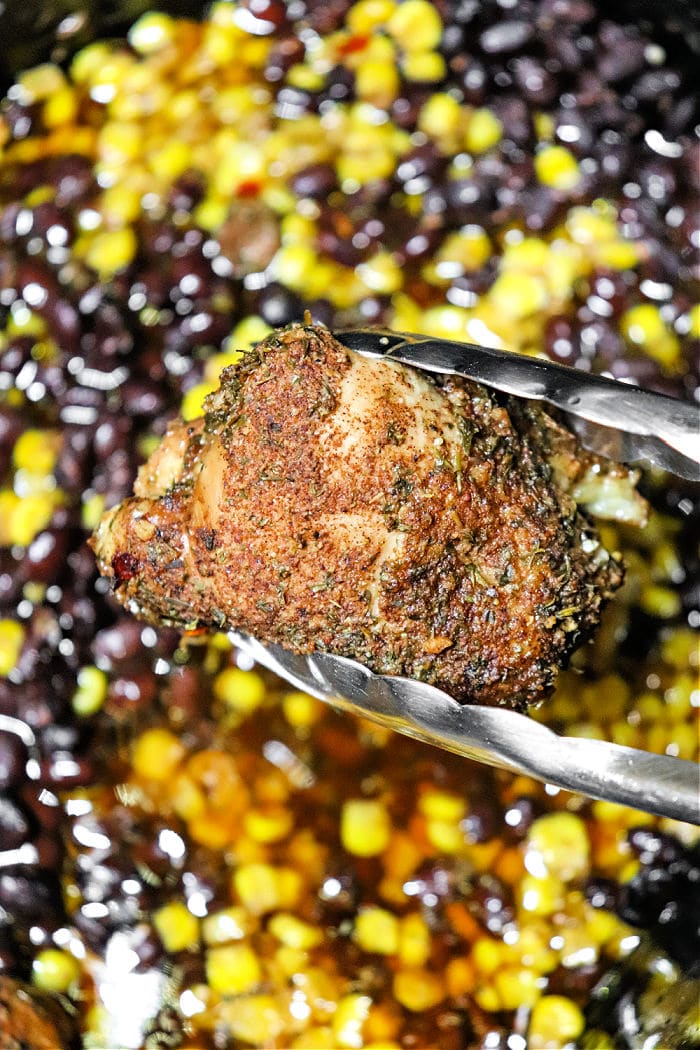 If you have leftovers they keep quite well and can be reheated the next day for lunch. Make sure that it is room temperature before you transfer it to freezer bags or containers. It will be fine for up to 3 days or so until you're ready to enjoy it again for a meal.
Slow Cooked Jerk Chicken
You can either set some on a baking sheet and heat at 375 for about 6 minutes, or heat for about 1 minute in the microwave. Either way I would spoon a few tbsp. of broth over the top to keep it moist. The meat can be thrown into your air fryer too to crisp it up if you wanted. I'd make a fresh batch of rice though, that never saves well.
OR dice it up and make our Instant Pot chicken thighs and rice dish. Since they're precooked you can skip the first saute step entirely.
Want to see a few of my favorite things that I am totally obsessed with?? Take a peek and see how many you might already have…twinsies!
Looking for more easy family recipes and tips? LIKE The Typical Mom Facebook page?
Then sign up for my free newsletter, and follow me on Pinterest! 😉
***** If you LOVED this recipe give it 5 Stars below and let everyone know what you thought about it. 😉
Crockpot Jerk Chicken
Crockpot jerk chicken is packed with seasonings, cooked with corn and black beans for a complete healthy slow cooker meal. Just delicious!
Instructions
Add drained can of beans and frozen corn to slow cooker. Mix seasonings in a bowl and coat outsides of thighs completely with it.

Lay coated meat on top of vegetables. Cover and cook on low for 4-6 hours or until thickest part of meat is cooked through and fork tender.
Nutrition Facts
Crockpot Jerk Chicken
Amount Per Serving (2 oz)
Calories 678
Calories from Fat 351
% Daily Value*
Fat 39g60%
Cholesterol 222mg74%
Sodium 763mg33%
Potassium 917mg26%
Carbohydrates 37g12%
Protein 46g92%
Vitamin A 543IU11%
Vitamin C 6mg7%
Calcium 55mg6%
Iron 4mg22%
* Percent Daily Values are based on a 2000 calorie diet.