Instant Pot chicken thighs and rice recipe can be made in a Ninja Foodi or Crockpot Express too. Tender meat and fluffy rice with vegetables.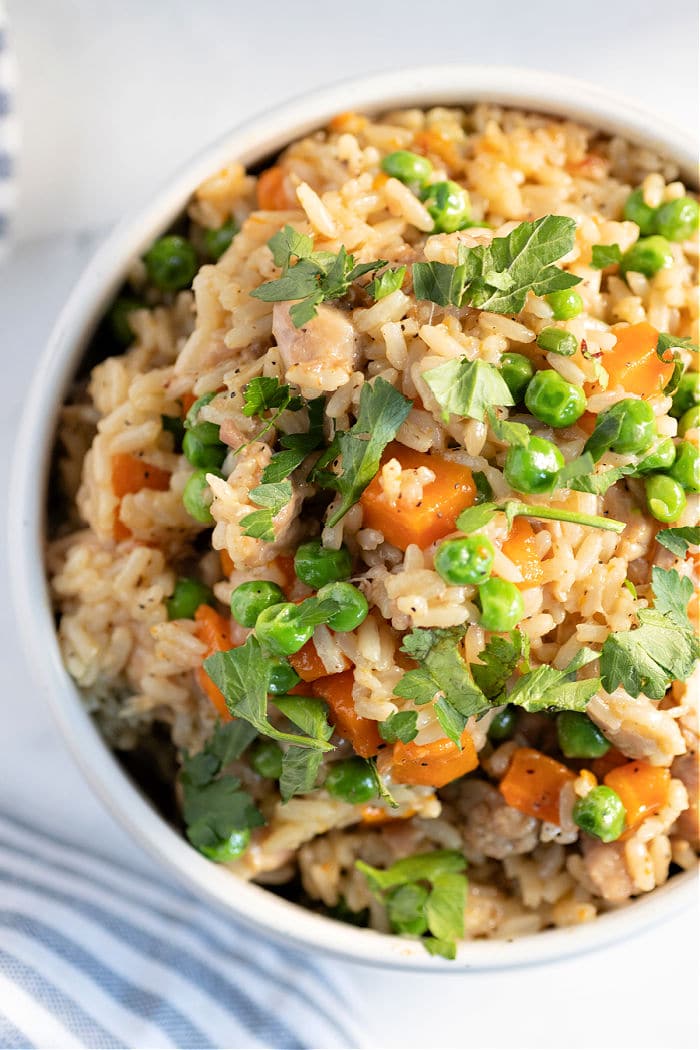 If you're looking for a new pressure cooker dinner, this Instant Pot chicken thighs and rice recipe is a great one. Kid friendly with veggies or without. A quick one pot Instant Pot recipe that has become a weekly meal for us that everyone loves. (affiliate links present)
Ninja Foodi Chicken Thighs and Rice
We made pressure cooker chicken and rice with cream of chicken soup years ago. That used chicken breasts but I have come to love this dark meat so this was created. For a lighter version the condensed soup was omitted and it still turned out fantastic.
Try both versions and see which you like best! You can make this in a Crockpot Express or as an easy Ninja foodi recipe too. Any pot with the high pressure function will work.
Let's start with a few basic tips:
Make sure to Bookmark our InstaPot recipes page. We add new ones each week!
Then PRINT this —–> Instant Pot cooking times cheat sheet that will help you understand how long meat, vegetables and beans take to cook in your pressure cooker.
For reference, this is the pressure cooker I have and use for all recipe creations.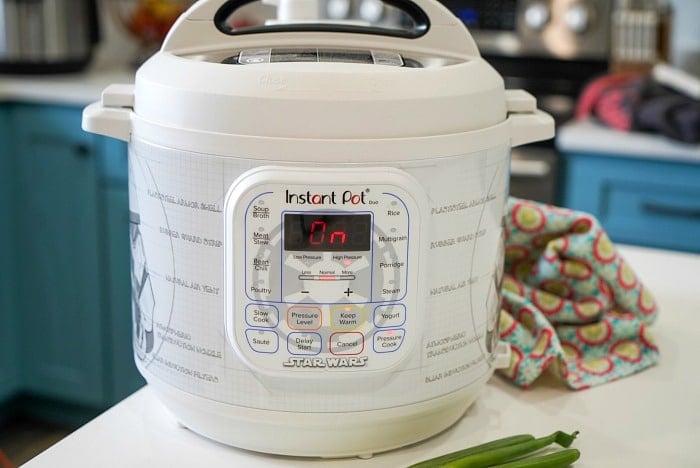 Chicken Thighs and Rice
Whenever you cook meat and a grain together in this pot you'll want to saute it first. I mean it wouldn't totally ruin the meal if you skipped this step, there is enough time to cook through. It just locks in the moisture of the meat when you cook the outsides just enough so it's no longer pink.
Since I included diced onions in this recipe I add those too so they'd soften. After sauteeing, ensure that it is turned off or else you might get the burn on Instant Pot notice part way thru the cook time.
Scared to try and cook everything all together because you have never done that before, don't be. I will walk you thru the whole thing. I was there years ago when I first got this pot and knew nothing about it. There were no recipes online out there so I literally worked for weeks and weeks figuring them out.
We make Instant Pot rice all the time on it's own. I use long grain or jasmine rice almost all the time. I will note that I have not made this with brown rice and probably won't. Let me explain my reasonings for this; you don't want to cook small bites of poultry much longer than 10 minutes or so, brown rice takes closer to 20.
By the time the grains were tender the meat would be way overcooked and dry. I understand that if you are trying to eat healthier you might want to veer this direction, just don't for this.
Can you put raw chicken in rice cooker with rice?
I would not in a "traditional" rice cooker but with this pressure cooker you certainly can. You can still use the rice button or setting but change from the automatic 12 minute cook time down to 10 and let it naturally release for 2 minutes instead.
You could use this as a great leftover rotisserie chicken recipe too. With that you can just skip the first step of sauteeing since it would already be cooked. I do this all the time if I have meat that needs to be cooked. You could easily use leftover ham too for a different angle. I'd use beef broth for that version.
The only real prep is dicing all the ingredients and sauteeing in the first step if you're using raw proteins. Other than that you just throw it all in. Tip to remember when cooking rice in an Instant Pot. You should NEVER stir it in with the other ingredients.
Reason being is that the bits that hit the bottom will stick, heat up too much, not cook well and will likely trigger the burn notice. If that happens the cooking will stop, you'll get a manic beeping and there's not a great way to fix your meal. Instead, add everything, sprinkle grains on top and gently submerge into the liquid below.
Close the lid and cook according to the recipe you're following. In order to get it fluffy allow for a bit of a natural release at the very end.
As for the veggies, choose those that are firmer in nature. Broccoli would be a bad choice since it is done in just one minute. Carrots, green beans, and/or a bag of frozen mixed veggies work great.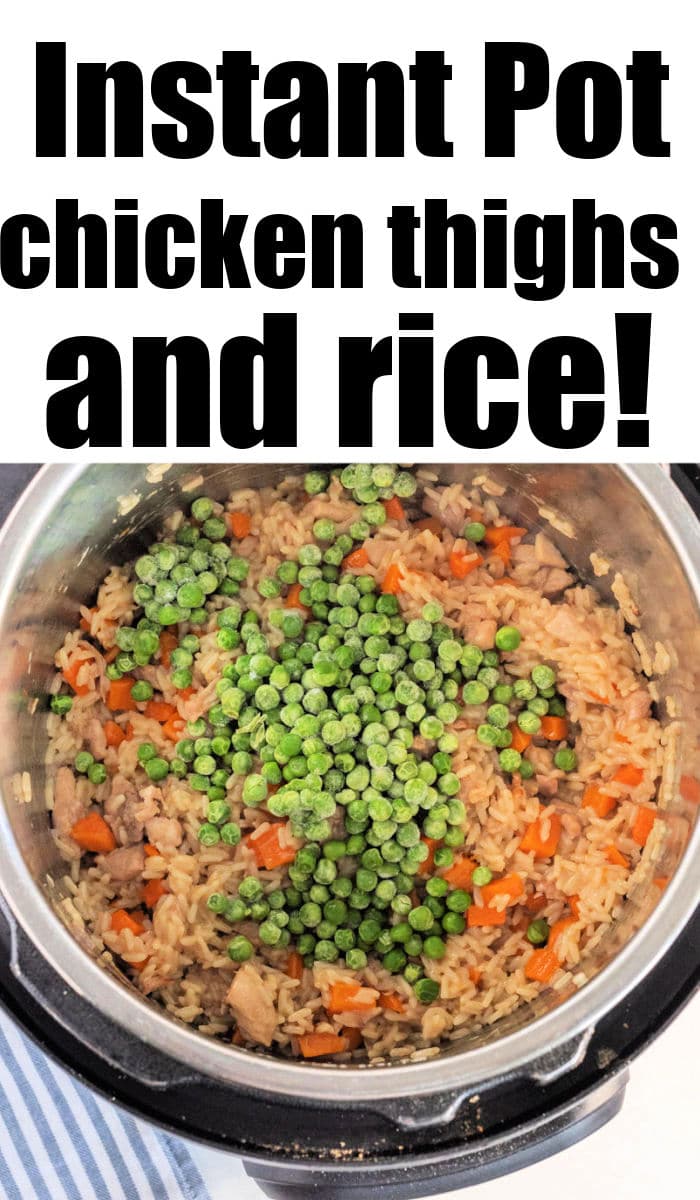 For gentler choices like peas we did add some into the mix but at the end. I poured a bit in and folded them into the hot meal. Set the lid on for 5 minutes and let them steam for a few minutes. Those are totally optional and can definitely be left out if you're not a fan.
Chicken and Rice in a Pressure Cooker
If you're using fresh or defrosted meat, set pot to saute, add oil.

When hot add bite size pcs. of chicken thighs and onions. (salt and pepper or any other seasonings now)
Use spatula to cook and move around just until outsides of meat are not pink.
Deglaze the pan

Then turn pot off.

(Leave frozen peas on the counter while meal is cooking if you are adding them)

Pour in your broth or chicken stock, vegetables, seasonings, stir together.
Sprinkle in uncooked white rice (I like jasmine rice) and gently submerge on the top under the liquid, do NOT stir them in.
Close lid and set to high pressure cooking for 6 minutes with a 10 minute natural release. Then quick release the rest of the pressure (which isn't much).
Lift lid, if you want to add peas pour them into your one pot meal now. Fold them gently into the mixture.
Then set the lid on the top and allow them to steam and heat for about 5 minutes together. Then scoop and serve our Instant pot chicken and rice dish immediately for best results.
Campbell's Pressure Cooker Chicken and Rice Recipe
When rice is cooked and you've enjoyed all you want at the time allow it to cool before saving any leftovers. Use a really airtight container or zipped bag. The more air you have inside the drier your grains will be the next day. When reheating you should add about 1 Tbsp broth on to the top and then microwave for about a minute.
The added moisture will revive the grains a bit better if you ask me. We have made many other versions similar to this since we made this years ago. A spicier version with canned corn we called Instant Pot Mexican chicken and rice. With a layer of melted cheese on top it was out of this world.
If you have a Ninja Foodi you can even air crisp the top layer of cheddar for added texture and wow. If it is snowing outside you can transform this into a soup really. That way you can use heartier choices, I wouldn't use white rice actually. Instant Pot chicken wild rice soup is really killer.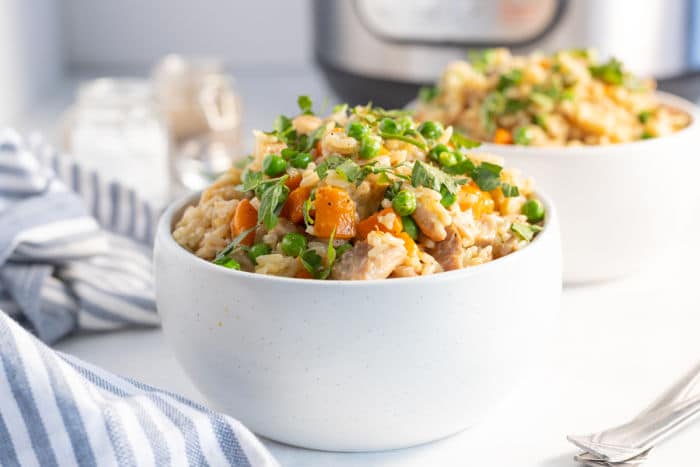 Ok let's get to planning now. You will likely have most of the ingredients in your pantry but take a peek. If you decide to use anything else inside that works out well let us know below so we can try it on our next go around.
Bite size chicken thighs
Diced onion is great in all the things
If you like carrots peel a few and chop them into small bits
Use canned or homemade chicken broth, or stock
Uncooked white rice
Garlic powder, and any other seasonings you love

I prefer to add a sprinkle of salt and pepper when done, I think the broth has enough sodium in it personally.
From there you could include frozen peas, fresh green beans cut into thirds or even celery cut up. I try to get all the veggies in there that I can. Now my kiddos love growing and eating produce because they've "had to try one bite" as a child for years and years. Made them vegetable lovers for life because of it I think. 😉
Want to see a few of my favorite things that I am totally obsessed with or visit my Etsy shop?? Take a peek and see how many you might already have…twinsies!
Looking for more easy family recipes and tips? LIKE The Typical Mom Facebook page?
Then sign up for my free newsletter, and follow me on Pinterest! 😉
***** If you LOVED this recipe give it 5 Stars below and let everyone know what you thought about it. 😉
Instant Pot Chicken Thighs and Rice
Instant Pot chicken thighs and rice recipe can be made in a Ninja Foodi or Crockpot Express too. Tender meat and fluffy rice with vegetables.
Instructions
Set pot to saute and add olive oil. When hot add bite size pcs. of chicken thighs and onions. Use wood spatula to cook just until outsides of meat are no longer pink. Then turn pot off. (Leave frozen peas on the counter while meal is cooking if you are adding them)

Pour in chicken broth, vegetables and seasonings, stir together. Sprinkle in long grain uncooked rice and gently submerge on the top under the liquid, do not stir in.

Close lid and set to high pressure for 6 minutes with a 10 minute natural release at the end. Then release rest of pressure.

Lift lid, if you want to add peas pour them in now. Fluff and mix them into the mixture. Set lid on and let this sit for 5 minutes to get them tender. Fluff again and serve.
Nutrition Facts
Instant Pot Chicken Thighs and Rice
Amount Per Serving (2 oz)
Calories 404
Calories from Fat 171
% Daily Value*
Fat 19g29%
Cholesterol 89mg30%
Sodium 435mg19%
Potassium 480mg14%
Carbohydrates 38g13%
Protein 20g40%
Vitamin A 4371IU87%
Vitamin C 21mg25%
Calcium 42mg4%
Iron 2mg11%
* Percent Daily Values are based on a 2000 calorie diet.